Everything you need to know about modern bathroom designs and décor trends from Apavisa.
In this article, we will give you a series of ideas to update your bathroom and achieve a truly modern style.
How to decorate a bathroom
Interior design trends also influence bathrooms as well as other rooms in the house. In any renovation or new construction, it is very important to assess the functionality of its elements, as well as the décor.
Decorative style
The pandemic and its many lessons gave us an appreciation of the importance of spaces that generate well-being, comfort and calm.
There are numerous decorative styles for the bathroom: Nordic, rustic, minimalist, urban, stately, boho, vintage and retro, among others. To get the décor you are looking for, it is important to make a good choice of the tiles that are going to clad and floor the bathroom. At Apavisa, we have various models of porcelain tile and ceramic claddings, which recreate different styles.
One of the trends for modern bathroom décor in 2022 is to use white tiles. You can learn more at this link, where we share several bathroom ideas for white tiles.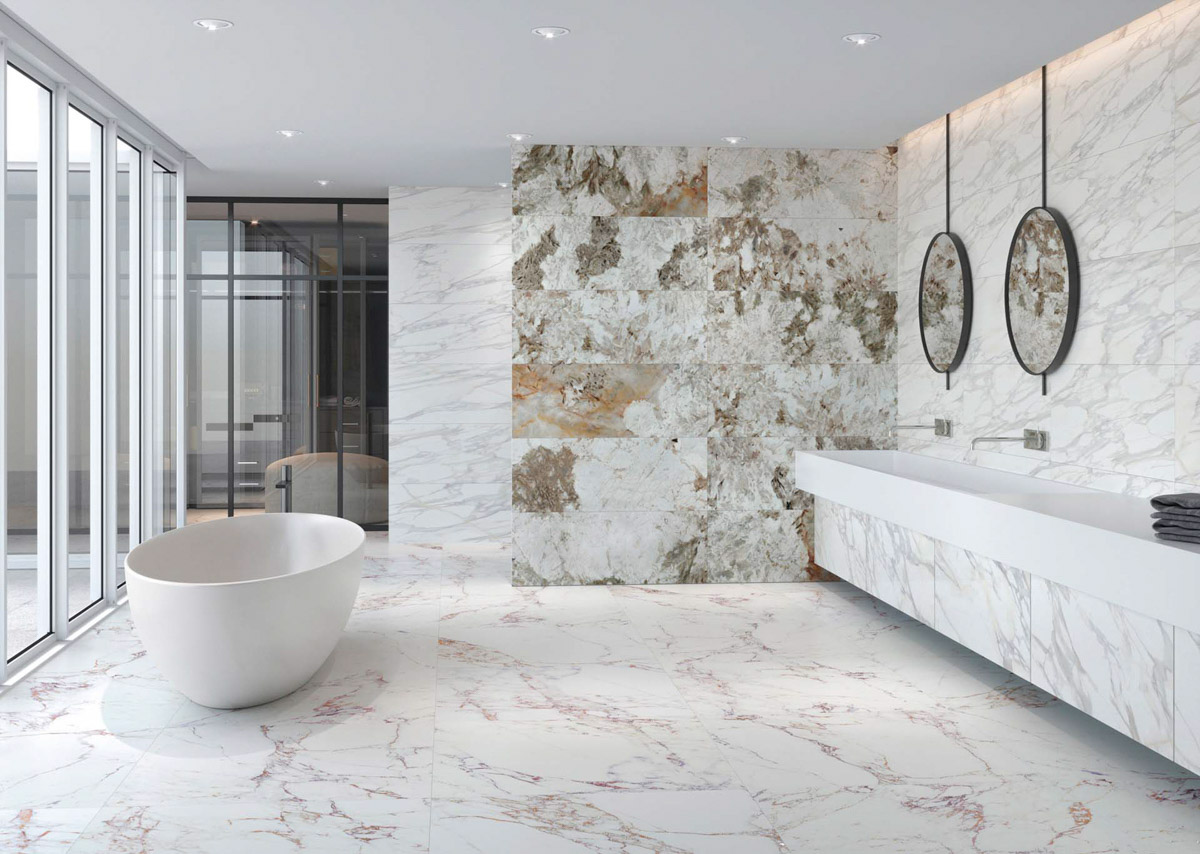 Borghini | Calacatta | Patagonia COLLECTIONS
Order and elements of the bathroom
To generate a feeling of comfort and well-being in the bathroom, it is essential to keep it clean and tidy.
The use of drawers, hangers or baskets will be essential for this personal space in the house to be a place of calm. Accessories and decoration for the bathroom, in general, are essential to creating the desired atmosphere.
Likewise, how modern shower tiles, the bathroom wall tiles or the type of bathroom flooring are combined are an important choice to also determine the order of your bathroom.
In this article, we would like to share several ideas on how to combine tiles in the toilet to get a bathroom fit for the pages of a magazine → Tile combinations for bathrooms; creativity without limits.
Bathroom color and lighting
Depending on the color you want to use in your bathroom, you will be able to create a type of climate. For example, a trend this year in bathroom decoration is to use small special mirrors with creative shapes that focus attention. Also, for modern small bathrooms, you can use a colorful or hydraulic-style cladding on one of the walls or in the shower.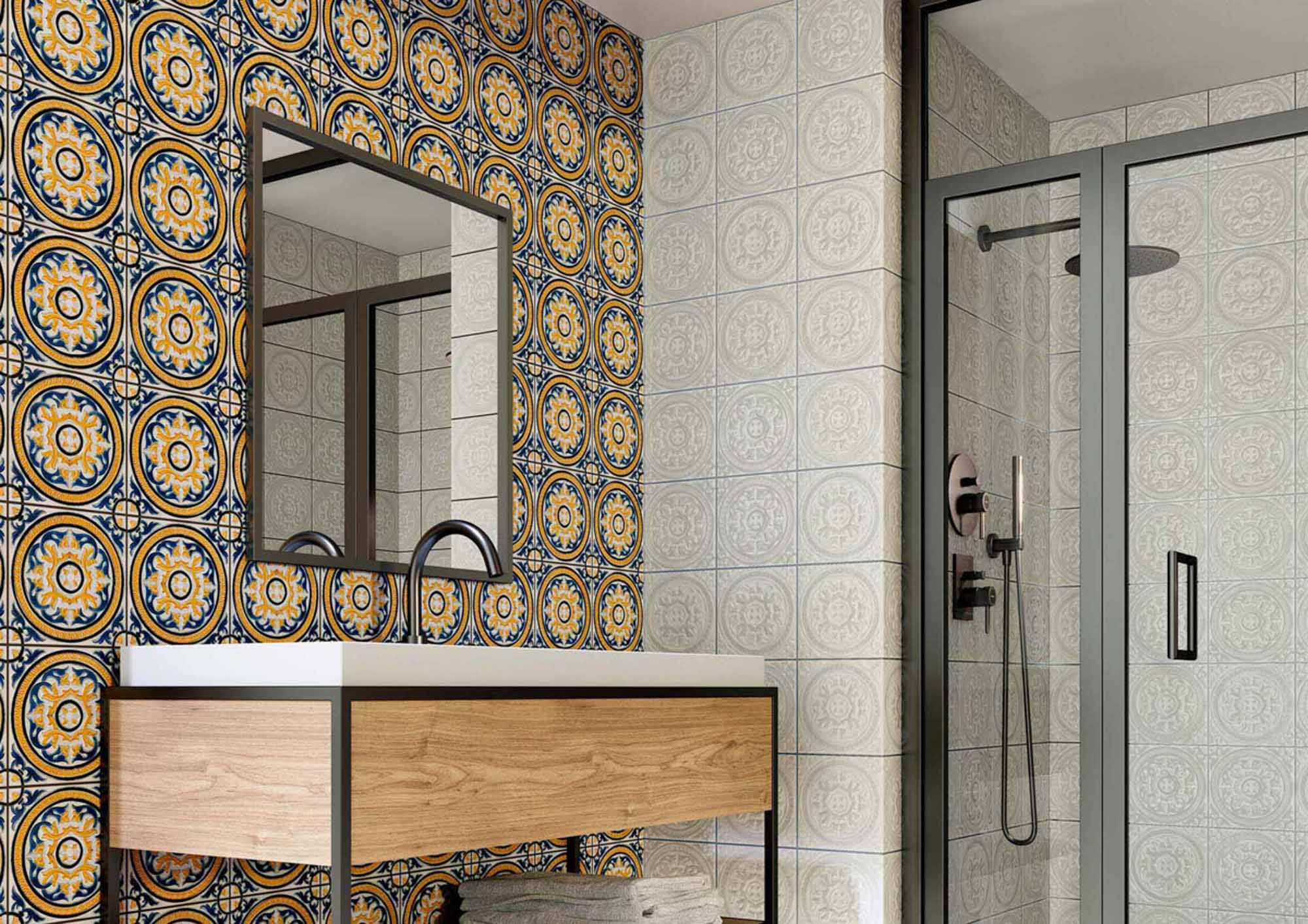 OPUS Blue & OPUS White 60x60 Pre-scored 20x20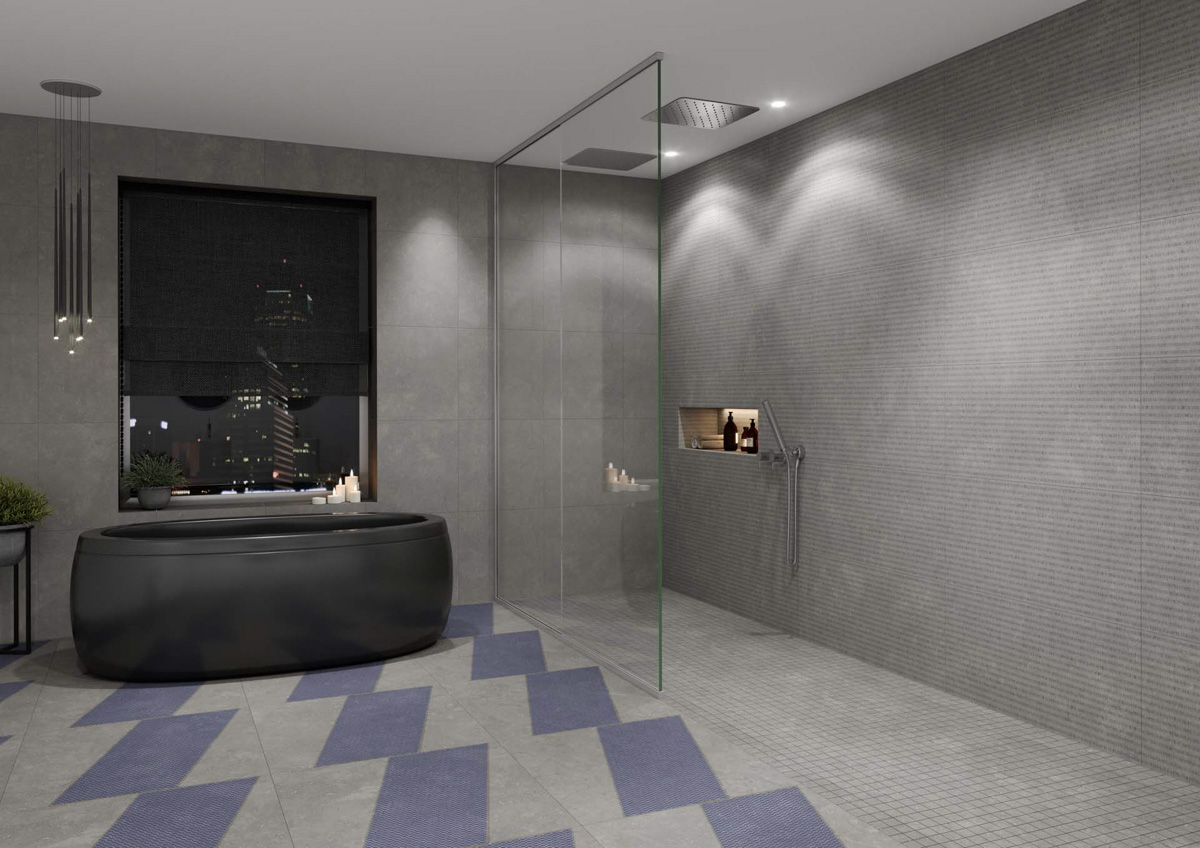 Cladding: Metodo Grey Natural 60x60 & Metodo Grey Cune 50 x100. Flooring: Metodo Blue Decor 60x60 & Metodo Grey Natura Mosaic 5x5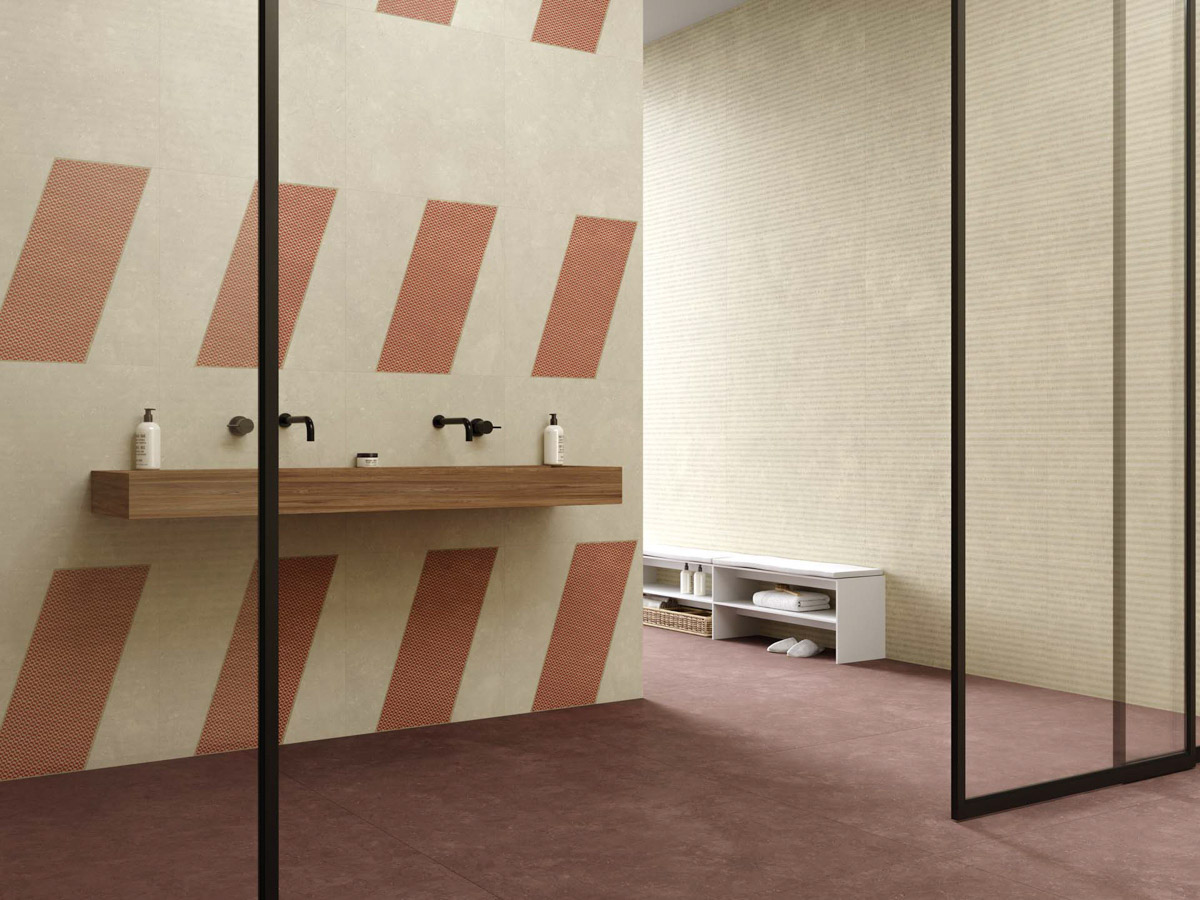 Floor: Metodo Grana Natural 100x100. Walls: Metodo Ivory Natural 60x60, Red Decor 60x60 & Ivory Cune 50x100
Porcelain tiles and their types of finishes for the bathroom
As we have mentioned before, the bathroom is a space for rest and relaxation and an area we use a lot. It is also essential to know the technical specifications of the tiles in terms of cleaning and types of anti-slip since it is one of the most humid areas of the house.
At Apavisa, we have many models that are ideal for use in the bathroom due to their technical characteristics and non-slip finishes.
Decoration ideas for modern bathrooms
We present some 2022 tile trends for modern bathrooms with bath-tubs, showers, with combinations in grey, white and black tones; and above all, many inspiring modern bathroom images to make your bathroom renovation or new construction a success.
Small bathrooms with modern designs
Getting a modern designer bathroom is not a matter of dimensions, but style. Ceramic material is the best choice for flooring and cladding a bathroom due to its technical and functional characteristics.
We have already commented on the use of white ceramic tiles as the protagonist in small bathrooms due to the feeling of spaciousness they convey. However, the mix of materials, finishes and colors in small bathrooms can also create a unique and personal style.
Have a look at some more daring bathroom styles with color combinations in these modern bathroom pictures: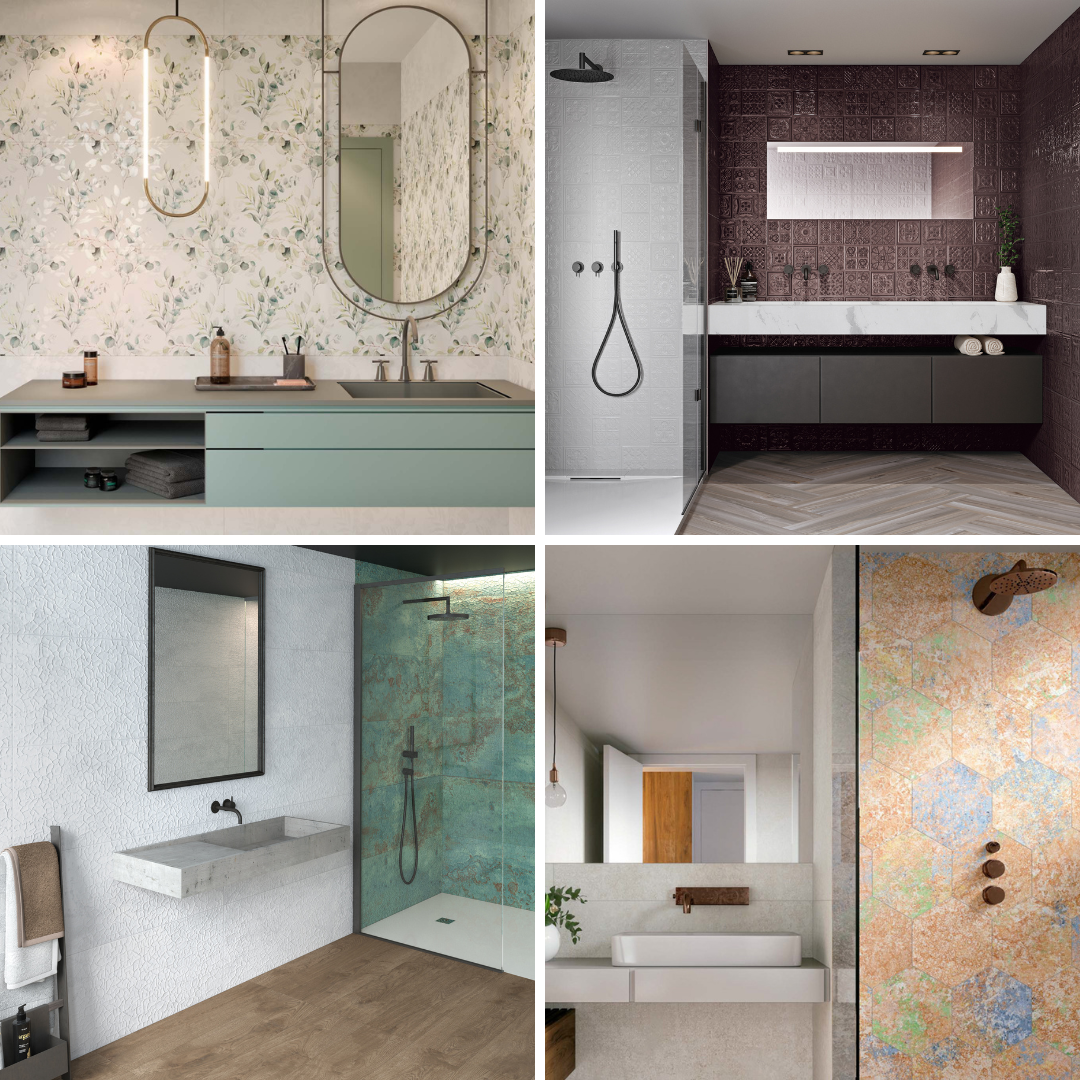 Decoration ideas for large bathrooms
Large bathrooms have more decorative possibilities due to their size and the ability to also add accessories such as plants or additional furniture.
Now, within the range of models that Apavisa and the decorative ideas that each of them offers, the marble-look porcelain is one of the favorites. If you have the fixed idea of using marble-type materials for your bathroom, we can suggest a few ideas that you will like:
→ Bathrooms and kitchens with imitation marble tiles. Find your inspiration.
Tiles for modern bathrooms with shower
If you opt for a shower tray for your bathroom, you have to know that this allows you to give your bathroom different personalities.
There are many designs for modern bathrooms with shower trays. For example, if you dream of a shower with a Zen feel, you can feel inspired by this stone-look porcelain model in Aqua and Blue tones: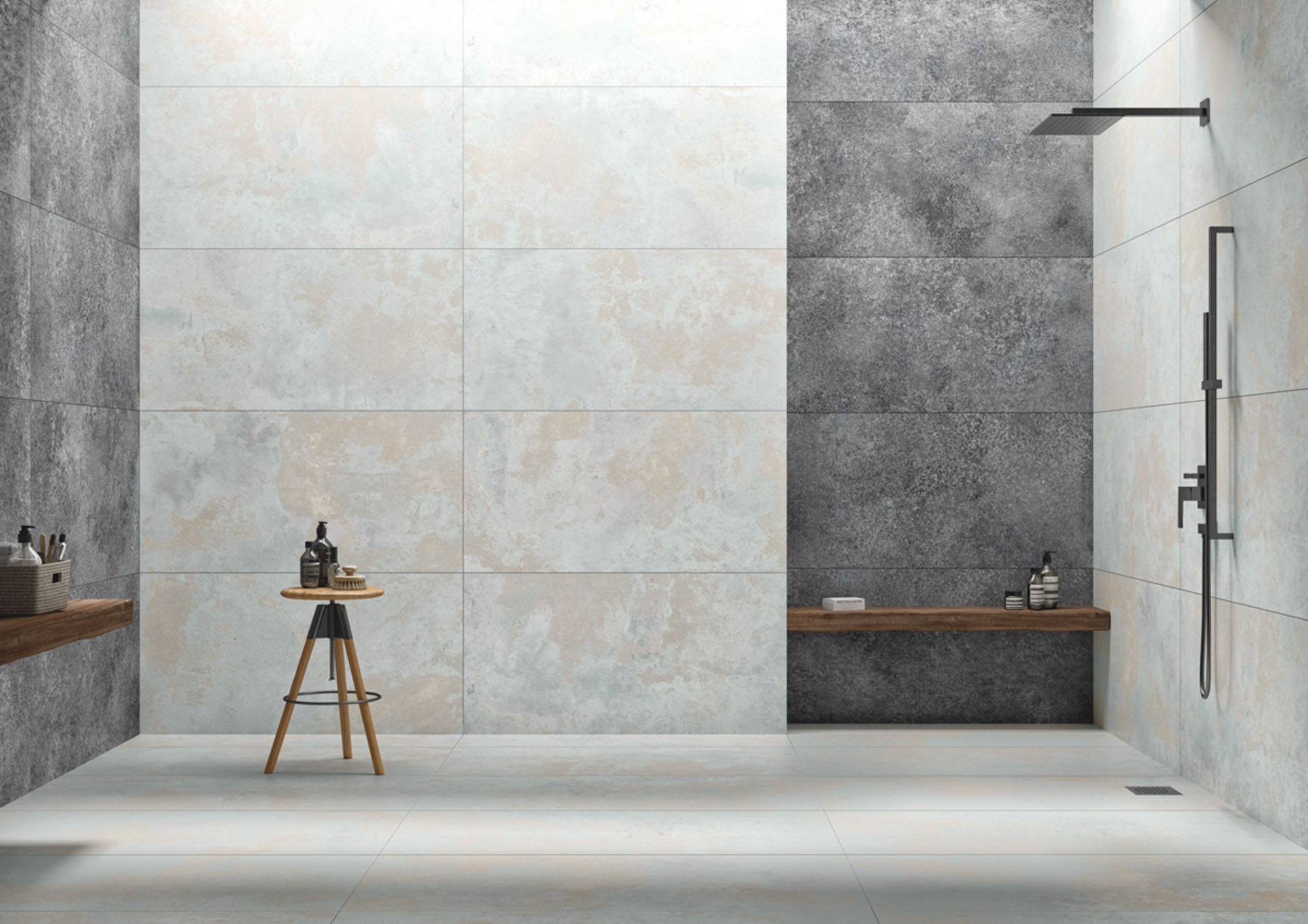 Earth Collection
We can also suggest this other modern bathroom design with shower in a more up-to-date and elegant style. This series launched in 2022 by Apavisa recreates travertine marble in Navona color and with a tile specially designed to complement and decorate this base: Travertino Titanium Decor.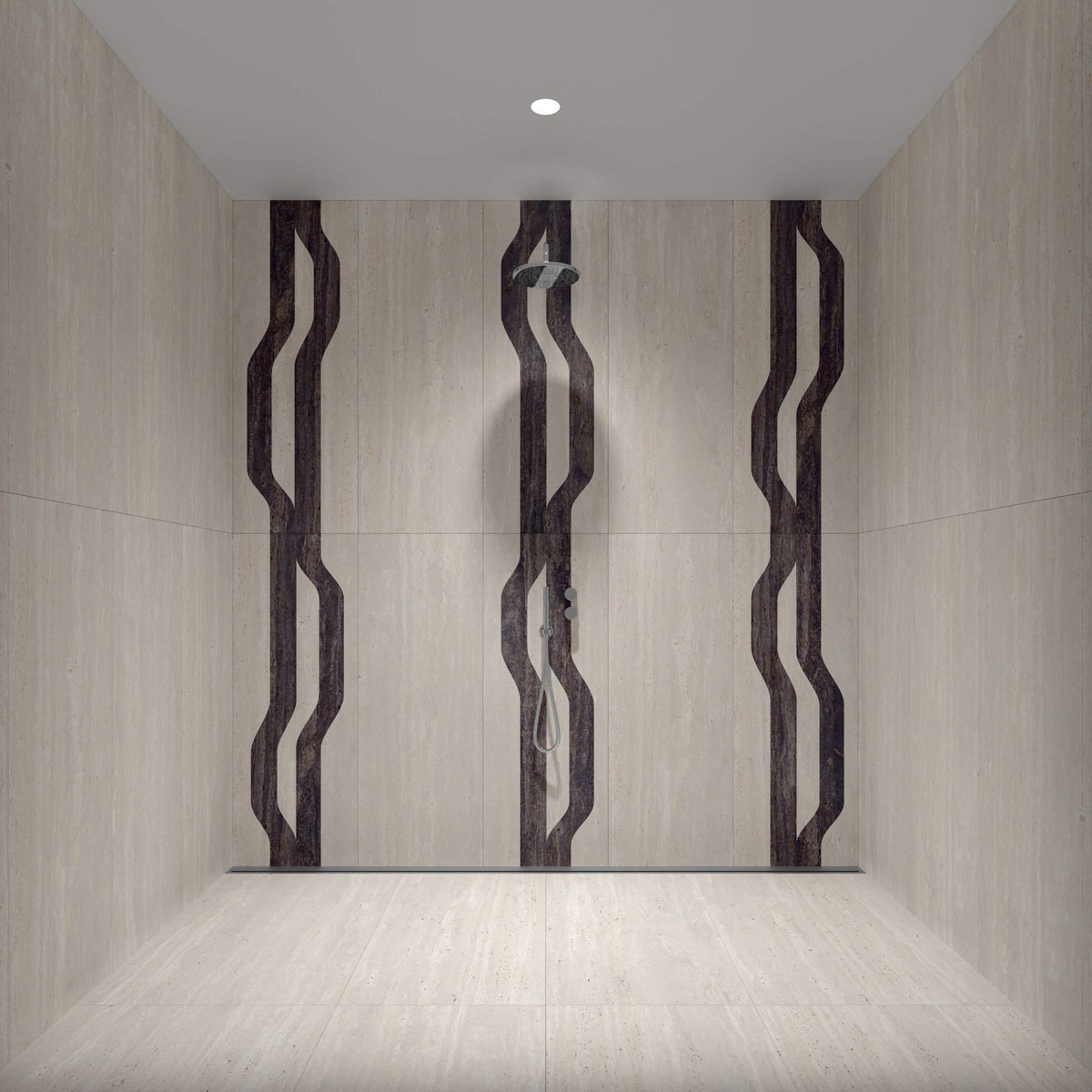 Travertino Collection
Ideas for bathrooms with a bathtub
Bathtubs are a growing trend, both in bathrooms and in other rooms of the house. They have become the central feature of many spaces in the house since they are designed to be seen and admired.
Let's not forget that the bathtub and the tiles and décor that go with it can create a very romantic environment. An example is this hexagonal porcelain tile model with floral details in pinkish tones that create an idyllic atmosphere of romanticism.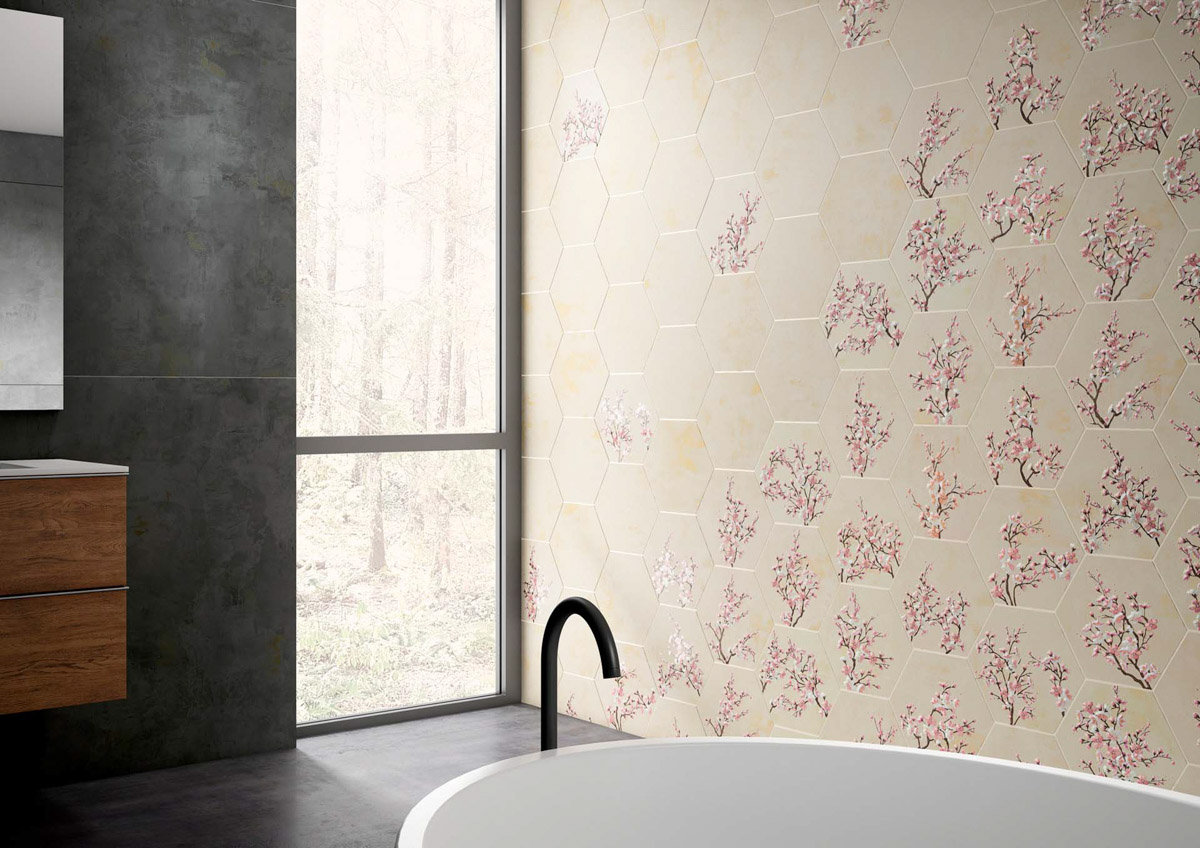 Mood Ivory Decor Hexagon Hex 25X30
Modern bathrooms with grey and white
It is time to explore deep and intense colors to create modern and minimalist bathrooms. Using grey in the ceramics of the floor or the walls can be one of the most elegant options. Apavisa's design, Ozone Grey Frame Matt 45x120, specially designed for claddings, is an embossed model that can be very interesting to apply in the bathroom since it is capable of creating atmospheres like this:
Grey bathrooms will never go out of style.
Ozone Collection
Modern black and white bathrooms
Modern black and white bathrooms are a timeless classic since they were, are and will be a trend. This Black and White effect can be achieved by combining decorative elements such as taps or furniture; and above all, using black and white tiles.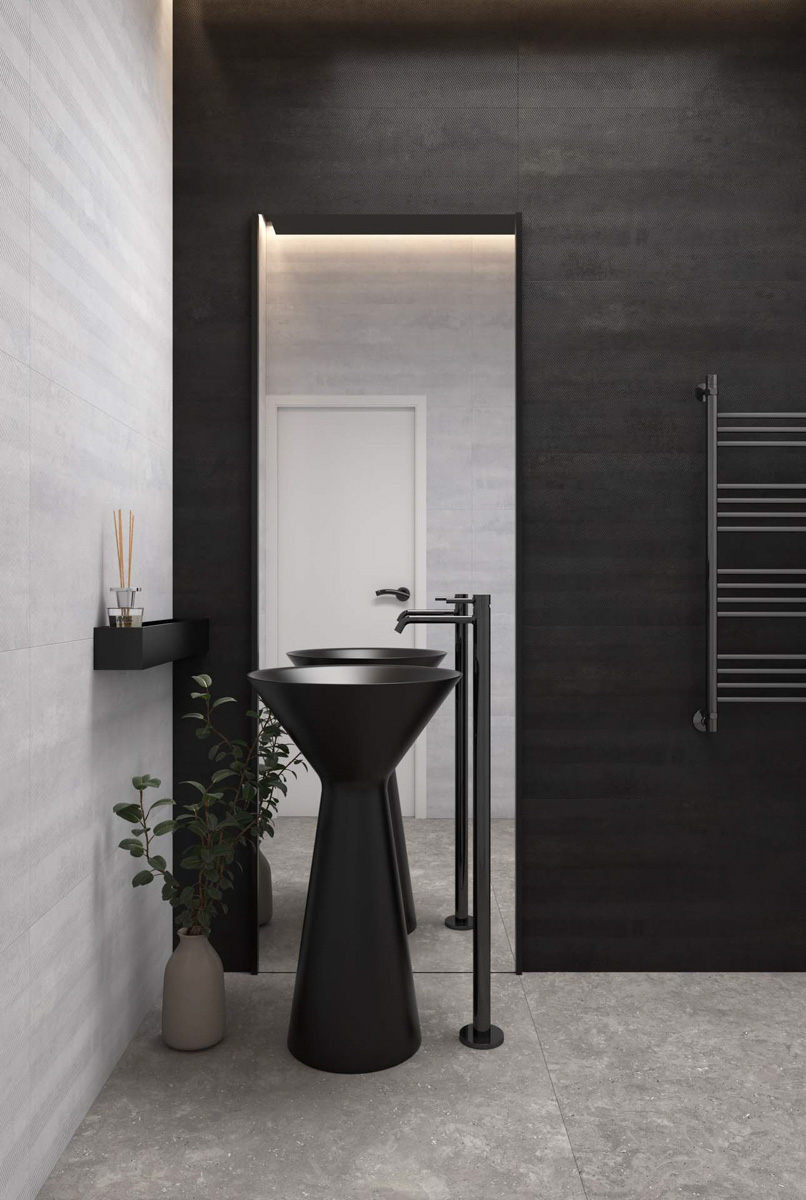 Corten Collection
Modern white bathrooms
The white color, already mentioned above, is one of the most used colors in bathrooms because they give a feeling of hygiene and freshness. There are many types of white when it comes to tiles. Within the Apavisa range, you can find matt white tiles, embossed tiles, hydraulic-style tiles, combined with other colors or glossy, among others.
Large and small marble bathrooms
Marble-look porcelain tiles are a favorite in the bathroom; they give it a special touch whether placed on the floor, on the walls or as a countertop.
Stylish bathrooms where the centerpiece is marble, like the large bathroom seen below, are luxurious as well as warm due to the combination of colors and wood: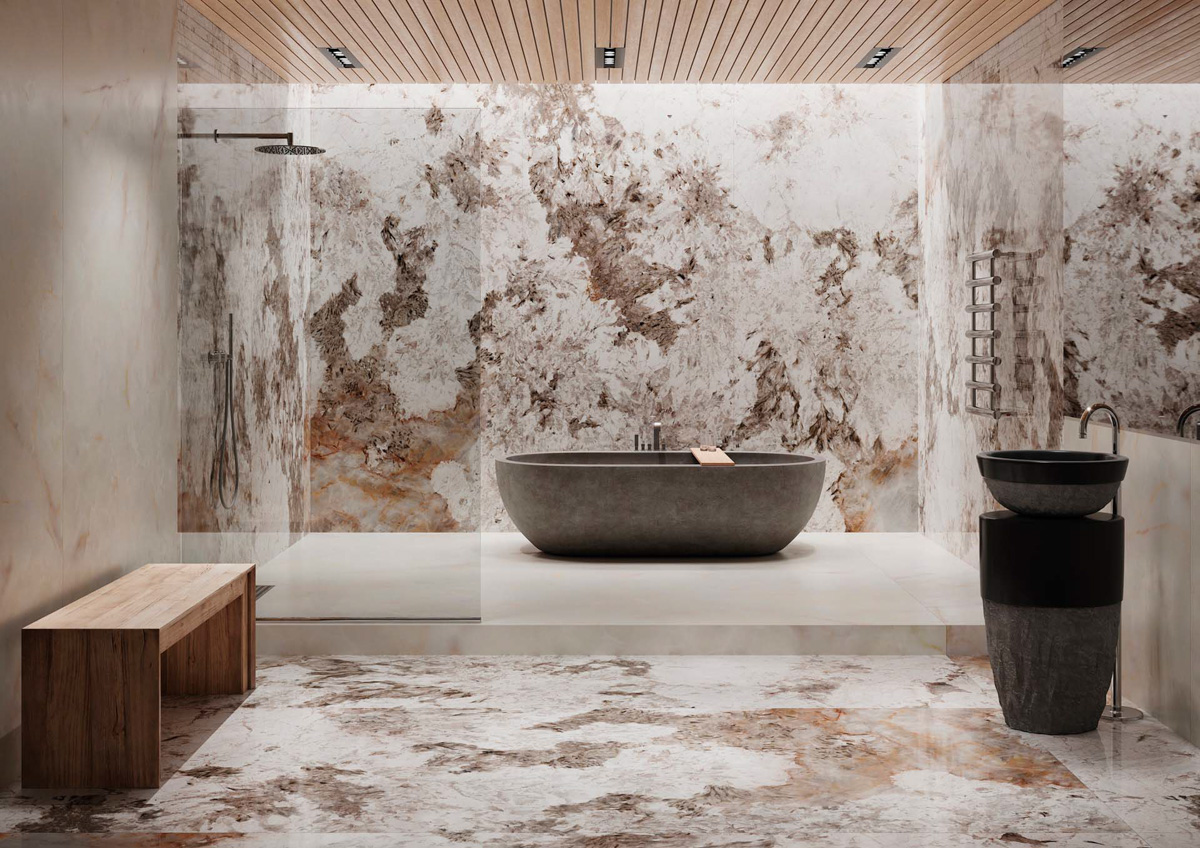 Patagonia Collection
Ceramic bathroom wall decoration ideas
At Apavisa, we have models that are especially decorative due to their design, color and embossment, such as the Glam Silver Rose model, specially designed to clad and give any room personality.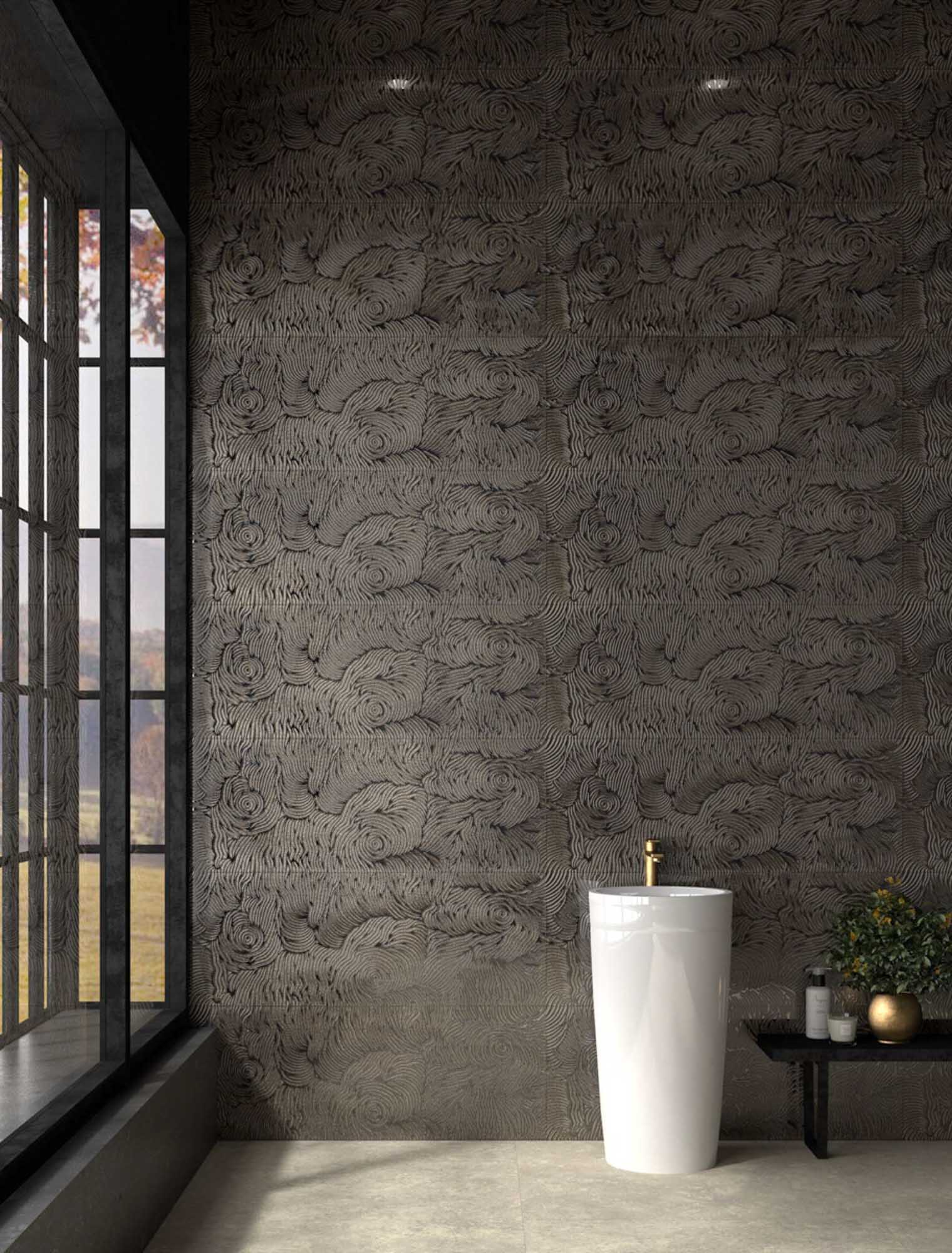 Glam Silver Rose 45X120
As well as this marble-look model with Scarcapeletto embossment, with hypnotic golden veins on a Grey marble background, which authentically recreates Calacatta stone: Calacatta Gold Scarpaletto 45X120.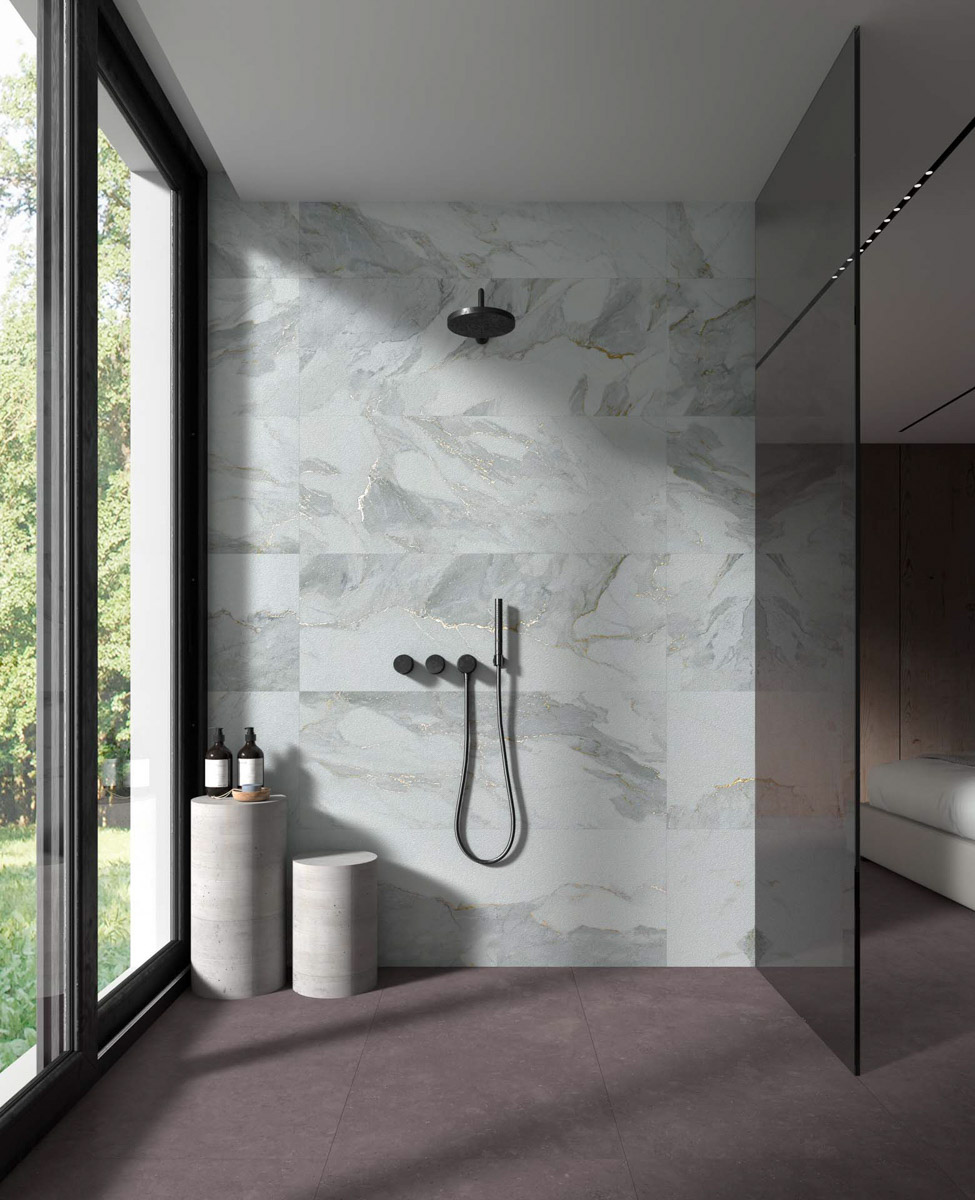 Calacatta Gold Scarpaletto 45X120
Rustic bathroom ideas
The rustic style has an undeniable charm and is 'the créme de la créme' in bathrooms.
You can create a modern bathroom in a rustic style using wood, modern stone bathrooms with natural pigments, chic mirrors, exposed beams, antique furniture, whitewashed walls and clay-look porcelain or terrazzo-look tiles.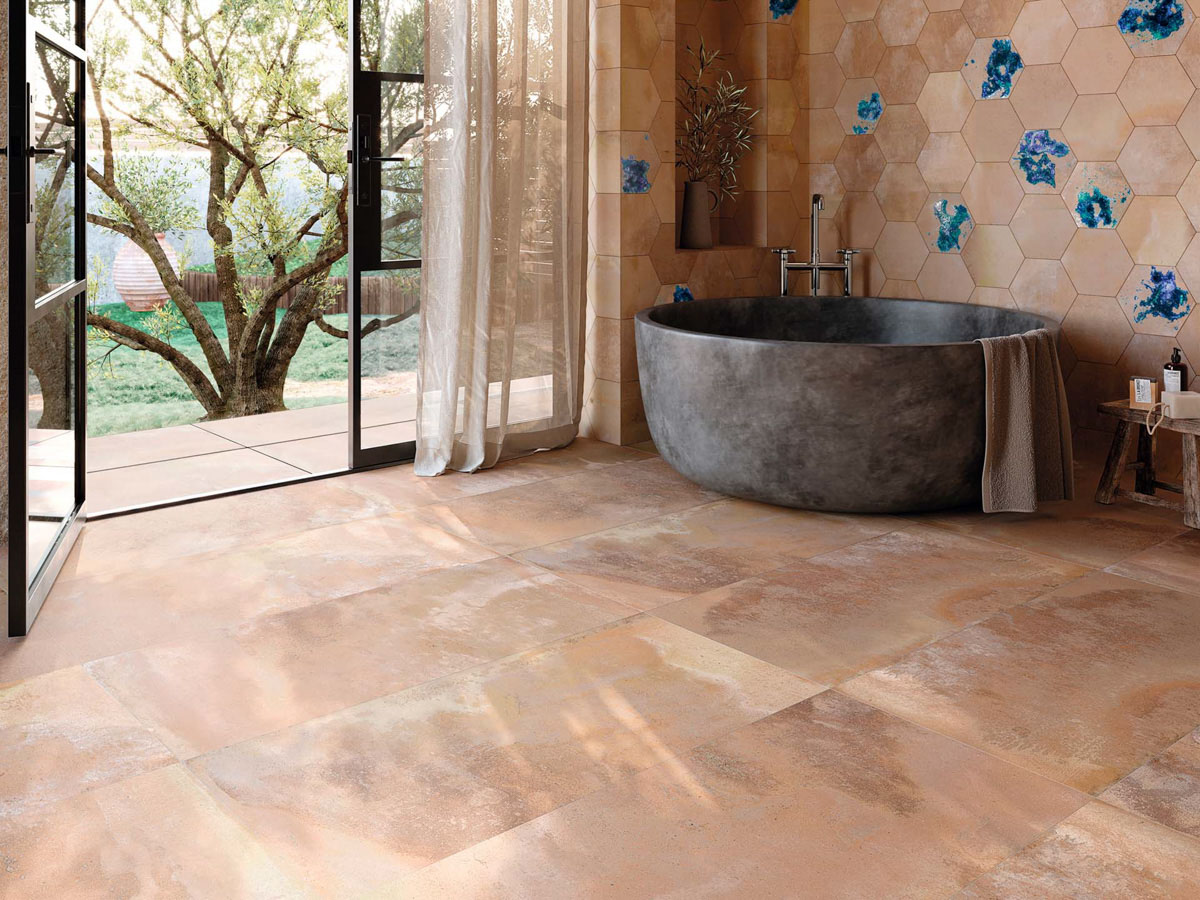 Cotto-look porcelain tile. Hutton Collection.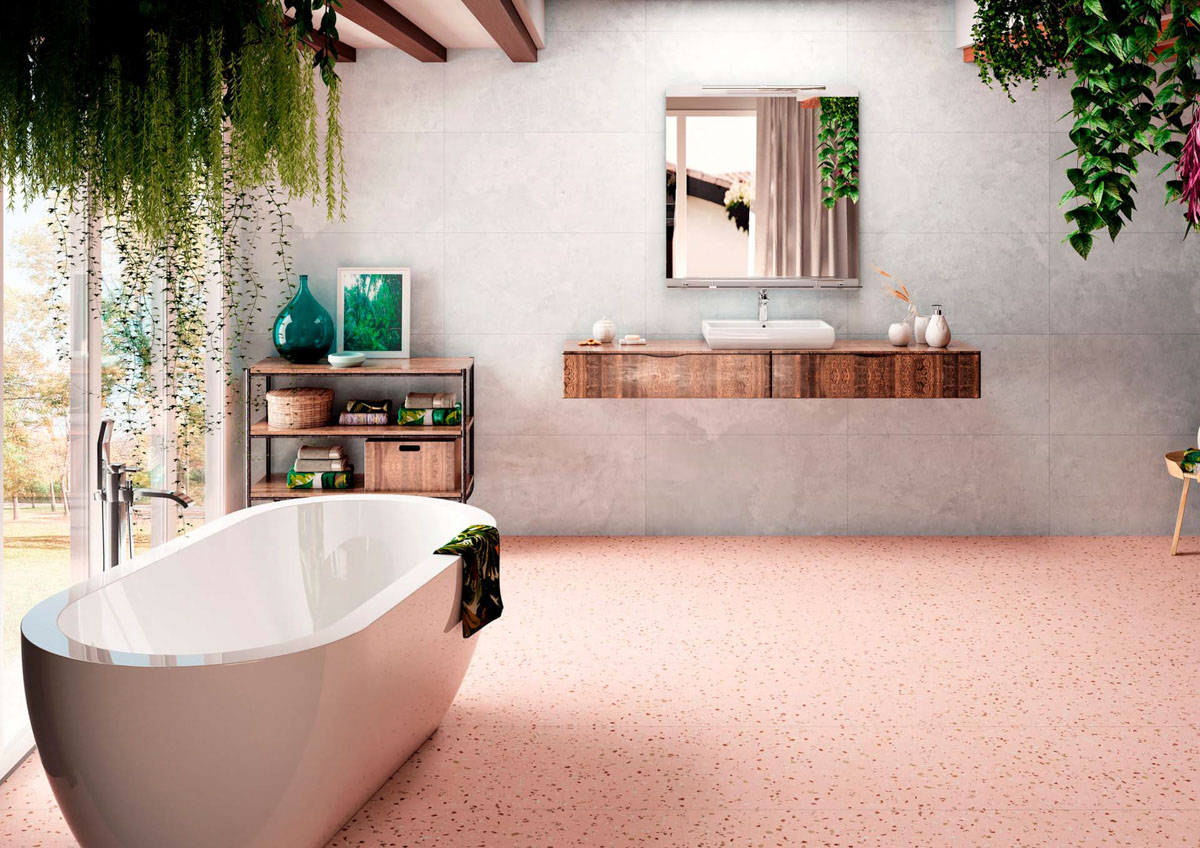 Terrazzo-look porcelain. South Collection.