The timeless and elegant material par excellence continues to find a place in the kitchens and bathrooms of homes and public spaces. Marble floor tiles are back in fashion and are increasingly one of the Top Trends in decoration and interior design.
The favorite rooms for the use of marble look bathroom tiles are the bathroom and the kitchen, as they provide a unique, elegant and clean touch.
Let us tell you all about this growing trend!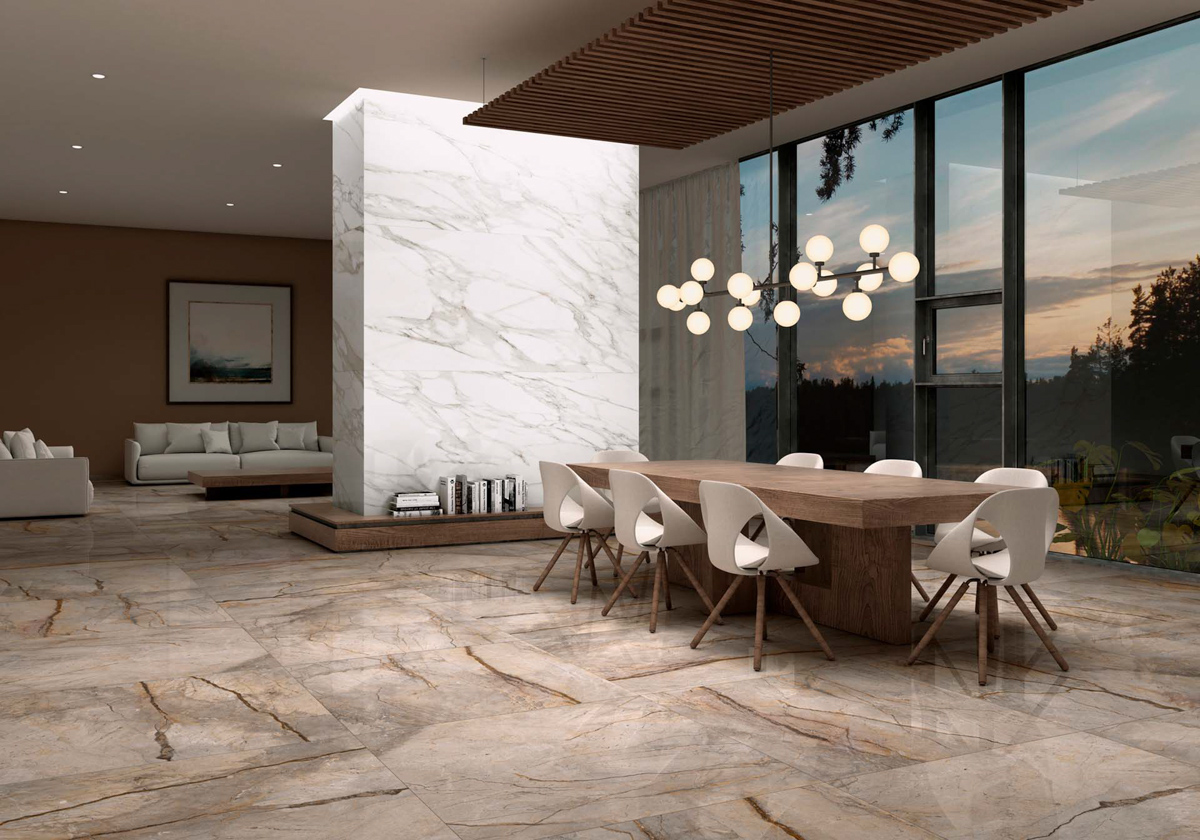 Borghini White Polished 120X260_Wild Forest Grey Pol Mix 120X260
Marble kitchen floor tiles
The beauty and distinguished aesthetics of marble can be found today in almost any kitchen thanks to porcelain. Today, it is one of the most ad hoc materials for kitchens, and it can be found as countertops, furniture, flooring and/or flooring coverings.
Kitchen furniture covered with marble porcelain
Among the trends that we find in porcelain for kitchens, we could say that this is one of the most current. Coating kitchen furniture with marble look porcelain is extremely popular. Thanks to the versatility and technical properties of Apavisa's marble look porcelain stoneware, interior designers and decorators have the possibility of experimenting with this tile as an additional decorative element.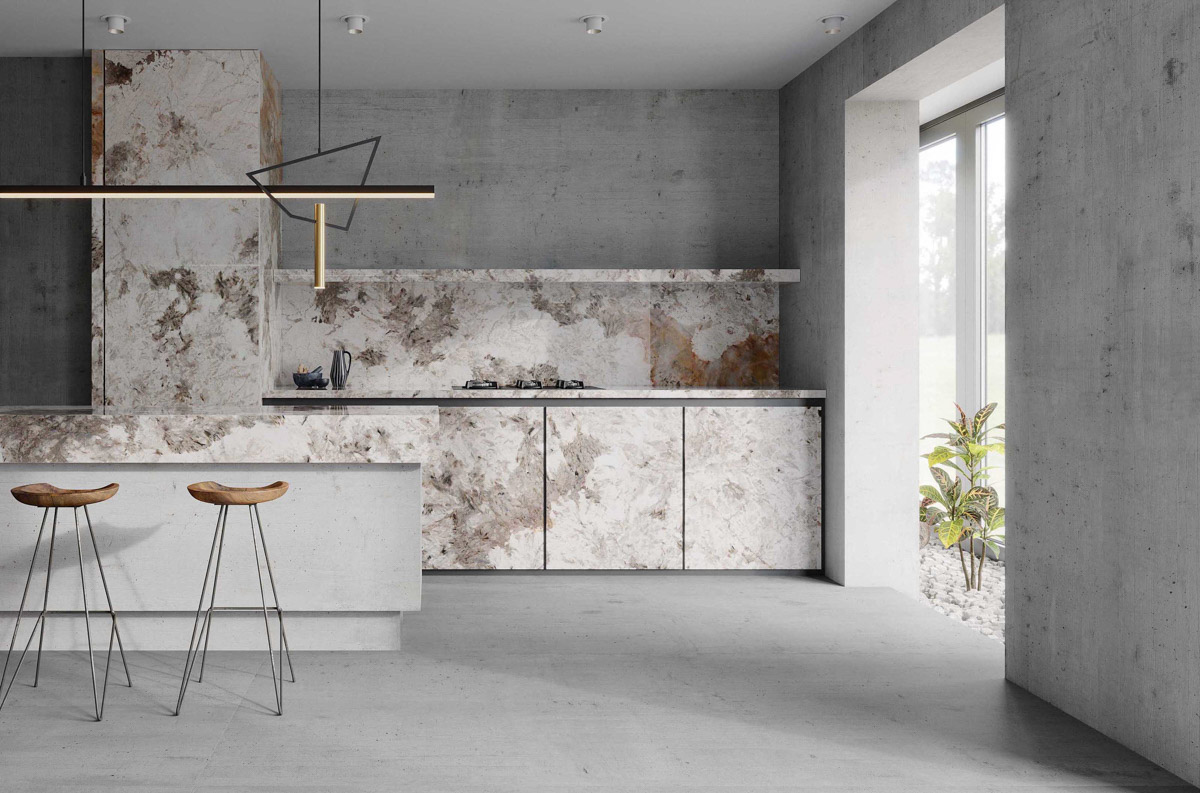 Cassero Grey Natural 120X300_Patagonia Grey Polished 120X300
Kitchen countertops covered with marble porcelain
Traditionally, marble countertops were commonly used in kitchens. However, this natural stone is easily scratched and stained and this is why marble look porcelain tiles for countertops have been coming into fashion.
White is a timeless, classic color used for countertops, but tones that are closer to nature are also popular, such as earth tones and with veins more similar to authentic marble. A clear example would be this Pietra Grey Natural 162X324.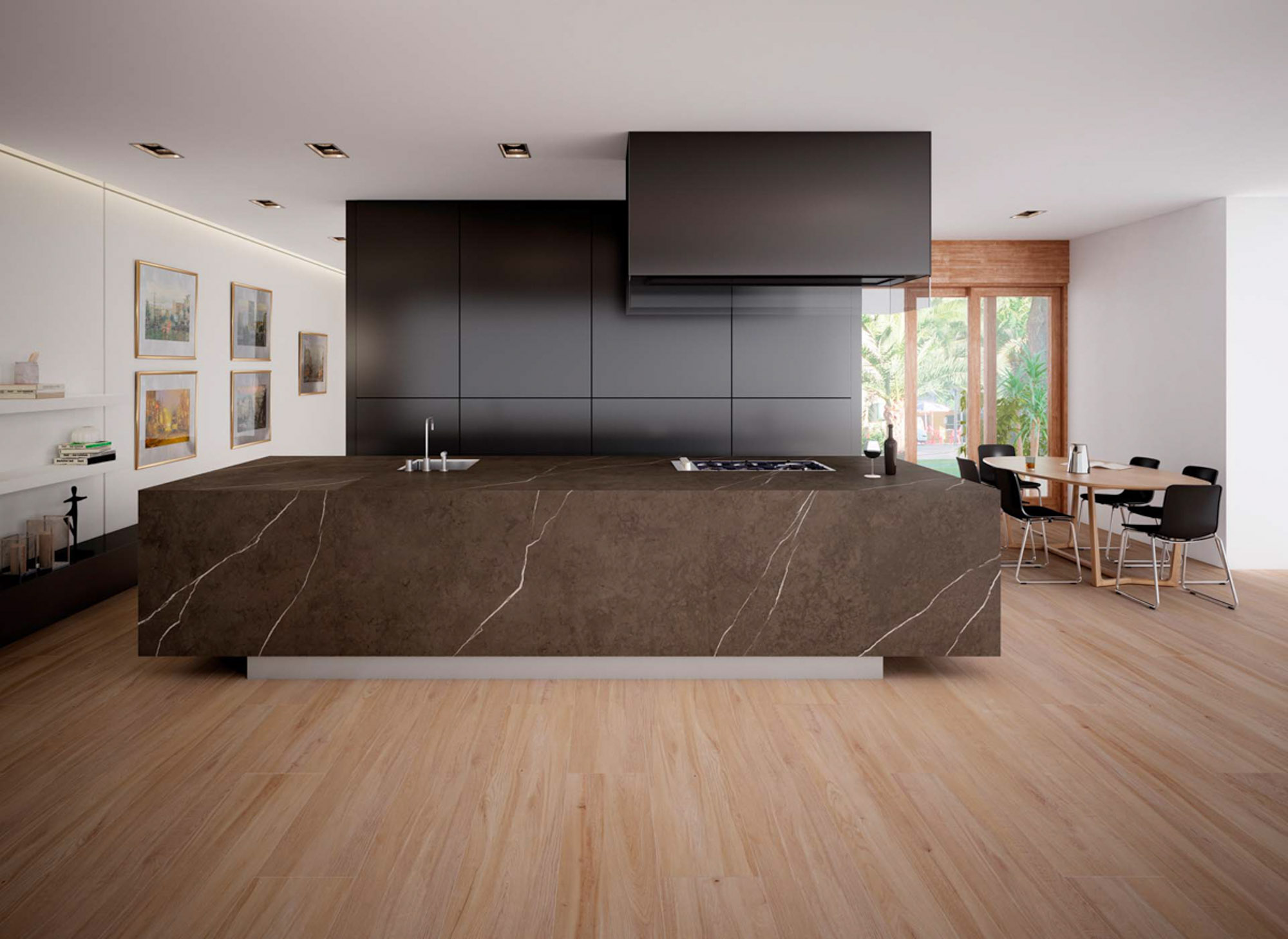 Pietra Grey Natural 162X324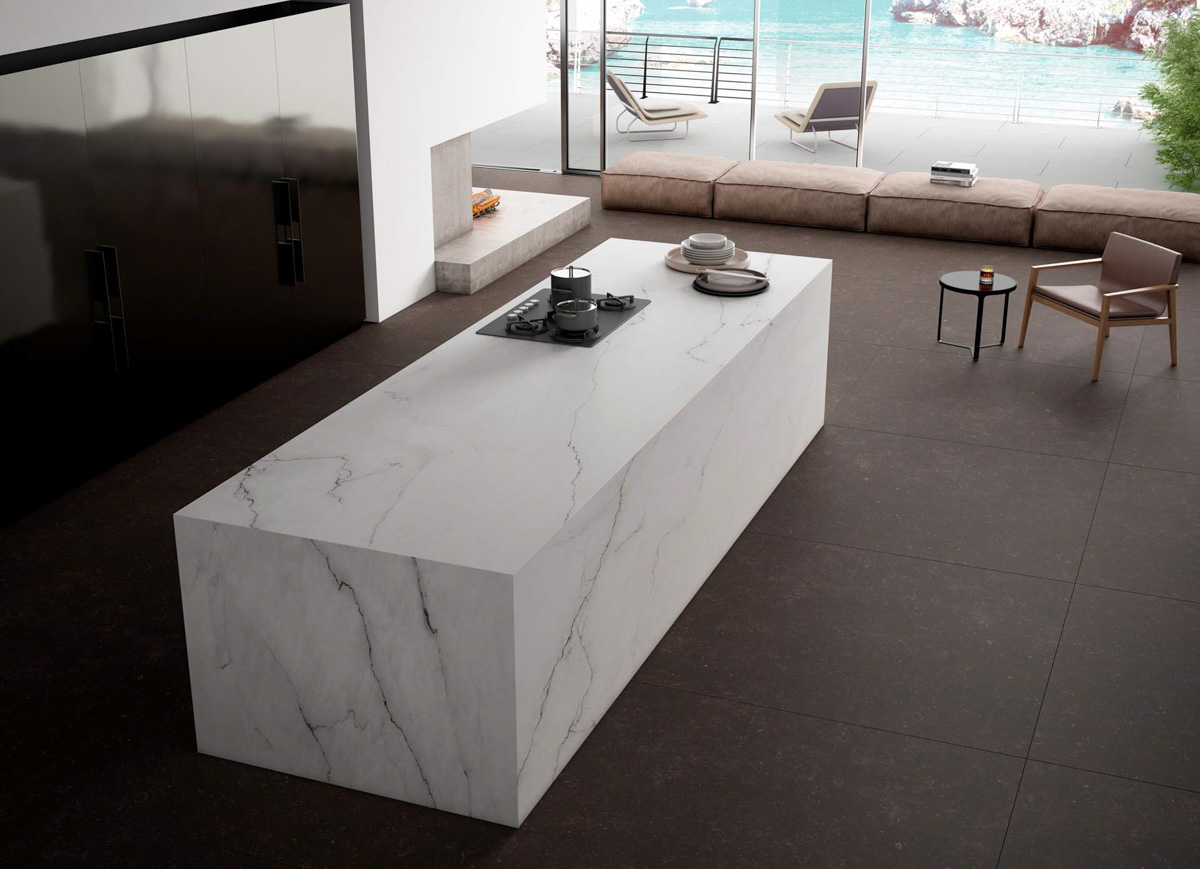 Calacatta White Lincoln Nat 162X324
Dining tables covered with marble porcelain
Dining rooms open to the kitchen are another clear trend in interior design. Here, marble look porcelain stoneware can play a fundamental role, bringing light and a feeling of spaciousness to both rooms. Covering a dining table with marble look porcelain tiles can be an original and creative alternative to traditional tables, and we can see this with this Calacatta White Lincoln Pol 162X324 collection.
Calacatta White Lincoln Pol 162X324
Marble look bathroom tiles
If you are thinking of renovating your bathroom or changing the bathroom tiles, you should know that the use of porcelain marble bathroom tiles is a Must-Have.
Let us tell you about the 2022 trends for marble bathroom floor tiles.
White marble bathrooms
The combination of marble in white tones in the bathroom can bring an extra touch of elegance and sophistication to your bathroom. White marble look porcelain tiles in the bathroom are a commitment to purity, hygiene and spaciousness.
Collections like Borghini are ideal for use in the bathroom. We were inspired to create this collection using Italian marble from the quarries of the Apuan Alps, Calacatta Borgini. Pure white predominates in this porcelain stoneware, with veins of golden grey tones and green nuances. In fact, it was created in a white so pure that it becomes almost translucent. This is achieved because the raw materials with which it has been made have a high degree of purity and are unique.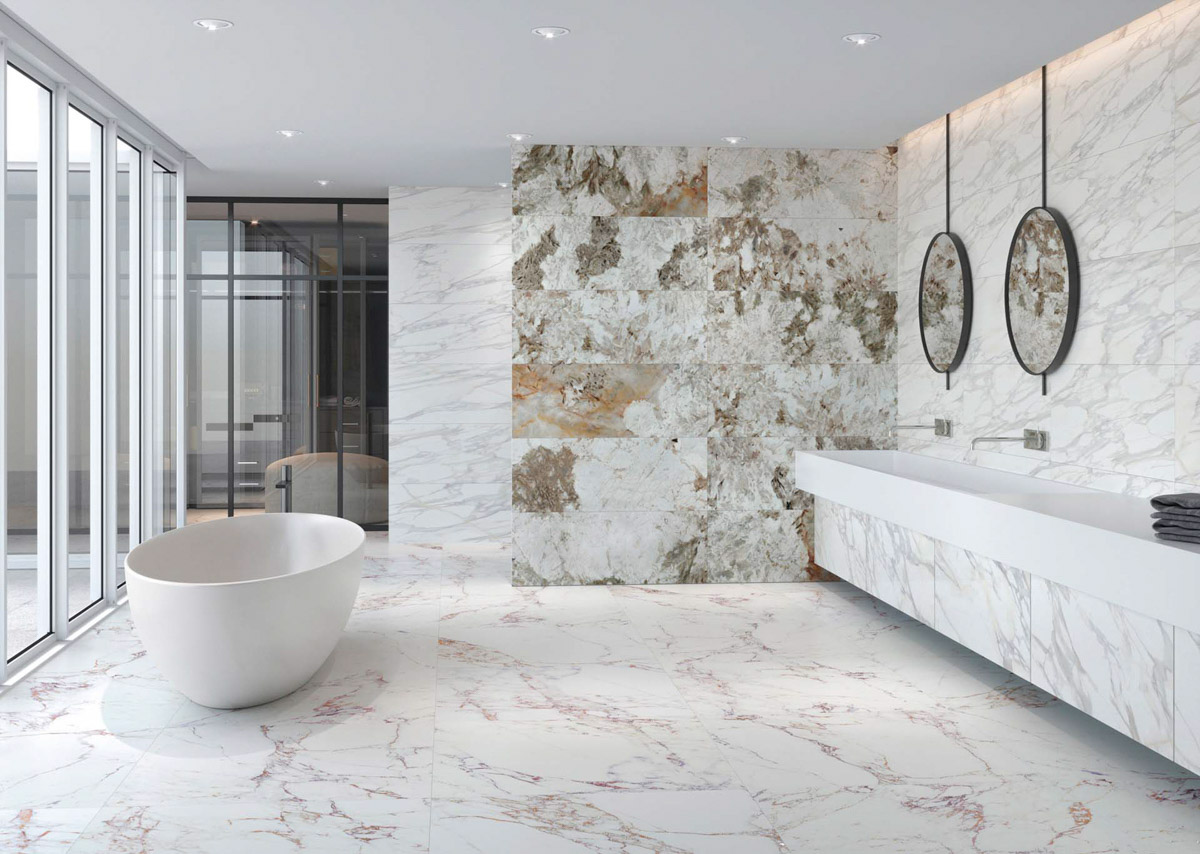 Borghini White Glossy 45x120_Patagonia Grey Glossy 45x120__Calacatta Viola Polished 100x100
White marble and wood bathrooms
Beige tones can bring a totally different feel to your bathroom. Without a doubt, combining your bathroom with white marble and wood is a success in the search for environments with a warmer touch.
For example, with wood décor and the white bathroom furniture, this look with Wild Forest floor and wall tiles has a noble and relaxing finish that reflects the beauty of nature.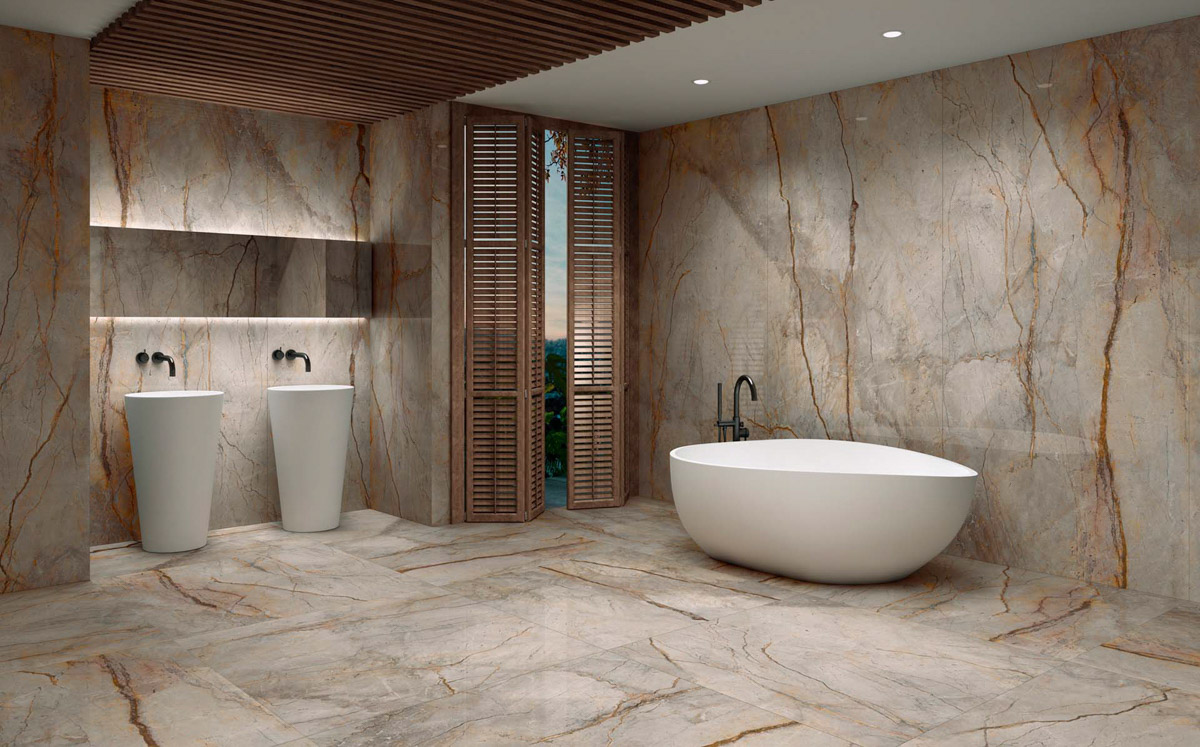 Wild Forest Decor Polished 60x60
White and grey marble bathrooms
Choosing the color or finish of marble look bathroom tiles is not an easy decision. As we mentioned before, white combined with other tones that are reminiscent of nature is a winning bet. That is why, at Apavisa, we have designed a marble look porcelain tile in white, grey and earth tones that can make bathrooms look as spectacular as this: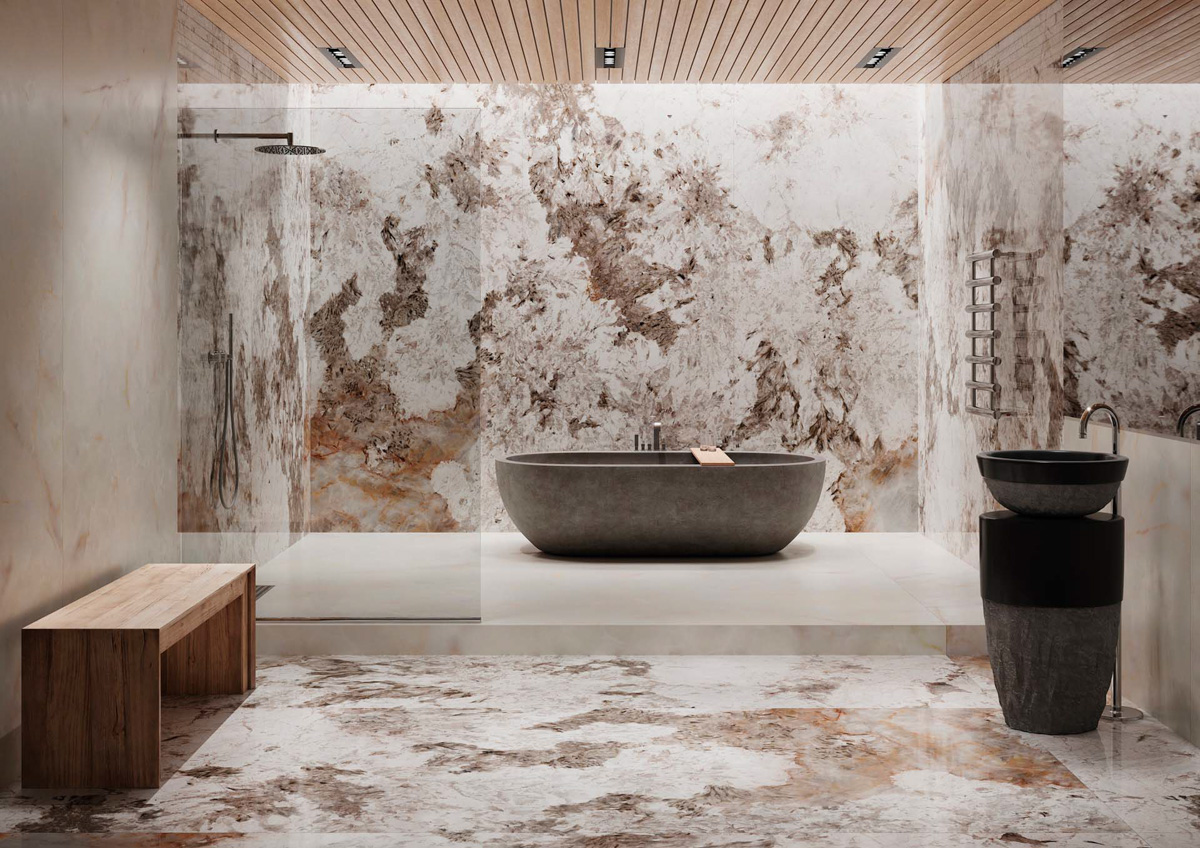 Black marble bathrooms
Black is an elegant color capable of providing a unique visual impact in any room. Black marble look bathroom tiles can offer a more dynamic and creative climate to the bathroom. In this case, the Fluid Black collection combined in this bathroom with Fluid Multicolor manages to create an impressive bathroom capable of conveying sensations that go beyond space.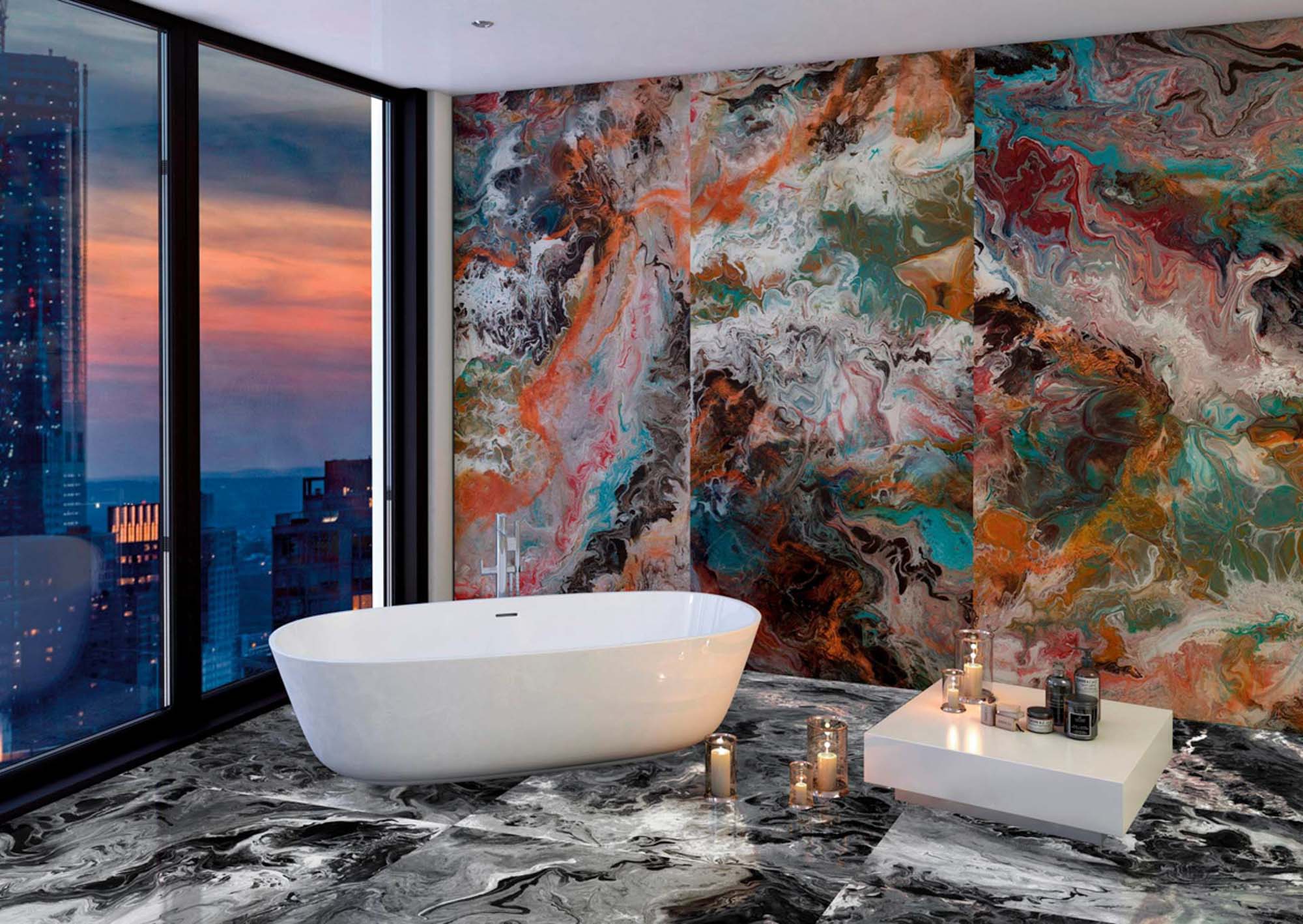 Black and white marble bathrooms
A timeless classic. The combination of black and white never fails if you are thinking of renovating your bathroom or changing the tiles in the bathroom. Black and white marble bathrooms are, without a doubt, synonymous with sophistication and style. You can achieve this effect with the Elegance and Equinox collections.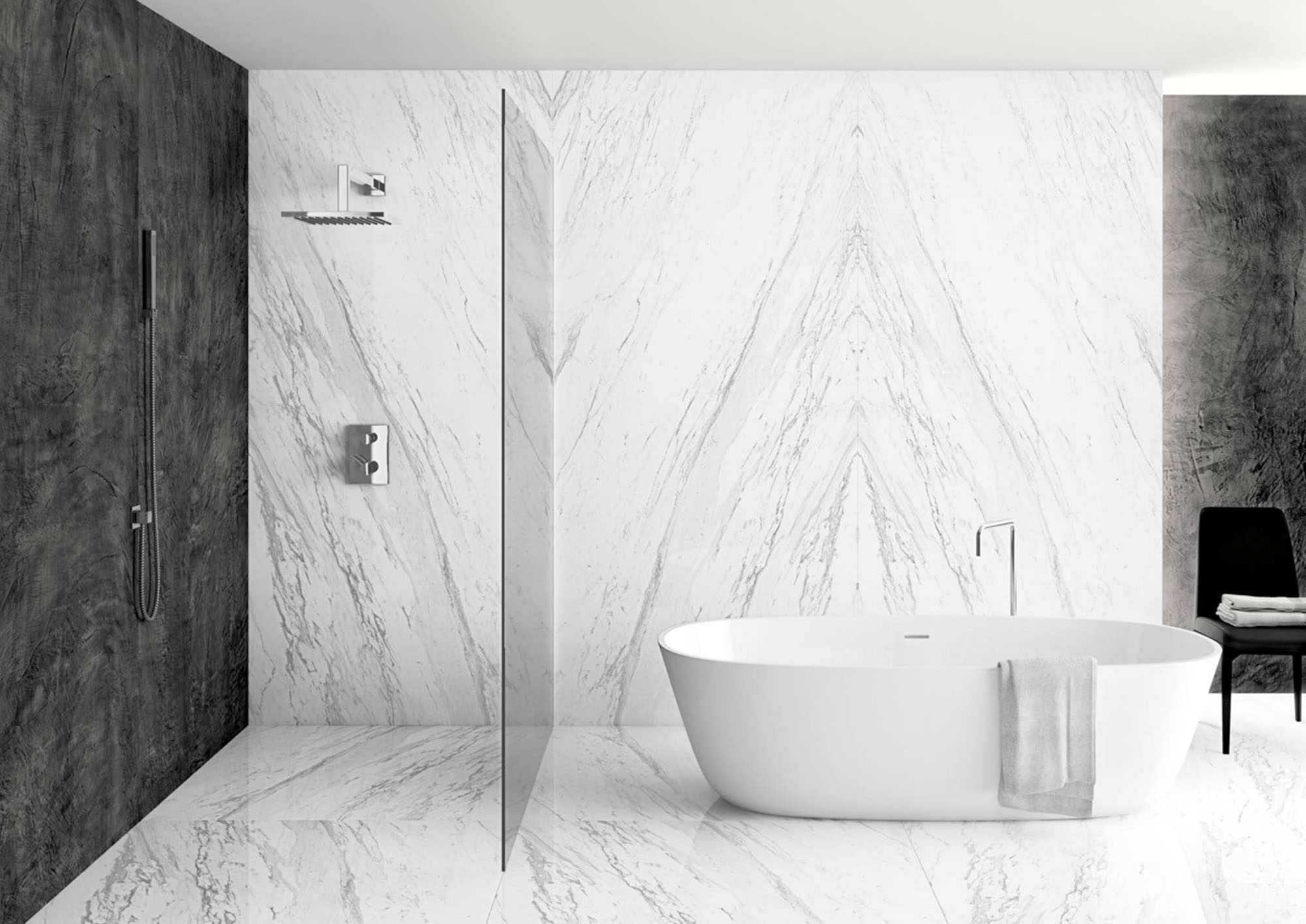 Travertine tile marble bathrooms
Traditional travertine marble takes shape in this Apavisa collection made up of technical porcelain floor and wall tiles with two types of decoration. Travertine marble bathrooms stand out for their longitudinal veining, which is reminiscent of Roman baths. One of the latest collections launched in 2022 is Travertino.