In this article you will learn about different colour proposals for modern kitchens with the aim of achieving a modern design in a simpler way. The choice of colour will determine, to a large extent, the personality of the space.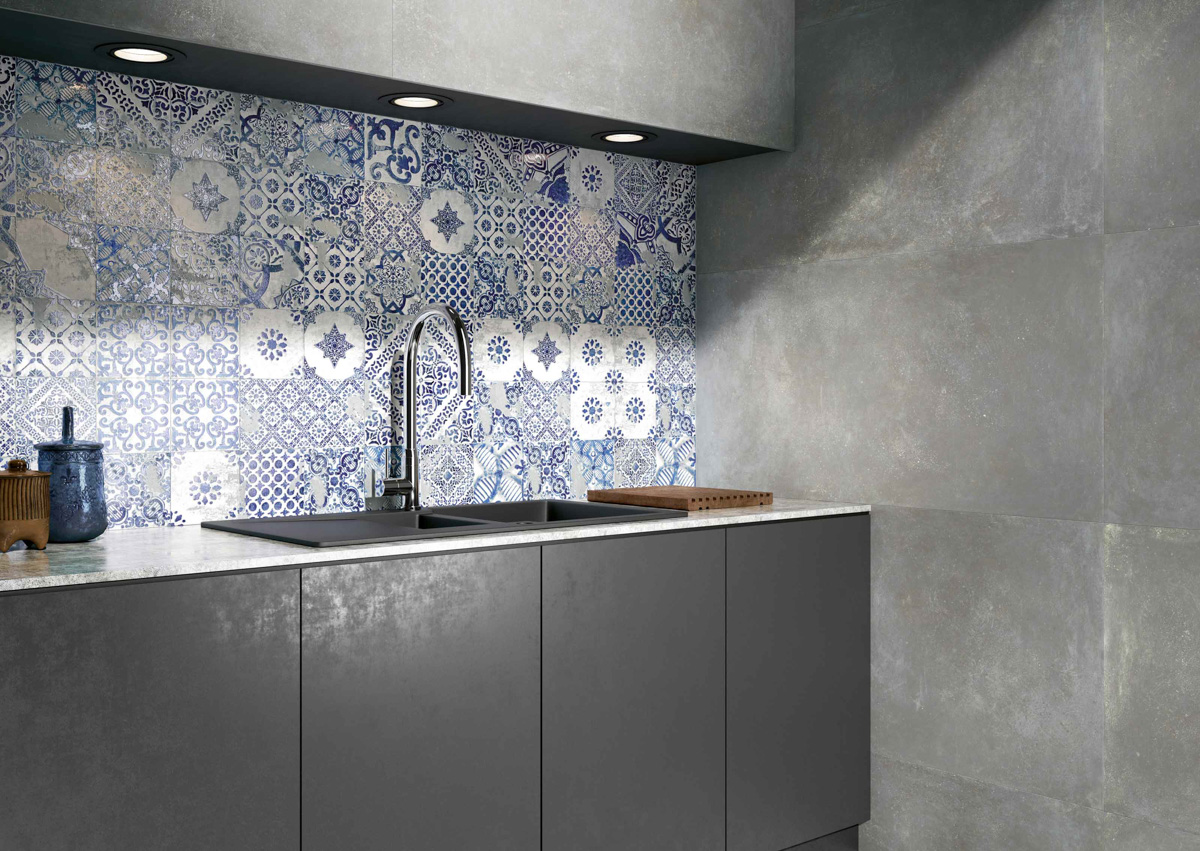 Ozone
Elements to give colour to your kitchen
When we talk about colour in kitchen design, we are talking about the sum of many elements. From the flooring to the furniture, from the cladding to the worktop or the splashback, there are many factors that come into play when it comes to achieving a modern design with colour as the protagonist.
Kitchen flooring
The flooring is, without a doubt, one of the fundamental elements when it comes to 'colouring' the kitchen. In this sense, porcelain flooring offers more possibilities than any other material, as its chromatic range is almost endless. Moreover, the appearance of the tile (marble, wood, stone, cement...) allows the chosen colour to be toned down.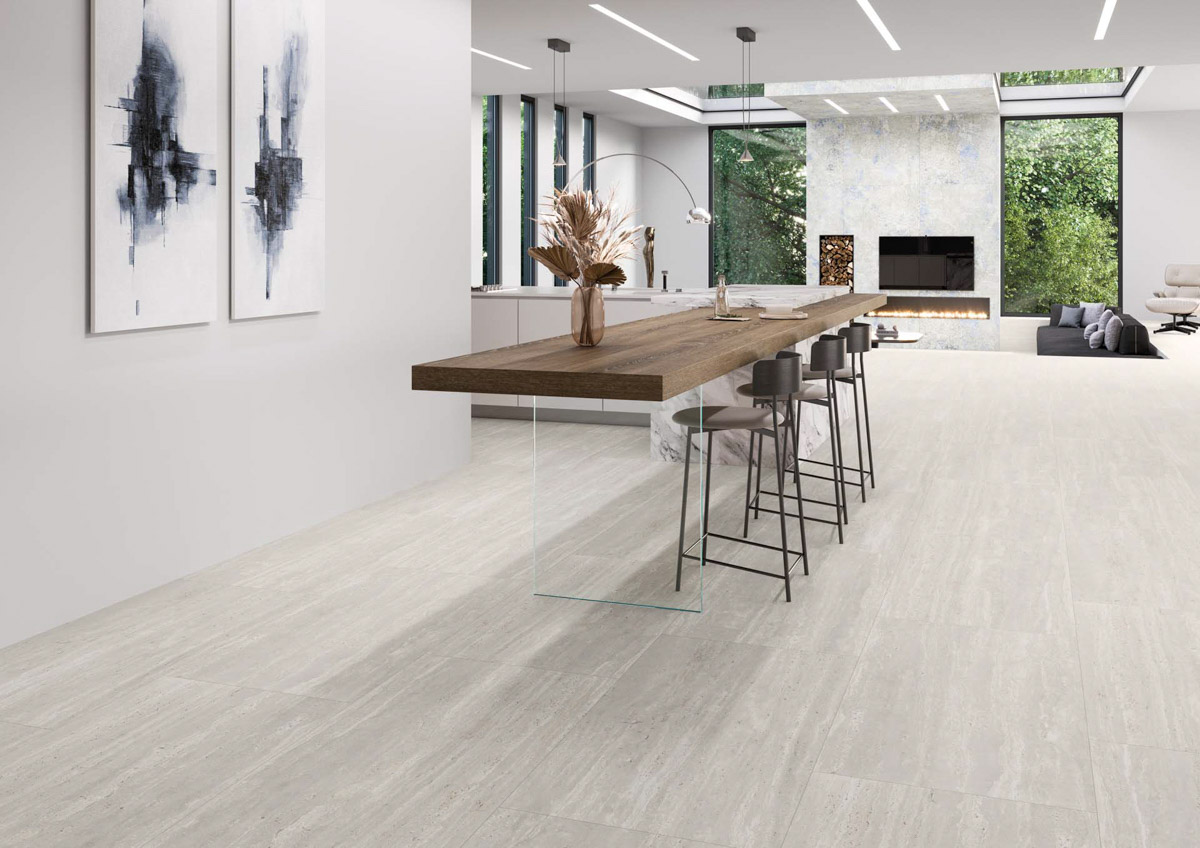 Travertino
Cladding and wall tiles
From floor to wall. Ceramic wall tiles continue to be present in modern kitchen trends and are a great ally when it comes to opting for colour in the space. In addition, their resistance to moisture and chemical agents and their ease of cleaning allow them to be used on demanding surfaces such as the splashback.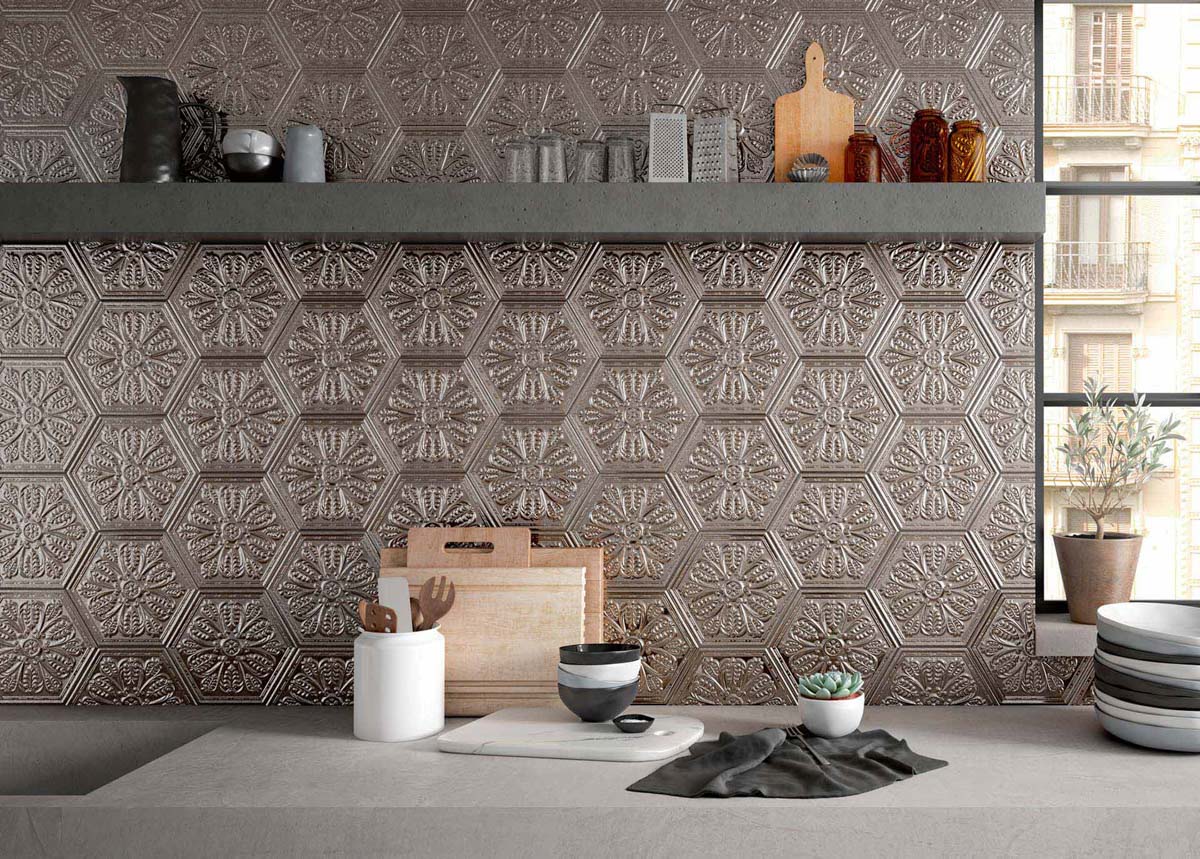 Zinc
Worktops
Gone are the days when worktops fulfilled only a functional role. Today they are just another decorative surface thanks to new materials that offer a wide range of shades. One example is the large-format tiles in the Apavisa Slabs collection. These slabs break with the established and give shape to countertops that stand out for their design.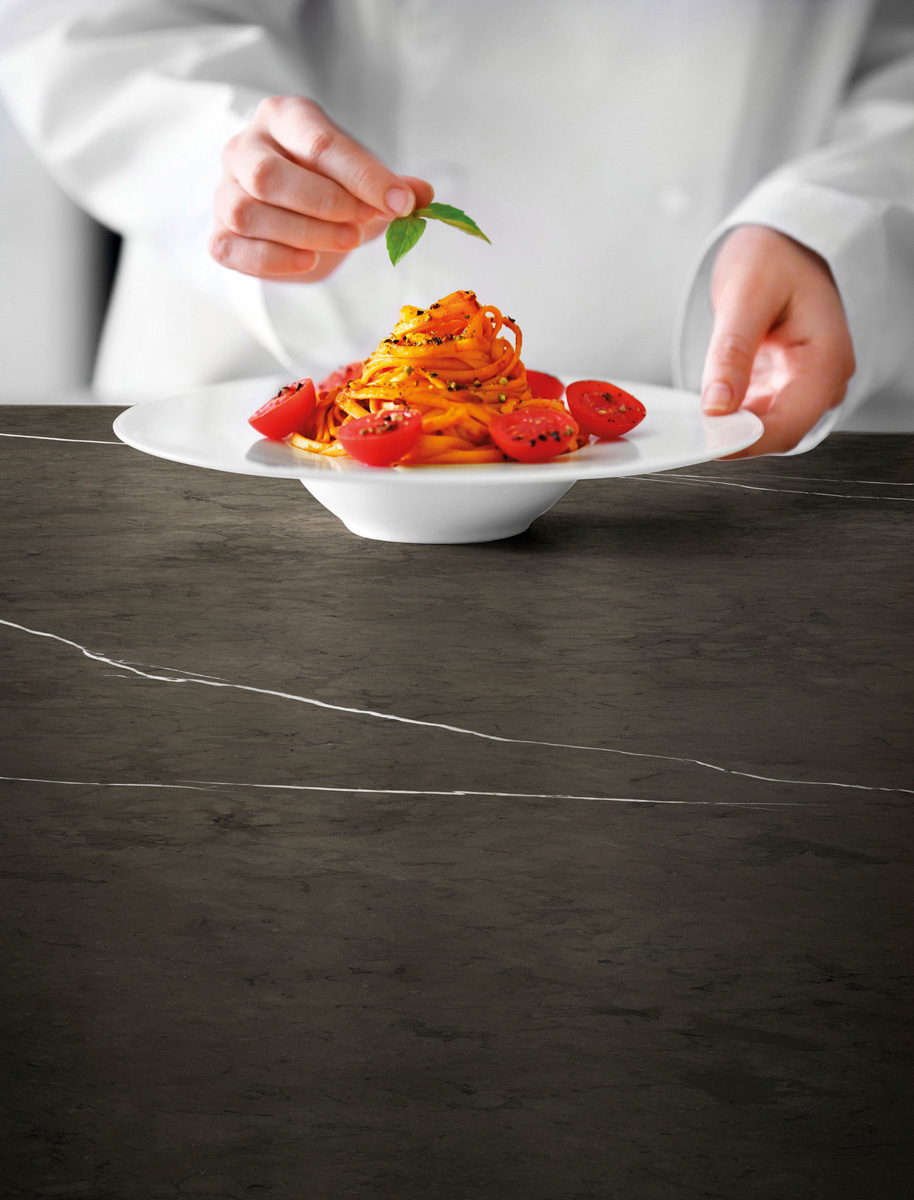 Pietra
Furniture and appliances
Another very visual part of the kitchen is the furniture. The cabinets, doors, tables, chairs and even the appliances contribute to the final design of the space. You can opt for a combination of colours or for a single colour, both options will give a special touch to your modern kitchen.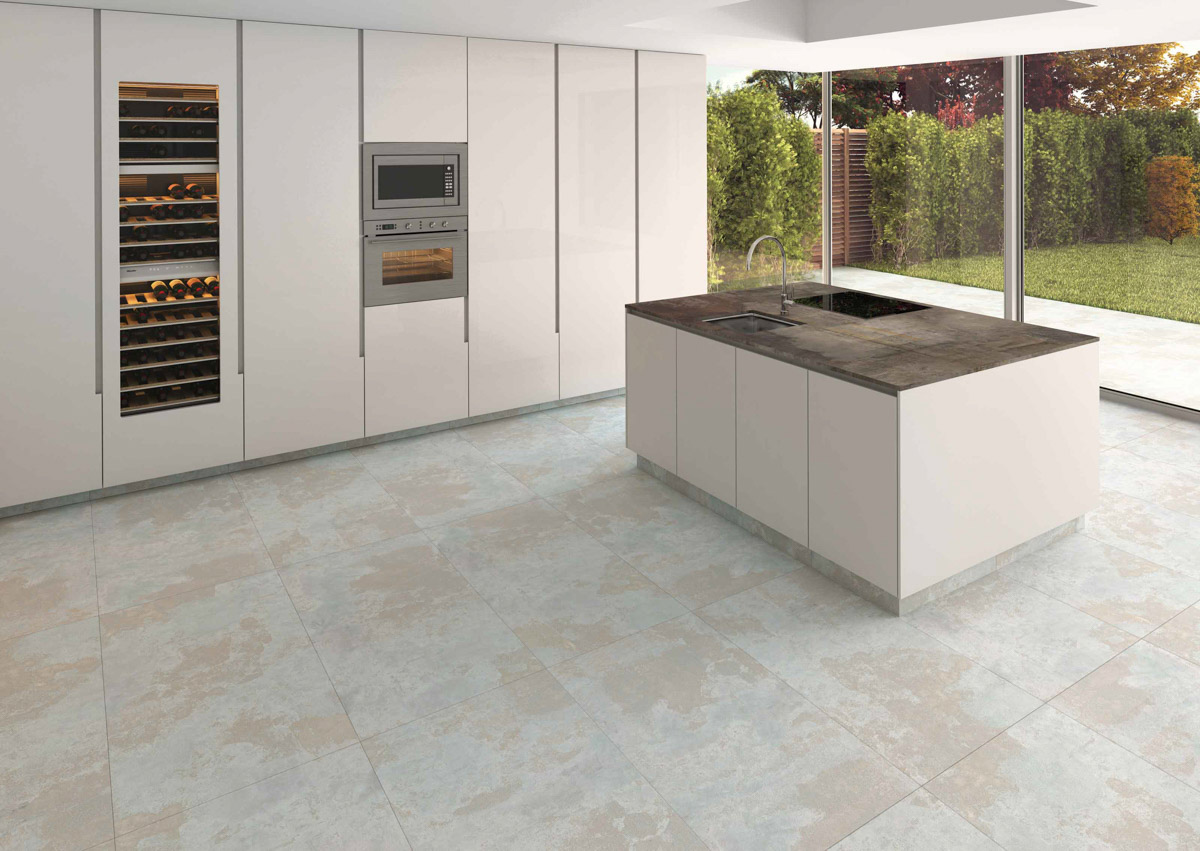 Anima
Trendy colours for a modern kitchen
Now that we know what tools we have at our disposal, it is time to choose the colour for the kitchen. Without a doubt, one of the most current trends is to go for a dominant shade, either with more neutral and soft colours or with more dynamic and eye-catching options.
Modern white kitchens
White kitchens are a classic that will never go out of fashion. White goes hand in hand with timeless design, something that is very important in the kitchen, where designs that last over time are sought after. One option is to opt for white tiles and add colour through furniture and accessories to achieve a modern and up-to-date result.
In addition, the luminosity and visual spaciousness that white kitchens provide is incomparable thanks to the colour's ability to reflect light. This characteristic is even more important in smaller kitchens.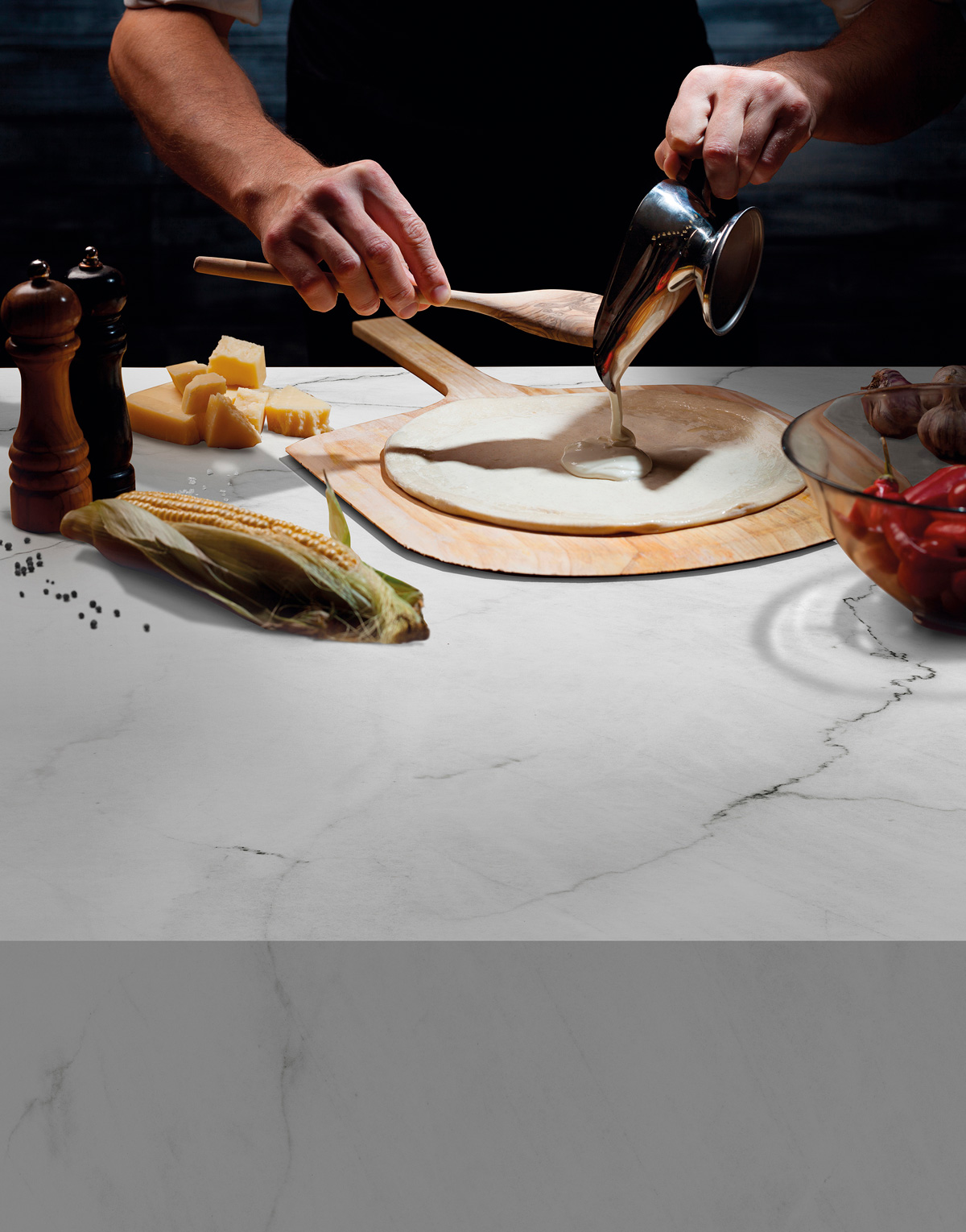 Calacatta
The elegance of black
The colour black, synonymous with elegance and highly appreciated in the world of fashion, is also an option to take into account. It is a very versatile colour that can be used in many different shades. Apavisa's black porcelain tile collections are an example of this, offering a wide and rich range of designs ranging from natural stone to cement or single-colour tiles.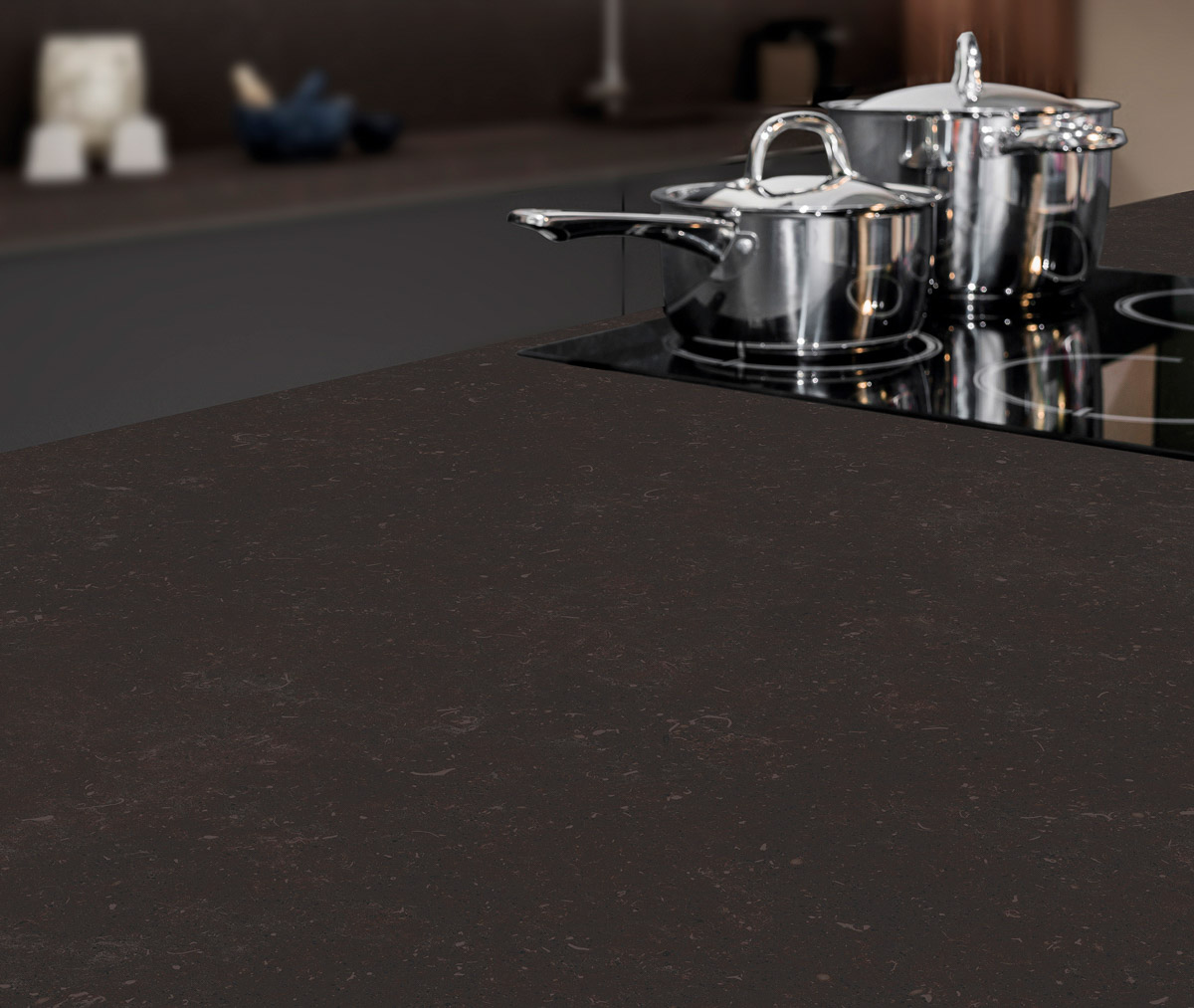 St. Vincent
Kitchens in neutral tones
If you want a modern kitchen in light tones, neutral colours are a great option. They do not overload the atmosphere and inspire tranquillity. They give a feeling of purity, brightness and calm. And what's more, they are not visually tiring, something that can happen with brighter and stronger tones.
Beige kitchens are based on a traditional neutral that provides a relaxed atmosphere and is uncomplicated when it comes to mixing and matching. On the other hand, grey tiles could be considered the new neutral, a perfect colour if you find white too boring. In either case, we recommend using these colours as a base for walls and floors. In addition, beige and grey kitchens are very versatile, as they can be combined with almost any colour.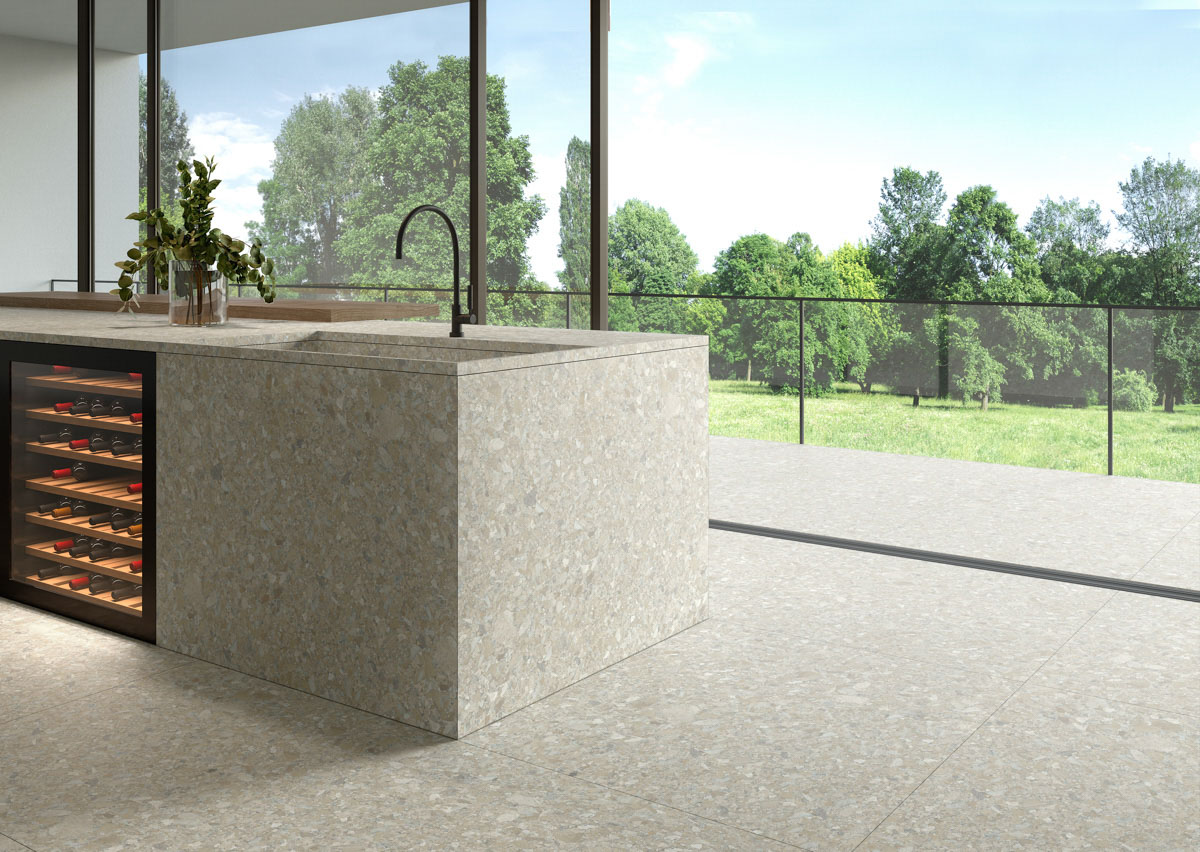 Momentum
Dynamic colours for modern spaces
Another trend consists of opting for bright colours that provide extra dynamism. Here you have plenty of choice: green tiles bring peace and freshness; blue porcelain tiles give a touch of colour without being overpowering. In both colours, you can make use of the decorative power of encaustic porcelain. The variety of encaustic tile designs brings authenticity, personality and creates a unique contrast through its mosaics and patterns.
Pink tiles are synonymous with sophistication. This colour, for example, has reinvented the most classic terrazzo, turning it into a sign of personality in any room where it is applied. The terrazzo look reappears with an explosion of colours and designs in shades of pink, salmon, among others.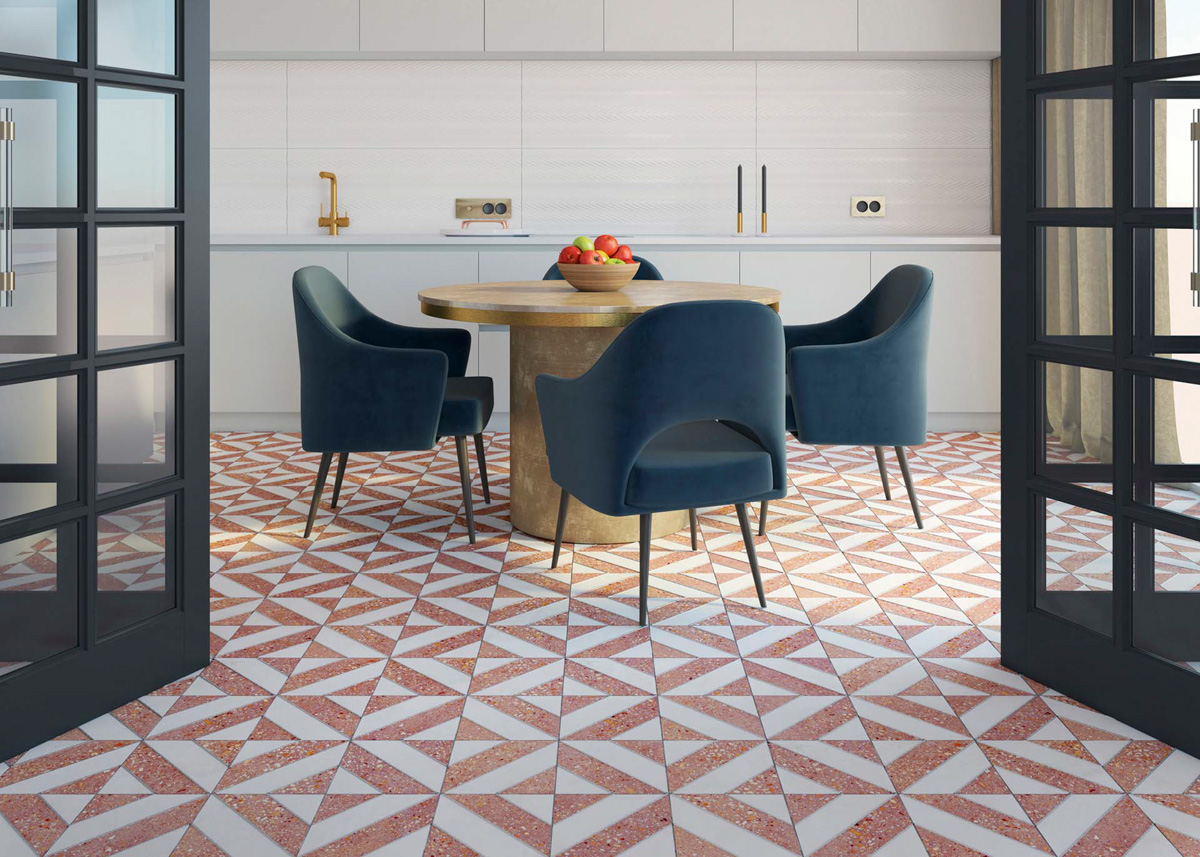 Wind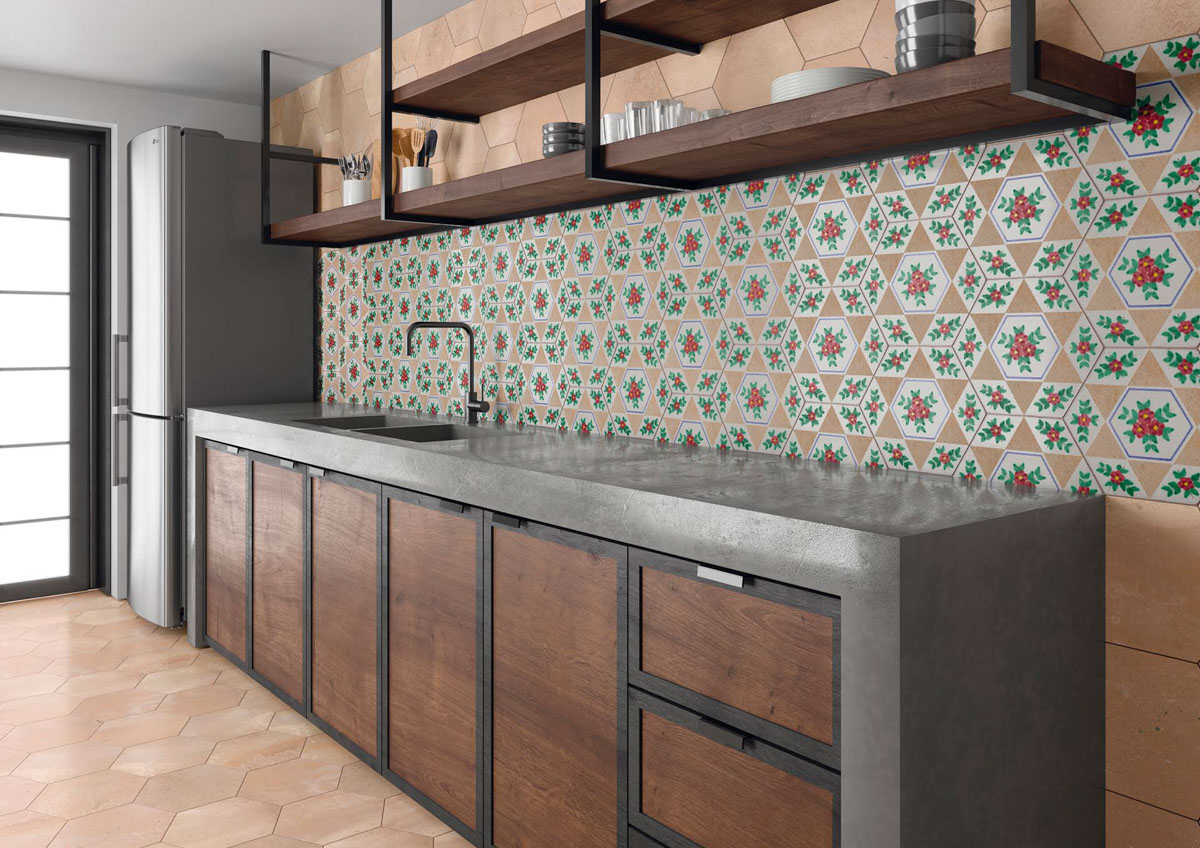 Hutton
Colour combinations for a modern kitchen
If one colour is not your thing, you can opt for a modern kitchen in two colours. Here are some of the possible combinations for a modern look.
Black and white: a classic that is always on trend
Kitchens in black and white are personal, elegant and timeless. This chromatic duo is one of the most classic combinations, as you can benefit from the brightness of white and the elegance of black. You can play with both tones on walls and floors or different surfaces such as the worktop.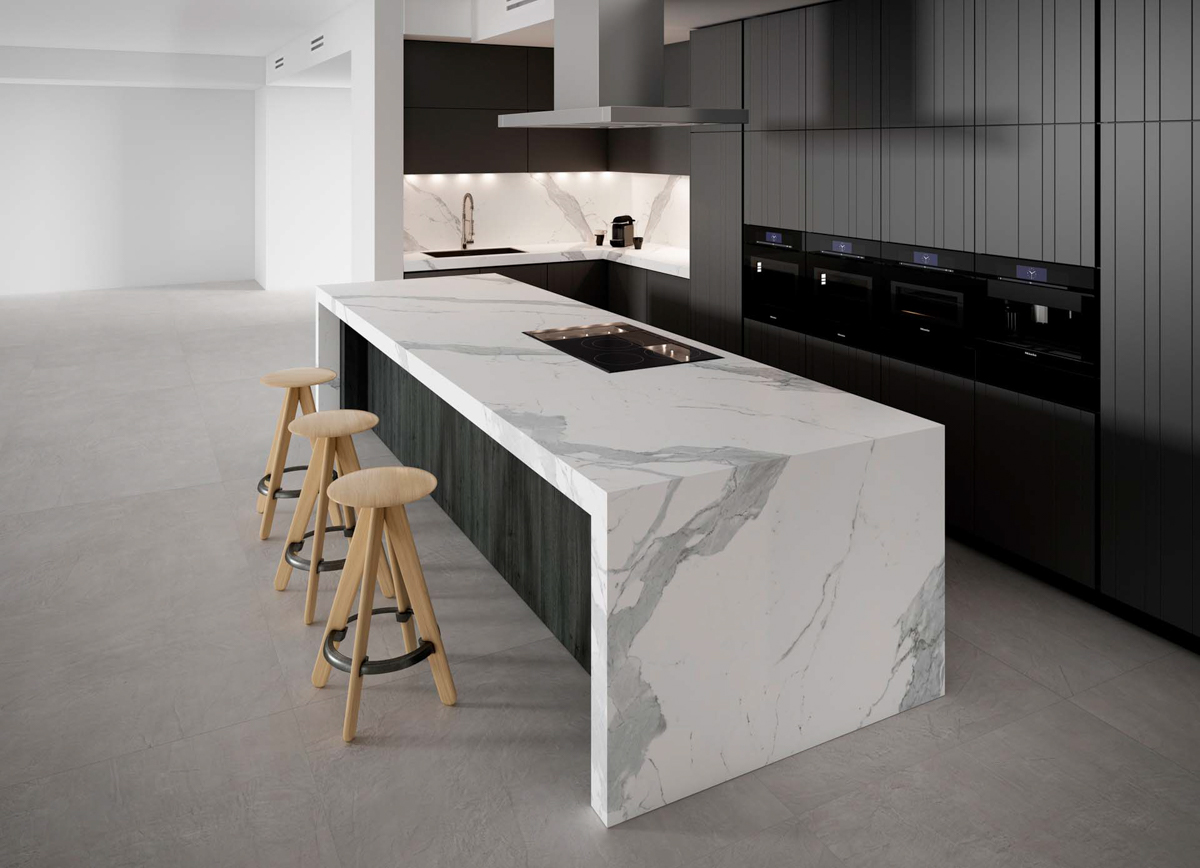 Statuario
Modern white and wood-coloured kitchens
The combination of white and wood is a safe bet if you are looking for a modern and warm look at the same time. And wood effect tiles are a versatile tool to achieve this. If we install them as flooring in a kitchen with white furniture and walls, we will achieve a rustic and natural style.
This look can not only be achieved with white, modern kitchens with black and wood colours can also achieve it. Elegance, simplicity and sophistication will be the result.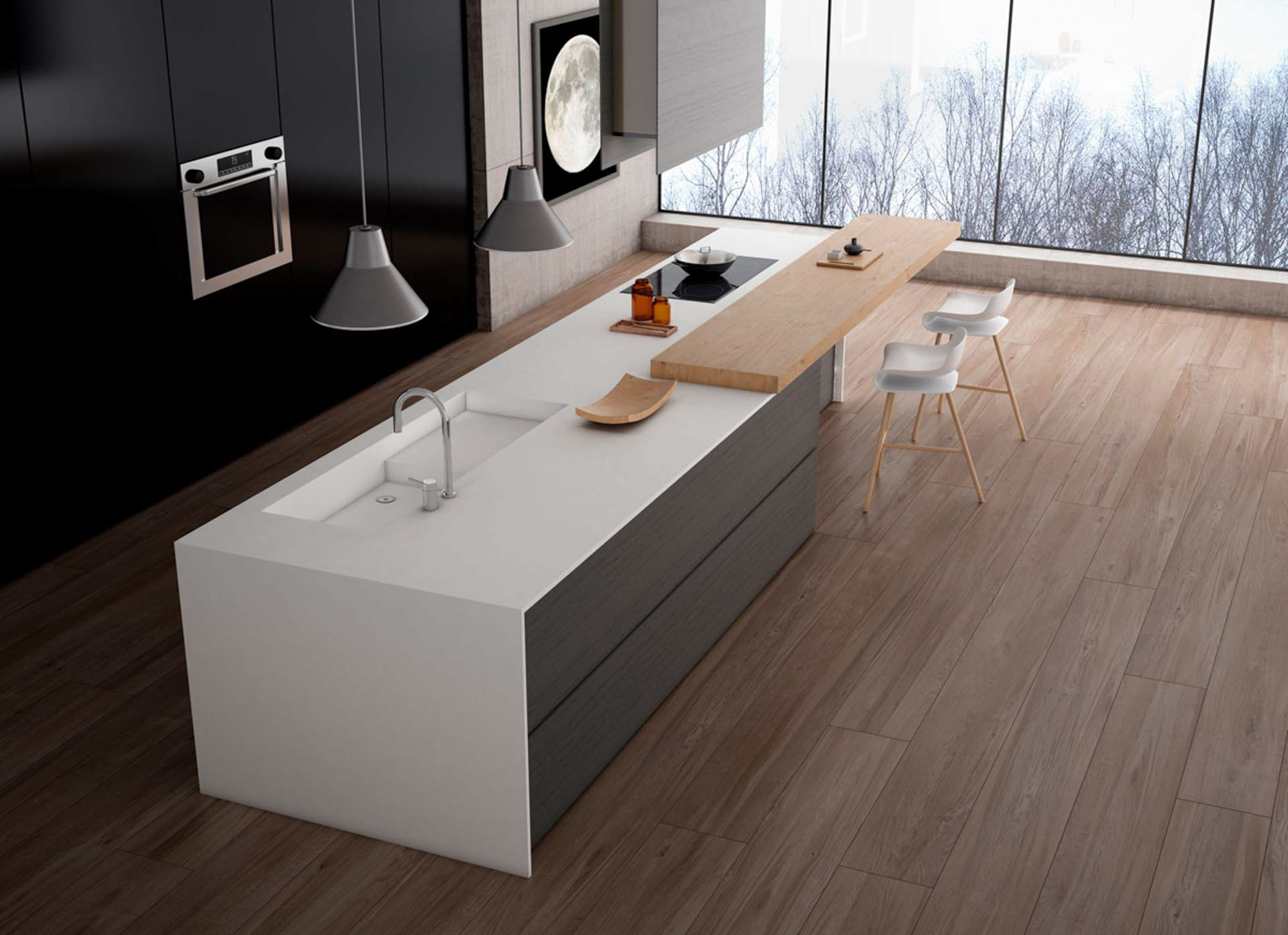 Super White
Modern kitchen in white and grey
It is not surprising that white and grey kitchens are still on trend. These two neutral colours complement each other to create elegant and balanced spaces. You can achieve a very minimalist and contemporary style. You can also combine white with other neutrals, such as cream, and you will achieve a cosy and luminous atmosphere.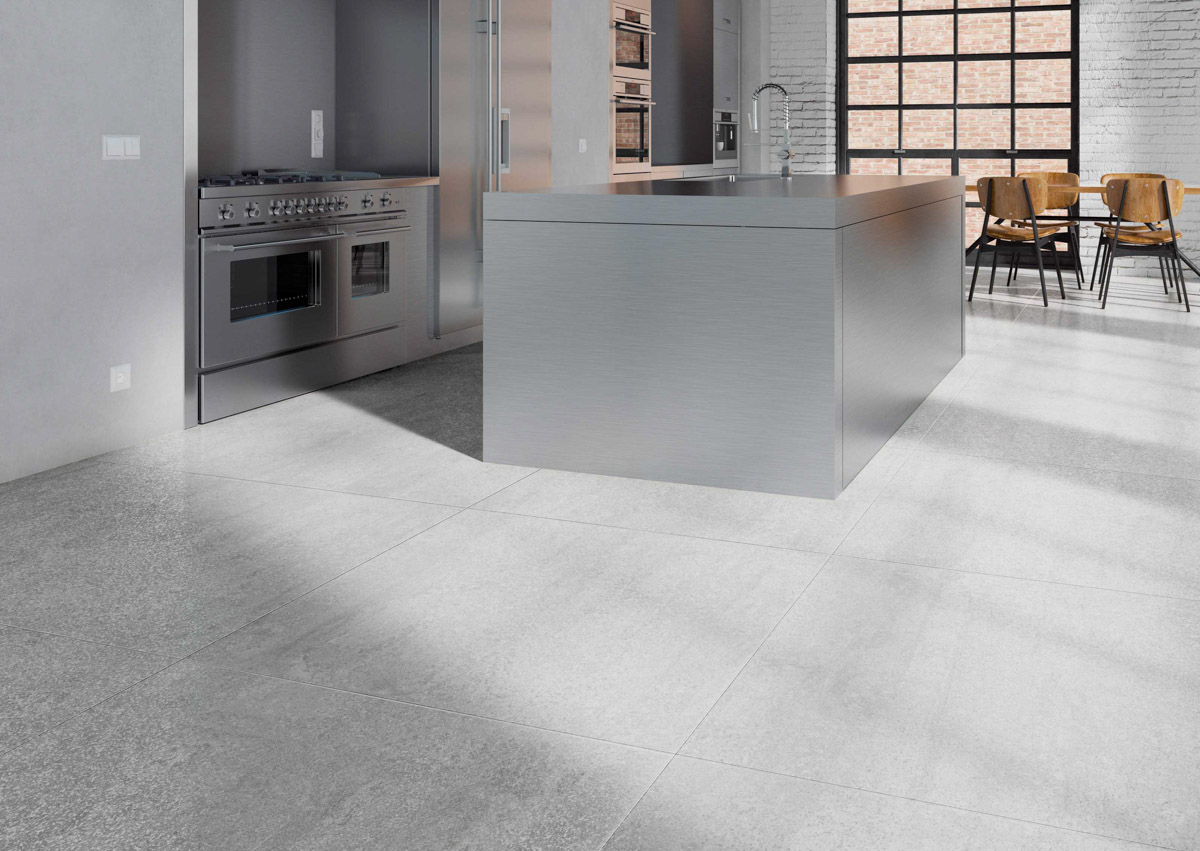 Rust