If you are lucky enough to have a patio at home, you should make sure that it looks nice and that its materials are functional and durable. For this reason, porcelain tiles are always one of the first options to consider when designing a modern patio in line with today's trends.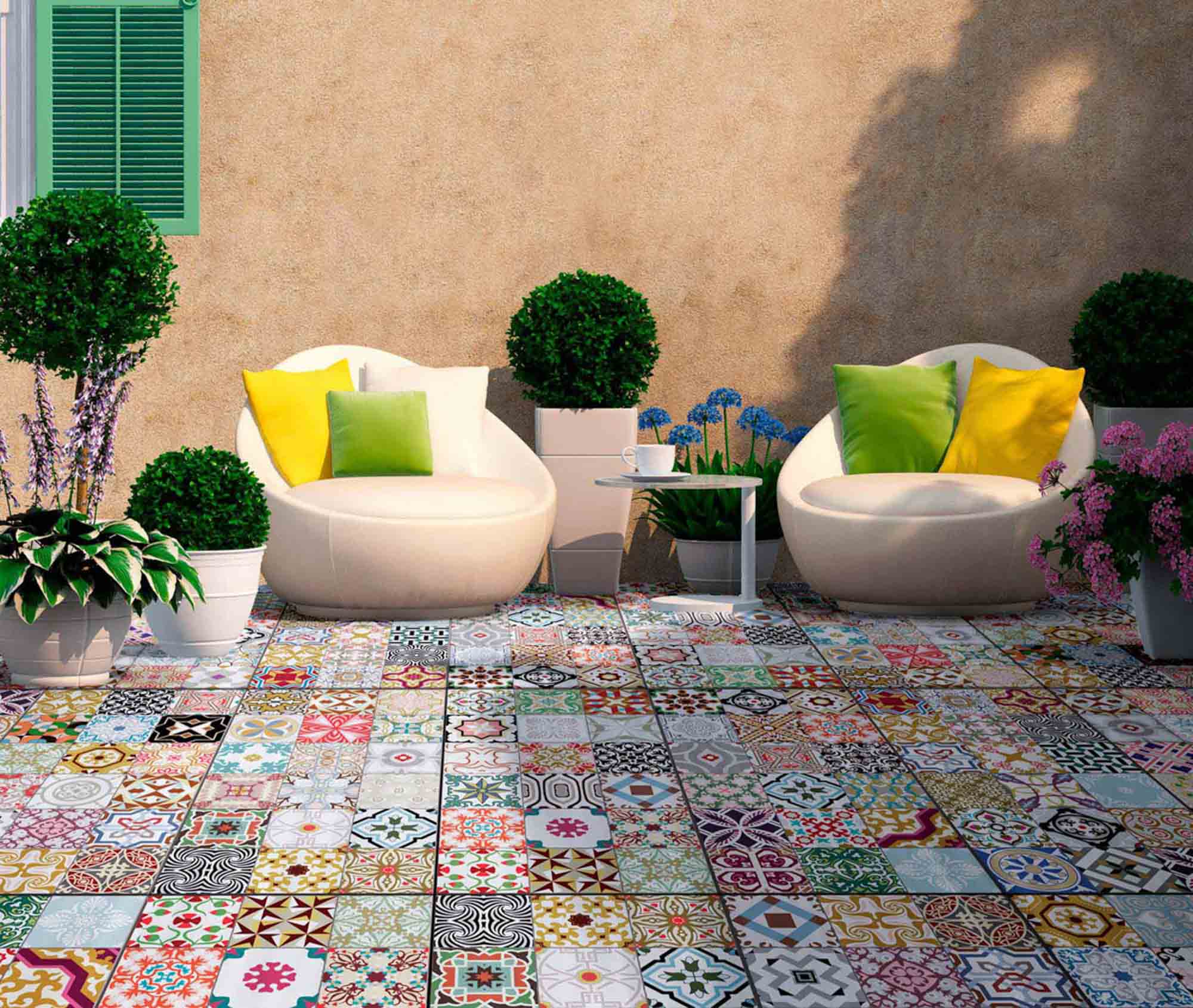 North
A little history to understand today's courtyards
We go back to 6,000 BC, where courtyards were seen as a means of demarcating property and defending belongings and livestock. Later, in Egypt, a type of house with a central room with gardens and high windows to keep out the heat was devised. Something similar occurred in Roman dwellings, where the nucleus was a landscaped courtyard with ponds and water features.
However, if there is one culture that has influenced the configuration and aesthetics of today's courtyards, it is the Islamic one. The Arabs inherited the layout of the space from the Roman courtyards and incorporated the use of tiles with geometric patterns for their decorative value.
In short, we can see how the patio evolved from a practical space to a leisure and enjoyment corner for families and how the most ornamental trends developed thanks to the use of tiles. Today we take up this heritage and include all kinds of decorative and functional elements (places to sit, small gardens, fountains or pools and outdoor kitchens...) to turn it into an almost cult-like space. Whoever has a patio has a treasure!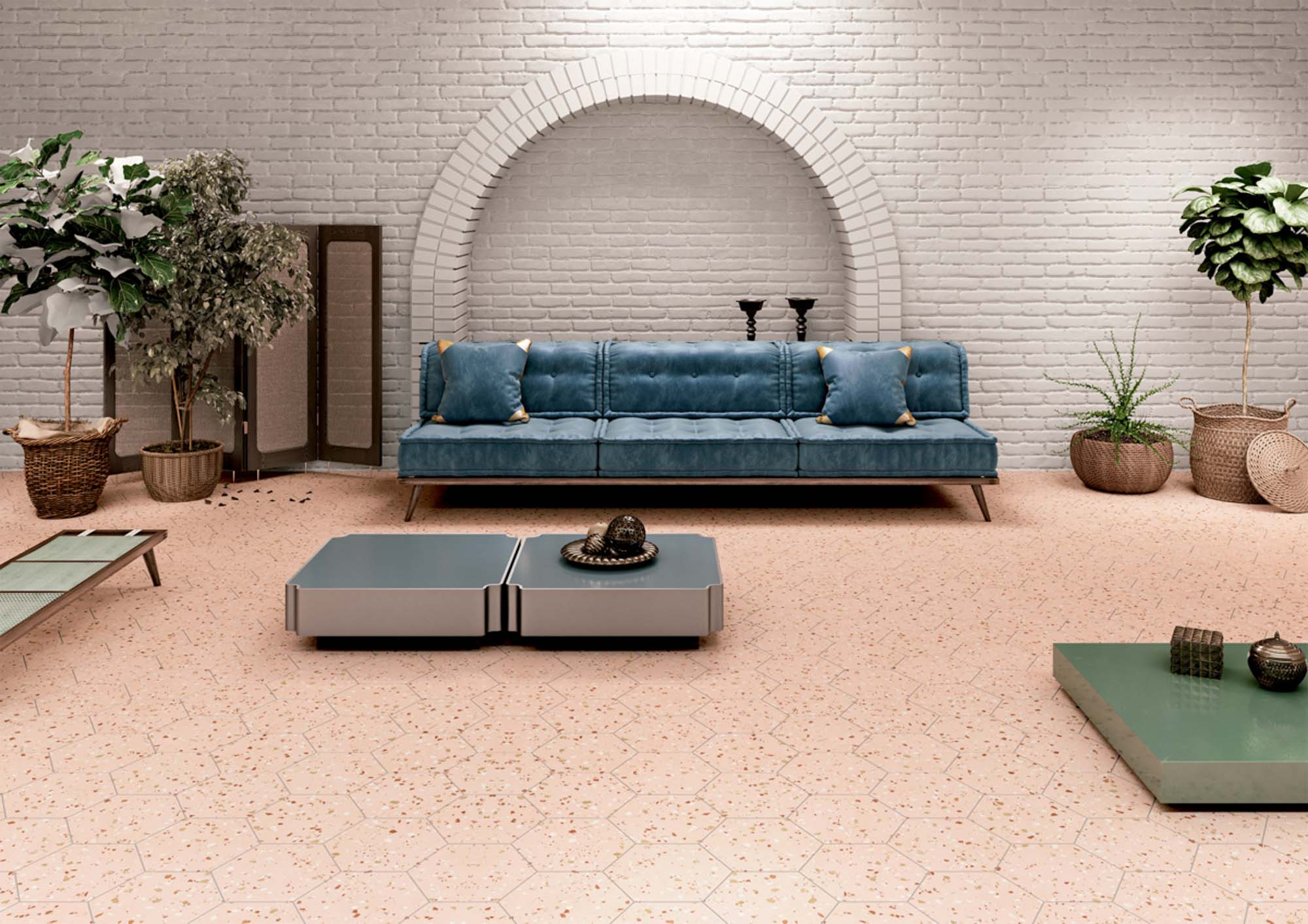 South
Ideal tile types for today's patios
Designing modern patios with outdoor porcelain tiles is a safe bet. They have convenient technical properties, such as their high resistance to knocks or inclement weather. In addition, there are an infinite number of patterns, colours and shapes to tile the floors and walls of the patio to our liking. These are some of the aspects of tiles in trend for exteriors:
Cement tiles for modern patio flooring.
One example of modern patio flooring is undoubtedly the concrete effect porcelain tile. These tiles are ideal for more urban designs or those with an industrial look. In addition, thanks to the chromatic variety of cement-effect tiles, you can opt for lighter or darker shades depending on the size and lighting of the patio. Among the tiles in this collection, North Grey Solid stands out with its subtle texture.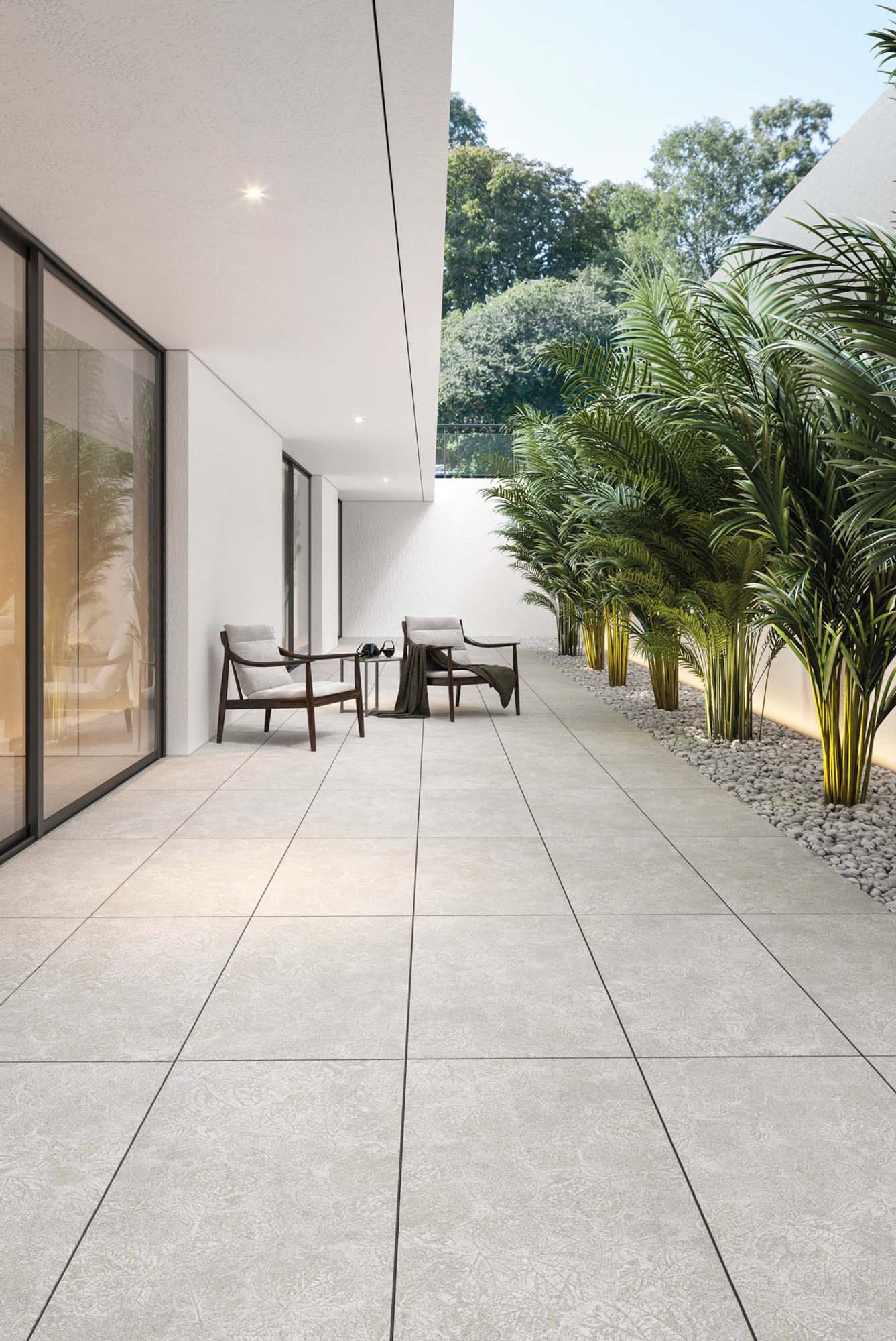 Fragmenta
Patios with hydraulic flooring: a classic that has been brought up to date
Encaustic tiles are also a safe bet when it comes to designing a charming patio. They are ideal for achieving a retro aesthetic and for making the paving or cladding take centre stage. Their designs include different geometric and floral motifs, with colours and shapes that combine with each other. One of the most successful collections for outdoor patios is Senso Green Solid.
Natural design to update rustic patios
Rustic never goes out of fashion. Tiles with a stone or wood look are a classic that can be combined with more avant-garde furniture and accessories. We can also opt for imitation clay tiles (cotto) that have a very natural and artisanal character. Another way of updating the rustic style is to opt for materials of traditional origin that are reinvented thanks to ceramic design. This is the case of terrazzo effect porcelain tiles, with collections suitable for outdoor use such as Wind.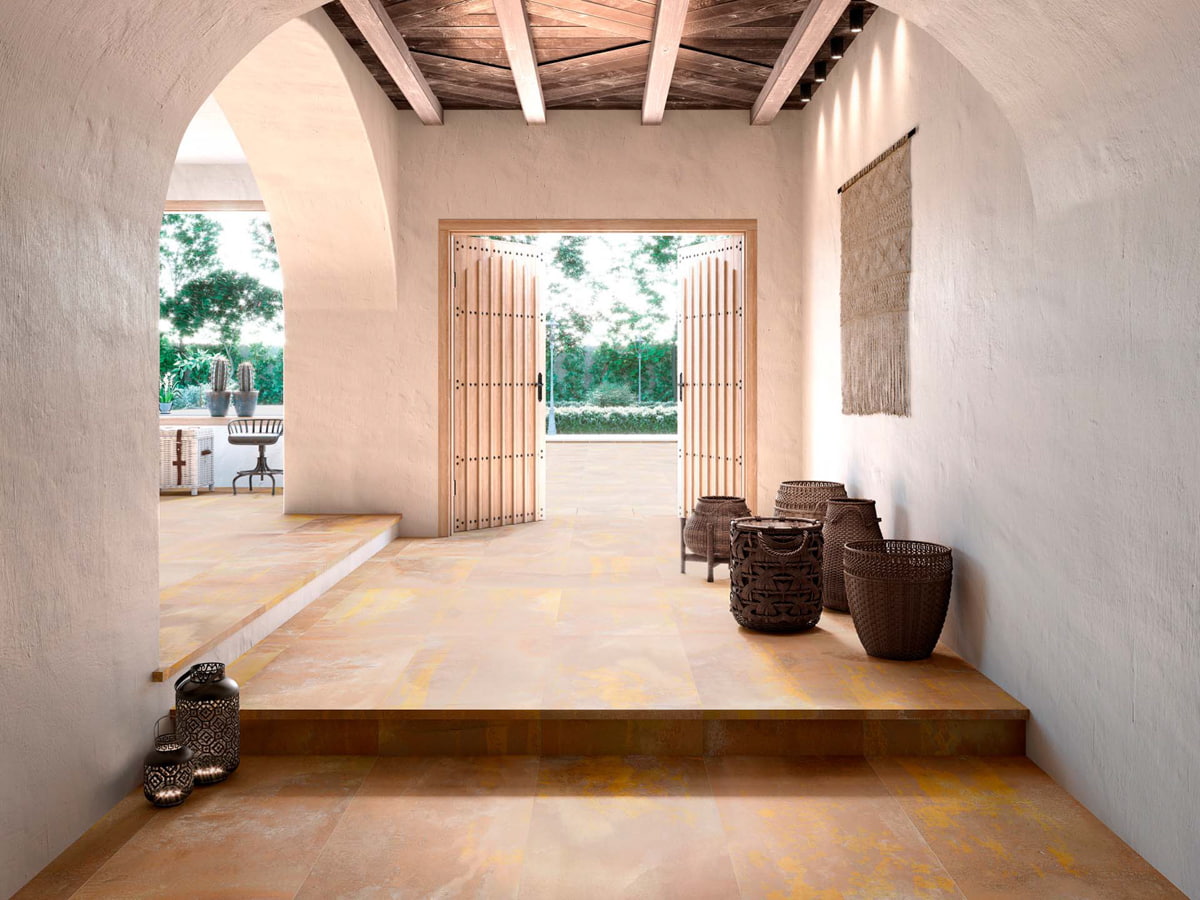 Hutton
Tips for decorating modern patios
Once the tiles have been chosen, it is time to select other decorative elements to complete the look of a trendy patio. Let's take a look at some of the hottest trends.
Modern and charming small patios
The most important thing in decorating a modern small patio is deciding what to use it for. With limited space, we will have to consider what we will use the area for, for example to create a chill out area. This will help us to focus and not overload the space.

If there is a style that is favourable for small, modern patios, it is minimalist, accompanied by green plants. A light-coloured cement-type paving or porcelain tiling will favour the contrast with the natural and will provide greater visual amplitude.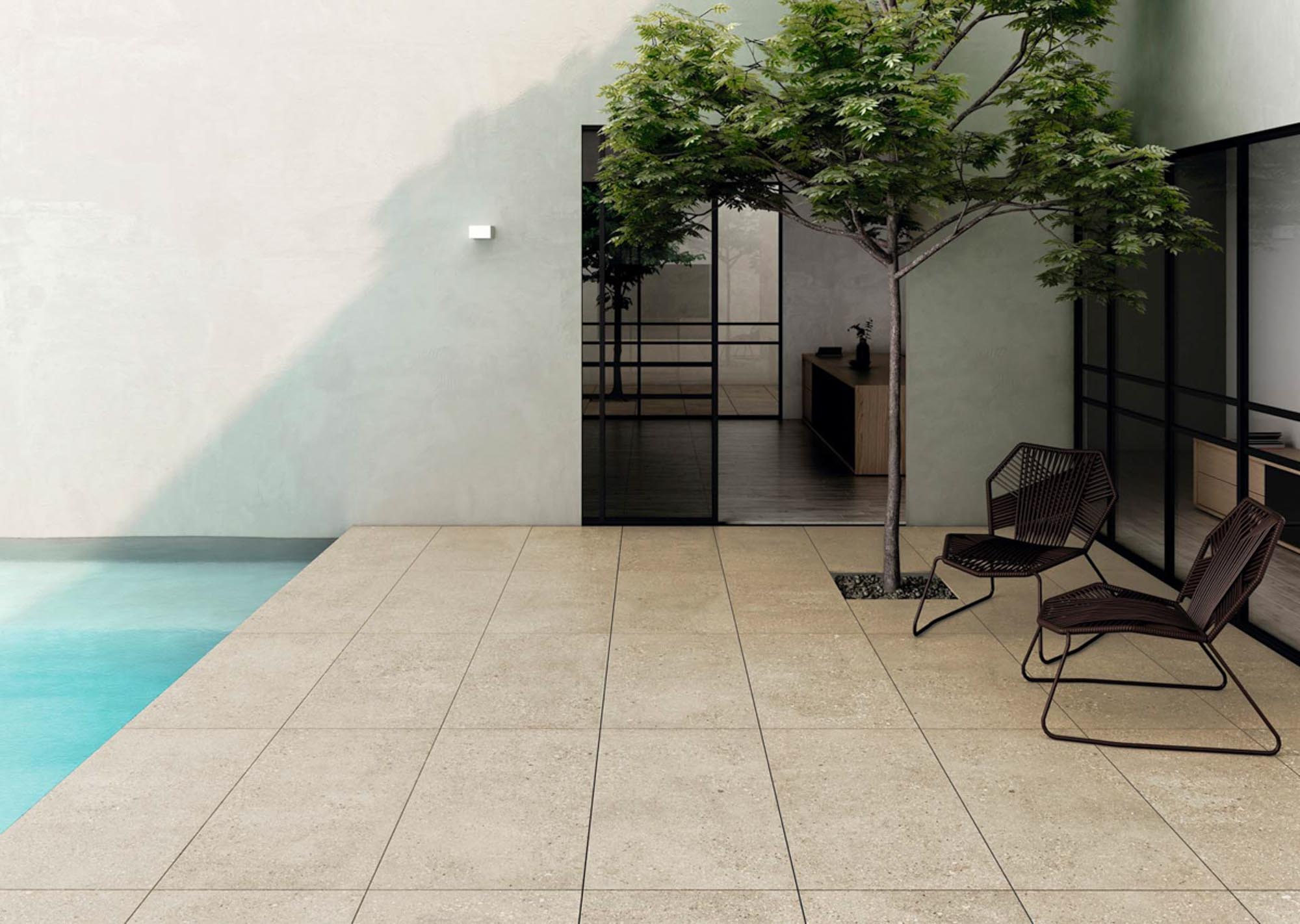 Wind
Andalusian patio with a modern twist
Andalusian patios are distinguished by five characteristics: white tones, decoration with flowers and plants, flowerpots, water as a key element and the importance of tiles. These elements are maintained today, adapted to the new times.
There are many options for floor tiles. From imitation terracotta floors, which contrast with white walls, to hydraulic porcelain tiles, which allow surprising geometric designs or eye-catching borders to be created. To achieve a modern touch, we accompany it with wrought iron or wicker furniture with white cushions and modern lines. And if space permits, we can install a wall fountain for patios.
A refreshing oasis with a mini pool or water area
If we make good use of the space, we can further enhance the charm of our patio with a swimming pool or water features reminiscent of classic patios. In this case, it is advisable to opt for porcelain tiles with a non-slip finish. This type of paving improves our safety against falls and slips in the wettest environments. In addition, we can choose from a wide range of designs such as cement, wood or stone.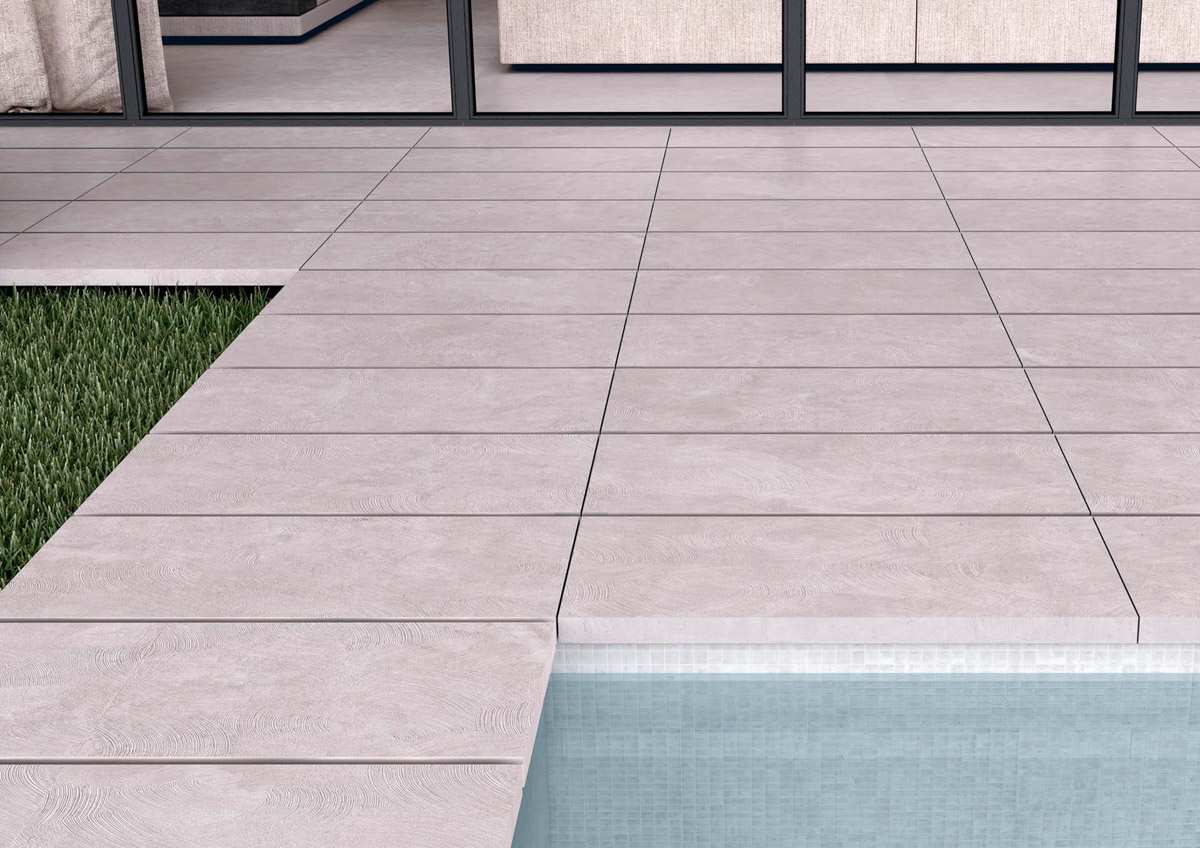 North
Where can I lay tiles on the patio?
Undoubtedly, one of the advantages of tiles is that they allow you to boost the design of both floors and walls in all types of modern patios. In the case of flooring, we recommend installing 2 CM thick porcelain tiles if the patio is completely exposed. This extra thickness gives the tile greater resistance and the ability to withstand adverse weather effects.

Wall tiles are also a fundamental tool for boosting the ornamental character of the patio, and again porcelain stoneware is the most suitable material for exterior walls and facades. From there, the key will then be to combine the paving with the cladding or to play with various collections and looks on the same surface.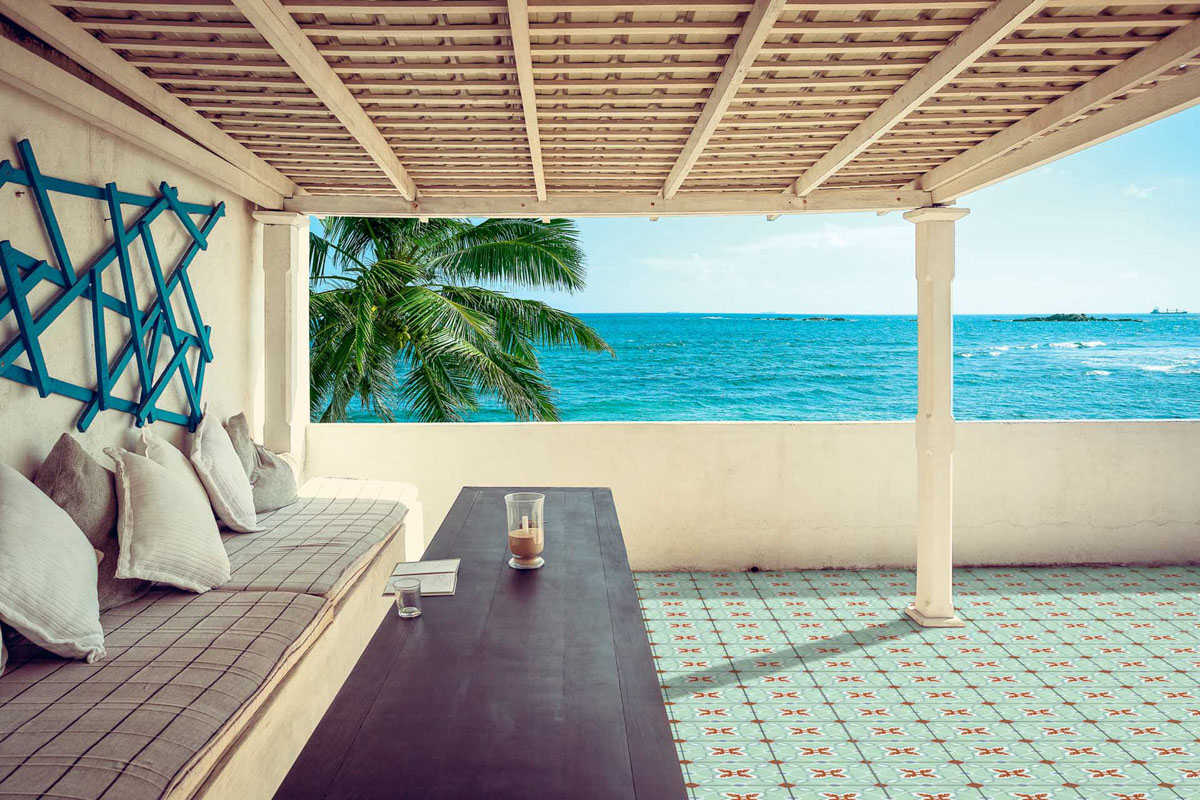 Senso
In short, patios are a central part of all kinds of projects, whether in homes, hotels or shopping centres. The need to create a space in which to take refuge from the high temperatures, to get together and to disconnect has driven their rise, even more so with materials such as porcelain tiles, capable of adapting to any decorative style.