The summer season is coming and terraces are starting to take centre stage as we spend much of the day enjoying lunch and dinner outdoors with friends and family, sunbathing and swimming in the pool, playing with our pets, etc. With so much delightful, relaxing time spent in the garden, it is essential to choose the best tiles for outside patio if we want to design a comfortable, safe and decorative space.
At Apavisa, we want to give you the best professional advice on which interlocking patio tiles to choose for outdoor flooring for patios.
Desired qualities for outdoor patio flooring
When selecting terrace tiles, you will need to consider some essential requirements to make the right choice. Although there is a great variety of outdoor flooring materials, the most popular choice among designers and architects is ceramic flooring. This type of material offers a wide variety of designs that also include the most high-techtechnical features and the qualities desired in outdoor patio flooring. Let us explain what they are: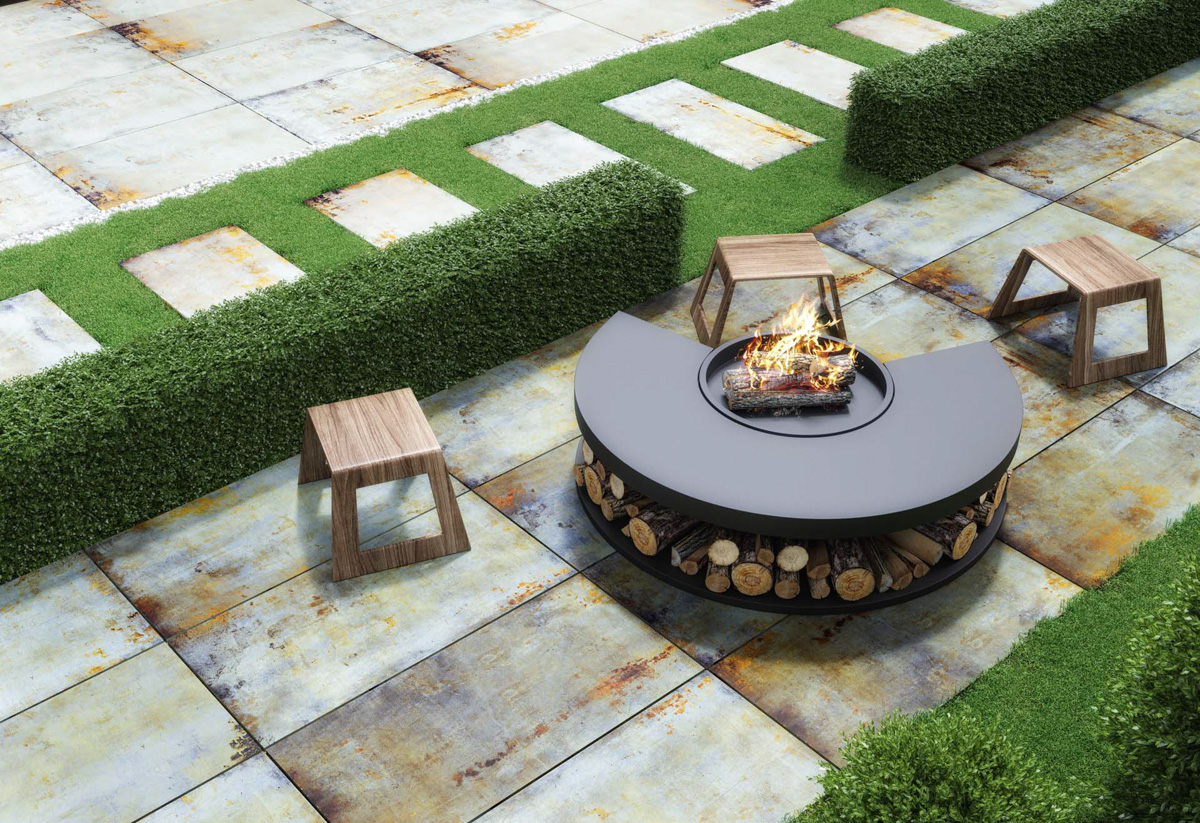 Lamiere White Solid 2 cm 50X100. Metal-effect outdoor porcelain tiles.
Types of interlocking patio tiles
Without a doubt, choosing the type of outdoor porcelain tiles for patio can be one of the most important decisions when building or renovating this space.
There are many options and many questions confronting users who are trying to make their choice. Here is a brief overview of the main options:
Mud floors: They can create a rustic appearance and are especially delicate when it comes to stains since these are difficult to remove. They are porous and are not very frost resistant.

Enameled stoneware: It is less resistant than porcelain stoneware, which is why it is mainly used for interiors.

Porcelain stoneware: Outdoor porcelain flooring and tiles for patio have the most technical advantages. These are the strongest and most durable tiles, as they are made of compact paste.
Is porcelain the best outdoor flooring?
Among the wide range of materials available for patio deck tiles, porcelain stoneware is the star choice. Whether for the garden, the terrace, the patio, the pool area, etc., porcelain backyard tiles offer a series of technical and maintenance advantages that make it the best outdoor flooring.
Its low water absorption, resistance to frost and wear in general, together with its multiple decorative possibilities and its easy cleaning and installation, make compact paste (porcelain) ceramic interlocking tiles the preferred choice of architects, builders and end customers.
We will tell you what characteristics you must take into account when choosing your exterior floor tiles:
1-Resistant to severe temperature changes:
One of the qualities of outdoor porcelain flooring is that it is highly resistant to unforeseen changes in temperature and atmospheric phenomena: rain, hail, snow, etc. Thanks to its low porosity, it is a better option than flooring made from natural materials. Its water-resistant surface allows it to resist moisture without its appearance being affected over time. At Apavisa, we have a wide variety of terrace tiles that are highly durable, non-slip and resistant to cold and frost.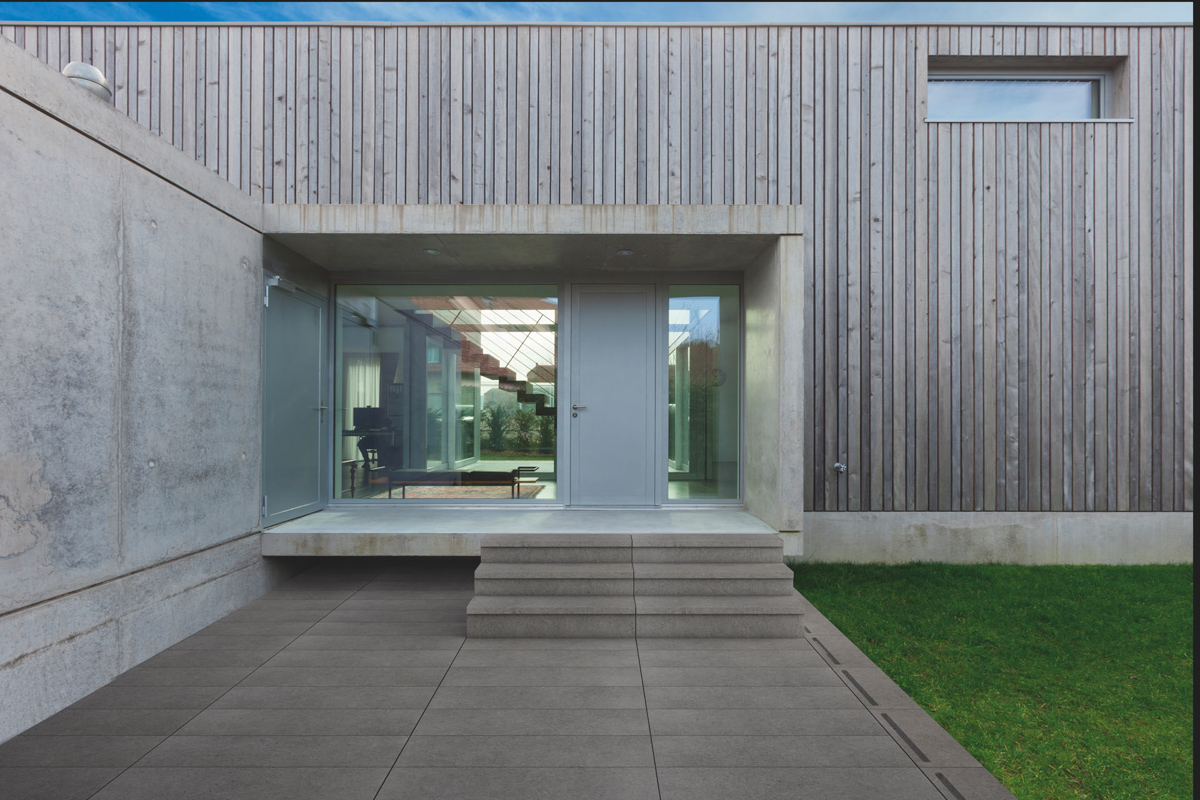 Concept Grey Solid 2 cm 50X100. Stone-effect outdoor porcelain tiles.
2-Flooring that is easy to clean and maintain:
Porcelain or stoneware tiling is the easiest to clean, thanks to its durability and low maintenance. Here, no special care or products are necessary, unlike on a natural wood floor where protectors and varnish must be used from time to time to avoid wear. This maintenance is not be necessary with wood-look tiles for outdoor patio.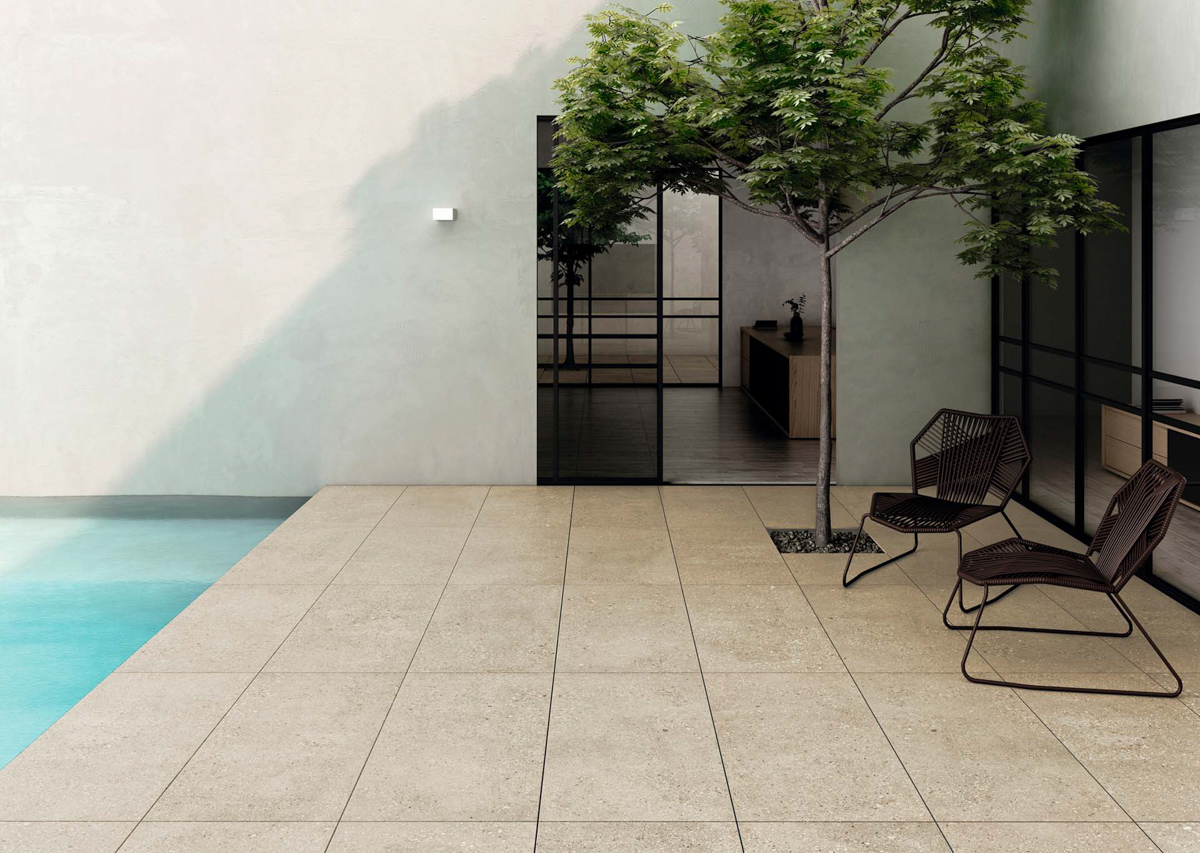 Wind Ivory Solid 2 cm 50X100. Terrazo-effect outdoor porcelain tiles.
3-Offers non-slip qualities:
Although it may seem unbelievable, more than half of all falls occur in the home. Non-slip outdoor tiles is the perfect choice to prevent slipping and create a safe environment inside your home.
4-Multiple installation methods:
Our outdoor SOLID 2 cm tiling can be installed in various ways, allowing architects, interior designers and owners to work creatively.
Raised ground: In raised-ground systems for water drainage: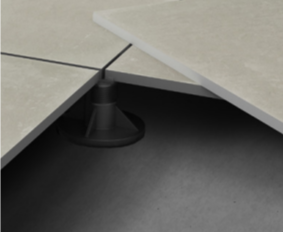 Raised ground
On grass: Easy to install. Just pour some gravel to create a good base, then position the SOLID 2 cm pieces on top.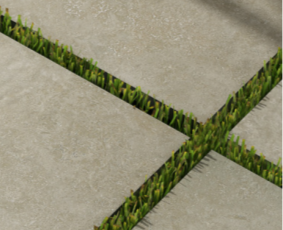 On grass
On gravel or sand: The tiles can be installed to taste; simply make sure that the floor is level first and then leave a generous joining.
On gravel or sand
With adhesives: The tiles can be installed in a normal manner, without special requirements.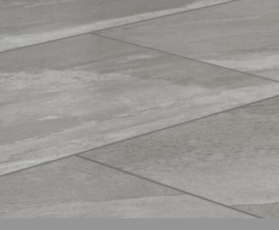 With adhesives
Outdoor paving Ideas for gardens
What is the ideal garden flooring? What style of garden paving are you considering?
We know that this is an important decision and that there are multiple outdoor flooring options: clay, cement, hydraulic, metal...
We present a series of outdoor garden flooring ideas that we hope will inspire you and provide some ideas for pavements that you can use outside.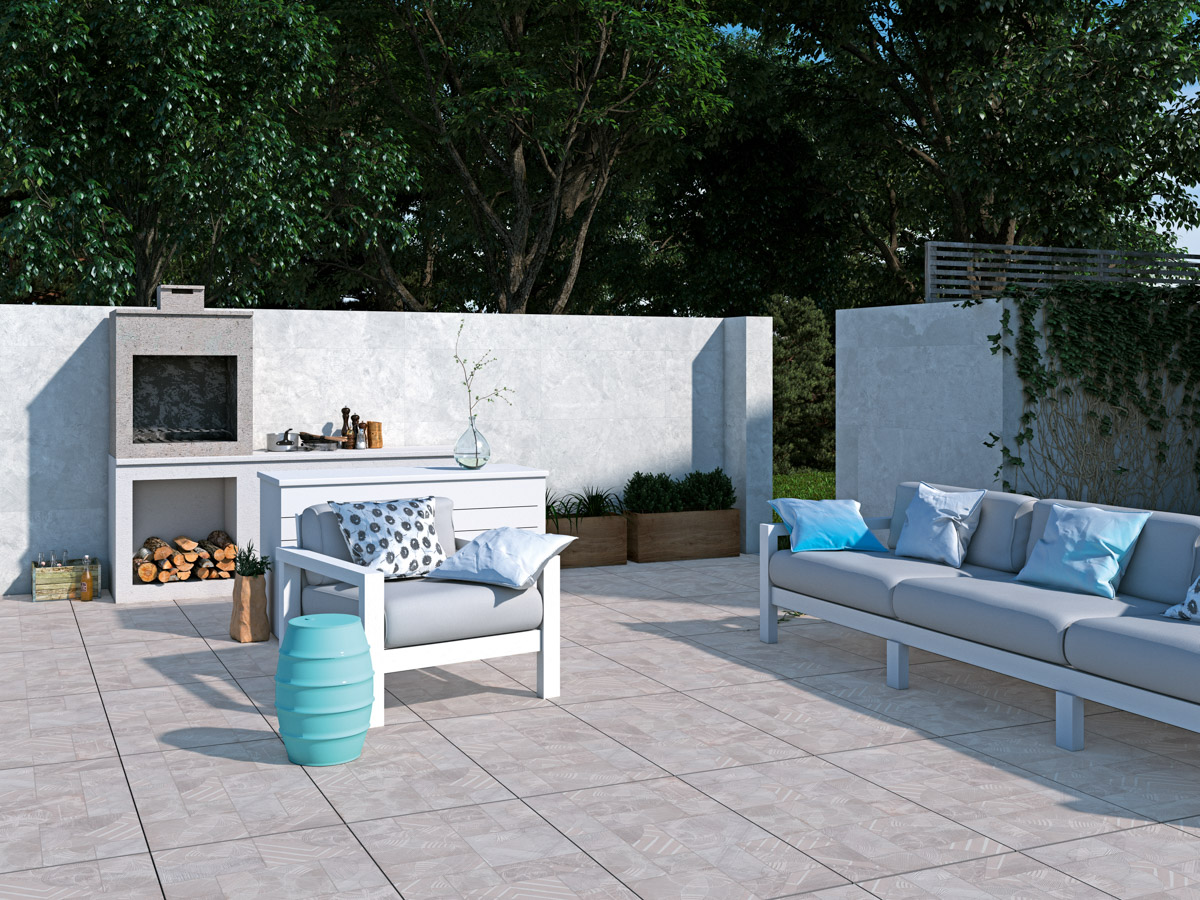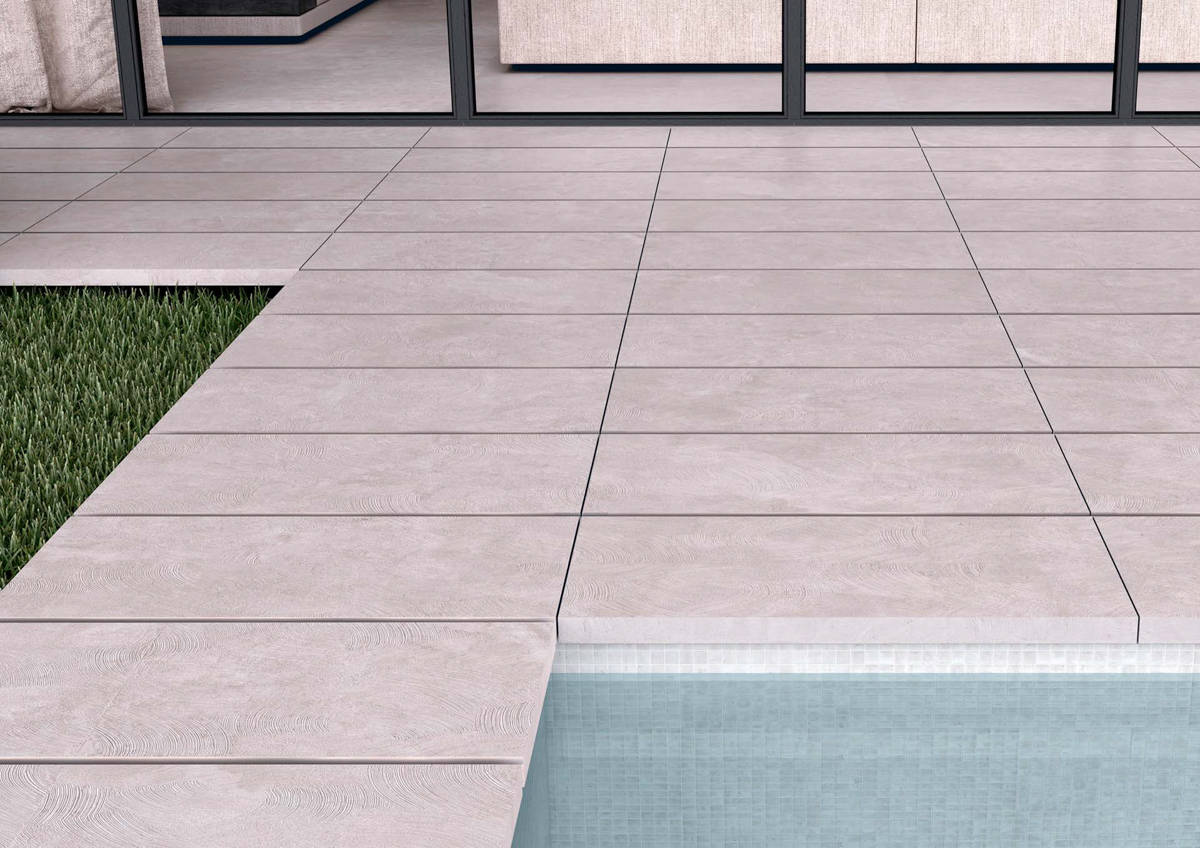 North Sand Solid 2 cm 50x100. Outdoor porcelain stoneware simulating embossed cement.
Garden flooring without work
Enjoying the terrace, whether in summer or any season of the year, has become a trend for everyone. As we have already mentioned, there are multiple and varied flooring options to achieve a modern garden that is suitable for each person's style.
In this case, we will discuss some options to renovate your garden, terrace or patio without the need to carry out works that may create a nuisance.
Composite floors:

these are floors that come in slats that fit together.

Wooden floors

: an upward trend. However, it is a type of flooring that requires a lot of maintenance depending on the climate.

Ceramic floors:

there is a type of ceramic flooring that does not require work. This is called "dry" ceramic flooring and it is placed in tongue and groove.

Microcement floors:

these can be installed on previous paving without the need for work to be done. It requires several days to be installed and needs good support so that it does not cause problems.

Artificial grass:

if your idea is to have a small garden, you can install artificial grass and achieve a more natural effect on the environment.
Modern gardens with printed concrete
Lately, we can find many modern gardens with printed concrete in magazines and on social networks; this is a type of paving that allows you to create

terraces and all kinds of exteriors with a special warmth.

It is flooring with multiple advantages in terms of

resilience, anti-slip and adaptability.

However, it requires a lot of care when being installed because any mistakes will be almost impossible to rectify. In addition, it is necessary to verify that the substrate is solid so that it does not crack.
Gardens with porcelain flooring
The flooring for ceramic terraces is the "king" of floors, due to its technical characteristics, as concerns ease of installation, reliability, anti-slip, decorative capacity and simplicity in maintenance.
Another option is wooden garden floors, a favorite among decorators, interior designers and end customers.
Moreover, the use of stones in garden paving is also a highly sought-after effect and one that is easily recreated thanks to models such as the Concept Anthracite Solid 2CM: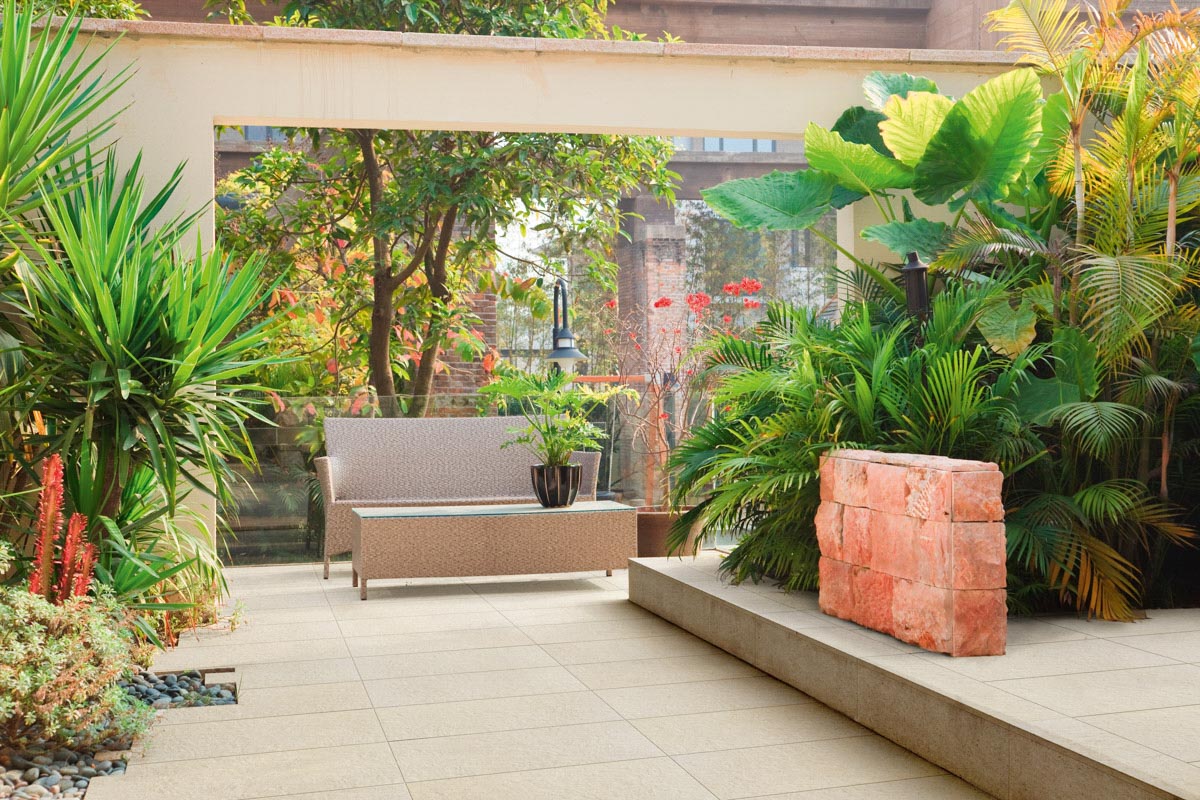 Inspiration for choosing your terrace flooring
After two years of pandemic, it is no news that households have become the nerve centre of our lives. In fact, one of the trends in interior design in 2022 is the attempt to connect indoor and outdoor spaces: the in&out trend. People want their patio floors to be extensions of their indoor floors.
In the almost summer period in which we find ourselves, at Apavisa we would like to suggest some ideas for your new terrace, garden, swimming pool or patio:
Wood-effect outdoor porcelain flooring
Flooring that imitates natural materials is undoubtedly an upward trend. Porcelain outdoor tiles for porch with wood textures, colours and designs are among the most popular.
The wood-effect porcelain stoneware outdoor flooring has the advantages of full-body porcelain stoneware and none of the disadvantages of natural materials. So, if you love terraces that merge with nature and your own home, bringing the exceptionally warm feeling of wood, let us present you with two models you will love.
Our two beige-and-maple-tone porcelain models from the Junoon Collection are especially faithful to natural wood, conveying its grain and chromatic range.
The Junoon Beige model for wood-effect outdoor patio tiles, as shown in the image, is of a cream tone that mimics wood perfectly. It adapts to the most minimalist and contemporary styles and can provide a more rustic and cozy feel.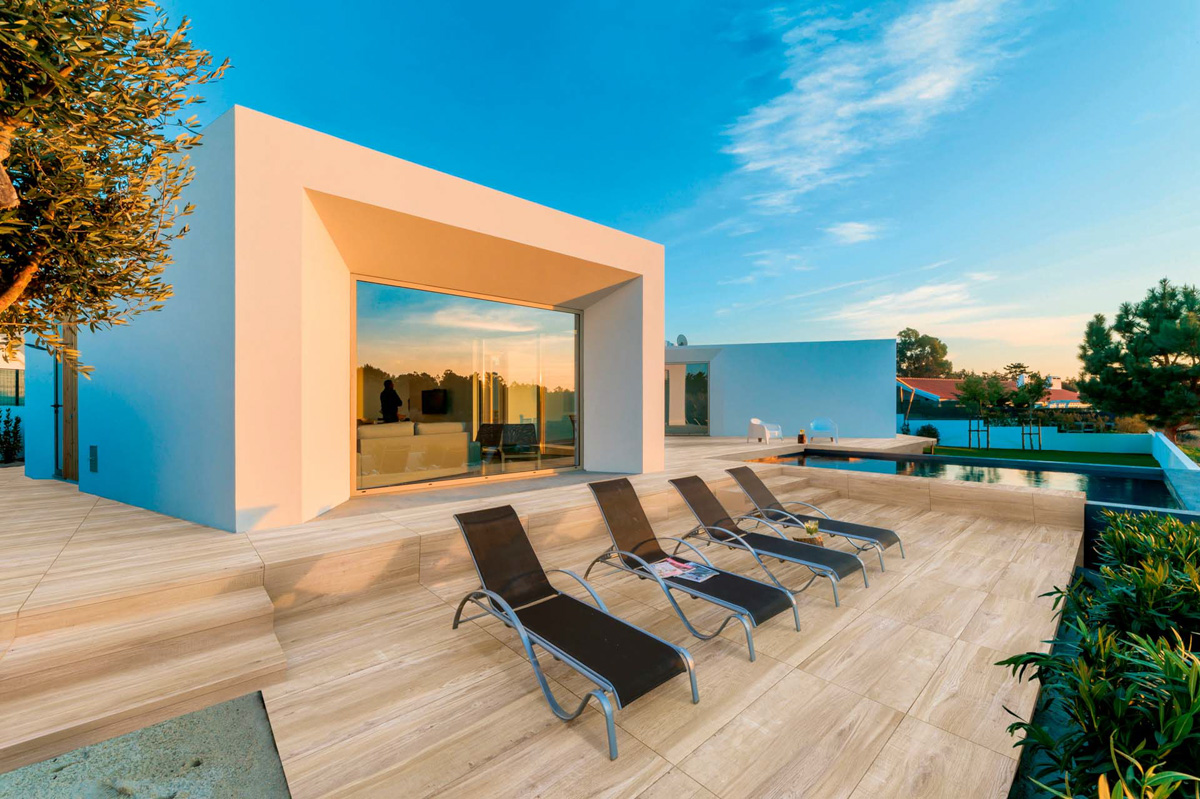 Junoon Beige Solid 2 cm 50X100. Wood-effect outdoor porcelain tiles.
This version of Junoon in SOLID 2 cm can be found in the colour Maple. it is a model that conveys typical maple forest tones in the autumn season.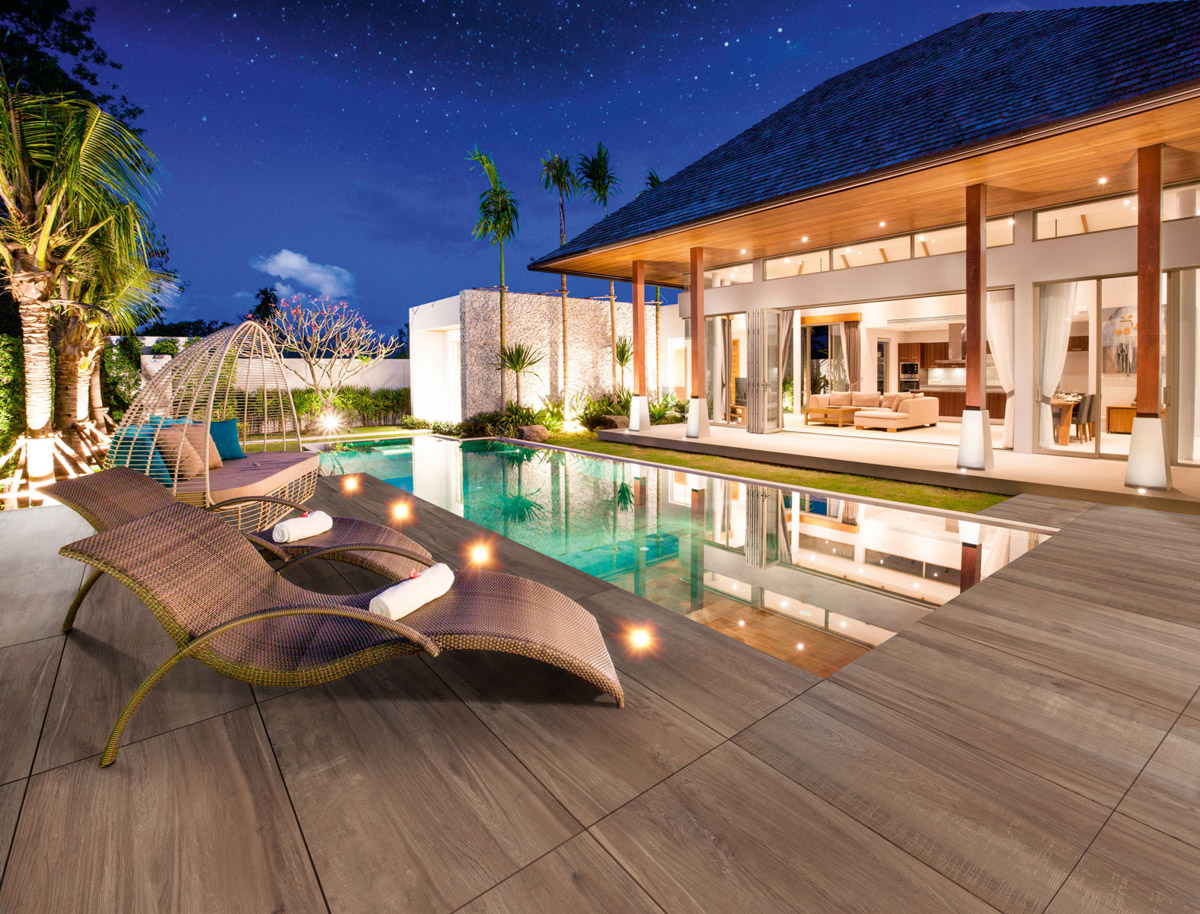 Junoon Maple Solid 2 cm 50X100. Wood-effect outdoor porcelain tiles.
The Karacter collection presents this special outdoor SOLID 2 cm model with a multi-coloured porcelain design. It comes in a 50x100 cm format and has a particularly original and bold design.
This outdoor patio tiling has the appearance of a wood that has been worked and aged, giving it a very natural and distinctive appearance. A 2 cm thick porcelain stoneware with non-slip qualities that breaks with the classic wood look. Karacter is an outdoor flooring model for the most daring and expressive customers. A terrace that leaves no one indifferent!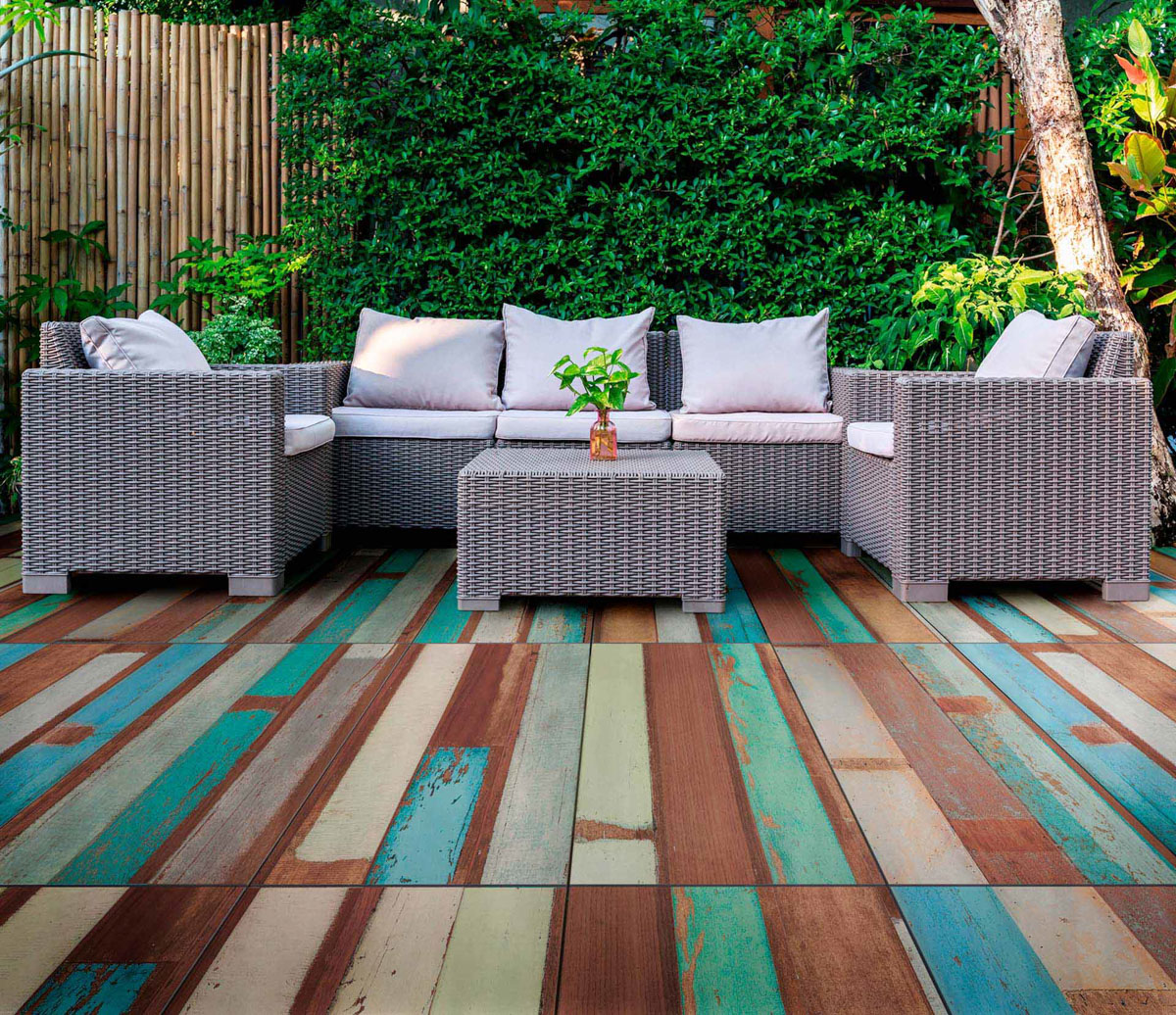 Karacter Multicolour Solid 2 cm 50X100. Wood-effect outdoor porcelain tiles.
Stone terrace flooring
This is an option that also allows the interior design of your terrace or garden to have a natural look.
Apavisa's collections of stone-effect outdoor porcelain stoneware allow you to have the desired effect with the best features. These are the four collections of stone-effect outdoor flooring:
The Metodo Collection, introduced in 2022, has three special outdoor models with a 2 cm thickness and Carmine, Ivory and Grey designs. This is a collection that reproduces all the mineral nuances of stone. Versatile and highly resistant.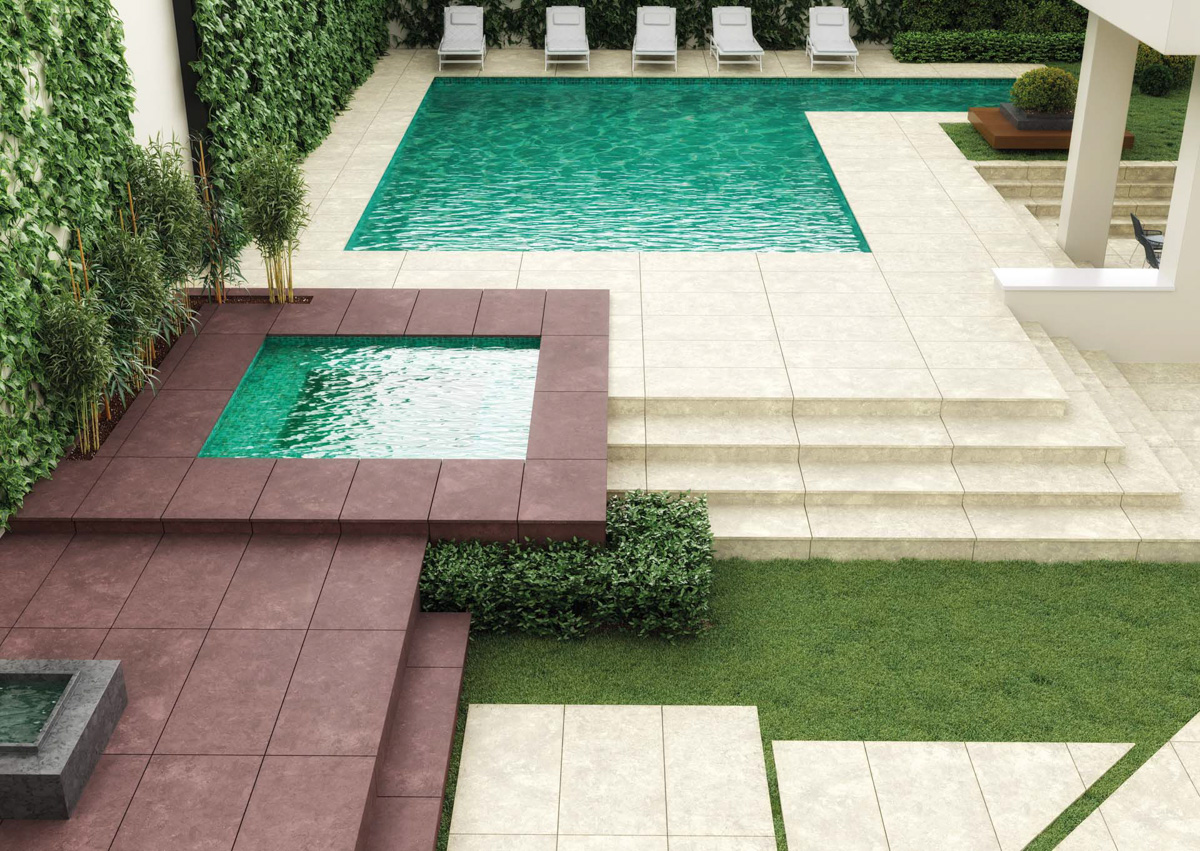 Metodo Ivory Solid 2 cm 50X100. Stone-effect outdoor porcelain tiles.
One of our latest collections is a collection of non-slip terrace floors with a natural stone effect: Rellik. The porcelain outdoor models are available with a 2 cm thickness, in beige, grey and white.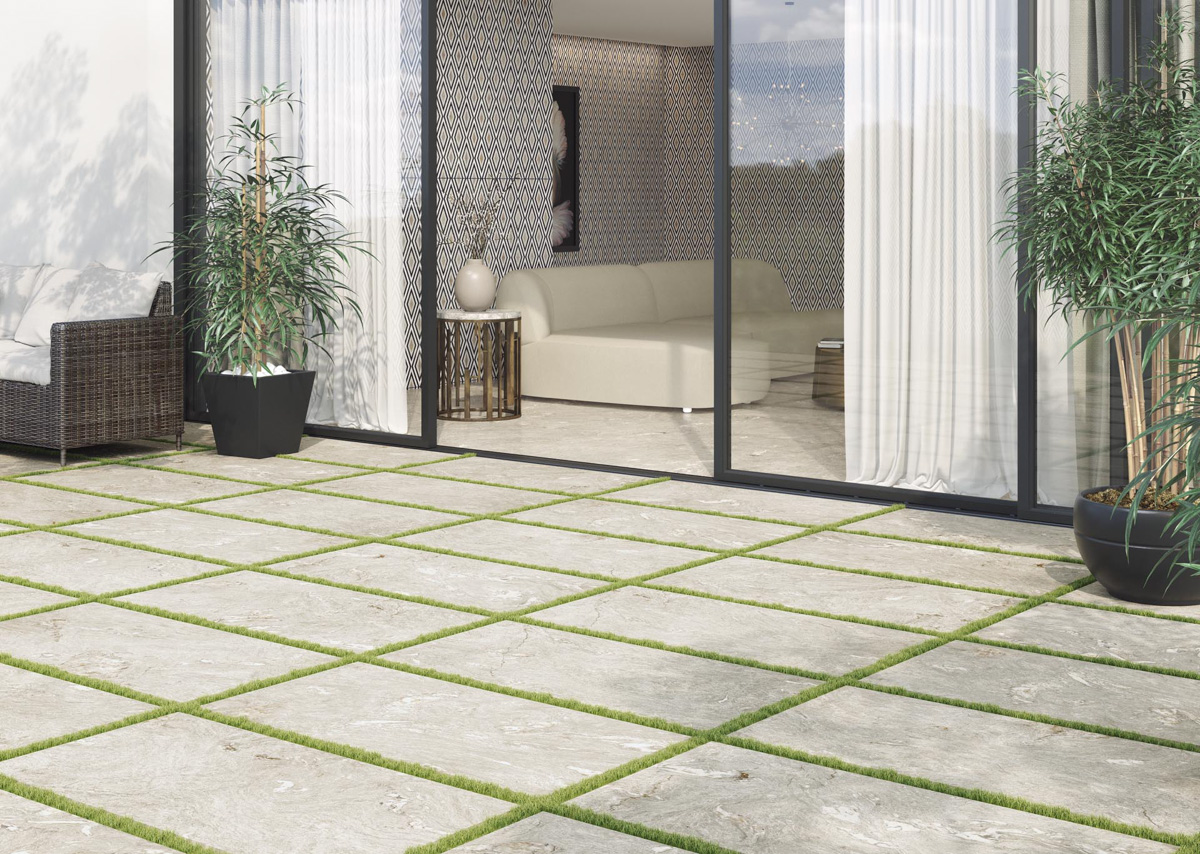 Rellik Beige Solid 2 cm 50X100. Stone-effect outdoor porcelain tiles.
Finally, Materia is a collection that conveys the effect of stone in its full glory, with multiple nuances and contrasts. This non-slip porcelain tiling is found in white, grey and beige colours; always in a 50x100cm format and a 2 cm thickness.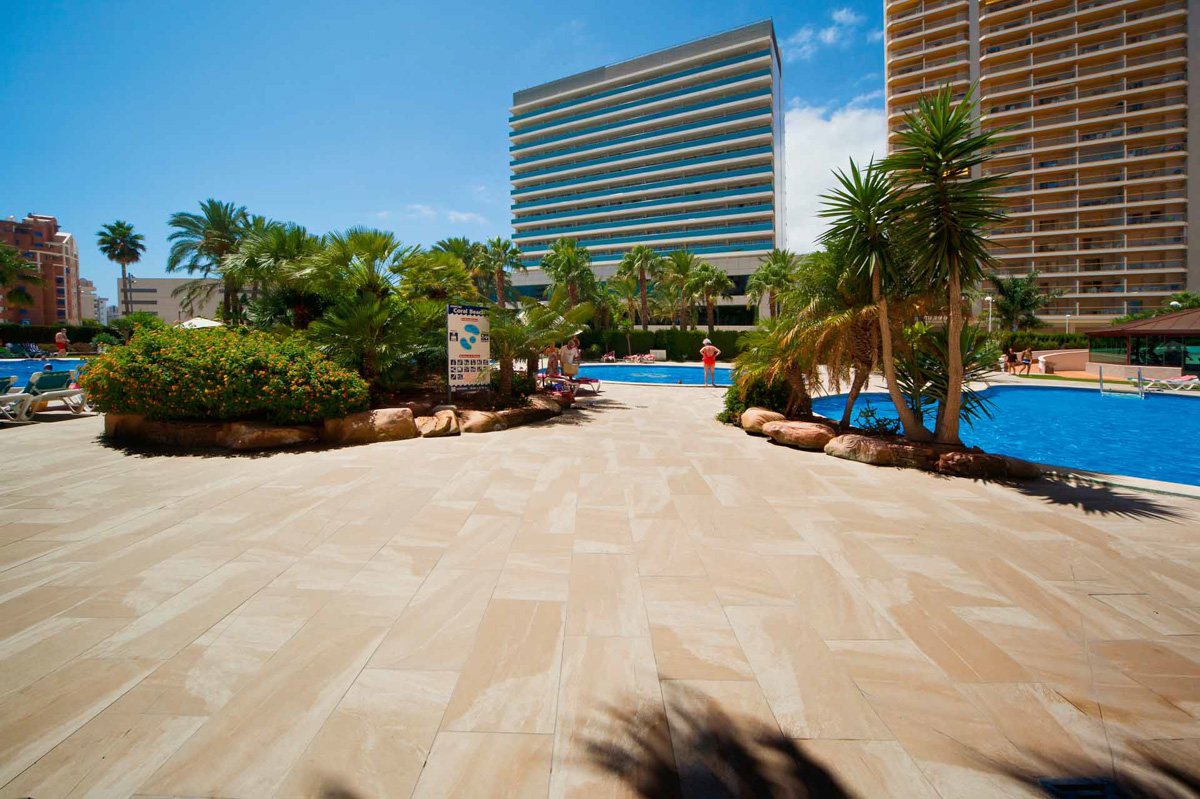 Materia Beige Solid 2 cm 50x100. Stone-effect outdoor porcelain tiles.
Concrete outdoor flooring
Concrete-effect outdoor flooring is one of the most balanced and beautiful styles on offer. Cement as a decorative material is one of today's most popular trends in interior design. At Apavisa, we have several outdoor models imitating cement and concrete. Let us show you!
The Emotion Grey SOLID 2 cm model is one of our company's most emblematic models. Its textile effect gives this vibrant cement its personality.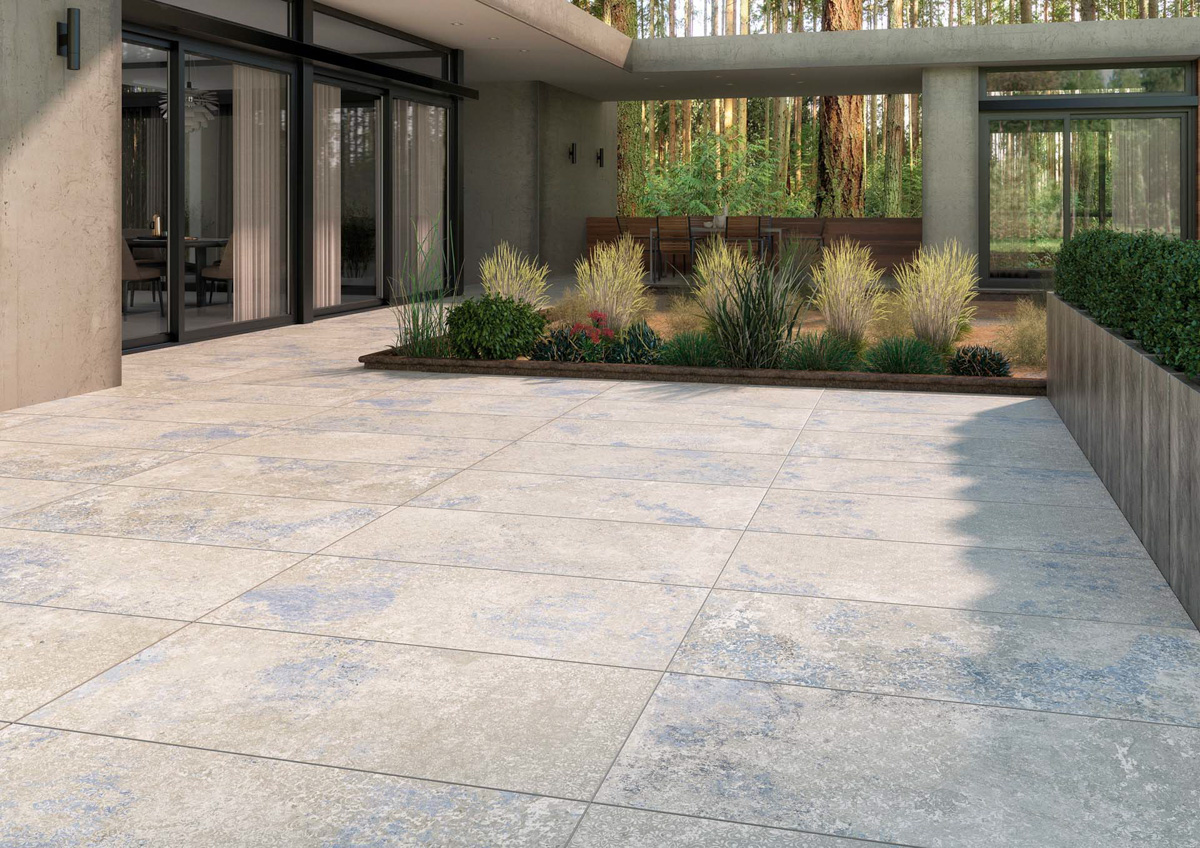 Emotion Grey Solid 2 cm 50x100. Cement-effect outdoor porcelain tiles.
The North Collection has four different terrace models. It is a cement-effect collection with authentic and uniform surfaces decorated with refined graphic designs. For outdoors, we find it in Grey, Patchwork and Sand colours. For the latter, we also find it in the Decor version.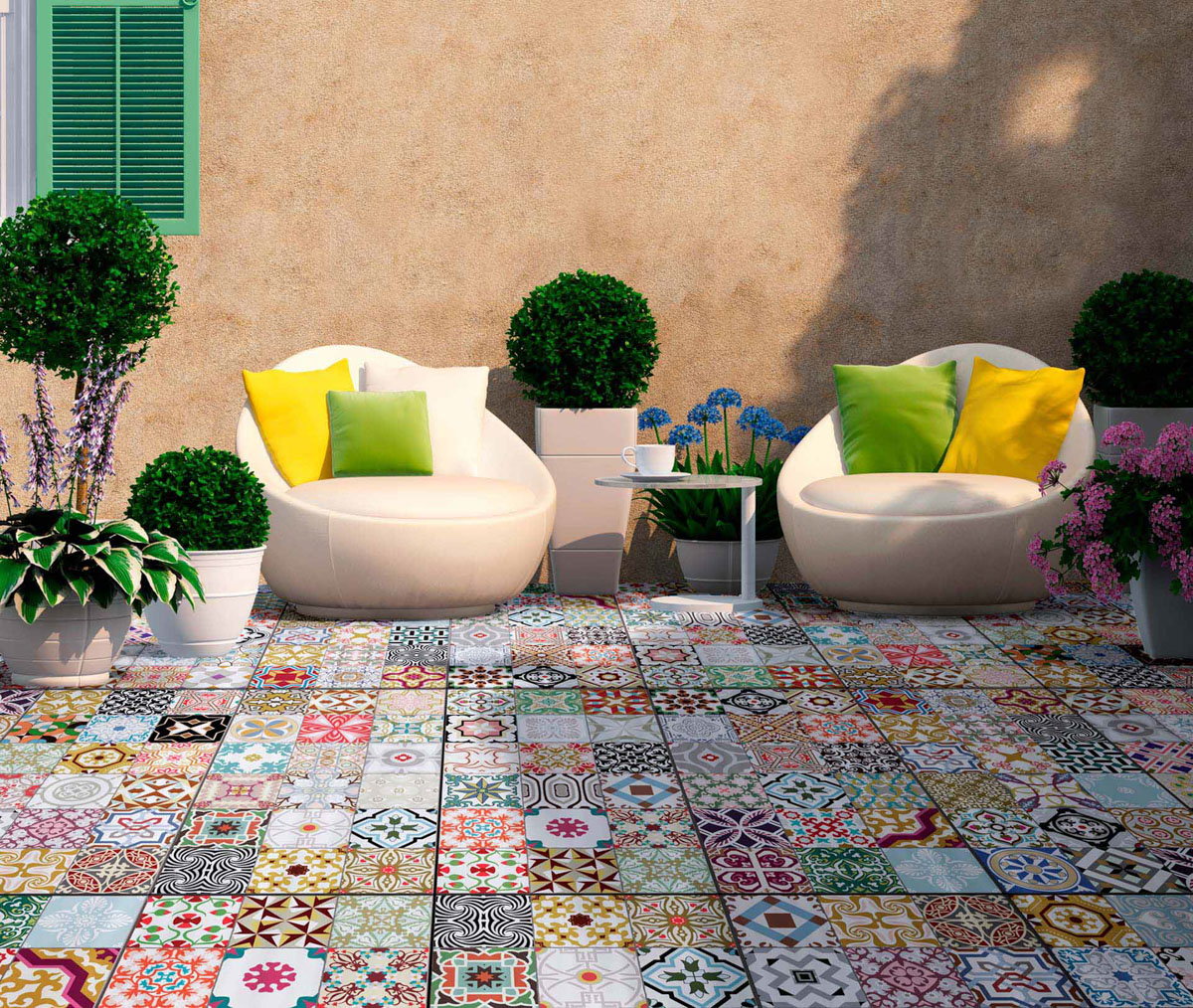 North Patchwork Solid 2 cm 50x100. Concrete-effect outdoor porcelain stoneware with graphic designs