In décor, like in fashion, some trends that had faded away, bounce back forcefully. And the terrazzo floor is a perfect example; a flooring that is again taking centre stage without losing its substance.
The aesthetic 'stracciatella' that for decades was one of the favourites of interior décor has again taken designers and architects by storm and become a powerful decorative resource for all kinds of projects. Now with completely updated designs that are a long way from the old floors we all remember.
The terrazzo is back and with many more possibilities!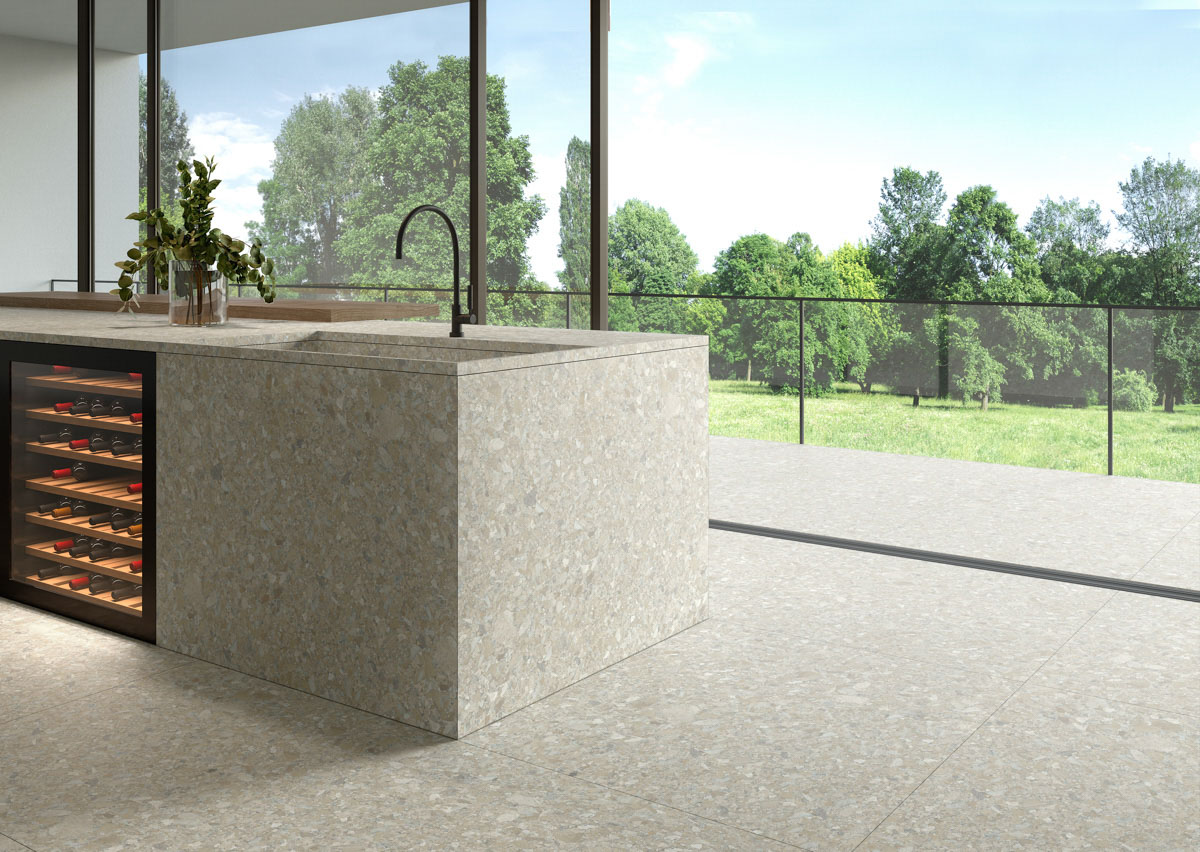 Momentum
What is terrazzo?
The word 'terrazzo' is from Latin and means 'terrace.' In the beginning, this material was mainly used to pave terraces and outdoor spaces. But later, it became the flooring par excellence of the palaces and homes of the Italian nobility of the time.
The terrazzo trend, also known as seminato di marmo or "Venetian terrazzo", arose in Venice in the 1960s and early 1970s when masonry workers took advantage of the marble pebbles left over after building work and mixed them with clay.
Over time, the technique was improved and the clay was replaced by cement, thus achieving a much stronger flooring. Thanks to its resistance and because it was very cost-effective, terrazzo became one of the most popular materials of the time.
Terrazzo across time
This material has evolved over time. The old terrazzo floor was simply made up of a clay base on which marble rubble was poured. Afterwards, the pebbles were polished and a more comfortable flooring was achieved. Later, the clay was replaced by cement. These early terrazzos did not look like today's terrazzo but were rather a kind of continuous surface.
Over time, they were able to enhance colour using goat milk to make it look more like marble. This was the first terrazzo floor sealer in history.
At the end of the 18th century, the terrazzo artisans moved to the United States where they improved their installation techniques. With the abundance of marble quarries, it was made available for all construction concepts. And they discovered that by adding marble powder of different shades they obtained coloured terrazzo.
In recent years, new advances in terrazzo polishing and brightening emerged with the discovery of epoxy, polyester, latex and acrylic resins.
Today, modern terrazzo tiles are one of the most popular options among architects and designers to coat floors and walls, both for indoor and outdoor use.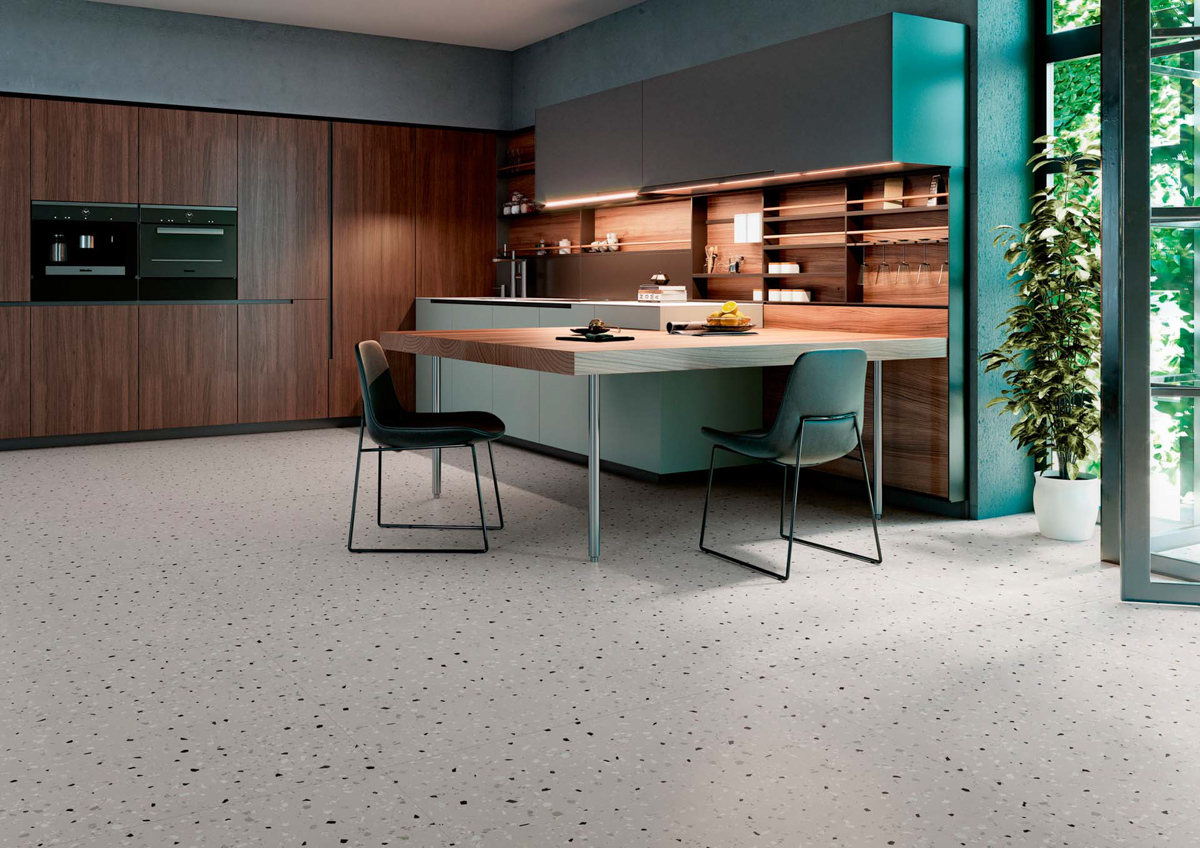 SOUTH GREY NATURAL 100x100
Characteristics and composition of terrazzo
Terrazzo flooring consists mainly of stone rubble, usually marble, which is combined with cement to harden the surface. These merged marble pebbles give it porosity and a grained appearance. Currently, numerous types of stones and different granulometrics are used for its design, making terrazzo a very versatile porcelain flooring when decorating. In addition, other features make it the best choice to decorate a room. Let us tell you what these are.
Resistance
Although mainly made of marble, terrazzo is made up of concrete, a material that is very resistant to impact and works efficiently over a long period.
Porosity
Having a certain level of porosity, terrazzo is ideal to function as a non-slip surface and is difficult to stain. So, when it comes to daily cleaning, we can manage without chemicals, which may also be harmful to our health.
Versatility
When decorating, terrazzo is truly versatile and thanks to the originality of its design it allows us to create unique, elegant and daring spaces in which the colour palette takes centre stage.
In addition, the terrazzo-effect ceramic compared to conventional terrazzo includes a fourth advantage, which is that this material has a lower weight, is easier to install and can be used as a wall tiling.
Terrazzo-effect porcelain has become the best flooring and wall tiling.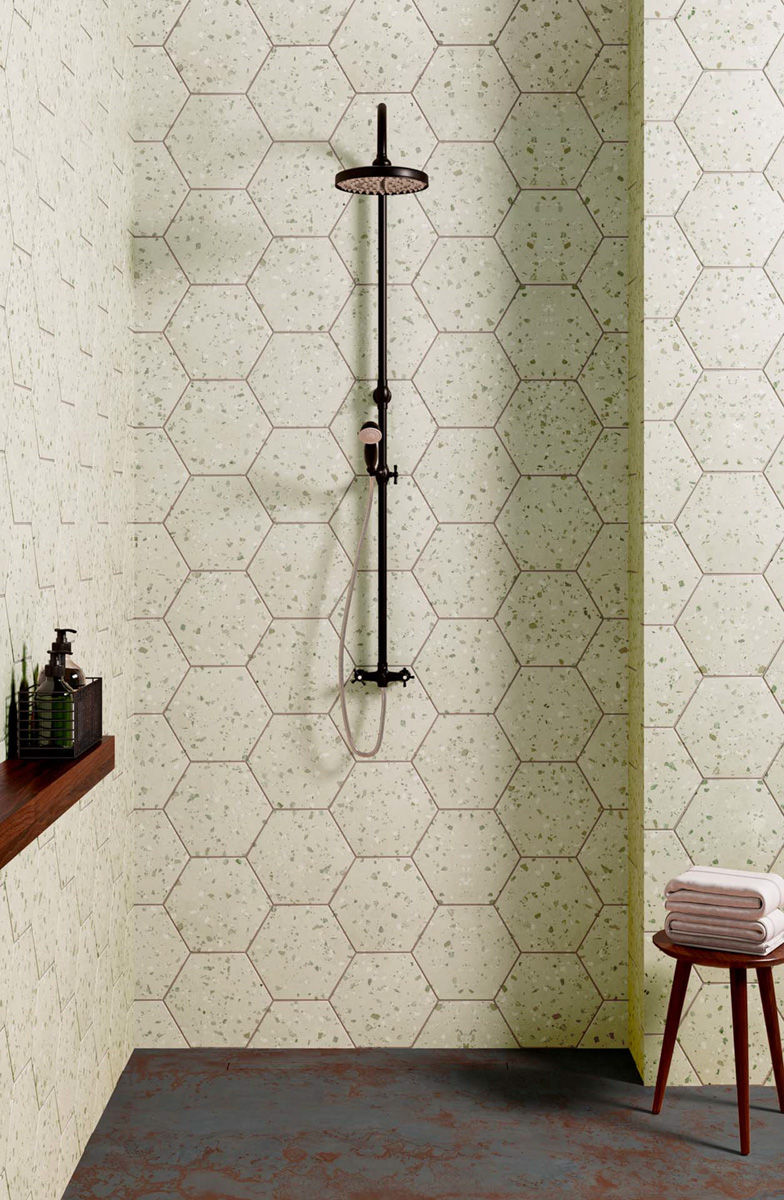 South Green Natural Hexagon Hex 25X30
Differences between outdoor and indoor terrazzo flooring
The difference is essentially that indoor terrazzo floors are those that are used, for the most part, in enclosed spaces such as houses, hotels, schools, hospitals, etc., and outdoor terrazzo floors are carefully manufactured for the purpose of being used in outdoor areas.
Finishes
The glossiest finishes are preferred for interiors, while matt finishes are used for outdoor areas.
Resistance to the elements
In the case of outdoor flooring, it must be resistant to the elements and have an attractive design. Indoor terrazzo must be able to resist the damp and constant traffic.
Colours
Some terrazzo colours function better inside or outside and it is important to take into account space concerns, as the variety of warm and neutral colours will work very well in small spaces, while more intense colours will work better in bigger spaces.

At Apavisa, we have two terrazzo-effect porcelain tile collections: South and Wind. Specifically, the Wind Moss Décor model has a selection of daring and coloured tones for the most innovative spaces.
Wind Moss Decor 100X100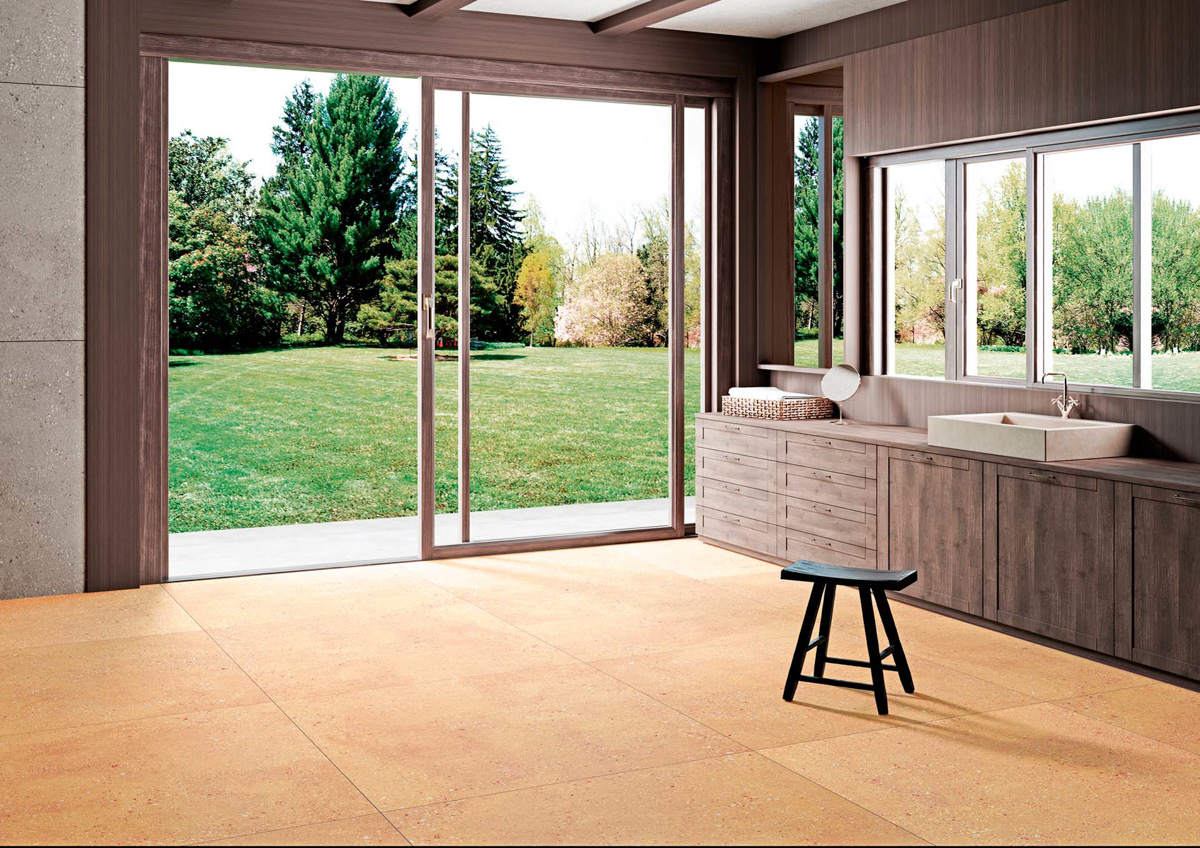 Wind Ochre Natural 100X100
There is old and modern terrazzo
Terrazzo was invented in the middle of the 15th century and was used for terrace flooring with pieces of left-over marble. We all remember the old terrazzo floors that could be seen in humble dwellings, schools, stairwells, etc.
But terrazzo has now been reinvented and is a Must-Have for any home and for daring and modern spaces. We could even consider terrazzo flooring to be a form of décor.
Close to a simpler, minimalist and clean Nordic style, terrazzo look tiles can be used not only for flooring but also as wall tiles, in friezes and even as part of furniture.
As we mentioned, terrazzo is a material with modest origins, but it has evolved to become a high-performance porcelain material capable of brilliantly representing its aesthetic style.
Decoration ideas for terrazzo floors
We are giving you the chance to make your terrazzo flooring polishing yet another decorative element in your home. Terrazzo tiles are a trend for 2022 with multiple capabilities both at a technical level and at a decorative level for interior decorators and designers.
Geometric shapes
Geometric shapes are very much in vogue, especially when it comes to flooring. The use of geometric figures is a practice that can be adapted to all kinds of spaces, from the most classic to the most modern and avant-garde, like these hexagonal terrazzo tiles.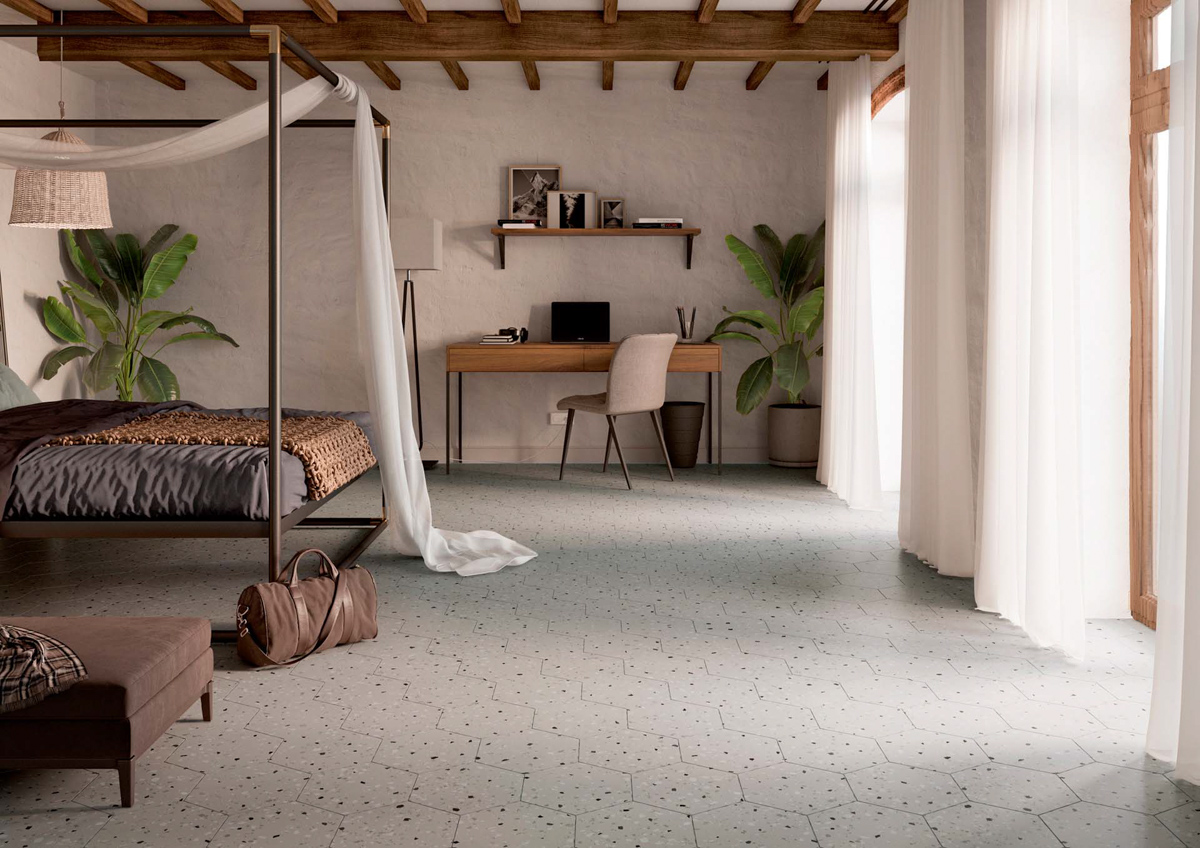 South Grey Natural Hexagon Hex 25X30
Combining terrazzo flooring
The brightly coloured designs and worn air of vintage hydraulic floors evoke past eras and can be combined very well in any space in your home. And, when they come with a terrazzo-effect finish like our Wind collection, we can achieve a completely innovative look.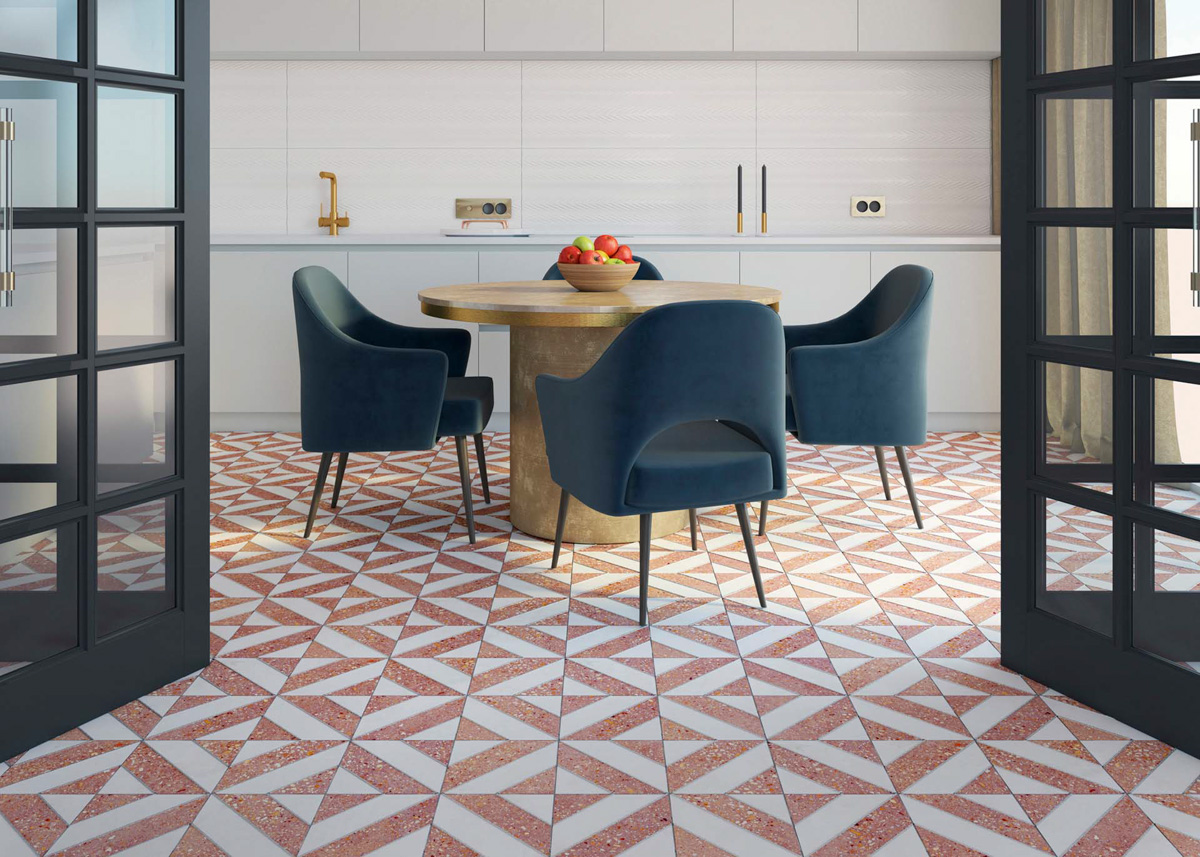 Wind Red Pre-Scored-20 60X60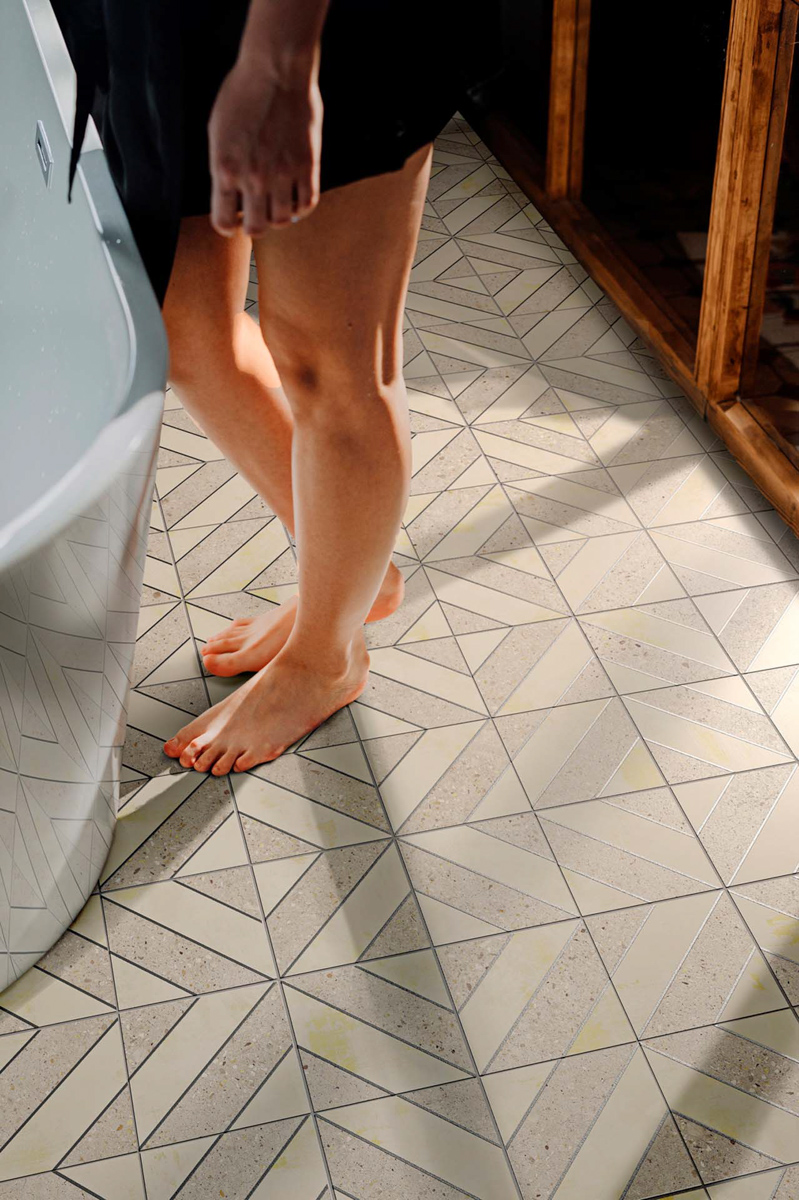 Wind Ivory Pre-Scored-20 60X60
The most common colours for terrazzo
The colours that work best in terms of decoration with terrazzo floors are usually neutral tones that range from gray porcelain to black terrazzo, pink terrazo, white terrazzo or blue terrazo tiles.
Gray terrazzo floor
Gray is perfect for modern, minimalist, classic and other types of decoration styles. Even when it comes to terraces, this model, Wind Gray Natural 100X100.
An incomparable atmosphere and climate.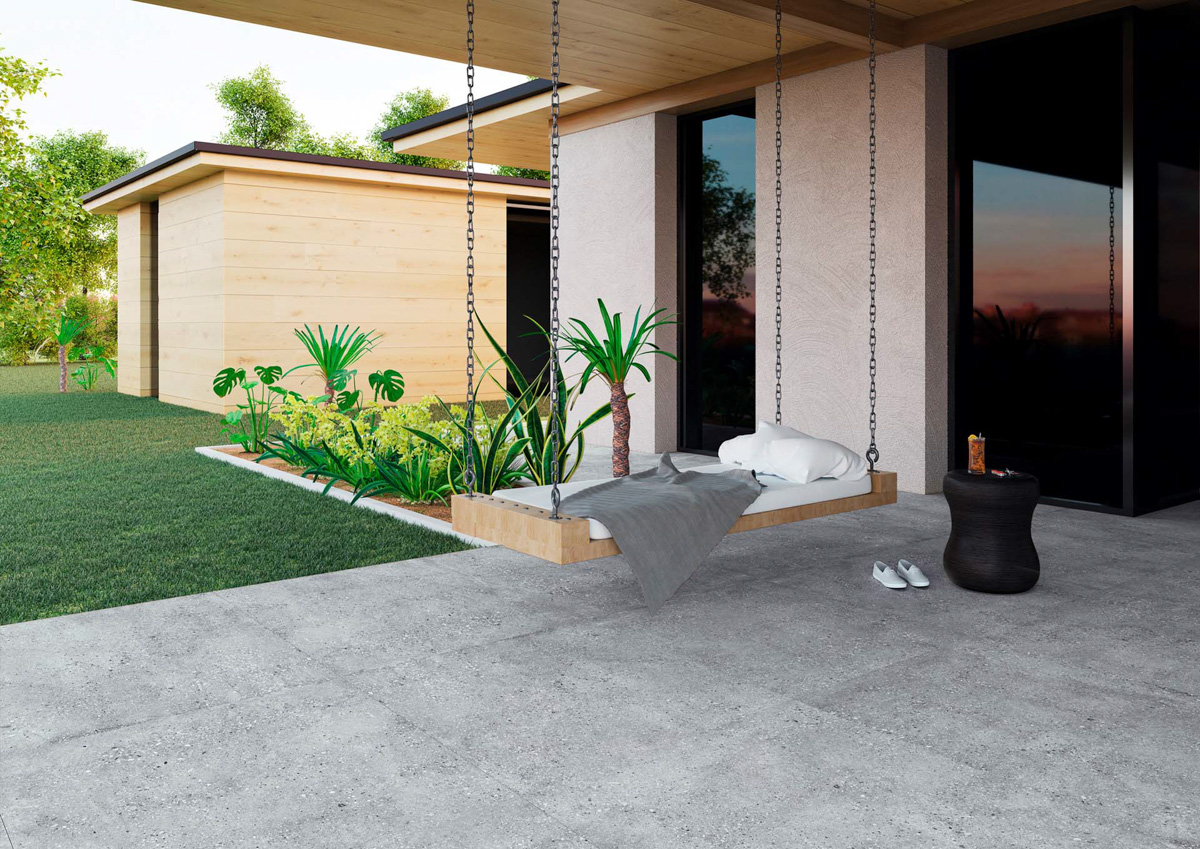 Wind Grey Nonslip 60X60
Pink terrazzo floor
Pink tiles come in a colour that is full of possibilities, elegant and with relaxing nuances. These shades bring balance and add a touch of femininity. South is the protagonist series in this image, which shows us this bathroom with pink terrazzo-type tiles: South Pink Natural 60x60cm.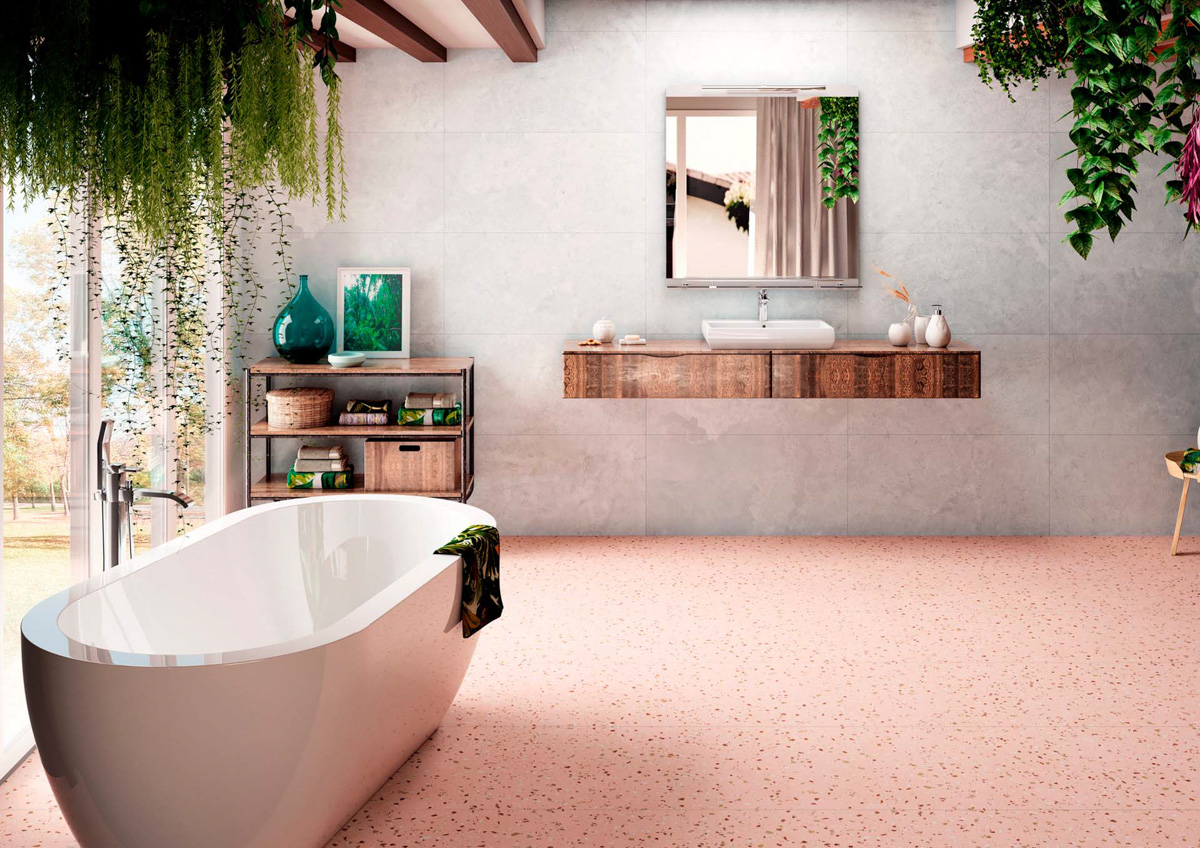 South Pink Natural 60X60
Beige terrazzo floor
Decorating with warm and neutral tones will be a safe bet for any room. If you like simple and clean environments, the beige porcelain tiles will also add extra light to the surroundings. Our mythical Wind collection, with different colours and formats, offers us the model that we see in the following image. We are referring to the Wind Ivory Natural 100x100 design.
Wind Ivory Natural 60X60