When we think of travertine marble, Roman temples and amphitheatres, basilicas and classical buildings spring to mind, but nothing could be further from the truth. Travertine is, in its own right, a 21st century material, so it should come as no surprise to see its characteristic texture forming part of today's architectural concepts. Still not convinced? Read on to find out more about the advantages and uses of a surface that has adapted like few others to the new times.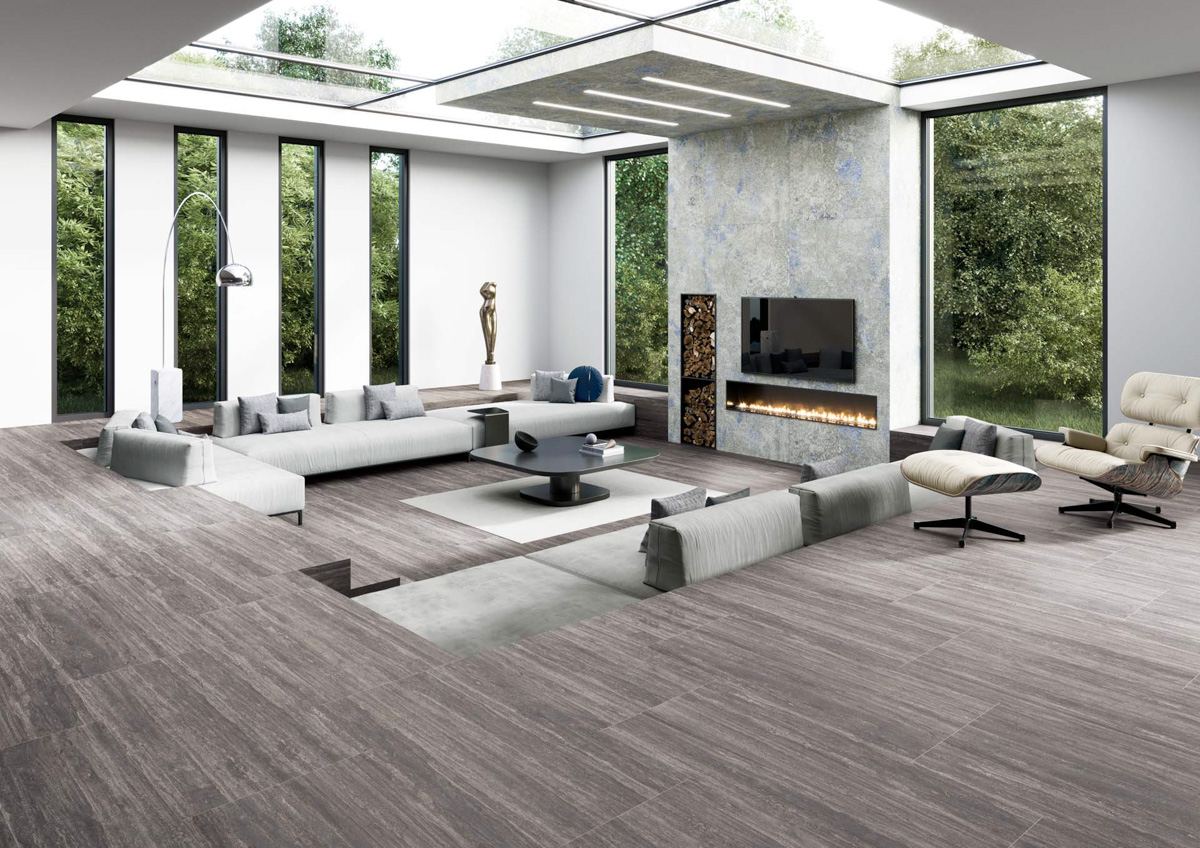 Travertino Collection
What is travertine marble? Origin and its role in architecture
Travertine marble, known as Tivoli stone in Italy, is a sedimentary limestone, which stands out for its porosity and its ochre and sandy tones. It is a material that has been used for centuries: palaces, basilicas and temples have been embellished with this ornamental stone. From ancient Rome to the present day, travertine marble has been able to renew itself and adapt to new decoration styles.
Roman travertine
The design of travertine marble is inevitably associated with the era of ancient Rome. It was one of the most widely used materials, as the most important quarries were located in the area of Tivoli, a few kilometres from Rome. A good example of the importance of travertine during the Empire is its presence in some of the most important buildings. We are talking, for example, about the Colosseum, the Teatro di Marcello or the Pantheon of Agrippa, monuments that stand out for their elegance and spectacular beauty.
Travertine in modern architecture
Today, travertine marble has been reinvented and its use is no longer just a thing of the past. The material is fully integrated in contemporary projects, becoming one of the favourite materials. The Museo Jumex, a new architectural design landmark of the 21st century in Mexico, has its façade made of travertine marble. Or, going back in time, we find the pavilion that Mies Van der Rohe designed for the 1929 Barcelona Universal Exposition. In this project, up to four different types of this natural stone were used.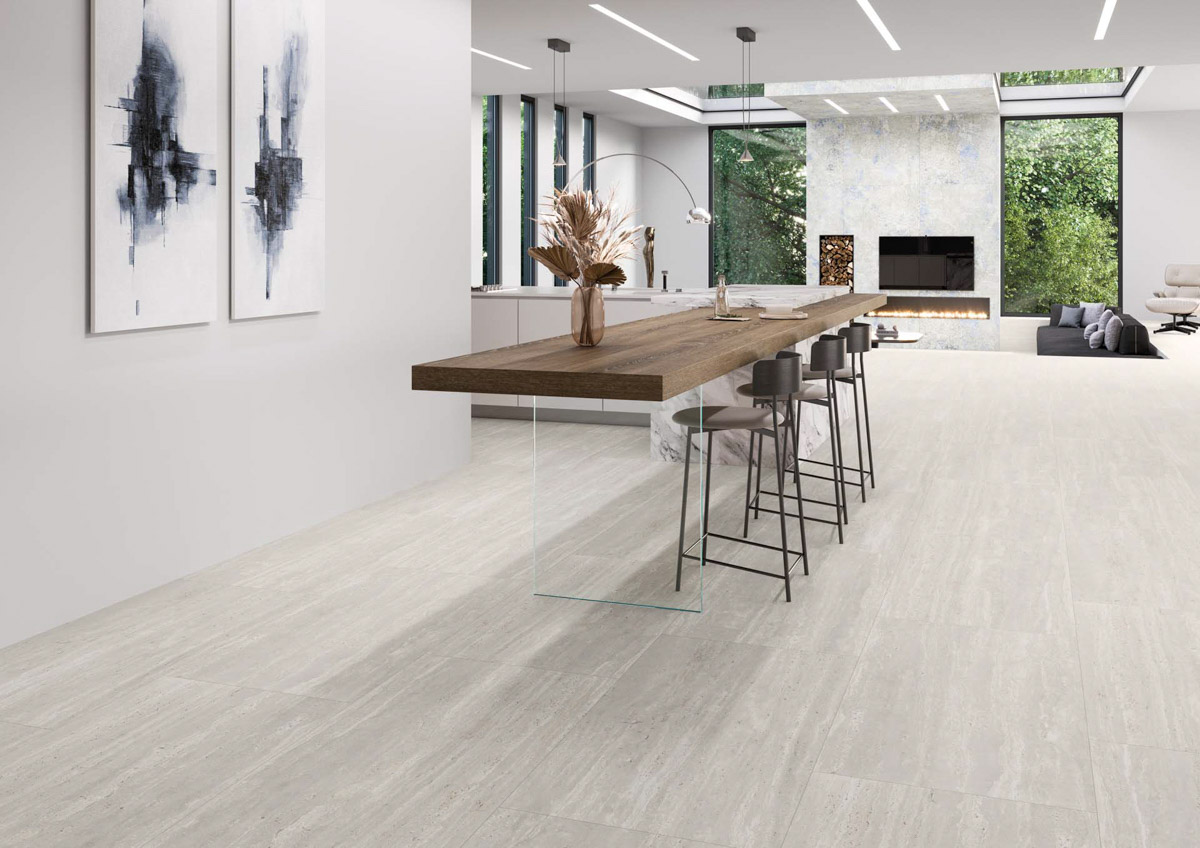 Travertino Collection
Types of travertine marble
Travertine marble can present a variety of colours and styles, which makes it a very attractive option for interior decoration. Moreover, its current trend has led to the emergence of other materials capable of reproducing its unique qualities and characteristics. Thus, we can distinguish between:
Classic travertine
Travertine has unique characteristics that distinguish it from conventional marble. When we talk about classic travertine we refer to the stone of natural origin, a porous variety of limestone.
There is a wide range of colours ranging from ochres and creams to reds and yellows, which makes it a very attractive and versatile option, adaptable to any space. In classic travertine marbles, delicate and soft tones predominate: the white colour provides luminosity, the more toasted colours stand out for their warmth and the more grey tones complement the most contemporary spaces.
Modern materials with a travertine look
The relevance of the travertine texture also has a lot to do with the development of technology. Today, various materials have been able to recreate its beauty, elegance and characteristics to perfection. And they do so to such an extent that if we talk about travertine marble we can also refer to these new materials that have been able to capture its serene beauty.
Among all these new materials, the most complete and most recommended option is porcelain tile, as its properties and characteristics surpass those of the rest. The great advances in manufacturing allow porcelain tiles to achieve an aesthetic of luxury, elegance and sophistication.
Travertino Collection
Applications of travertine-look porcelain tiles
Porcelain tiles imitating travertine marble are so realistic that it is difficult to distinguish them from real natural stone at first glance. Apavisa's Travertino collection, which belongs to the stone-effect porcelain tile family, also has all the advantages that porcelain provides: resistance, durability and easy maintenance, among others.
Thanks to these technical features, travertine-effect porcelain tiles are highly versatile and can be used both indoors and outdoors, both as flooring and cladding. Its various options and classic look allow it to adapt to any space: kitchens, bathrooms and even walls in dining rooms.
Indoor and outdoor flooring
Travertine-effect porcelain floors stand out for their natural beauty and understated design. This flooring is a very popular choice in interior decoration (living rooms, bedrooms, bathrooms...) as well as outdoors, where natural travertine has been commonly used. It is also available in a non-slip finish, which provides extra safety on terraces, patios and wet areas.
A popular option when installing flooring with the aesthetics of travertine is to opt for large-format tiles. Porcelain sheets reduce the number of joints, providing the visual continuity characteristic of the original material.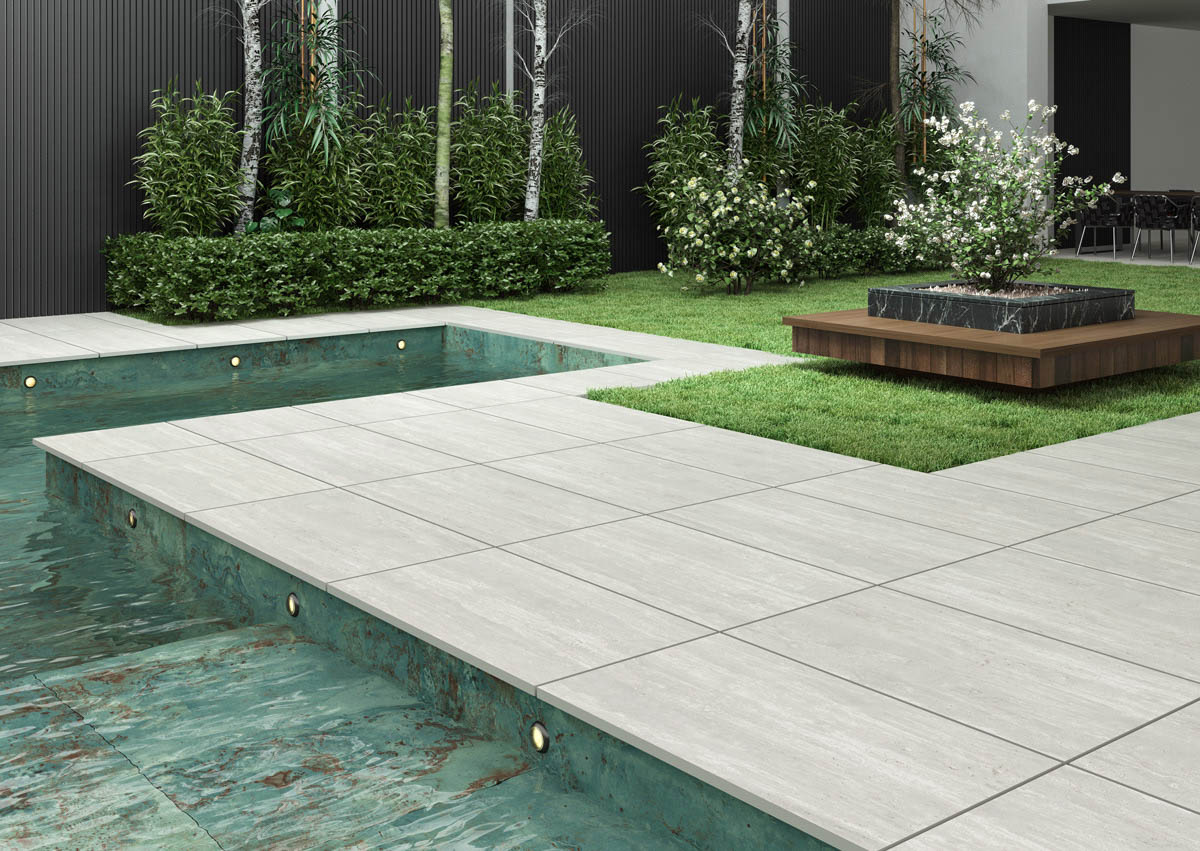 Travertino Collection
Exterior facades
Historically, travertine marble has been used as cladding for exterior facades because of its elegance and unparalleled beauty. A favourite choice for those seeking quality and luxury finishes with a natural look.
Imitation travertine porcelain tile not only provides the aesthetics and personality of the original material, but also meets the necessary conditions to make it the best option: resistance to humidity, knocks and extreme temperatures, durability, easy maintenance and versatility. Furthermore, it can be installed on all types of façades, both traditional and ventilated.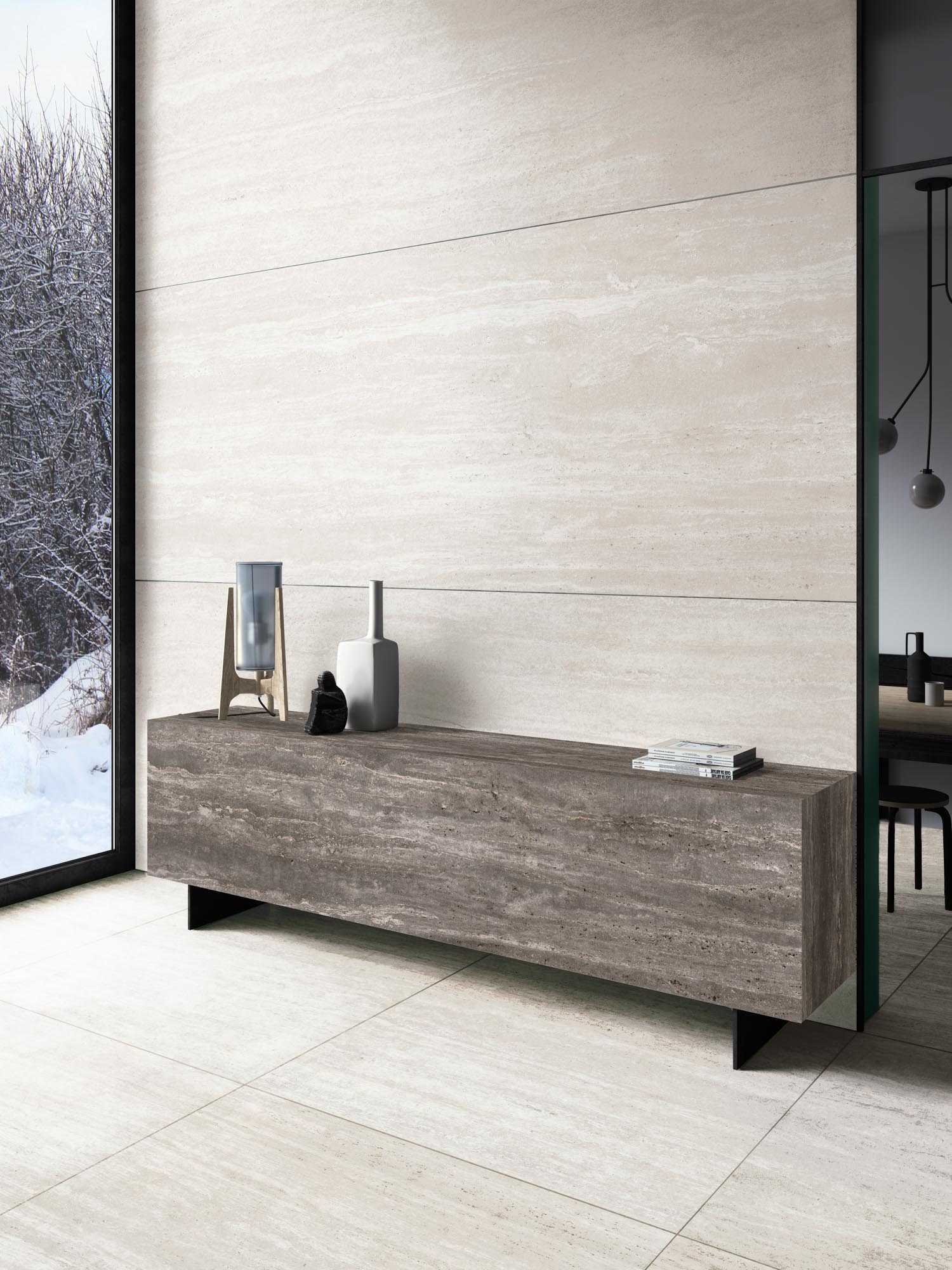 Travertino Collection
The colours of travertine marble
Travertino is the perfect collection because as well as having all the advantages of porcelain tiles mentioned above, it reproduces in detail some of the classic shades of travertine marble:
White travertine marble: with Navona Matt you can create a spacious and welcoming space. The chromatic variety of cream marble brings elegance and serenity.
Travertine marble in dark tones: the blue and brown tones stand out for their visual sensation of depth and delicacy, creating a timeless space.
Decorated tiles: if you are looking for something different for your project, opt for decorative designs that will undoubtedly bring a unique personality to the room and recall the ornamental uses of travertine marble throughout history.
In short, the timelessness, elegance and beauty of this natural stone is reflected in the porcelain tiles of Apavisa's Travertino collection, a decorative surface that will last through time, styles and trends.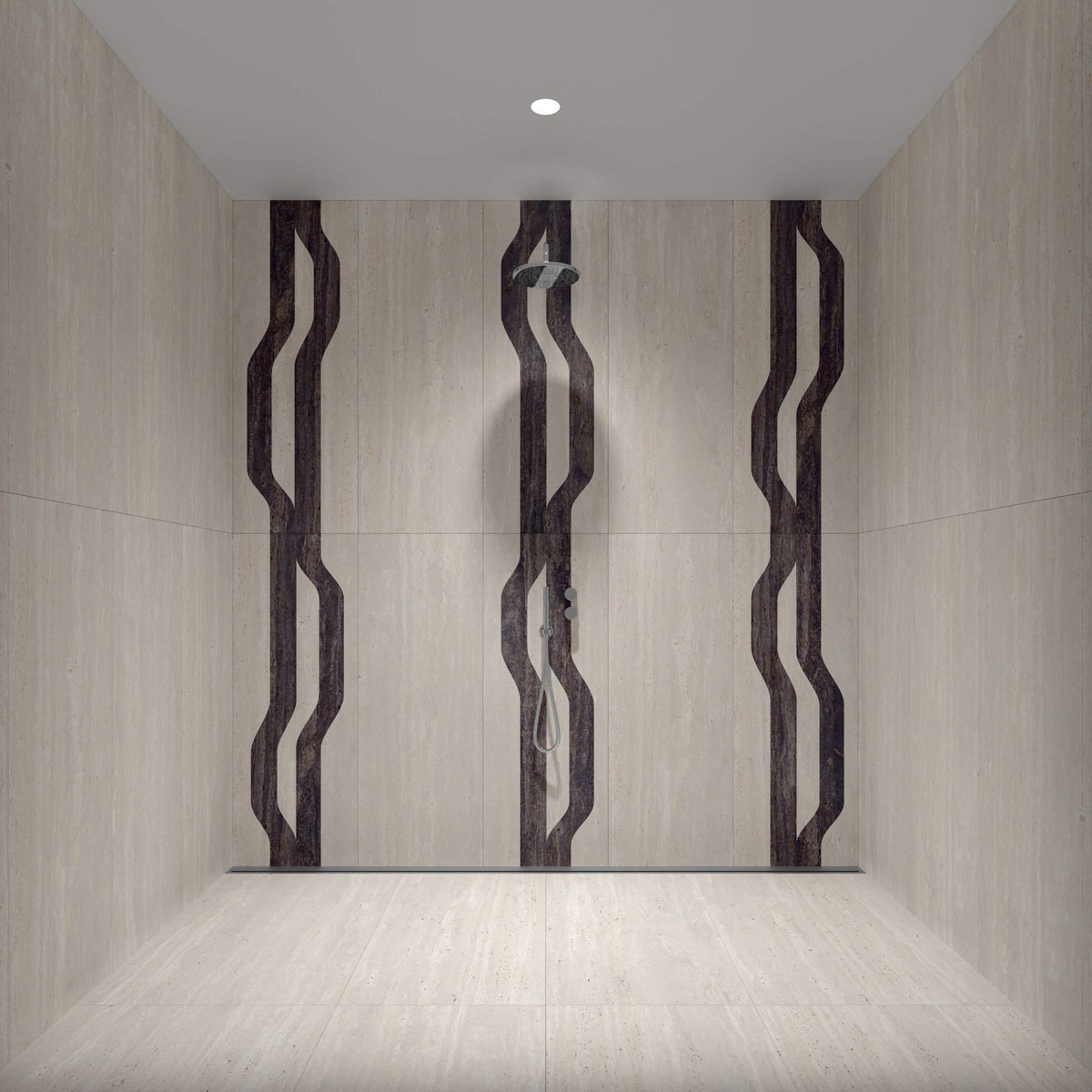 Travertino Collection