Marble floors are one of the great classics in the history of architecture and interior design. They are a versatile and highly valued option, as they adapt to different styles and always manage to maintain their essence. It is a material that has been used since ancient Greece. At that time, the shimmering shine of marble was a symbol of social status.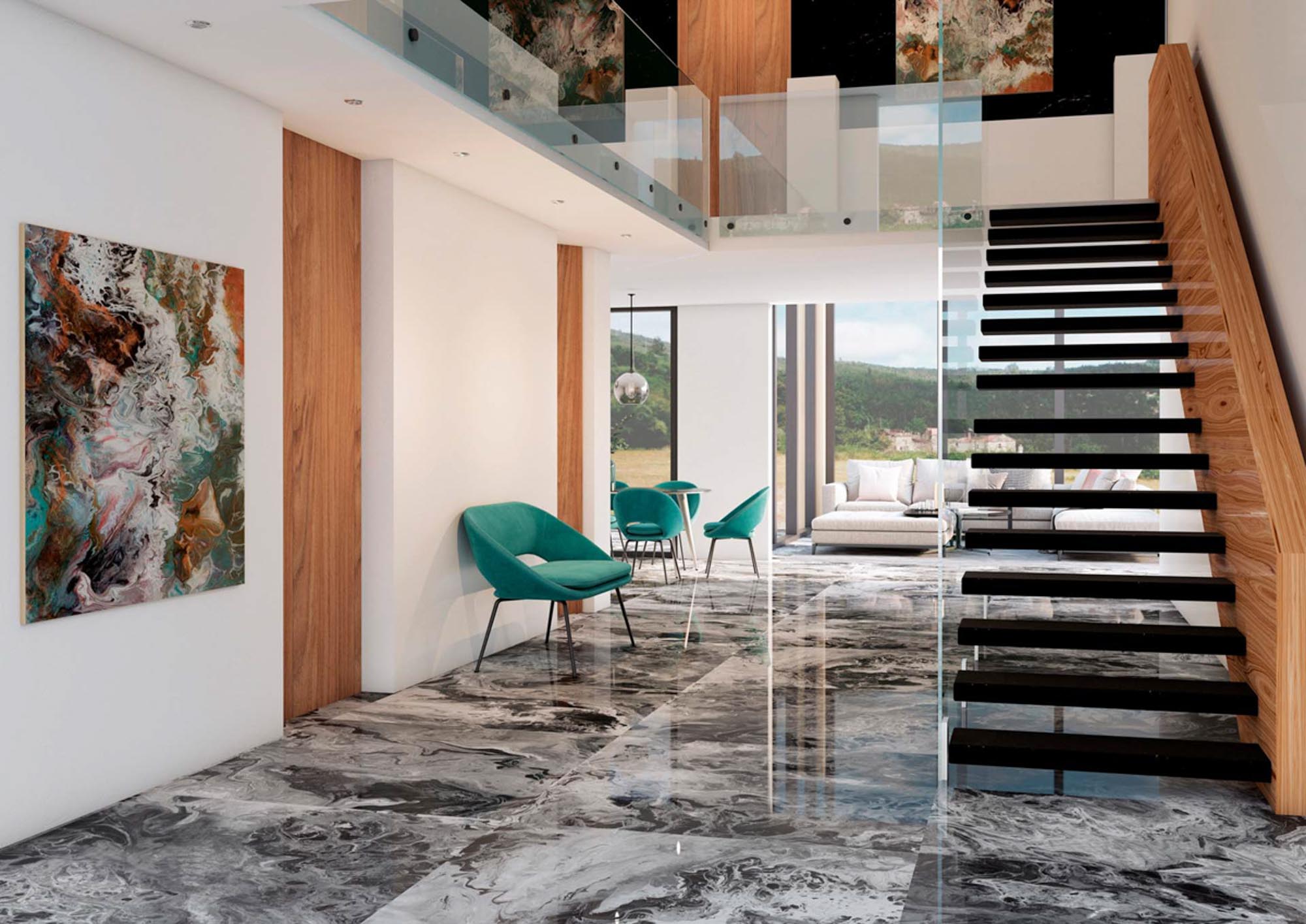 Fluid
From Greece to Rome, from the great palaces and the great Renaissance cathedrals to the present day. Marble has known, like few other materials, how to renew itself and adapt to new times and new styles of decoration, always maintaining its essence. So, if you are thinking about whether they are suitable for your home or project, you are in luck. Today we are going to tell you about its characteristics and give you the reasons why you should include it among your options.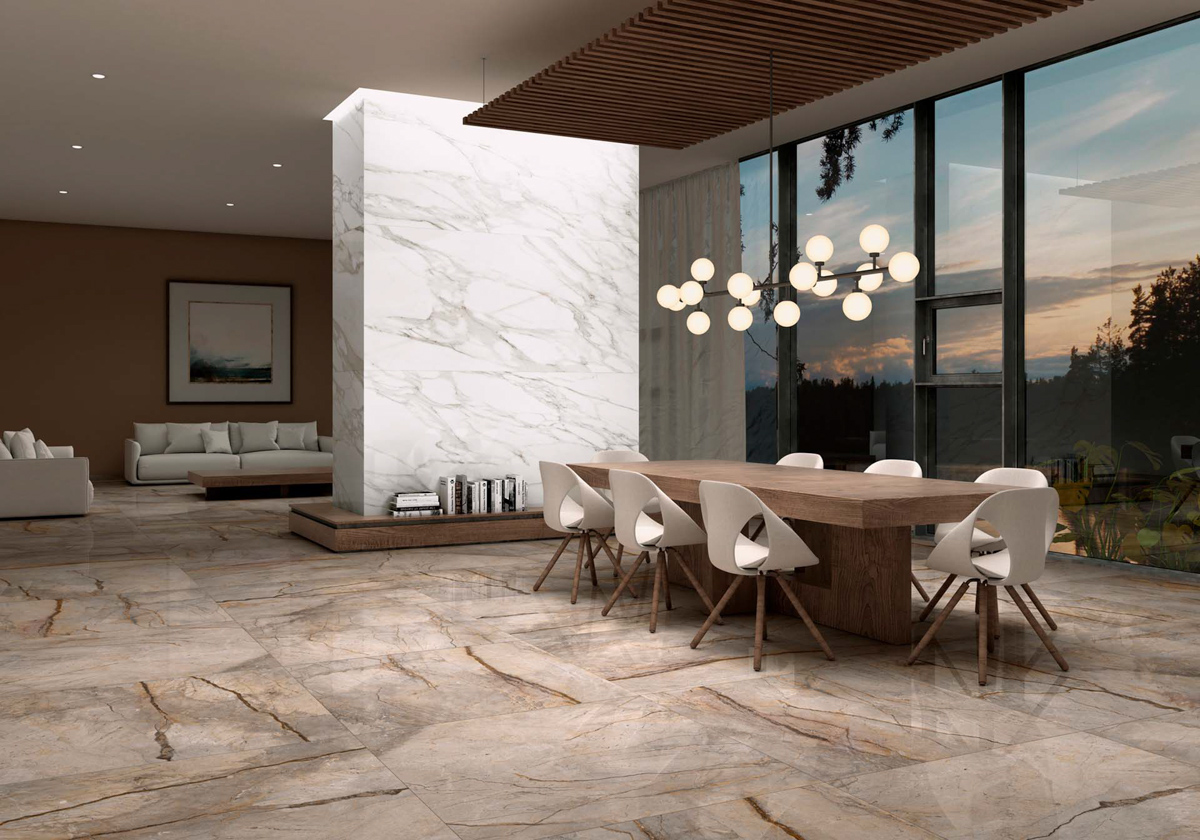 Wild Forest
Modern marble floors
Marble flooring has evolved hand in hand with technology. Today there are more finishes that give the material a resistance and versatility that it did not have in the past. At the same time, other materials capable of reproducing its whimsical designs and its characteristic veining have emerged. So much so that, nowadays, to speak of modern marble floors is to speak more of an aesthetic than of a material in itself. Let's take a look at some of these new materials and their characteristics.
Vinyl flooring
Vinyl flooring is a good option to cover your home if you are looking for a balance between versatility, resistance and durability at a good price. But, this balance has certain limitations. Some vinyl flooring is quite difficult to remove should you decide to replace it; it can discolour or become severely damaged in outdoor areas; and vinyl flooring is not suitable for uneven areas, requiring a flat, smooth surface to lay on.
Laminate flooring
Laminate flooring has a very good price/performance ratio and overall favourable technical characteristics. They are usually associated with the texture of wood, although they also imitate materials such as marble. However, they are not suitable for installation everywhere, cannot be repaired and are susceptible to moisture damage.
Porcelain tiles imitating marble
If we talk about the most complete option of modern marble flooring, the most recommendable is the porcelain floor imitation marble, as its properties and characteristics far exceed those of other materials. Thanks to the great advances in manufacturing, they successfully surpass any imitation of the original marble, without renouncing the touch of luxury and sophistication.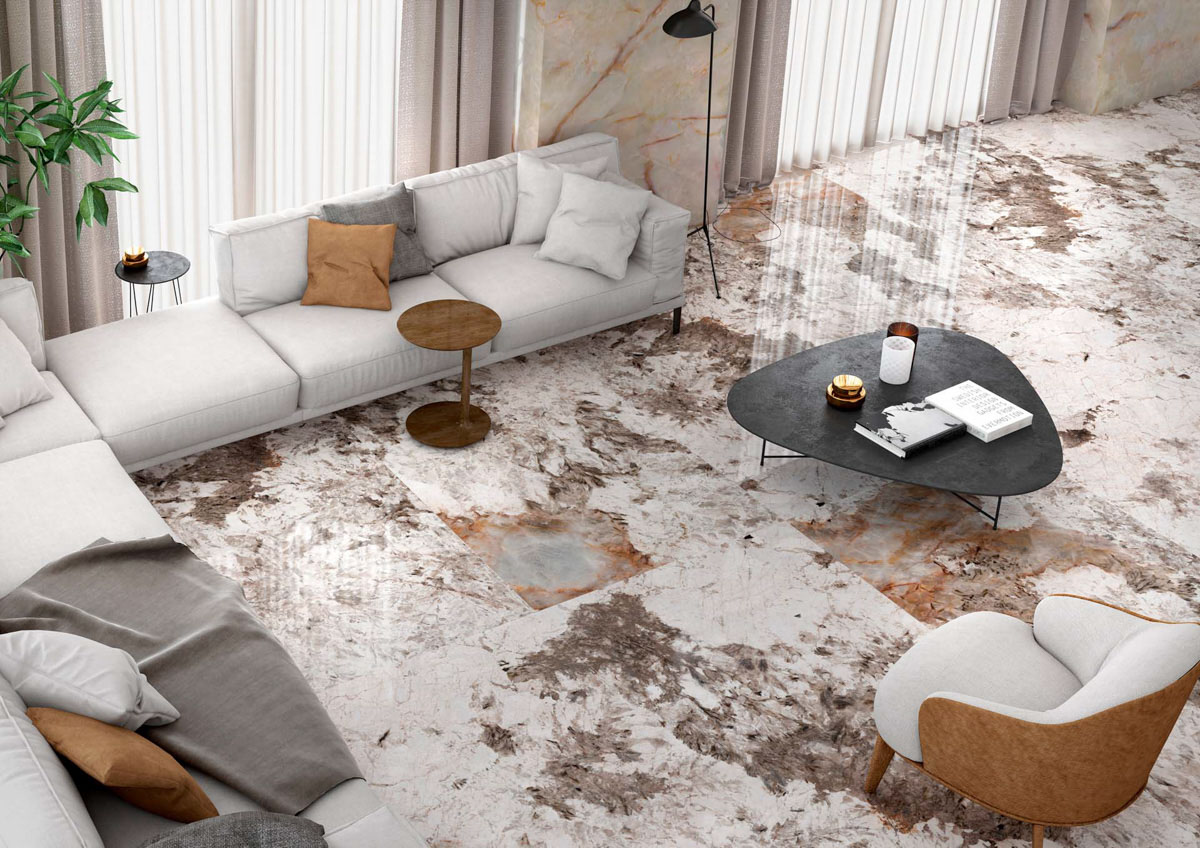 Patagonia
The advantages of marble-look porcelain floors
As we have already mentioned, porcelain floors are the most successful in comparison with both other imitation marble floors and original marble floors. They are so both for their ability to perfectly recreate the original design and for their advantages and technical performance:
Some marbles scratch easily, while porcelain material does not scratch, does not stain, and does not burn, so it provides great resistance and durability in all types of spaces and projects.
Easy to clean and low maintenance. Porcelain tile does not require special and exhaustive care. On the other hand, marble is a delicate material, it absorbs water and remains stained if it is not treated quickly and properly with specific products.
Marble has its limitations, it is more delicate, it is not as resistant to slipping, so it is not recommended in all spaces. On the other hand, the wide variety of finishes makes porcelain flooring adaptable to any space.
For outdoor areas, you can opt for its 2cm thick version, which can be used in entrances, patios, gardens, swimming pools... thanks to its multiple ways of laying. In exteriors it is also very important to opt for the non-slip finish, as it offers that extra necessary safety.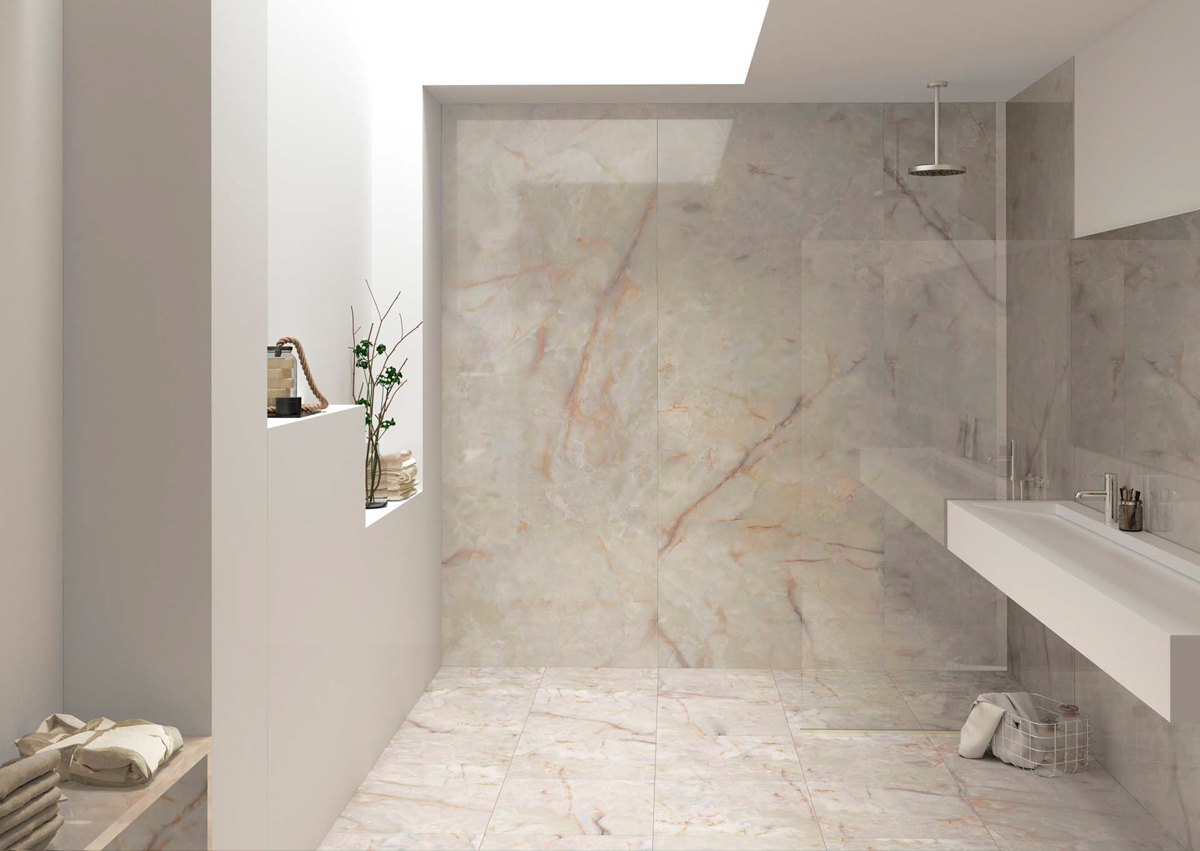 Onice
A floor tile full of textures
The versatility of imitation marble tiles means that they can be found in practically any finish or design. It is a material that varies greatly from one model to another, offering a multitude of possibilities, as the textures of marble are almost infinite. Thus, depending on our preferences and the overall style of the home or project, we can opt for a softer or a more expressive veining, for light or brightly coloured floors, for a more natural design or for more decorative pieces with geometric effects.

This diversity is reflected in the Apavisa catalogue, which offers different collections of marble-imitation porcelain flooring. Collections inspired by classic marbles, such as travertine, calacatta or statuario, to achieve an original, elegant and warm space. Or you can also opt for other more expressive collections such as Onice or Wild forest.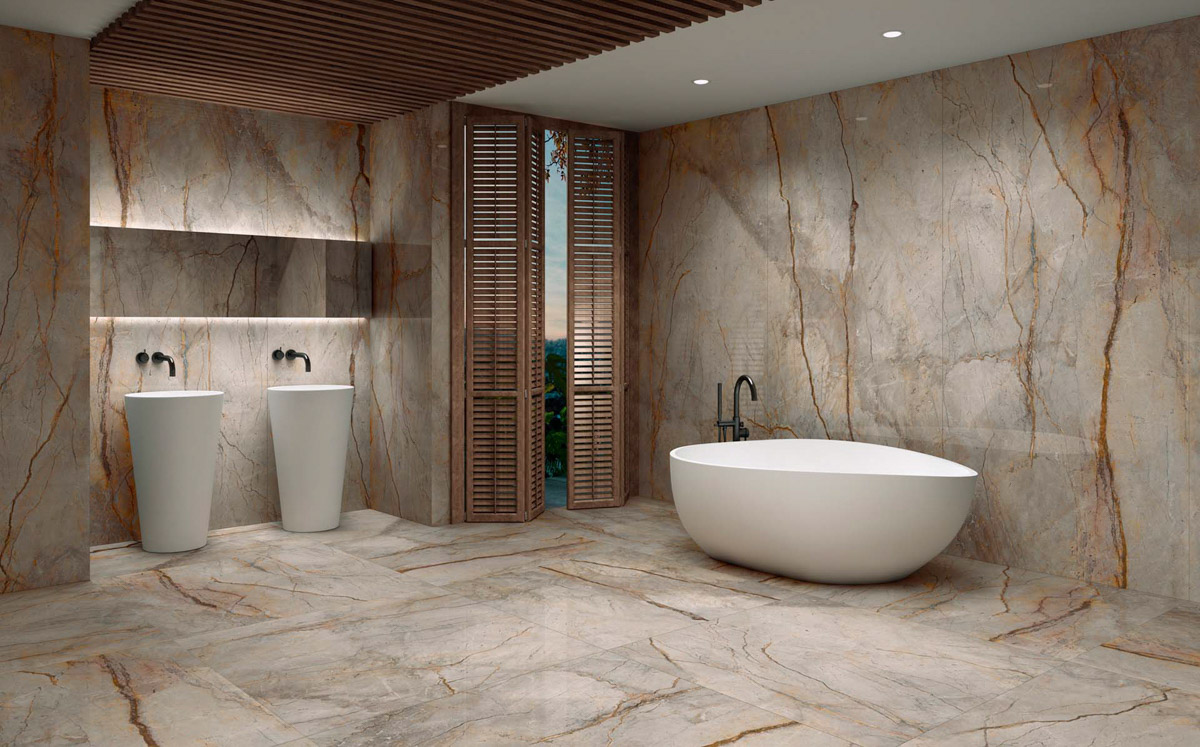 Wild Forest
The colours of marble
The chromatic variety of imitation marble tiles is also very wide, and, depending on our personal tastes and cohesion with the space, we will choose between one or the other.
White marble floors
White tiles with a marble design are a timeless classic that never goes out of fashion. They allow small spaces to look bigger, brighter, without losing the touch of elegance so distinctive of this material.
White is, without a doubt, the first colour that comes to mind when we think of marble. Classic models such as Statuario or Calacatta, present in Apavisa's collections, have helped shape some of the most elegant buildings for centuries.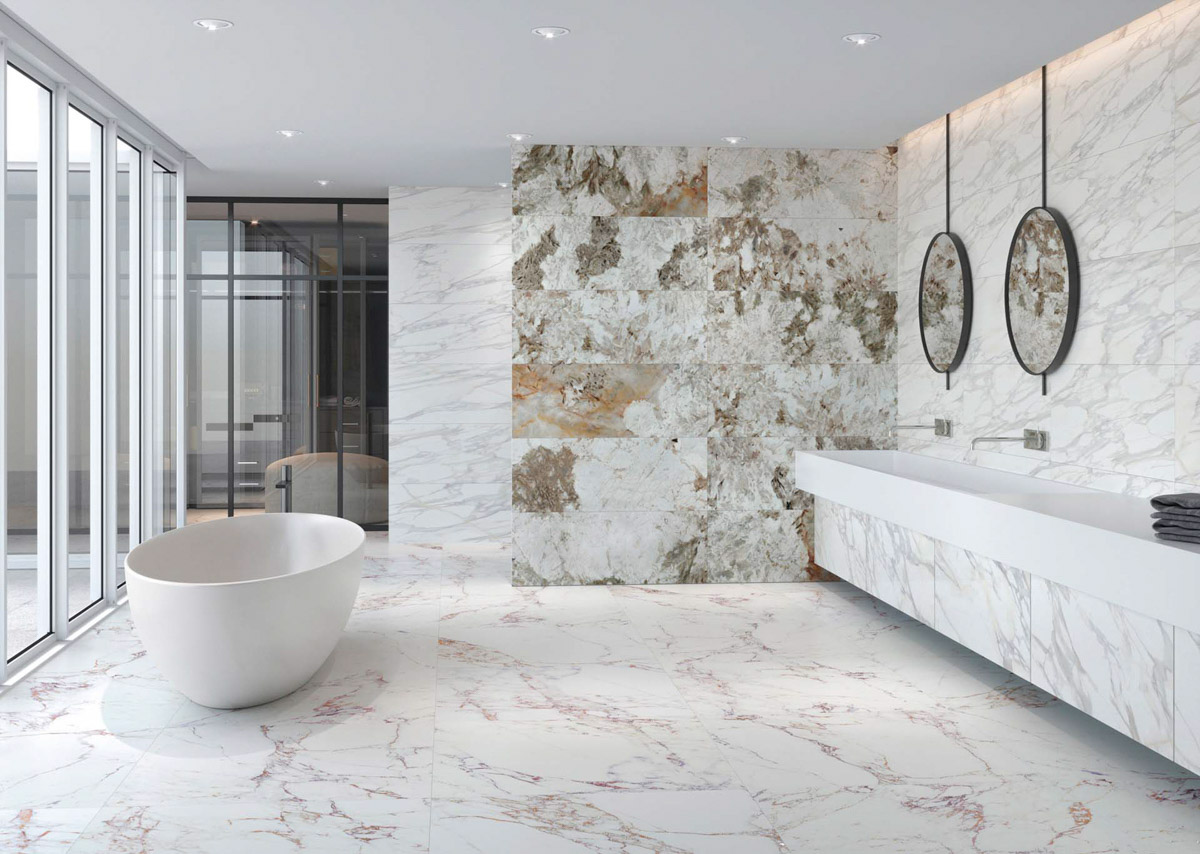 Borghini
The elegance of grey marble
Grey tiles help to create a sober, contemporary and balanced atmosphere, a colour with a lot of energy and personality. Grey porcelain flooring imitates the veining of some marbles with the characteristic wear resistance of porcelain. In our catalogue you can choose the one that best suits your project. Furthermore, depending on the model, you can choose between different finishes, such as polished tiles or natural tiles in greyish tones.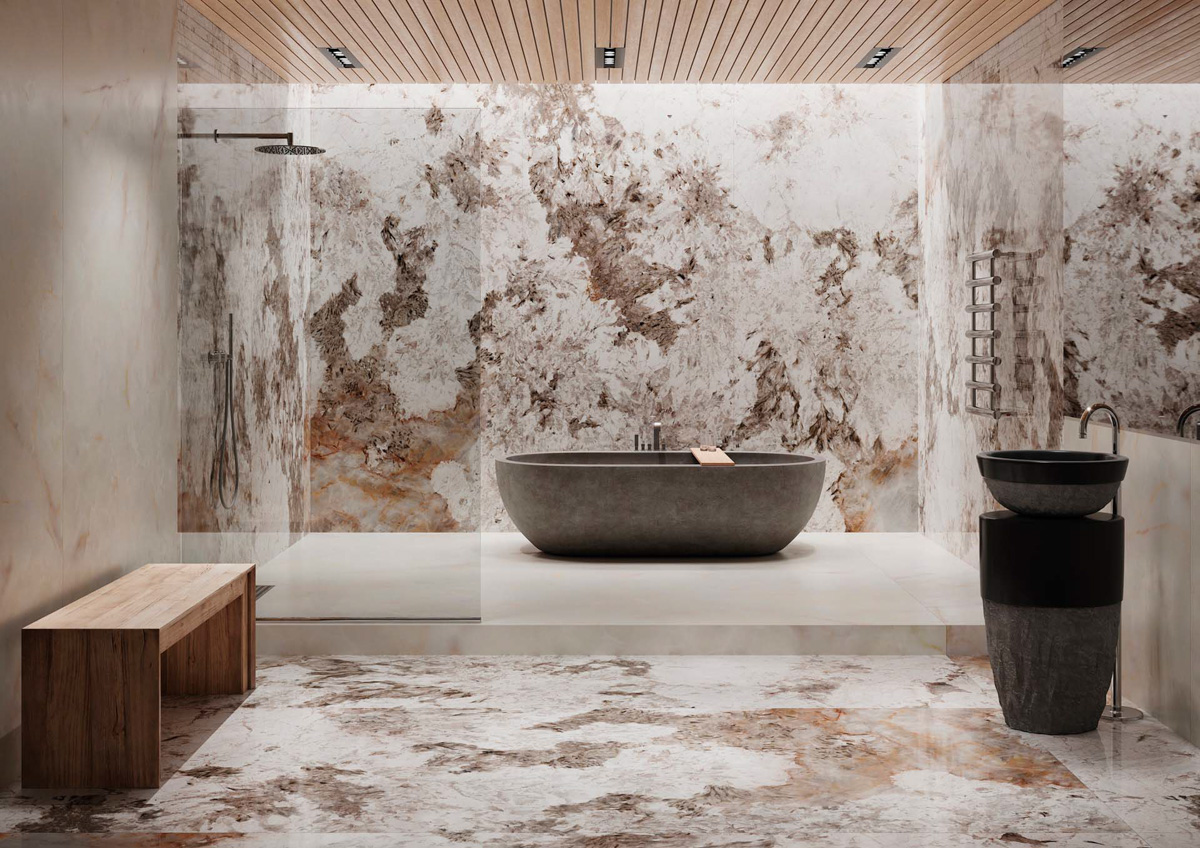 Patagonia
Green marble, an ode to expressiveness.
If you are looking for a more expressive look and want to create more unique spaces, porcelain stoneware in shades of green is the best option. Bright colours such as green are on trend and are used both on floors and walls, in bedrooms and bathrooms. Even more so when combined with a design as expressive as onyx marble, one of the natural stones with the most personality.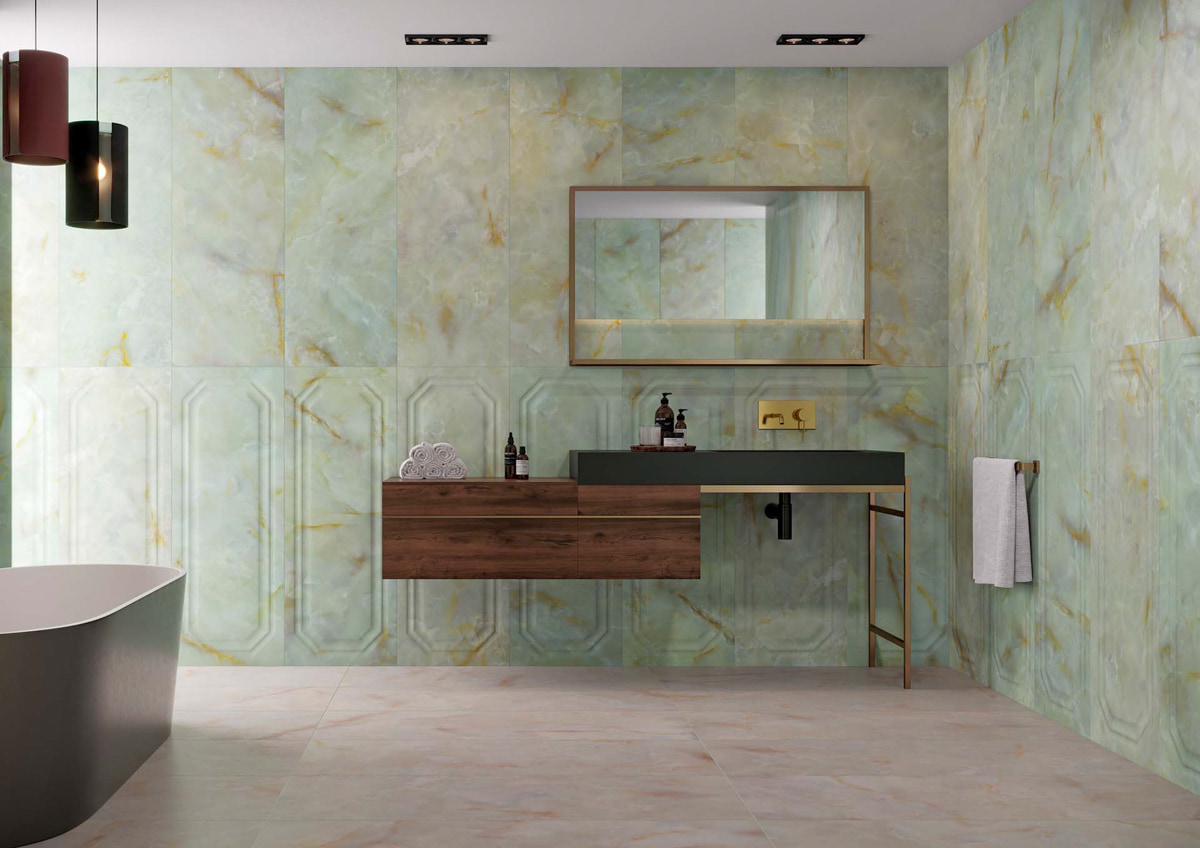 Onice
As we have seen, if you are a lover of sophisticated, elegant atmospheres and you are looking for a differential touch, porcelain imitation marble floors are your best option: they never go out of fashion and are capable of resisting the rhythm of life in your home.