Are you thinking of revamping your bathroom but you don't know where to start? Choosing the right tiles for your bathroom's walls and floors is not as easy as it might seem because, whether you're refurbishing an existing bathroom or having a new one built, there's a multitude of possible options to choose from. That's why, here at Apavisa, we'd like to give you a few bathroom tile ideas that can be inter-combined to fit in with styles of all kinds.
The first step in decorating a bathroom is to choose the color, size and shape of the tiles, depending on factors like the characteristics of the bathroom, the availability of natural light, and whether the room is big or small. You also need to decide whether you want the tiles to be a focus of attention or to play a more discrete, less noticeable role. The aim is to achieve a touch of originality and a carefully chosen, timeless appeal, in addition to guaranteeing the necessary safety, so in this case, we recommend the use of non-slip porcelain floor tiles.
Let us give you a few foolproof ideas in bathroom tile design.
Shower tile ideas
Showers are very personal places and so it's crucial to choose the right tiles, especially if you want the shower to stand out from the rest of the room. Shower tiles will also be needed that are resistant to damp and direct contact with water, as well as being easy to care for.
Porcelain tiles come in endless different looks, with some designs that can be used as visual features and others conceived to blend in with the rest of the bathroom.
Tiles for modern showers should bring luminosity and dynamism to bathrooms. In the selection of the shower tiles and bathroom tiles, opt for neutral colors like grey, white or even black, together with natural finishes and designs with a continuous effect.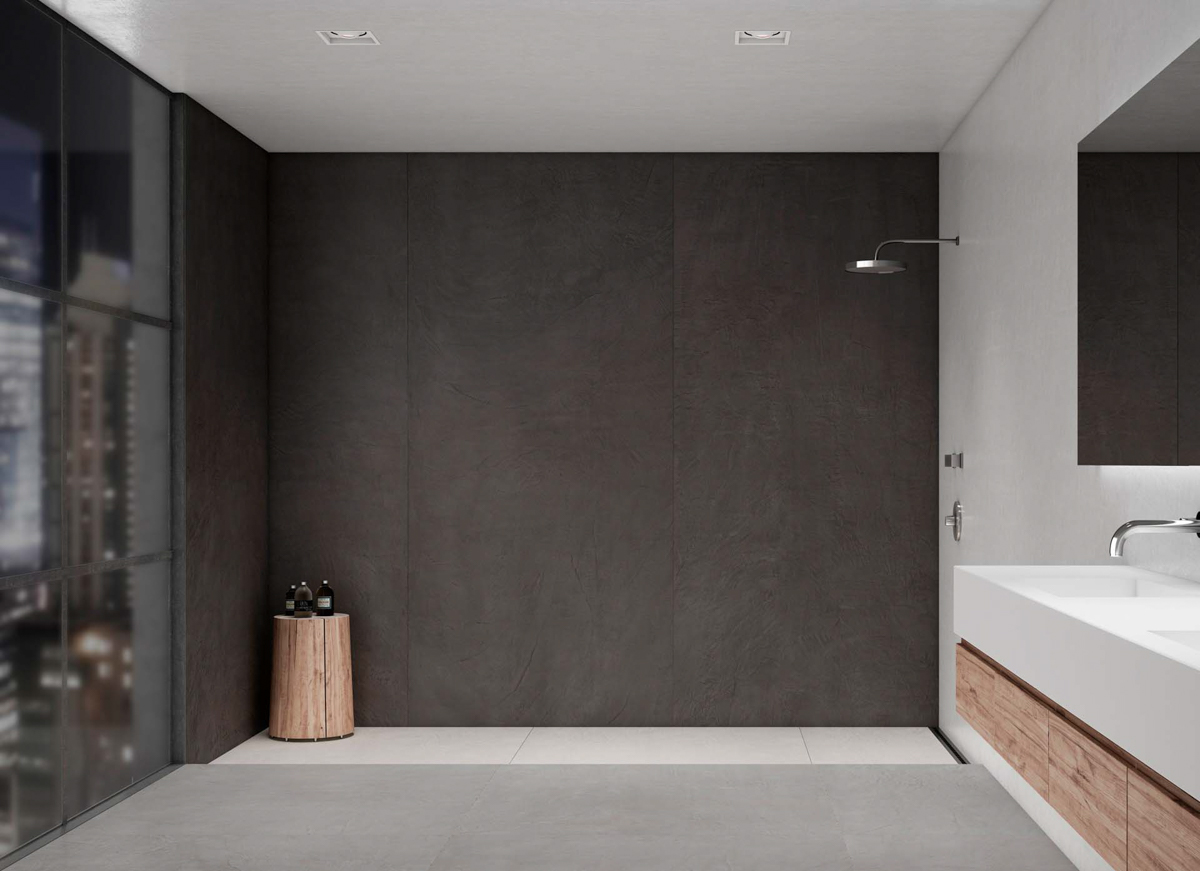 Equinox Collection
Geometrical tiles are a fantastic choice for shower walls as they break away from conventional notions of a shower, adding a strong touch of personality. Mosaic shower tiles are another ground-breaking, creative option.
At Apavisa, we have a wide variety of highly original bathroom tiles, able to fit in with all possible settings and styles. Take a look at the shower wall tile ideas in the following photos.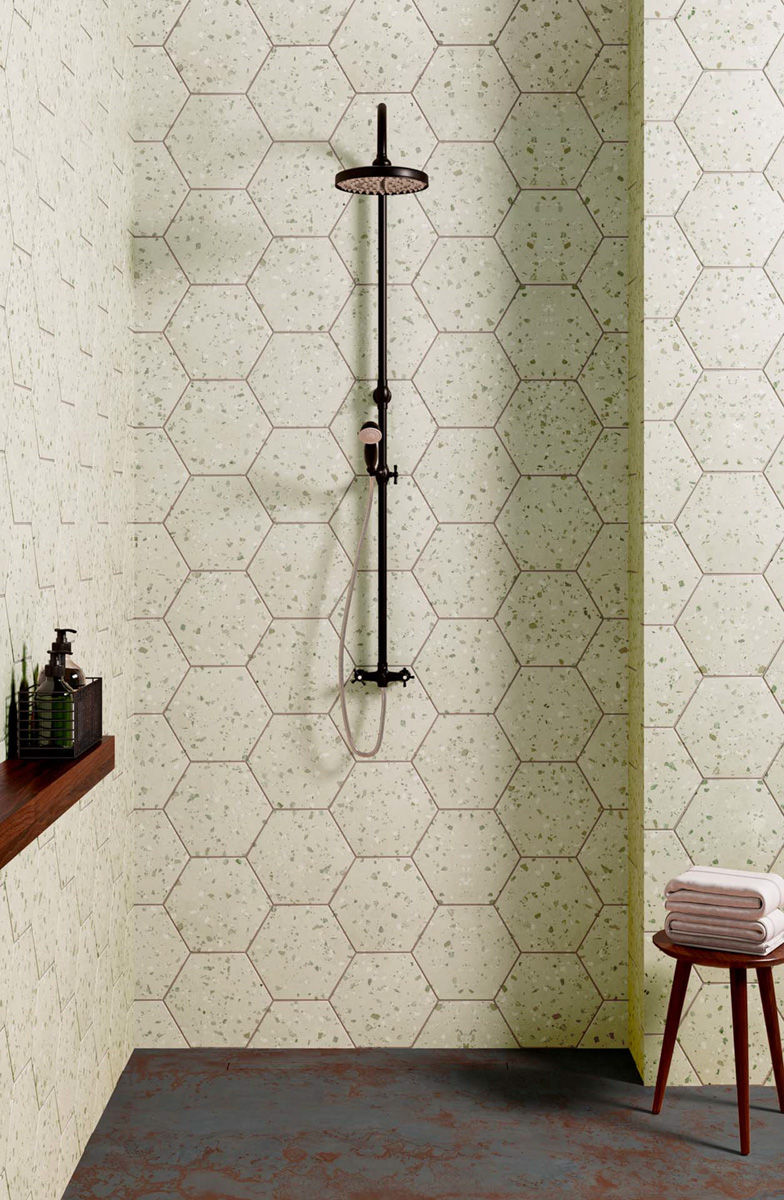 South Collection
If, on the other hand, you prefer to have a walk-in shower, your bathroom will be visually more spacious. In this case, use the same modern shower tiles as the rest of the bathroom for a more invisible, integrated appearance. These are discrete-looking shower areas that blend into the rest of the room, maintaining the same overall visual coherence.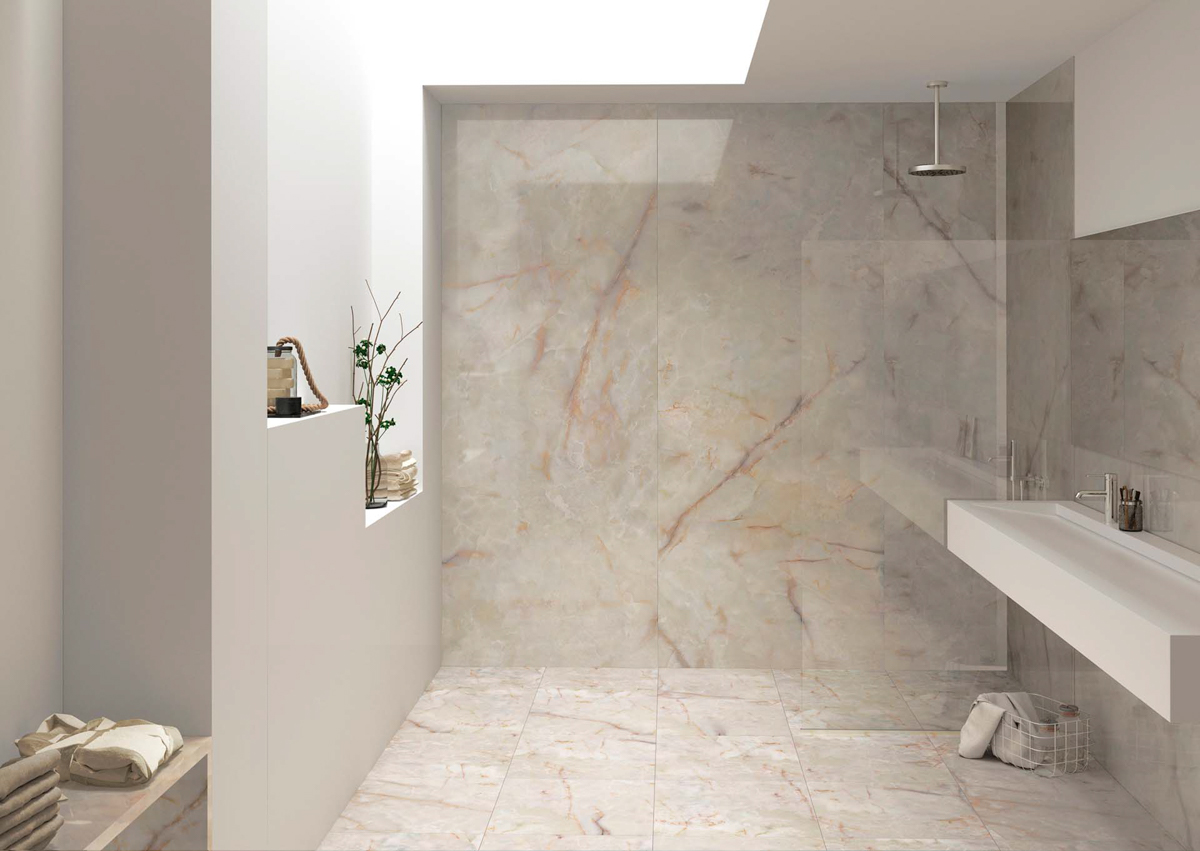 Onice Collection
Creativity in bathroom design
Tile designs nowadays can be genuinely ground-breaking. Designers are creating innovative shapes, relief patterns and sizes that can be used alone or in combination to create unique looking spaces. Marble, textile, metal or stone-effect tiles, ones with geometrical patterns… There is no end to the creativity!
Highly original bathroom tile ideas
We'd like to suggest a few bathroom tile ideas. Whether you prefer a modern or a more rustic look, it's essential to choose the right bathroom tiles to achieve the look you were seeking.
Textile-effect tiles
Textile-effect tiles are the perfect way of infusing settings with warmth and originality. The Punto Croce collectionby Apavisa will transform any surface into a canvas. With its 21 combinations of patterns, each tile in the collection is unlike any other.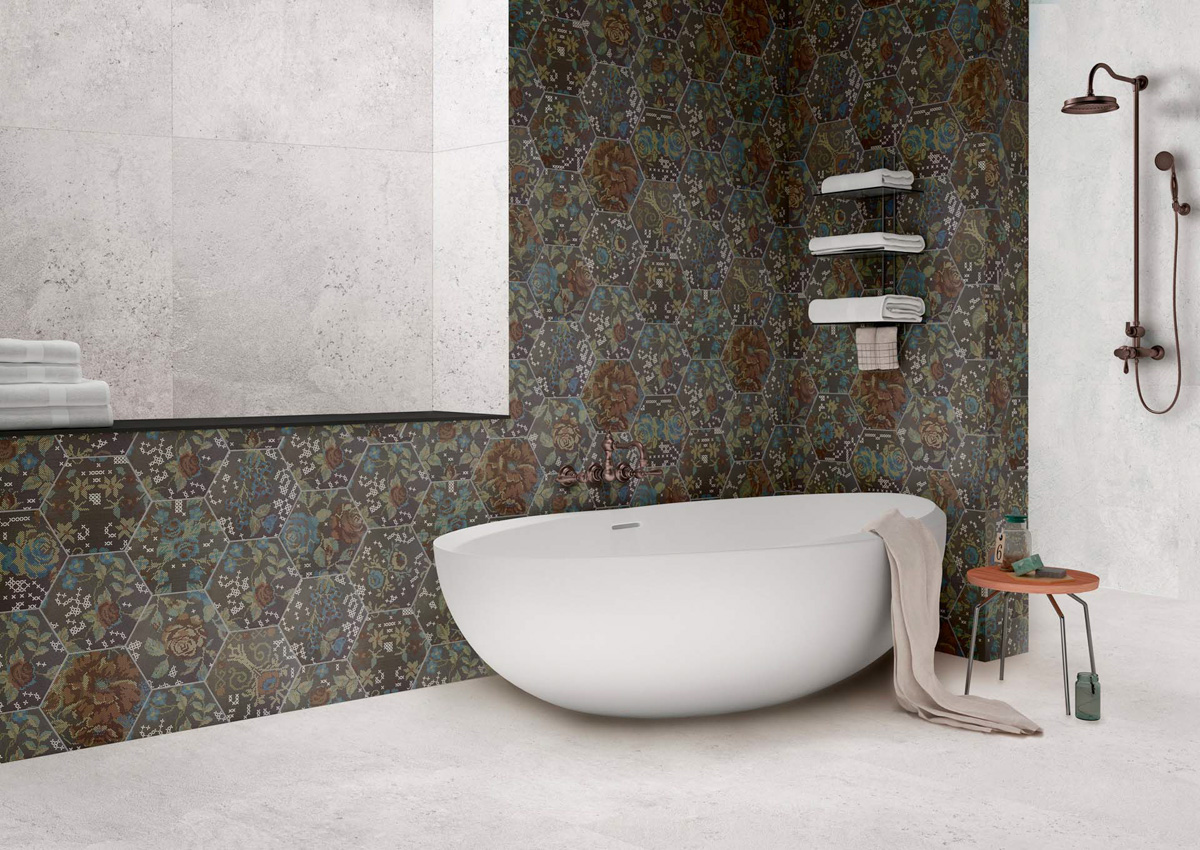 Punto Croce Collection
A mix of textures
In small bathrooms, one brilliant decorative idea is to use different embossed patterns, colors and designs. This can give the room a far more spacious feel, combined with a strong personality and modern appeal.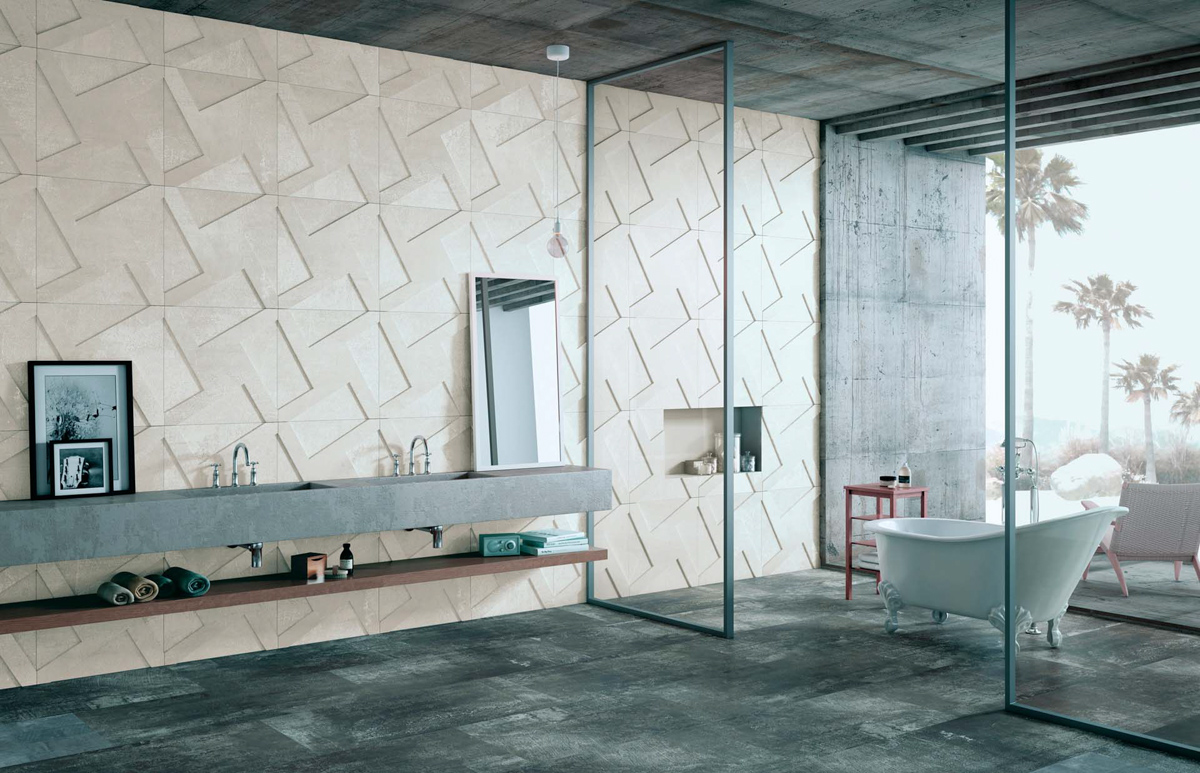 Alchemy Collection
Retro-look tiles
A perfect balance between old and new. If you want a truly original bathroom with an air of authenticity, then opt for vintage-look tiles that combine the beauty of yesteryear with shapes, designs and finishes able to fit in to perfection with new trends and modern styles. Patterned bathroom tiles never become outmoded.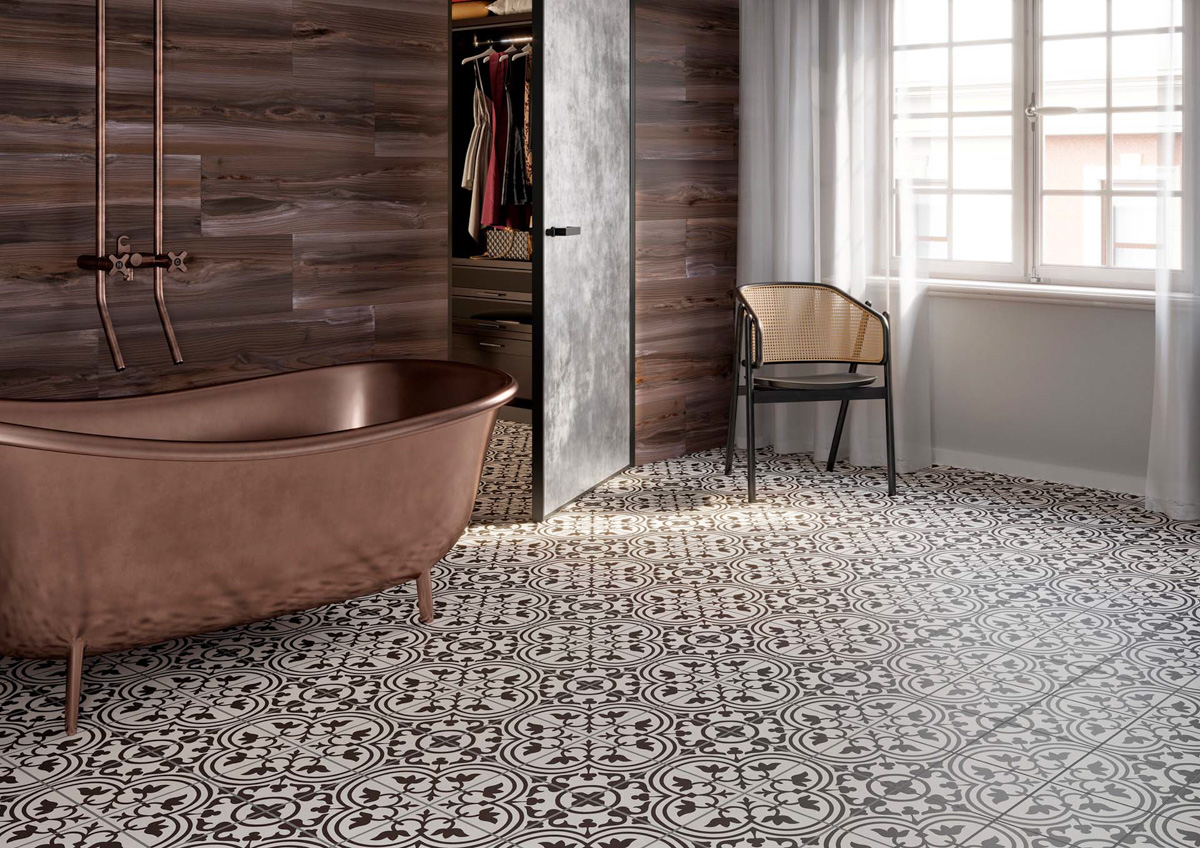 Antico Collection
Wood-effect floor tiles for bathrooms with a warm feel
Natural-look materials are increasingly popular. By using wood tiles as flooring, you can give bathrooms a more relaxing feel. Their amazingly realistic wood veins come on low-maintenance tiles conspicuous for their high resistance and durability. Apavisa offers a variety of wood-effect tiles for bathrooms in a choice of formats, styles and shades of color.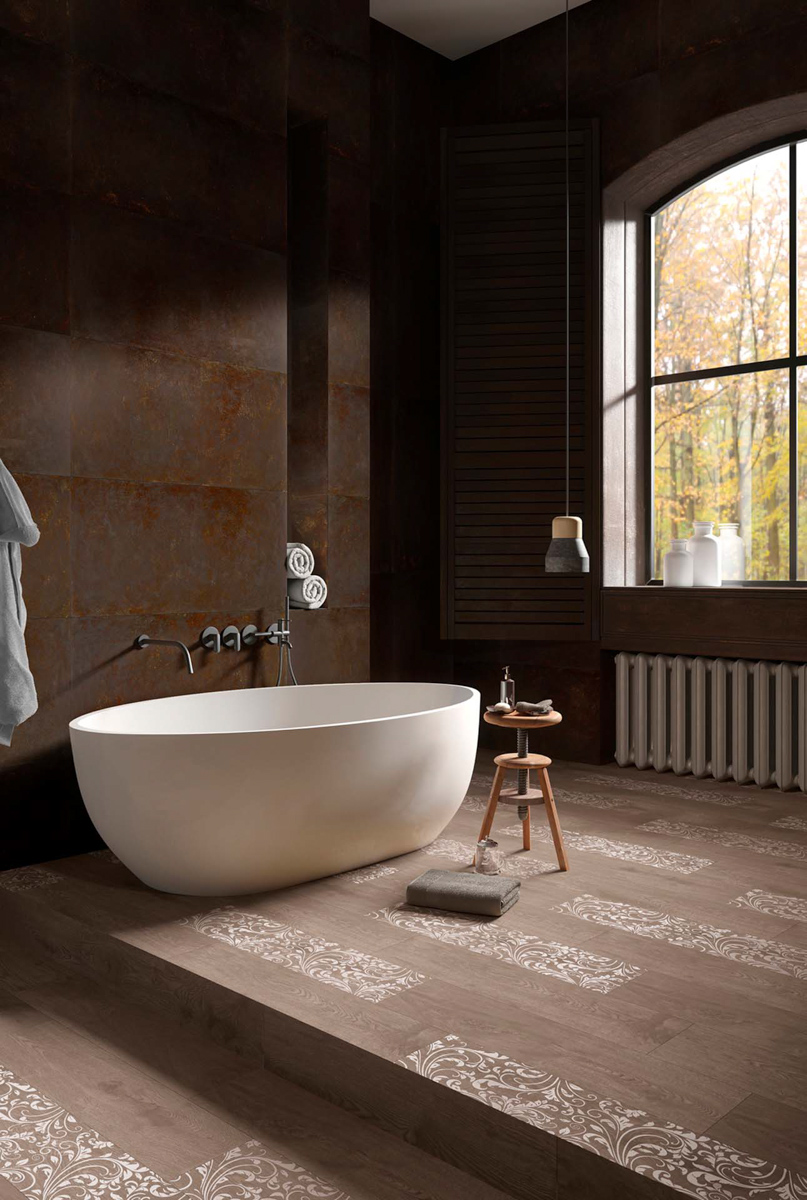 Arco Collection
Porcelain tiles for small bathrooms
Depending on the type of tile you choose, you can make a room seem visually larger. Certain sizes, colors or surfaces can help to generate this effect. We'd like to offer you a few porcelain tile ideas for bathrooms.
Opt for pale colors
Choosing the right color bathroom tiles is always an important decision. We offer the keys to getting it right!
If you pick pale colors, your bathroom will have more luminosity and it will seem bigger and more spacious. By using white or beige, you can also ensure a purer, more hygienic appearance.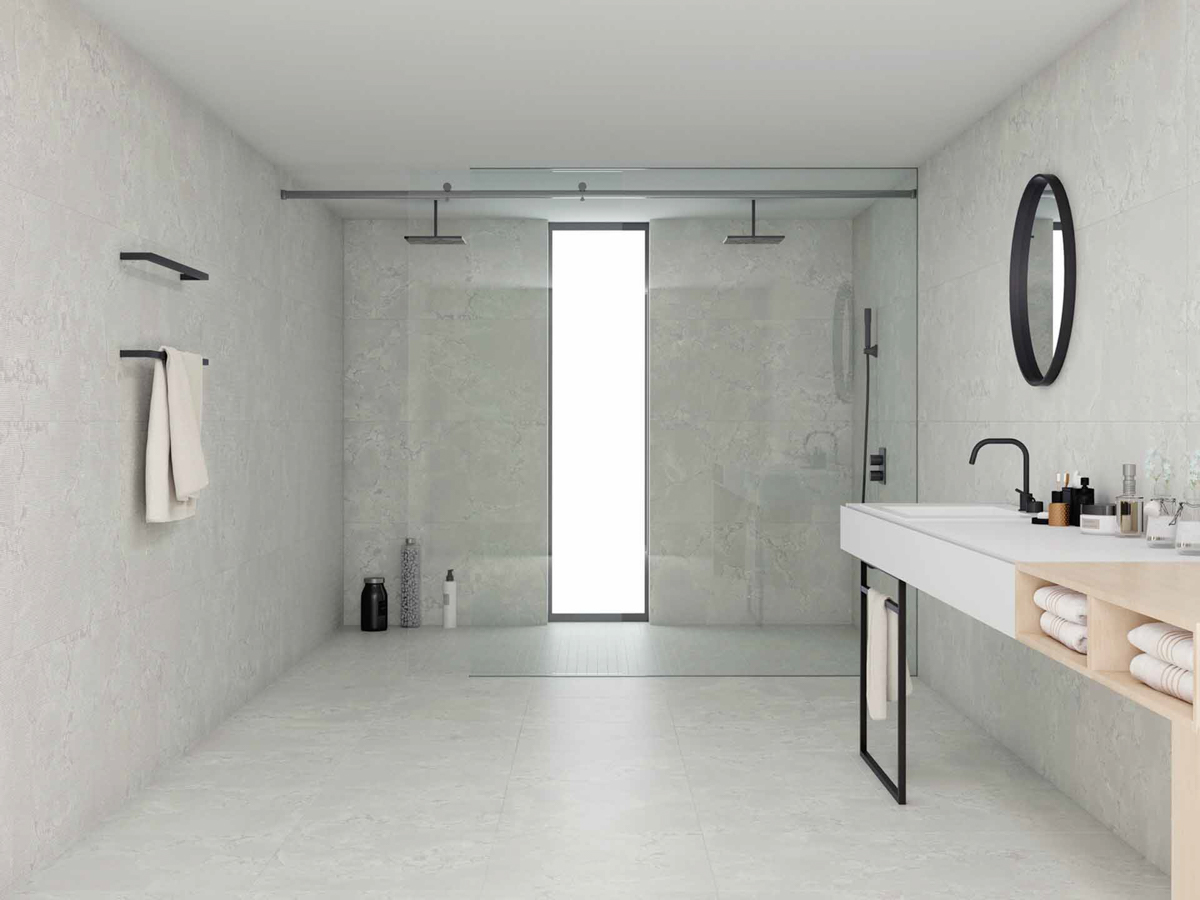 Natura Collection
XXL tiles for added spaciousness
You might not think so, but large-format porcelain tiles and horizontal ones are a definite plus because, with their continuous design, they make spaces seem larger.
Have a look at these tile ideas for small bathrooms! Which one would you opt for?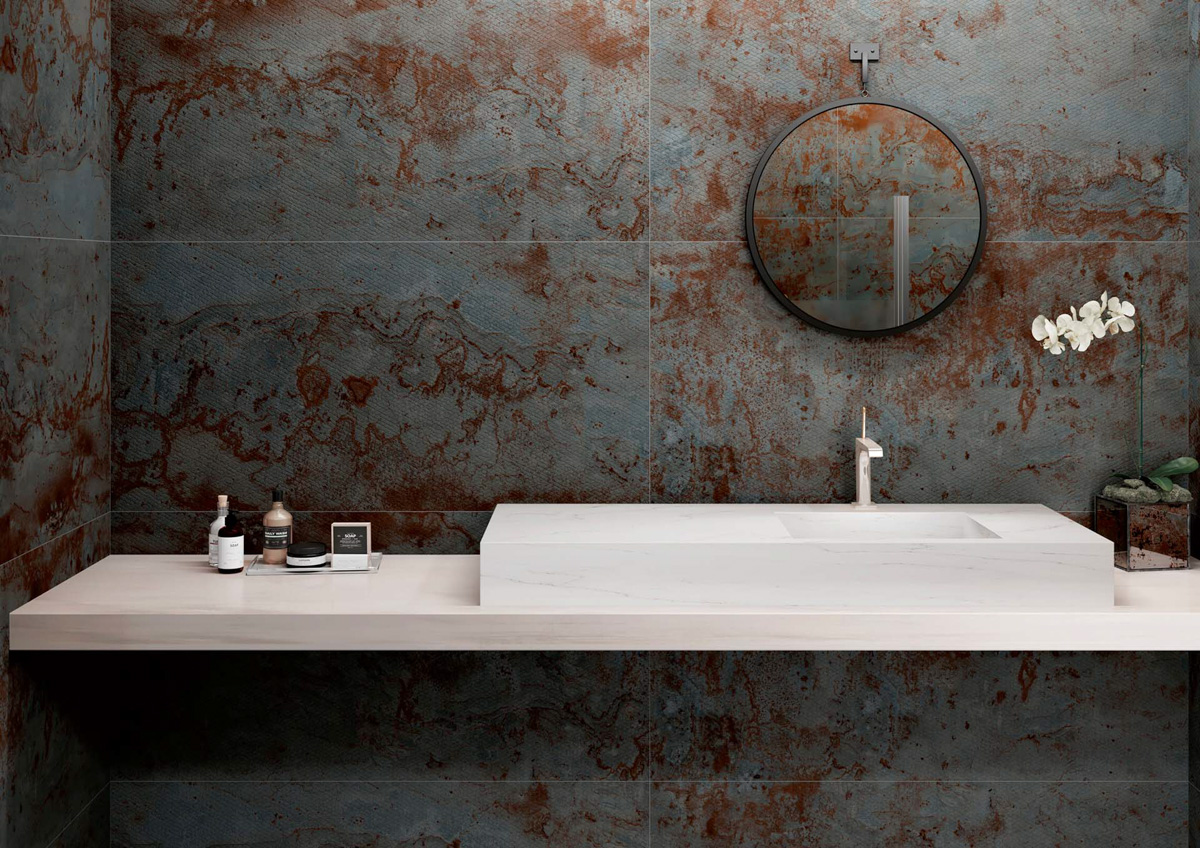 Zinc Collection
Ideal colors for bathrooms
There are colors to suit all tastes, so the ideal color for your bathroom will depend on the effect you wish to achieve. If you want your bathroom to be more luminous, choose pale colors by opting for white, cream or grey porcelain tiles. If, on the other hand, you want the bathroom to stand out for its unique cheerful personality, then lend it a touch of color to add vitality and a more uplifting feel.
Bathroom tile combinations
Combining different colored tiles in a bathroom is easy if you work with a well-defined color scheme.
Black and white is always a winning choice for bathroom tiles, thanks to the stylish sophisticated outcome that can be achieved. This is also a highly versatile mix, able to fit in with a wide variety of styles, from classic looks to industrial, Nordic or modern ones.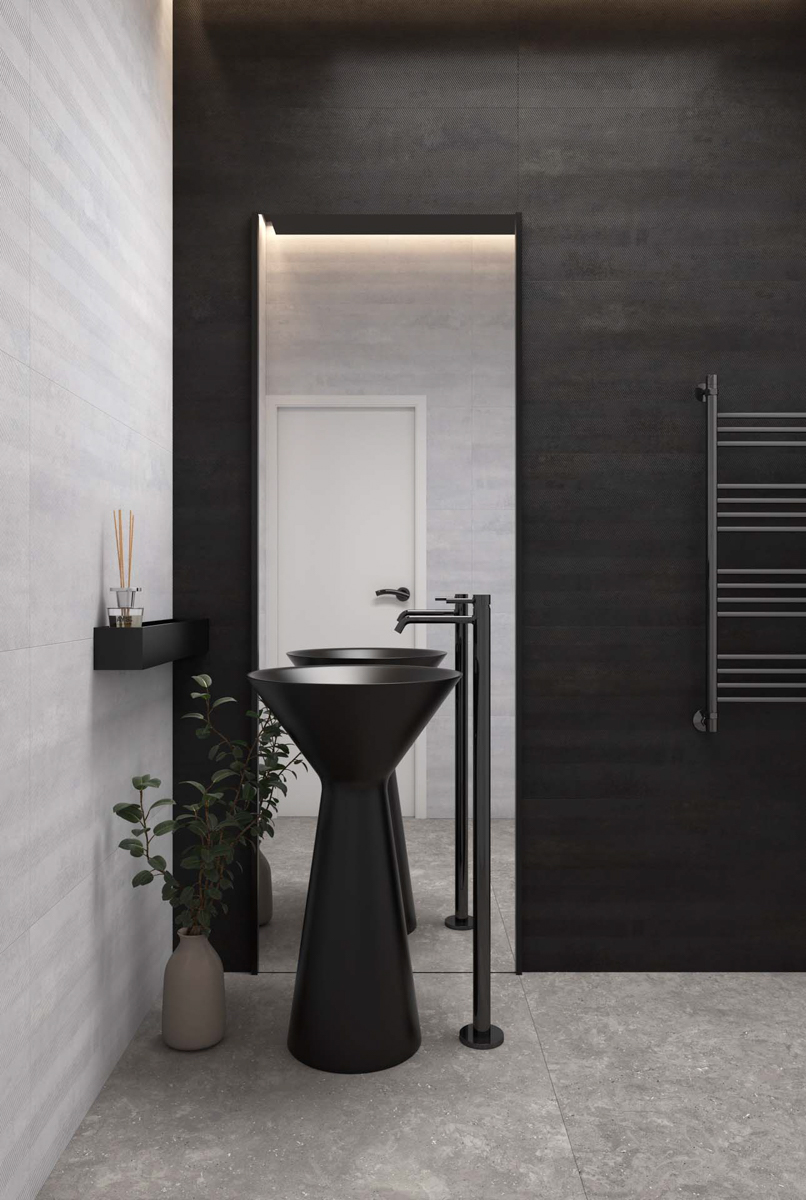 Corten Collection
In contrast, if you want to be more daring and original and to create a cheerful, colorful, distinctive bathroom, then go for colored floor tiles. The Tappeto Collection reproduces remnants of rugs in soft contrasting colors, with a patchwork effect. What could be more creative!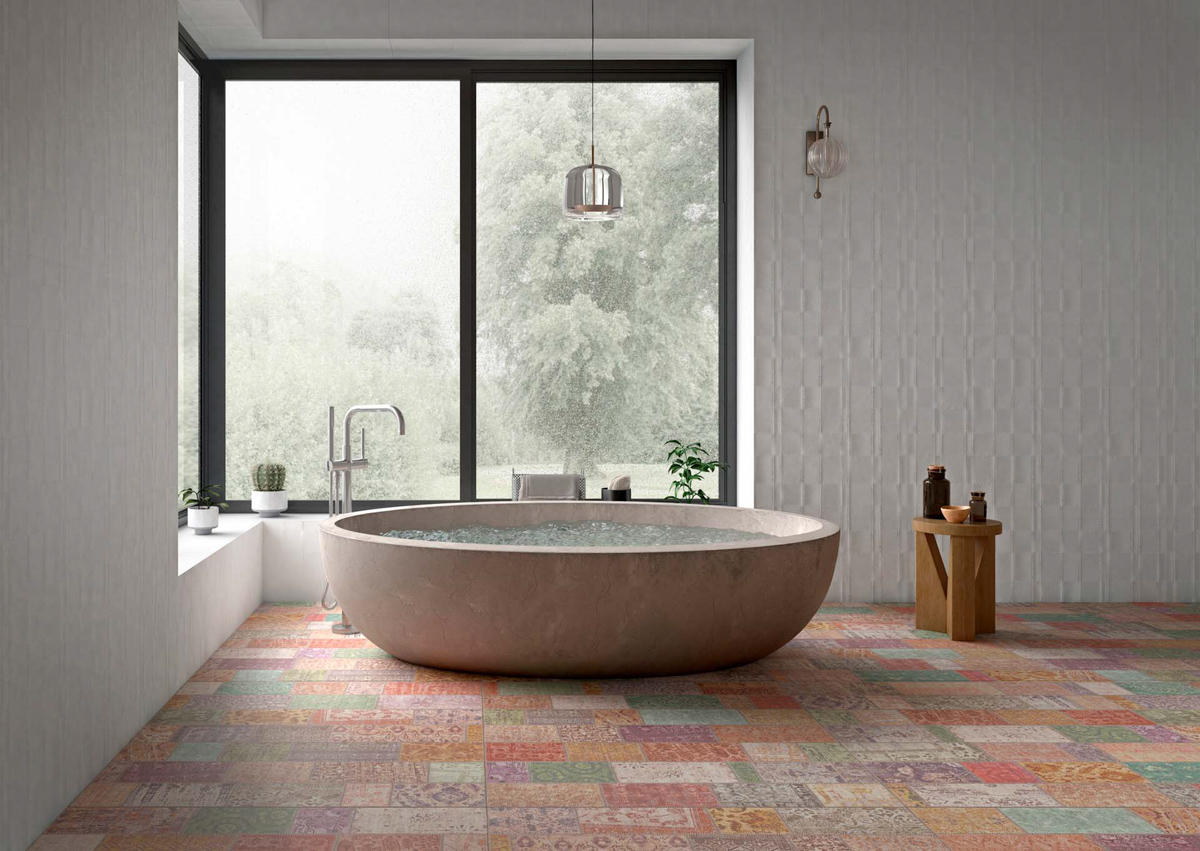 Tappeto Collection
Do you want a bathroom with a modern air? Let us inspire you.
If you want your bathroom to follow the latest trends in design, check out this series of modern bathroom settings that we have selected to serve as a source of inspiration. As you'll see, there's a whole world of possibilities to choose from!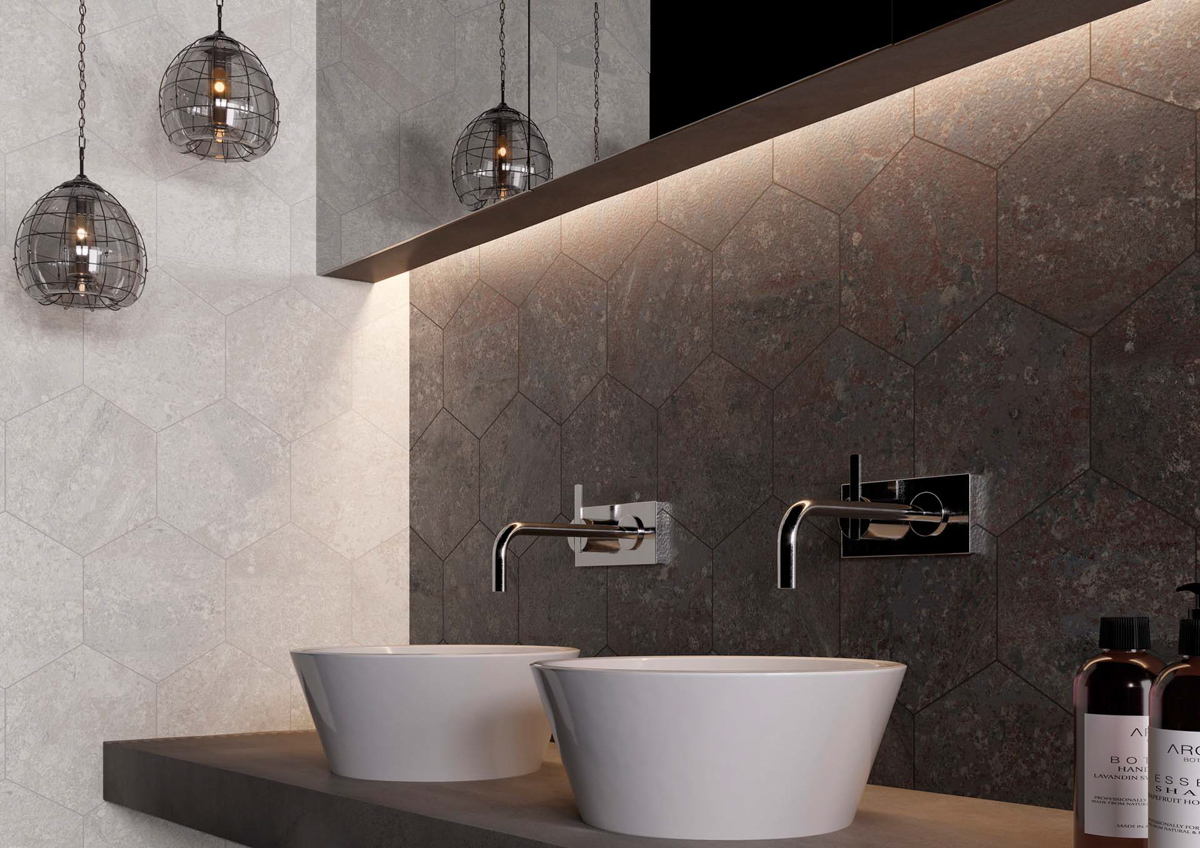 Rust Collection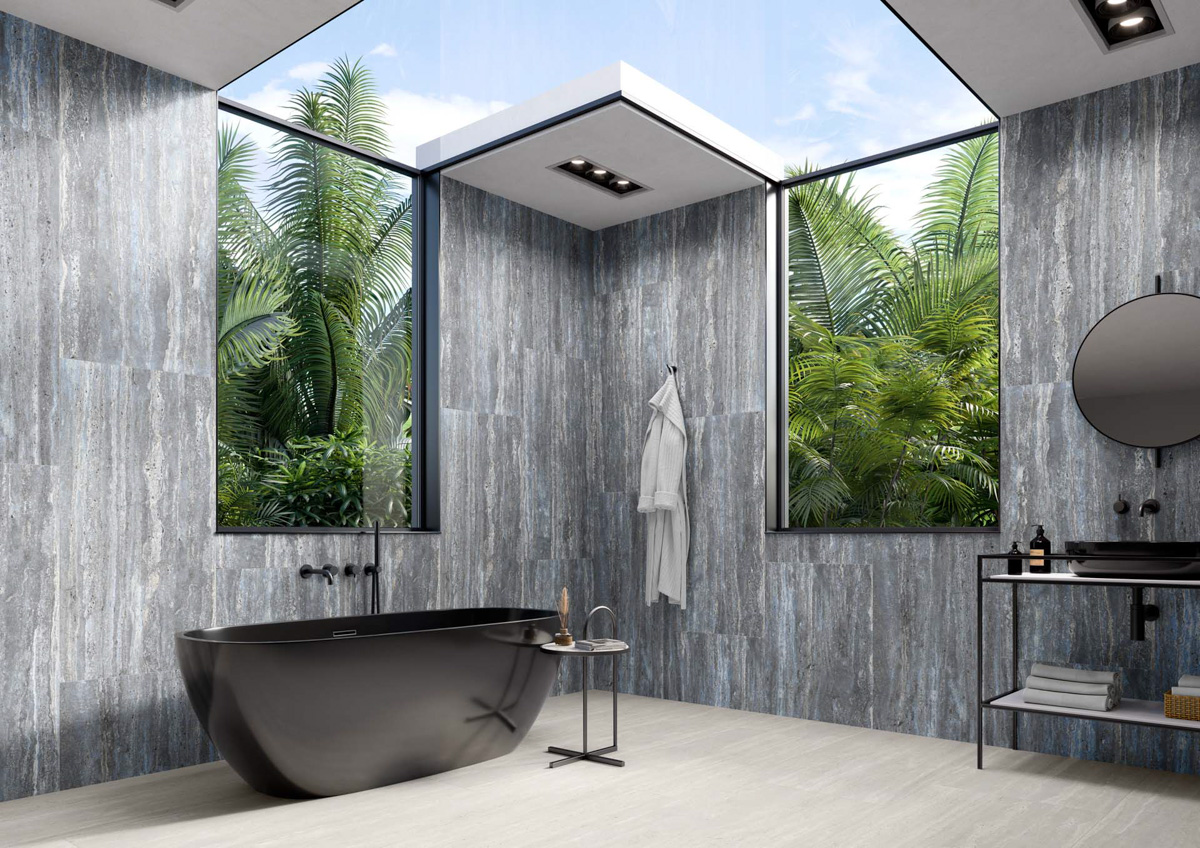 Travertino Collection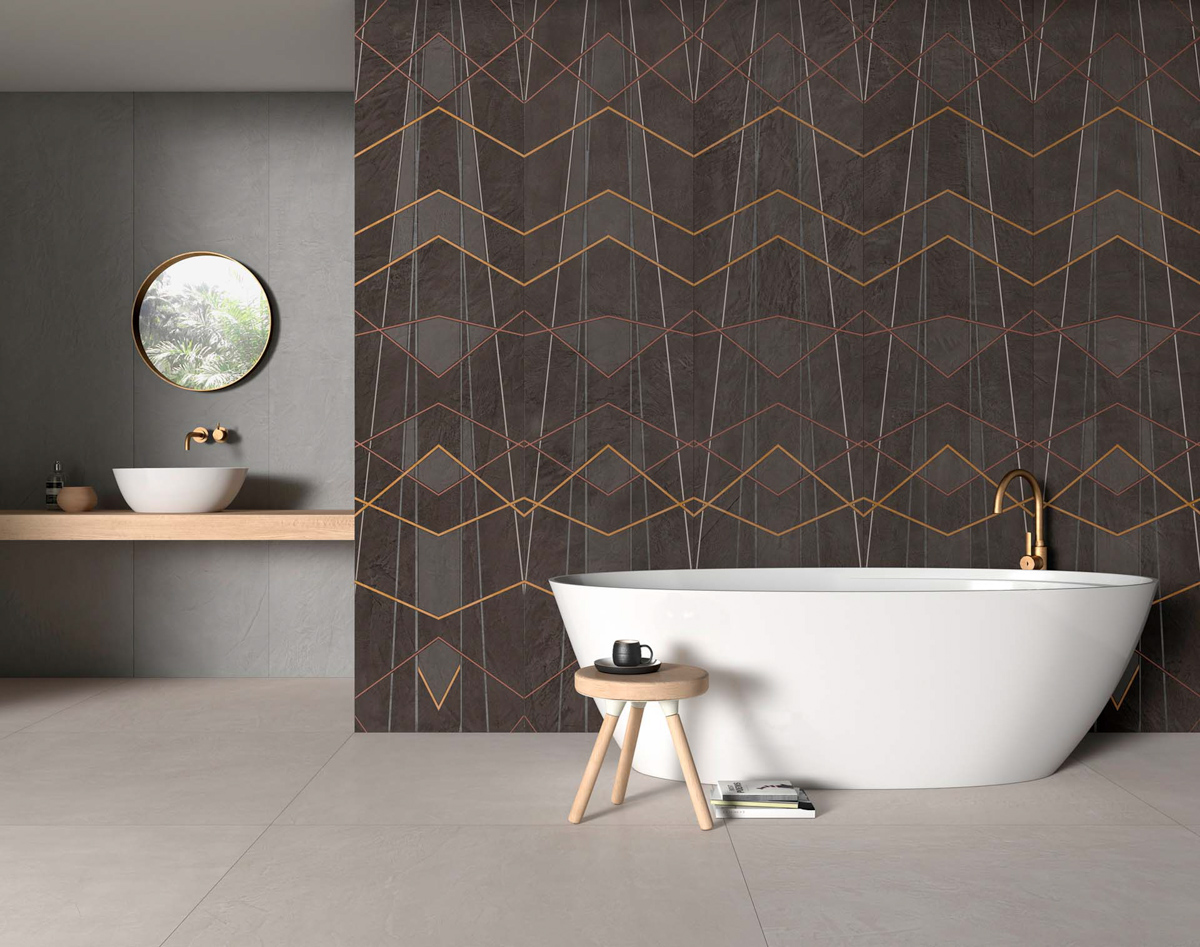 Equinox Collection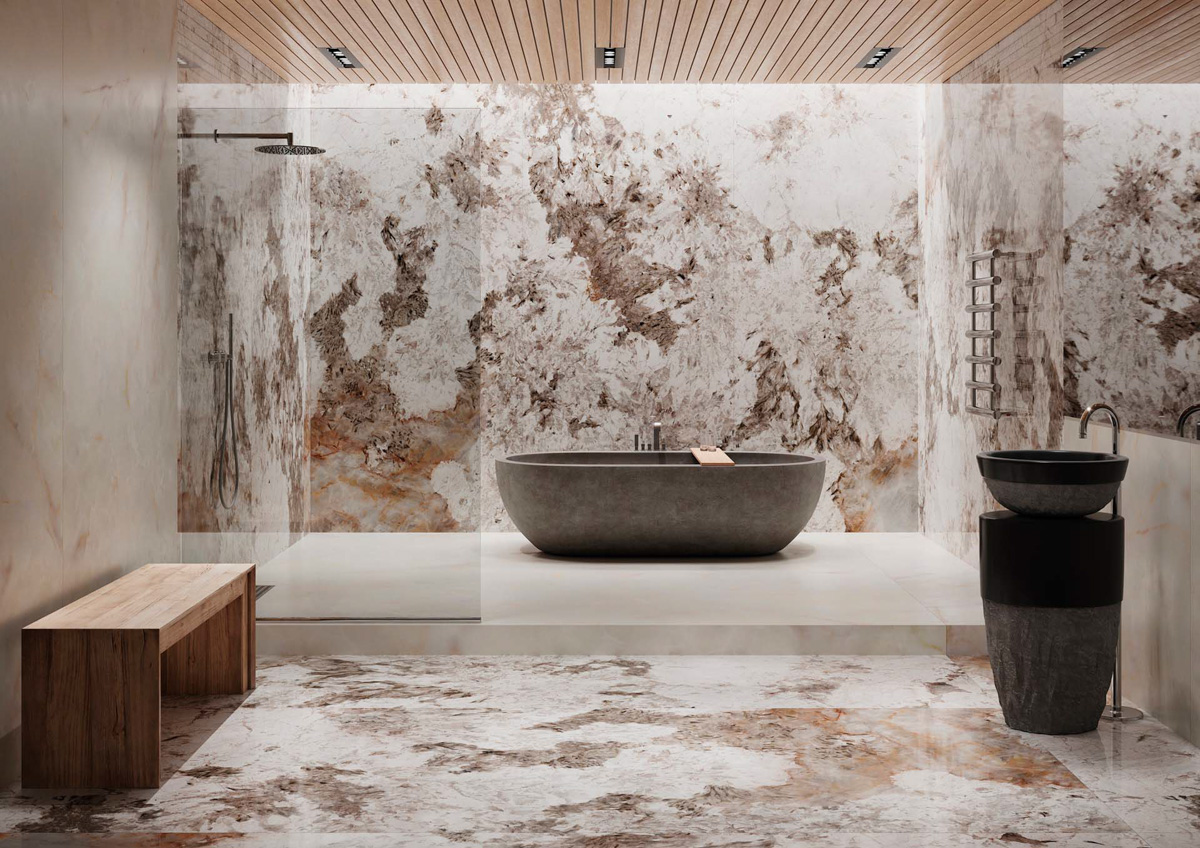 Patagonia Collection