The moment for which you have been waiting has arrived: choosing your home interior flooring. An important decision, because you have to choose flooring you will like now and also well into the future. In addition, it is essential that you choose the right material for each room.
We will explain the different types of outdoor and indoor flooring, emphasizing which are the best types of modern house flooring.
Keep reading, so that you choose the best modern tile flooring for apartments and houses.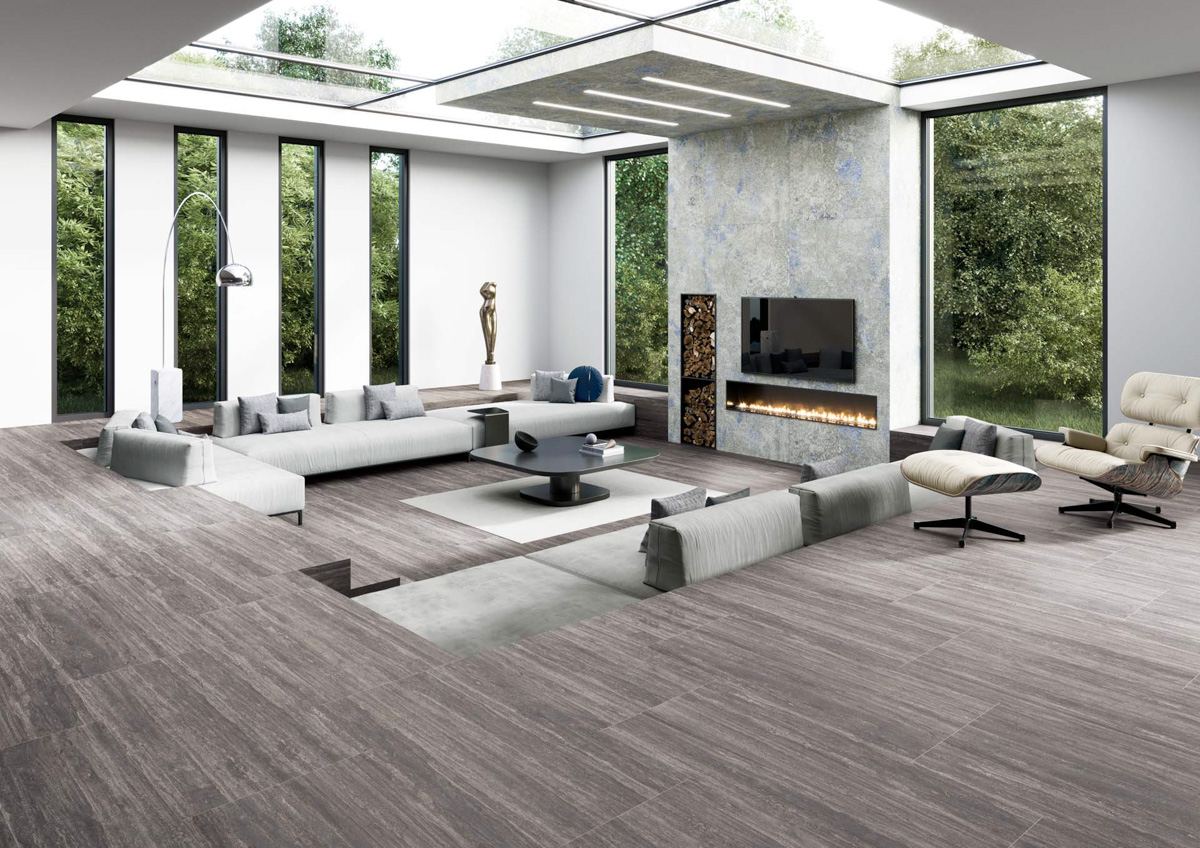 Travertino Titanium Natural 60x120cm
Different types of interior flooring

There is a wide range of types of modern flooring for houses and it is key to learn to distinguish them to get things right. Let's review the main options currently on the market.
Hydraulics. This is traditional modern interior flooring, although it is a booming trend. In addition to being durable, the designs are very original and offer a vintage aesthetic.

Laminate floors. These are made of a synthetic material and the designs are printed, as if they were a photograph. This makes them inexpensive and there are a wide variety of styles. However, they are not very durable or resistant to humidity.

Vinyl or PVC. They also feature printed designs and come in many styles. But, in this case, they are made of PVC and are water-resistant.

Ceramic tile floors. This is a widely used option in modern houses, because they offer a very wide range of designs and perfectly resist humidity. However, they are not very tough, so they may fracture if bumped.

Wooden floors. They are warm, natural and offer a certain variety of tones and designs, depending on the type of wood. Although it is a durable material, care must be taken to prevent it from deteriorating, and its ability to absorb water means that it is not suitable for the entire house.

Natural stone. It is resistant and resembles wood in the sense that it is natural and we can find a variety of styles depending on the chosen stone. However, natural stone floors are usually quite expensive.

Microcement. Polished cement has become a trend because it brings an industrial air to homes. It has a very nice finish, totally smooth and soft, but you have to be careful, because it scratches easily.

Porcelain. Porcelain is one of the most requested materials in modern homes. It has an almost unlimited variety of designs, is hard, resists shocks and is a very good insulator.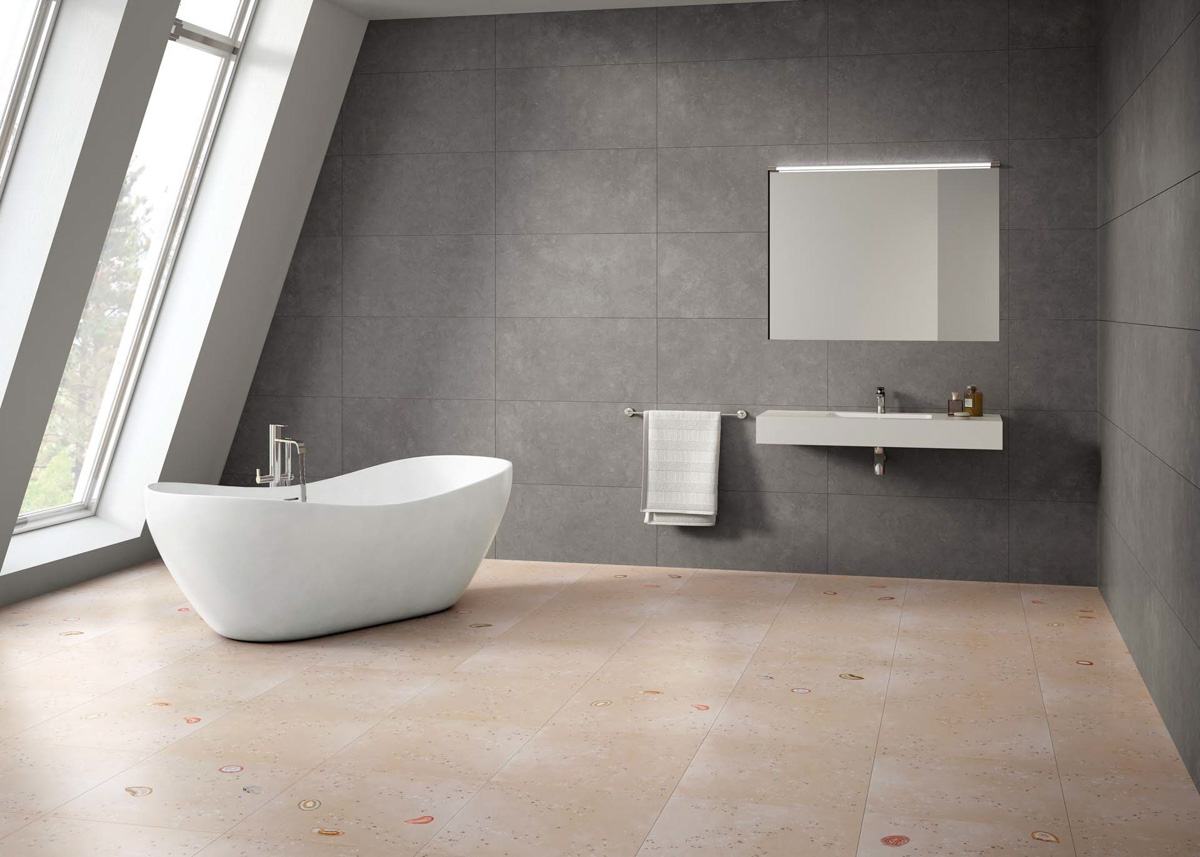 Geodas Ivory Natural & Deco 60x60cm
Are these the only types of flooring that you can install in modern homes? No. There are many more, such as linoleum, which is a natural option, used for decades and now a trend once more; or floating flooring, which is installed slightly separated from the surface, to provide more insulation.
Differences between outdoor and indoor flooring
When choosing the flooring for your new home, you have to take into account the differences between your home's outdoor and indoor flooring. How can you choose the best option for each area? It's very easy! We will tell you 3 aspects that you should bear in mind.
Design. Regardless of the area of the house, you should feel comfortable with the appearance of the flooring. Indoors, the style of each room marks the design you are going to choose for the floor, and it is more common to go for glossy porcelain tile flooring.

Outdoors, although it is not an unbreakable rule, the matte finish is more common. Also, in terms of colors and designs, it is common to opt for something more natural. For example, the use of stone-look modern porcelain tile flooring.

The material. Outdoors, in addition to aesthetic conditions, it is important to take into account other aspects of the material. For example, it must be a waterproof material, so wood or laminates are completely ruled out.

Safety. Safety is also a key point when choosing the floor of your house. In this sense, it is vital that the outdoor choice be a non-slip porcelain tile flooring to avoid slips and accidents when wet.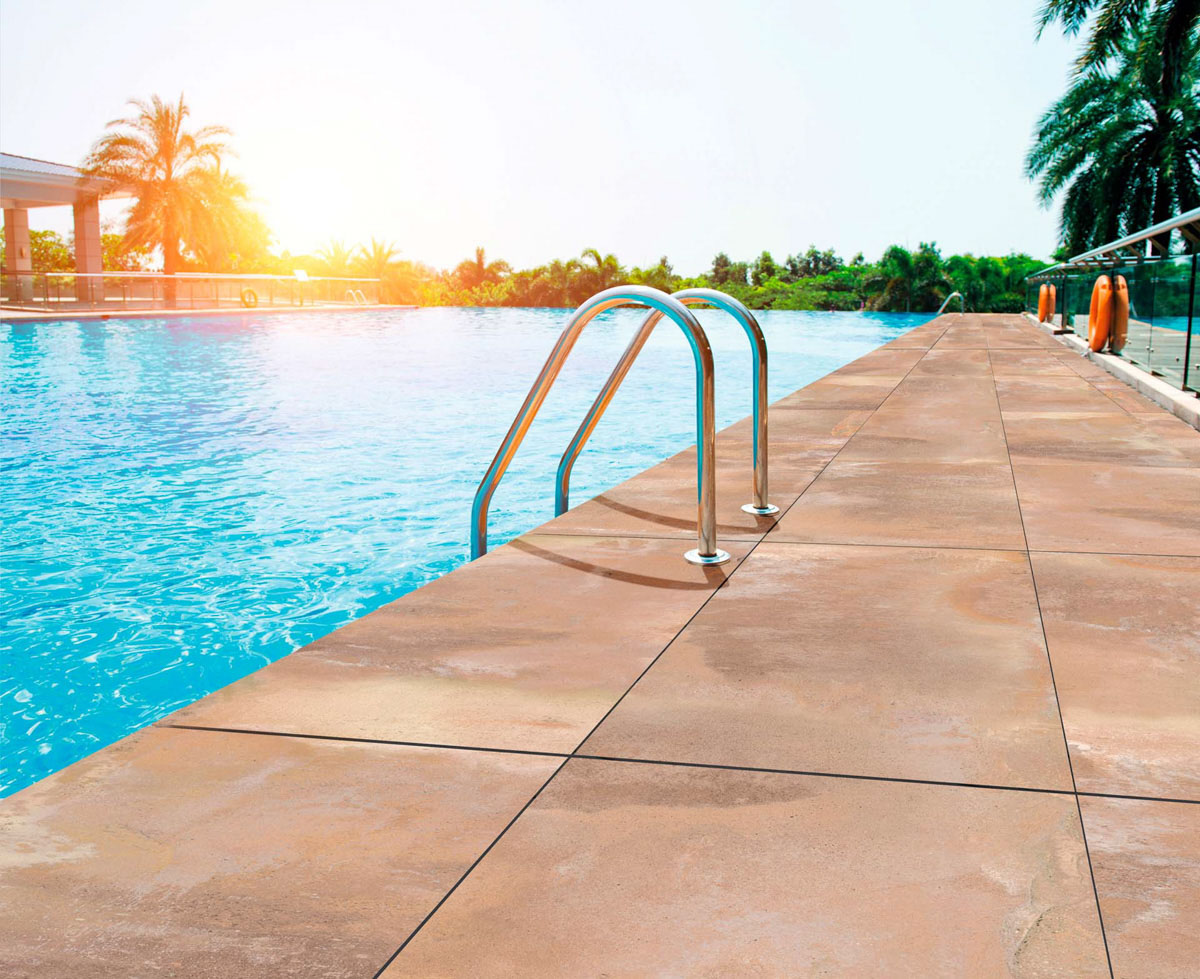 Hutton Rosso Solid 2cm. 50 x100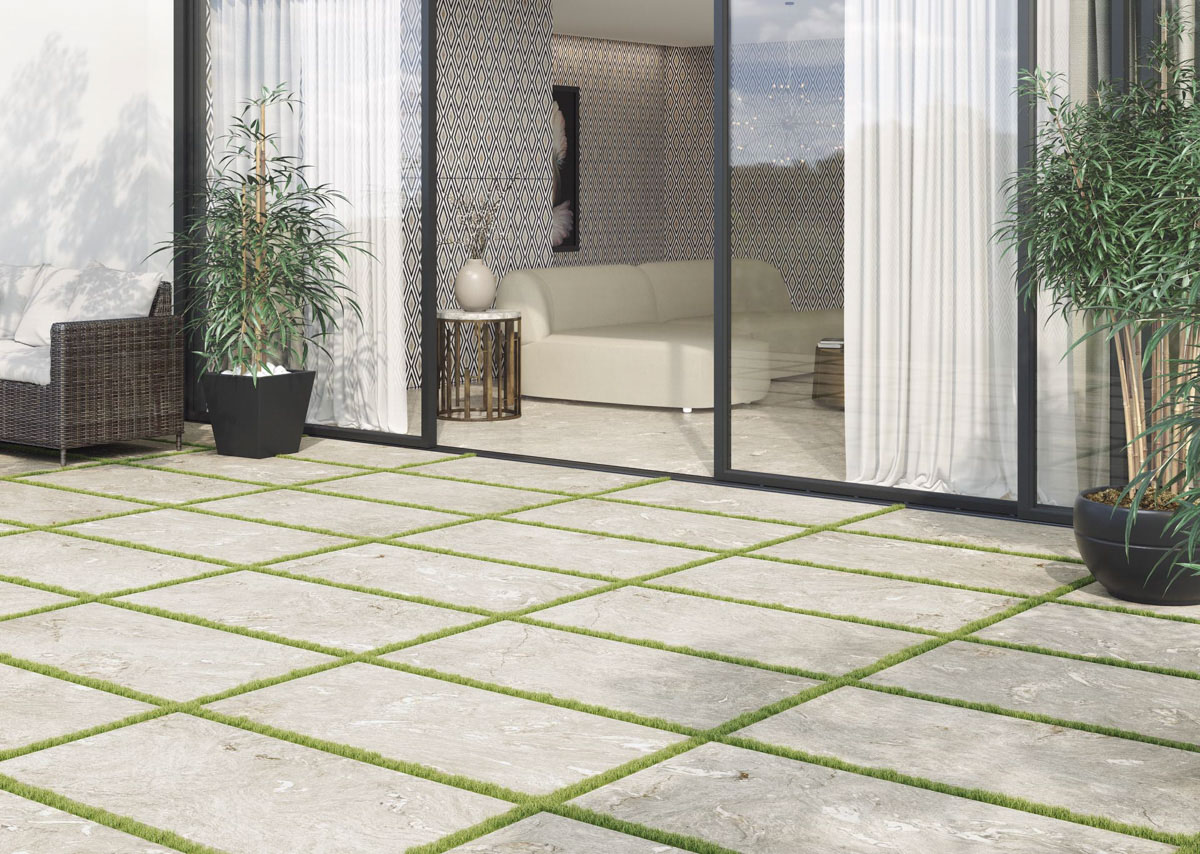 Interior: Rellik Beige Lappato 50x100cm. Outdoor: Rellik Beige Solid 2CM 50x100cm.
The best flooring for a house
The best flooring for a house is one that combines toughness, resistance, durability and versatility in designs and finishes. Taking all these conditions into account, we can say that porcelain is the best option today.
Modern porcelain tile flooring for homes
Modern homes are coming back to porcelain tile flooring, but let's see why this is so and how you can choose the best flooring for each area of the house.
Advantages of porcelain tile flooring
Porcelain tile flooring is some of the most resistant flooring on the market. It withstands strong impacts and wear and tear, requiring little maintenance.
It is also virtually waterproof. This not only guarantees that the flooring will last longer, but you can also install the same flooring throughout the house, ensuring continuity, even on the terrace or in rooms such as the bathroom or kitchen.
Because it is non-porous, it is very difficult for a stain to penetrate. It is a stable material, which does not expand or contract throughout the year, something that does happen, for example, with wood. In addition, it provides excellent thermal insulation.
But, as if all this were not enough, porcelain is one of the materials with the greatest variety of designs. It can be used in different textures and finishes to imitate all kinds of materials.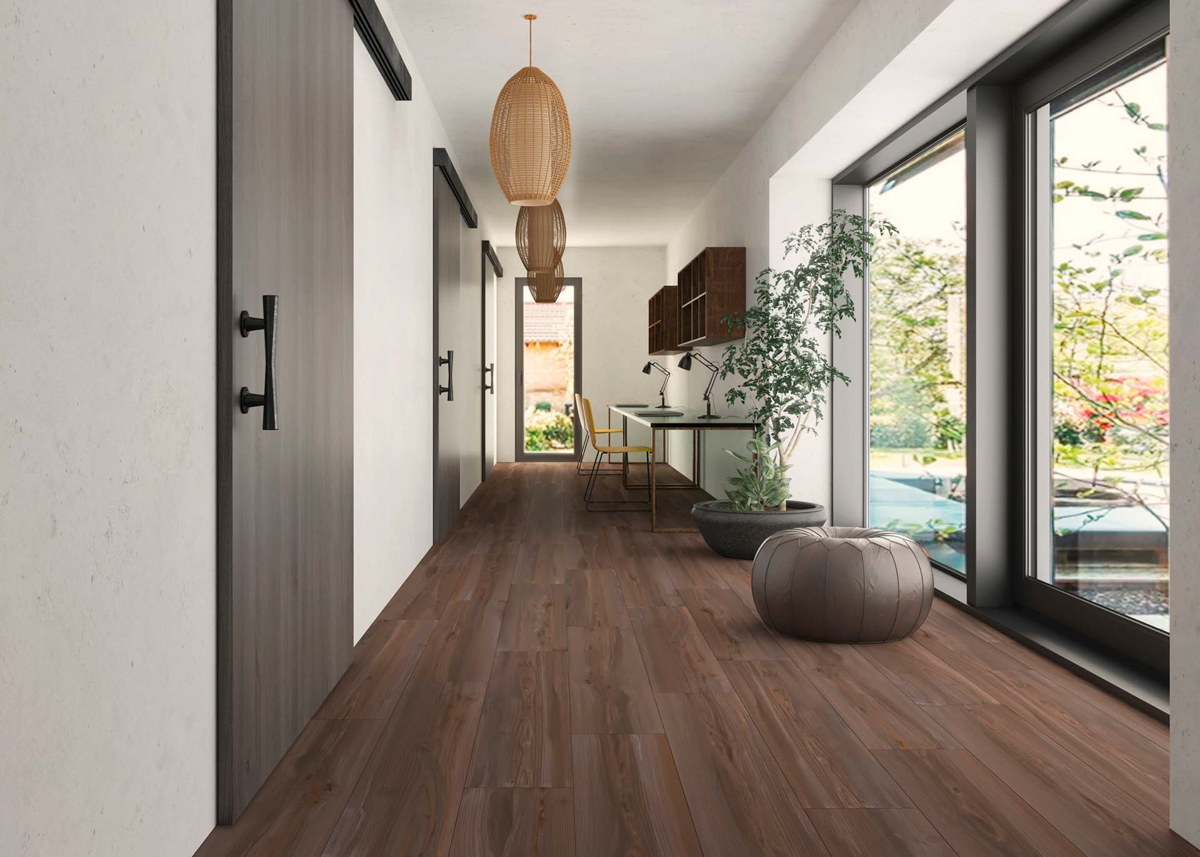 Echo Brown Natural 25X100cm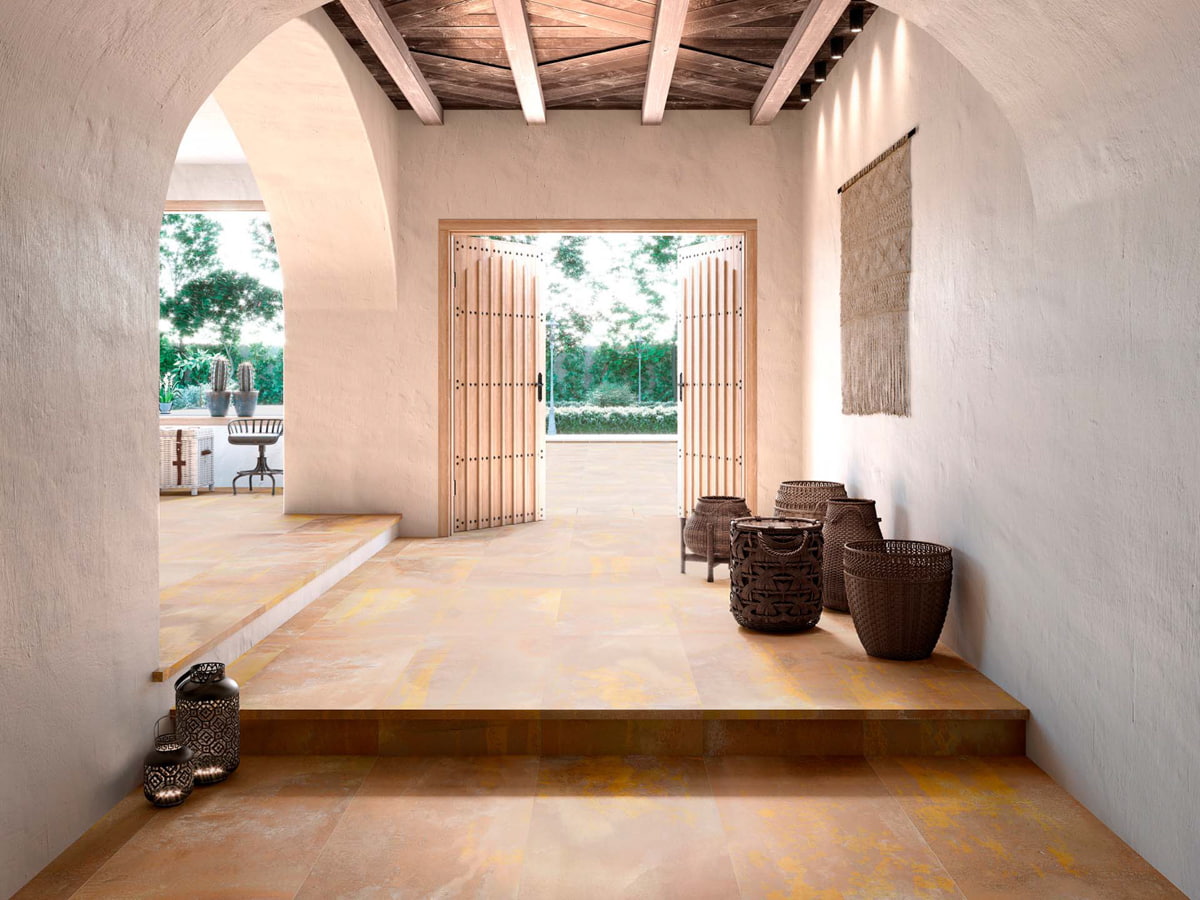 Hutton Orange Natural 50x100cm
Modern kitchen flooring
Porcelain tile flooring in the kitchen can be modern, regardless of the type of furniture you have chosen. However, depending on the style you want to achieve, one option will be more appropriate than another.
In a very modern kitchen, where you want to add a certain vintage air, a hydraulic porcelain tile flooring will look great. The typical hydraulic designs will fill the kitchen with vitality and give it a very personal touch.
If you like houses with gray porcelain tile flooring and want to enhance the industrial and minimal style, a perfect option will be a cement-look porcelain tile. This flooring will generate a sense of continuity and will visually expand the space.
If you prefer to combine the modernity of the kitchen with a flooring with rustic tints, opt for the clay-look porcelain tile flooring, which will give the kitchen a cozy and warm atmosphere.

Encaustic Coal Decor Lappato 30X30
Modern bathroom floors
When talking about modern interior flooring, we should not forget porcelain bathroom flooring. The bathroom, which has always been a case apart, today can be added to the continuity of the rest of the house.
For example, would you like to install parquet flooring in your bathroom? Natural wood does not allow you to do this, but the wood-look porcelain stoneware that you have chosen for the other rooms in your house can also bring warmth to your bathroom or toilet.
The cement-look porcelain can be another ideal option to give that modern and industrial touch to your bathroom. And, if you have already installed a white porcelain flooring for the bathroom walls, you can increase that feeling of hygiene and cleanliness with glossy white porcelain tile flooring.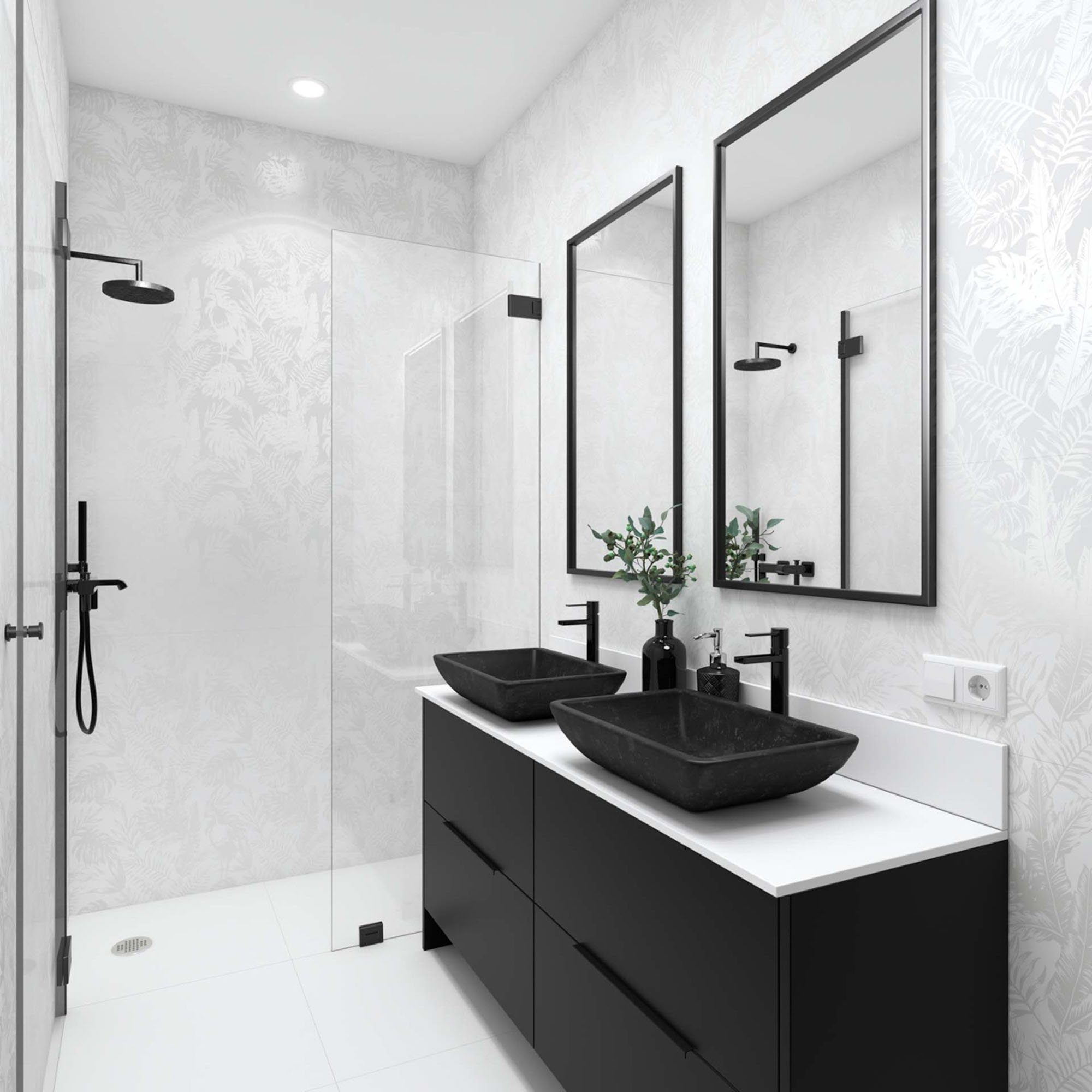 Elements Jungle Lux 45X120
Floors for living rooms and bedrooms
To give the floors of country houses a more modern look, parquet-look porcelain in neutral tones, such as grey, always works for bedrooms and living rooms. The wood touch adds personality and warmth, while conveying a timeless feel.
Among the floors for rooms, terrazzo flooring is one of the options that has been most successful in recent years. This original alternative has resurfaced and it has the power to fill any room with dynamism.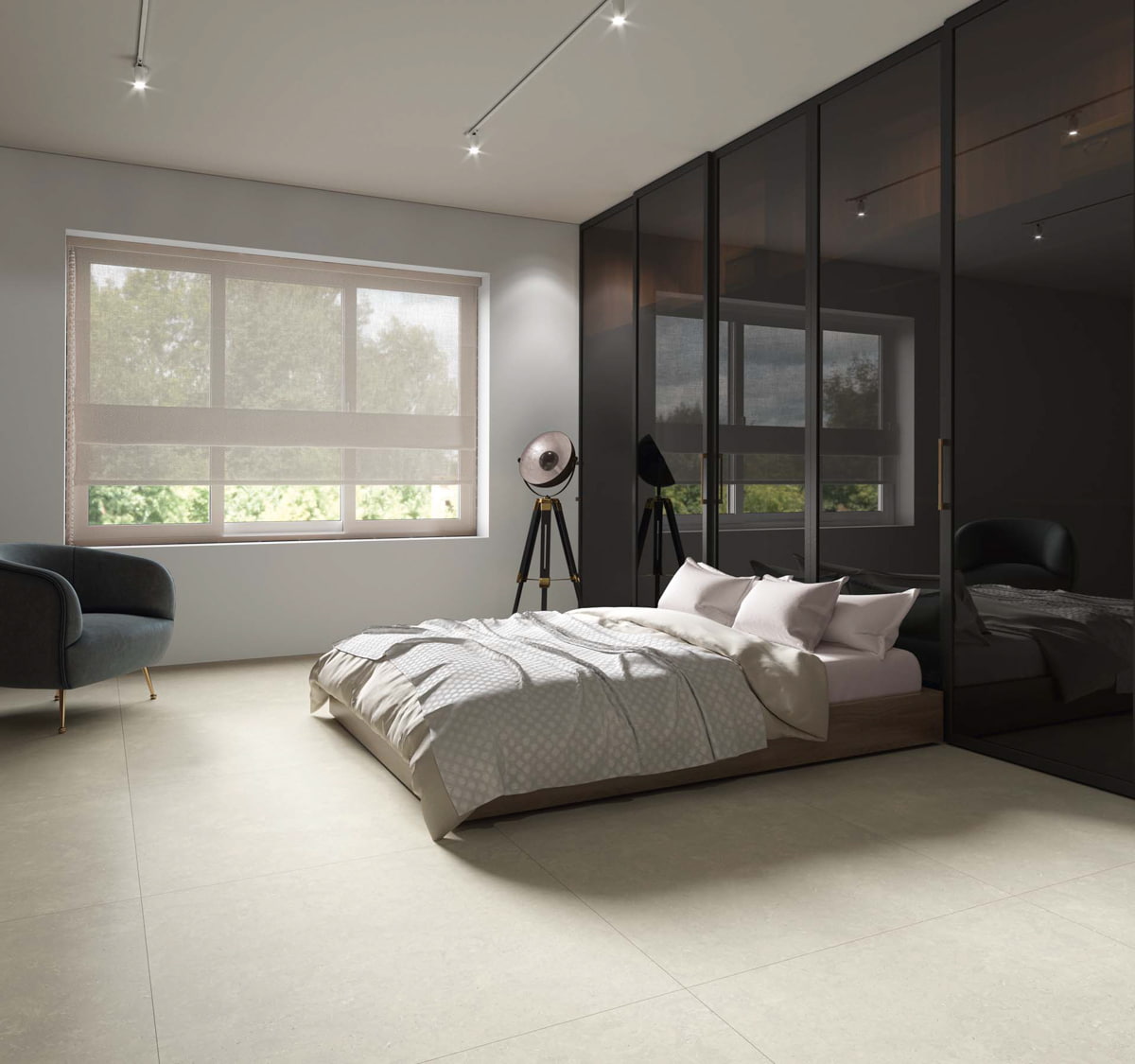 Metodo Ivory Natural 100x100cm
Modern garage floors
Is this the first time you have thought about your garage flooring? Don't worry; it's understandable. But it doesn't have to be that way. Although it is common to pave the garage with concrete, there is no reason to limit yourself to that.
A modern garage floor can bring a lot of life to this area of the house. Porcelain flooring, in addition to adding style and personality, does not crack or deteriorate over time. In addition, it is the ideal material to support the weight of your vehicle.
The style of the floor depends on you and your tastes. You can choose a cement-look porcelain flooring, but you can also opt for a wood look to give it a more rustic chic air, or do something truly original with a hydraulic floor.
One detail to take into account: contrary to what many people think, the best choice for the garage is flooring without a non-slip finish. This is because it will be easier to clean any possible stains caused by your car.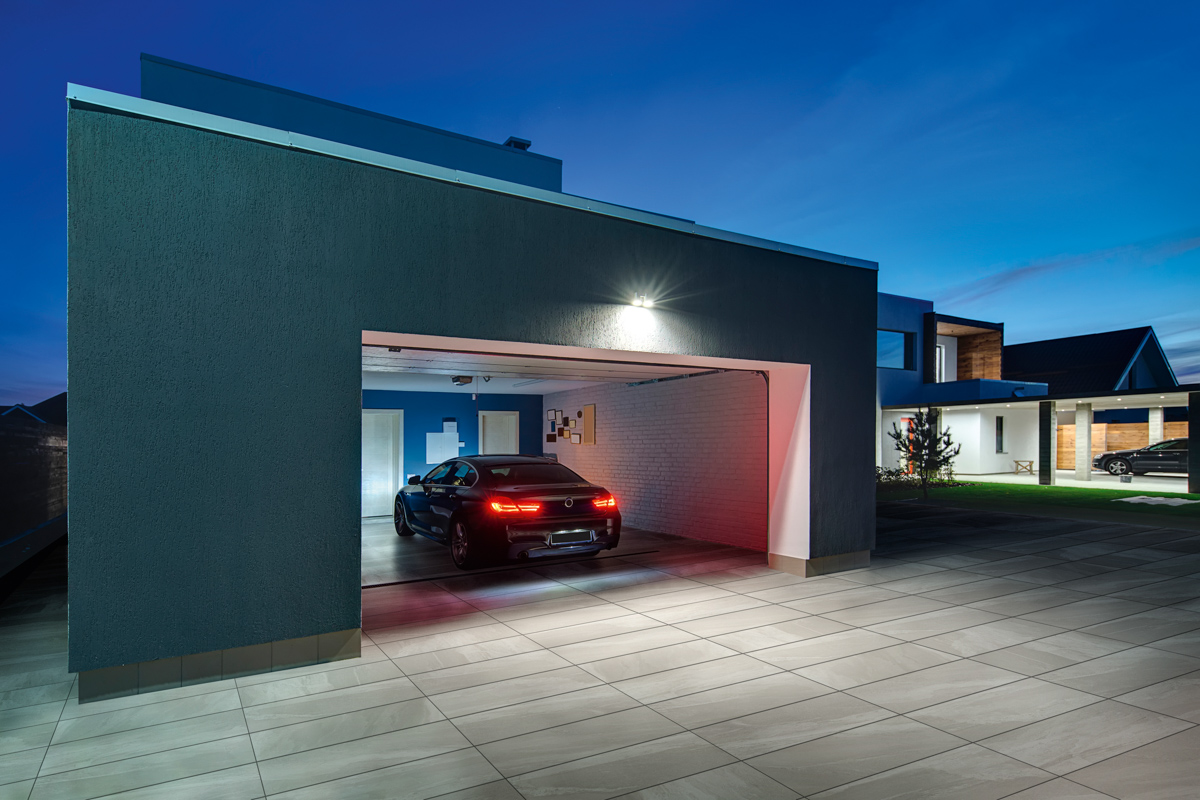 Materia White Solid 2Cm 50 x100
Modern marble floors
Among all the porcelain floors for modern houses, we cannot deny that the marble-look porcelain flooring is the star. Both indoors and outdoors, tiles that imitate this natural stone are very popular, exuding elegance and sophistication.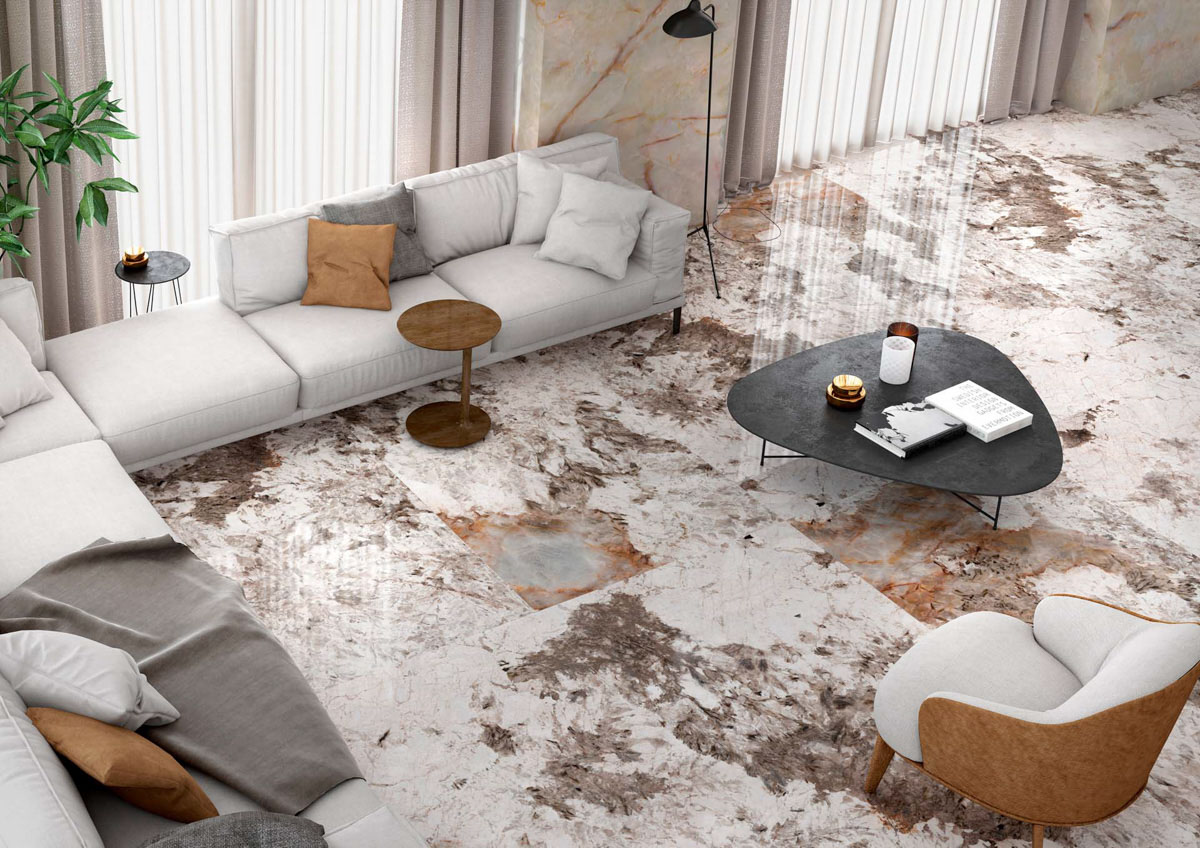 Patagonia Grey polished 120x300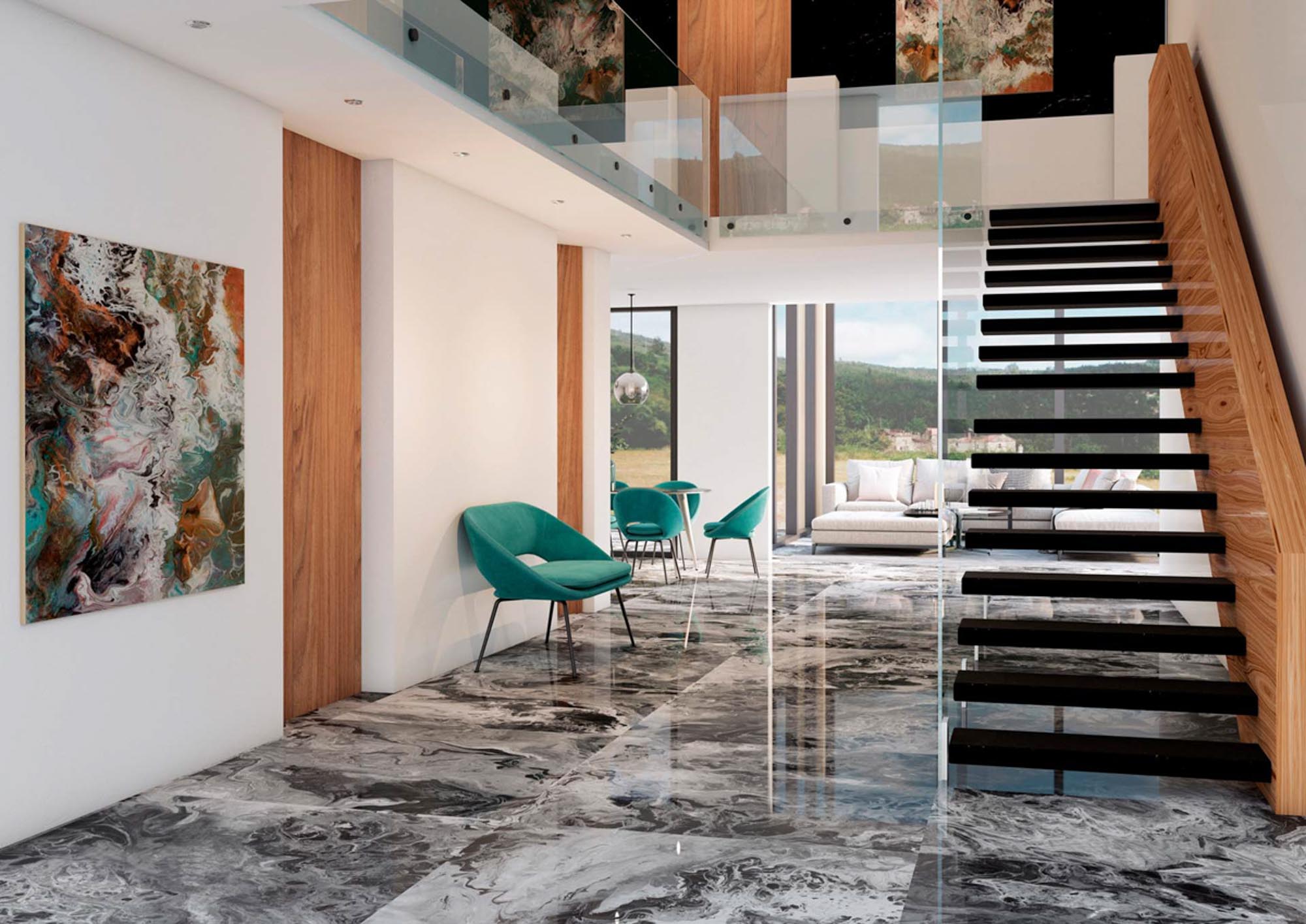 Fluid Black Polished 120x120