An essential place to enjoy those special moments that you experience daily and enjoy with those you love most. We do not always give it the importance it deserves, but at the end of a long day, it is the best place to share and talk about your day.
The kitchen plays a fundamental role in your home since it is the room where the best recipe ideas are born.
Your kitchen's decor will be with you for a long time and, for this reason, and a thousand others, you must choose the right one. That is why we are presenting a timeless color that will give your kitchen the most modern look. Get inspired by the decor of these white kitchens and also if your color is white, we recommend you also read our last post with ideas to use white tiles for bathroom decor.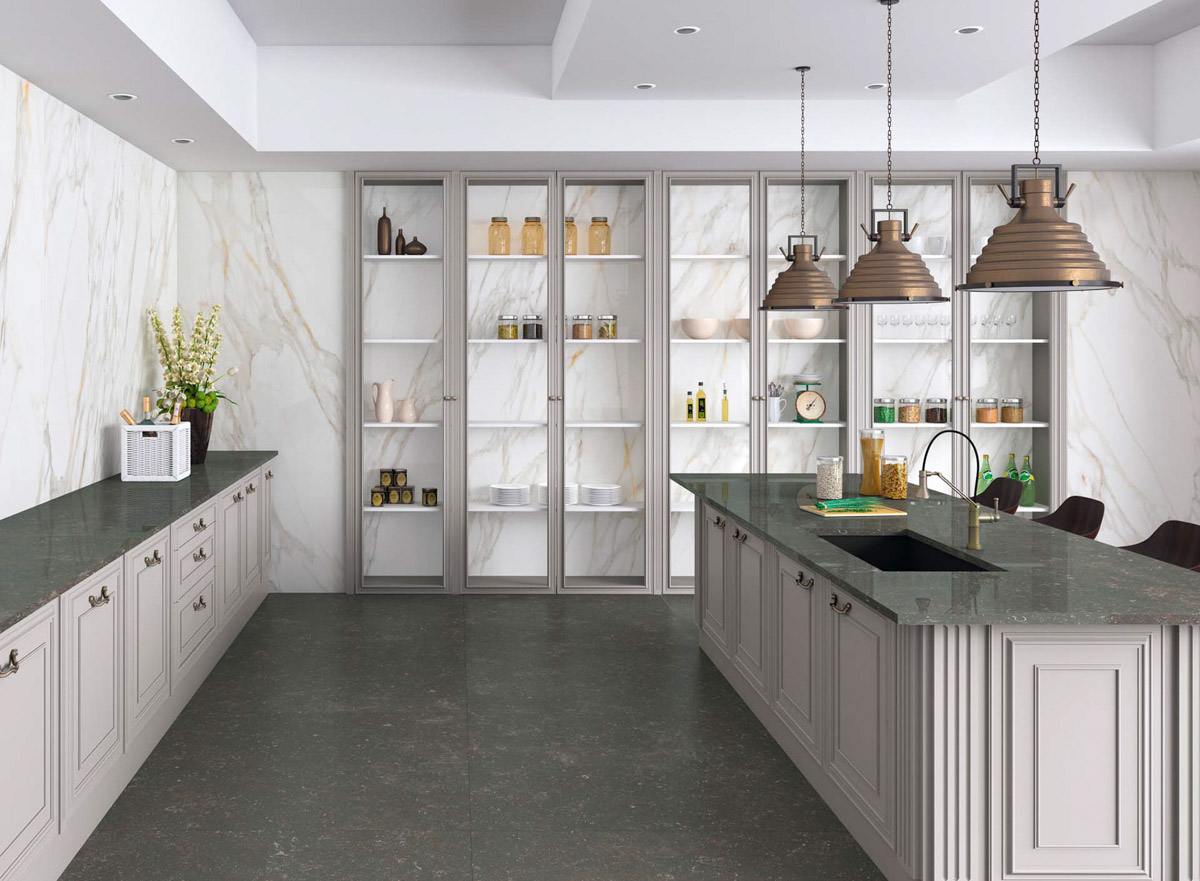 Borghini White Polished 120X260
Decor and white kitchen tiles
White porcelain tiles will completely change the look of your kitchen, allowing the same color to create an environment full of modernity.
White goes with any other color, so it will not be necessary to change everything to get a new kitchen with style. Just add a touch of freshness and a more modern decor.
There are different types of white kitchen tiles and they have various appearances: embossed tiles, matt white kitchen tiles, glossy porcelain tiles for floors, or marble-look porcelain tiles, among others.
We suggest porcelain as a kitchen countertop. For example, in the following setting, we see how the Super White Polished 162X324 model has been used in the double kitchen countertop. Porcelain countertops are also incredibly resistant and durable.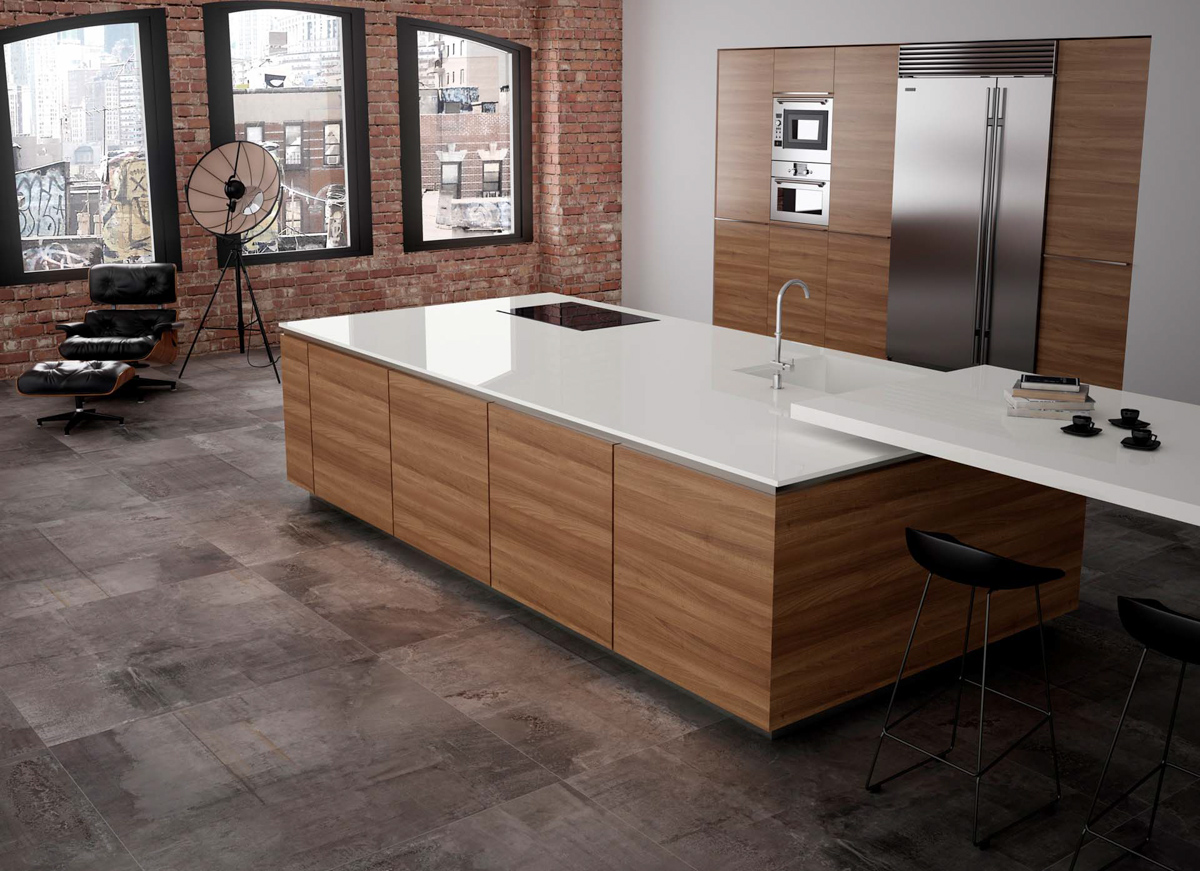 Super White Polished 162X324
Kitchens with matt and gloss white kitchen tiles
Matt white kitchen tiles and gloss white kitchen tiles are among the most popular in 2022, a trend that continues to grow year after year.
On the one hand, matt white kitchen tiles provide sobriety and elegance, thanks to their color and finish. They are a very good option if you do not want to spend a lot of time on maintenance and cleaning since they take longer to get dirty than gloss tiles and you will not have to clean fingerprints.
On the other hand, white gloss kitchen tiles provide excellent light. They generate a visual effect of spaciousness, grandeur, and freshness.
Both options are perfect for making your kitchen look much more modern and adding a different touch to your home.
Inspired by white Carrara marble. Recreate its pure color and its grey, millimetric and uniform streaks. Using this polished porcelain model in the kitchen gives a touch of elegance and style.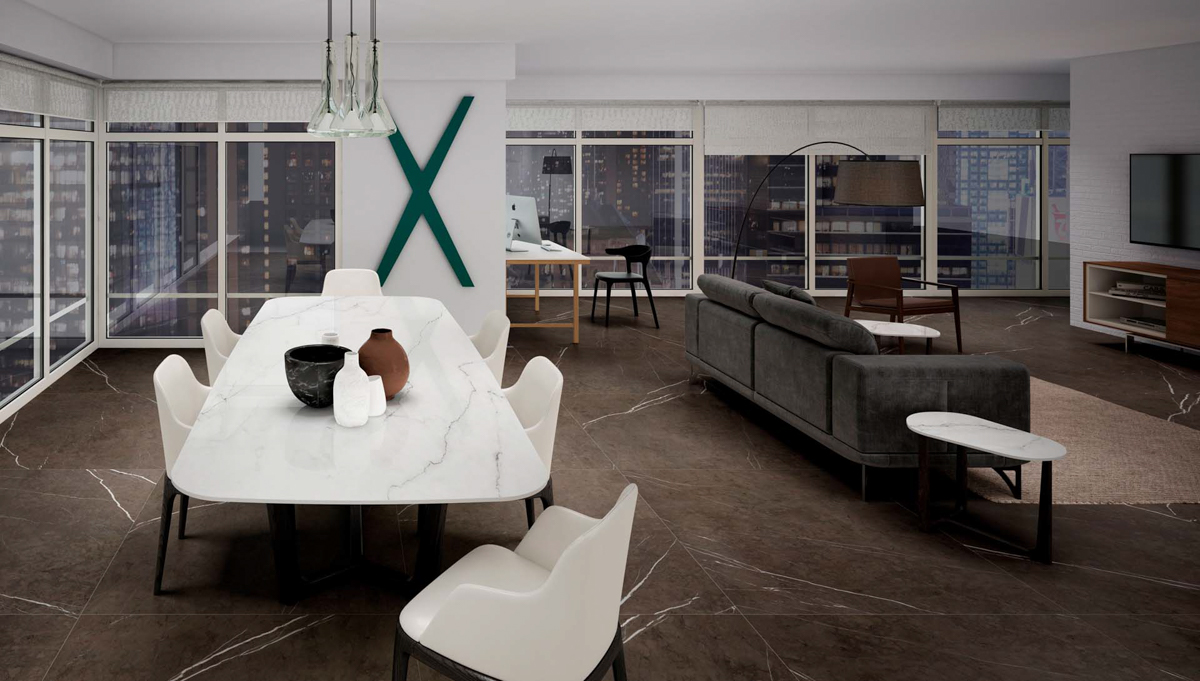 Calacatta White Lincoln Pol 162X324
This is a Linetop collection with a single-color finish in black and white in a natural finish that offers a matt vision of white. It offers numerous possibilities for a remarkable visual effect, especially in the kitchen.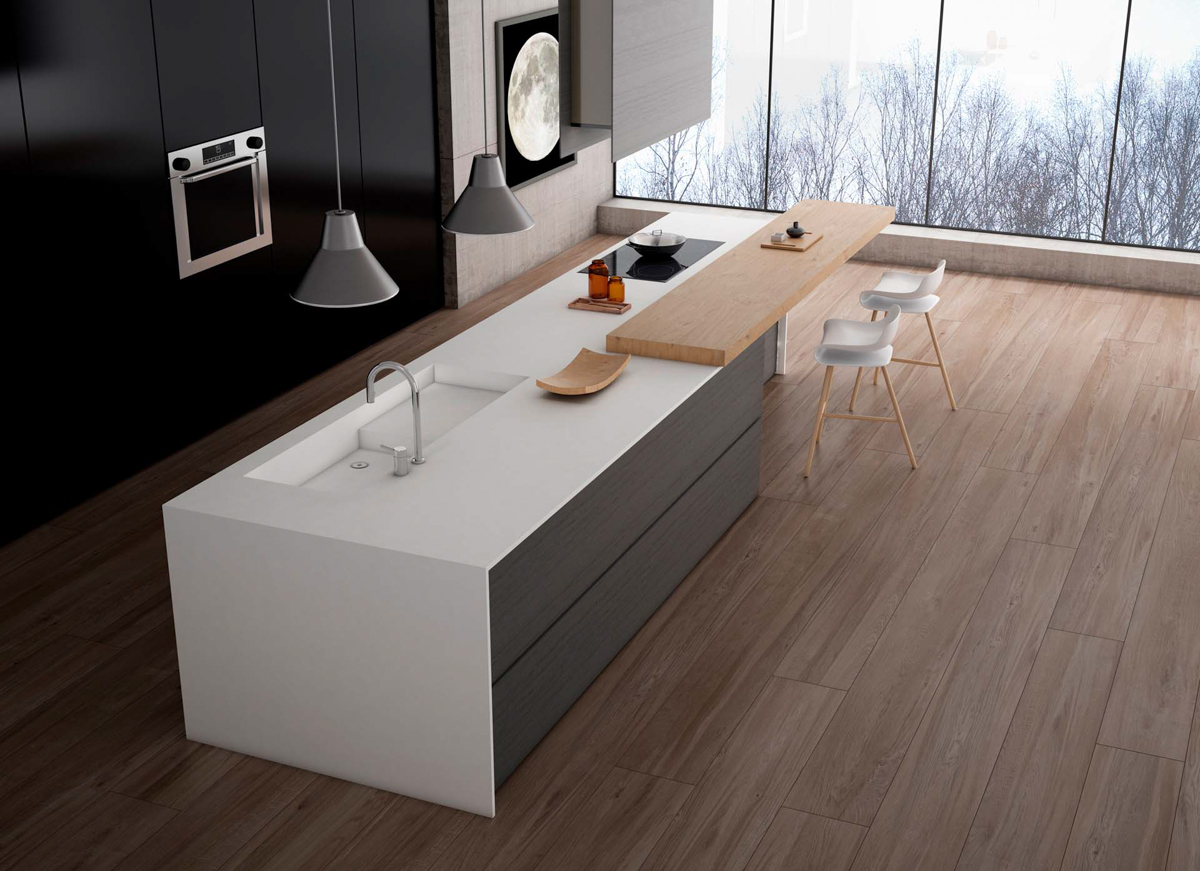 Super White Natural 162X324
Ideas for contemporary white kitchens with white kitchen tiles
White embossed kitchen tiles
A trend that is here to stay. White embossed tiles are the latest discovery in kitchen decor. They come in different sizes, shapes, and patterns, such as white brick kitchen tiles or clay-look tiles. They will give your home that special touch, making it stand out from the rest of the home.
We see it here in this kitchen model that combines textures, embossments, and colors; white being the main one: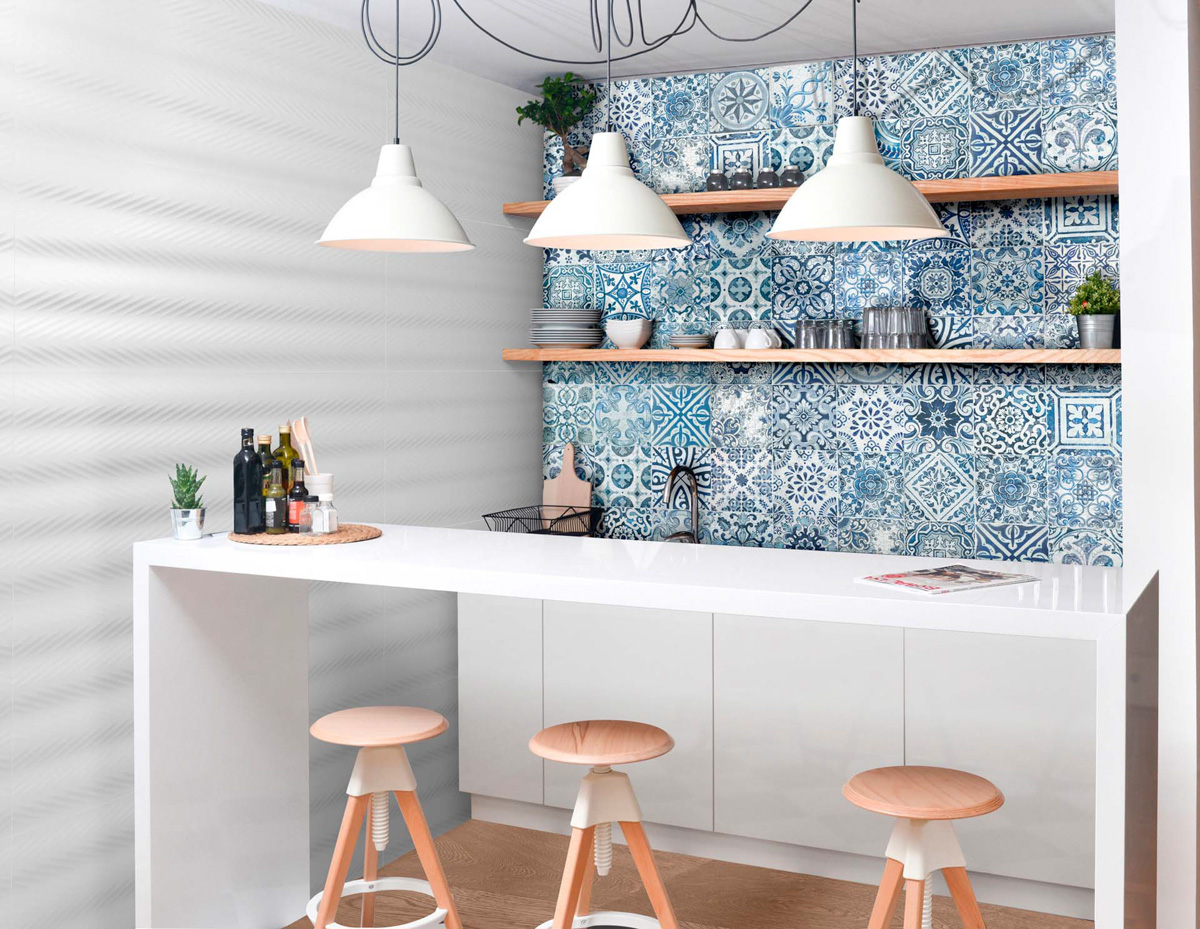 Elements Snow Spike Matt 45x120_Majolica Blue Pre-Scored-20 60X60
Give a modern touch to your kitchen with tiles for modern white and wood kitchens
A timeless and perfect combination for any season. The white kitchen tiles and the wood-look porcelain tiles manage to generate a cozy and warm atmosphere inside the home.
The colors with white tones create a modern environment and the brown porcelain tiles keep the traditional feel: the perfect combination.
Combining the lighter, white, grey, or beige tones in your kitchen with the color of wood, whether on the ceiling, cabinets, or furniture elements, is always a success. Here are some examples of kitchen designs: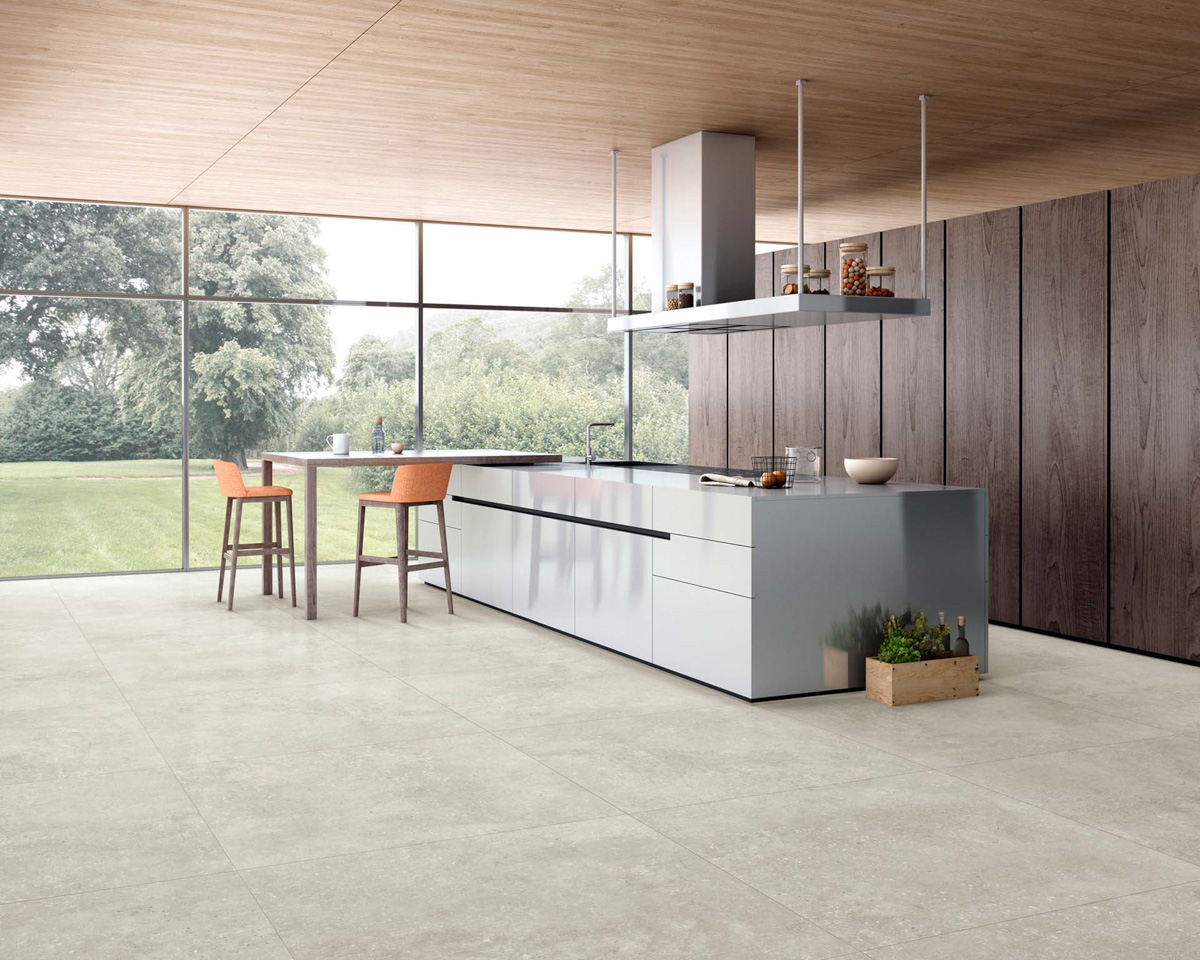 Flooring: Instinto Taupe Natural 90X90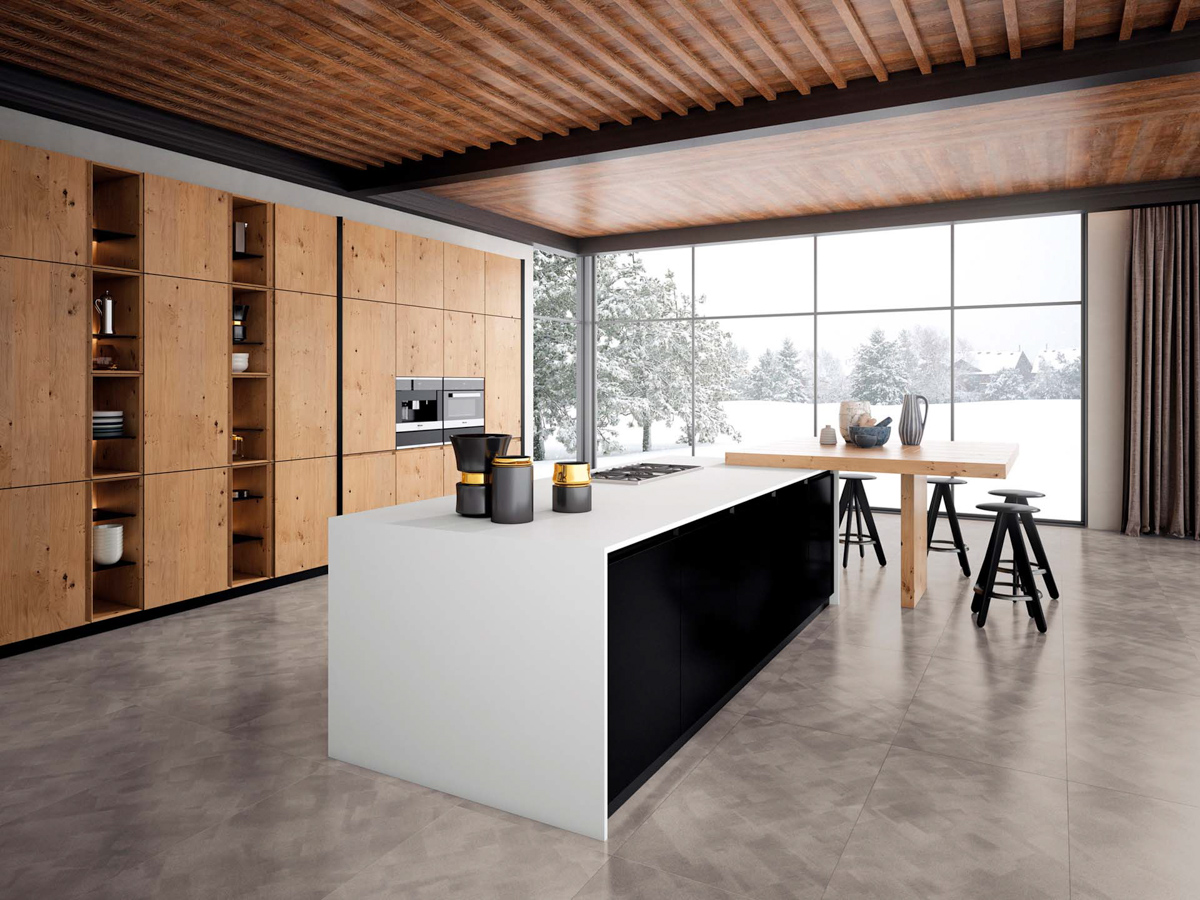 Flooring: Aluminum Silver Spazzolato 60X120
Modern white and grey kitchens
Two neutral colors that will make your home modern and innovative. The grey porcelain kitchen tiles generate depth, while the light colors will bring light and simplicity to your kitchen. If you want your kitchen to have a more contemporary and industrialized style, this is ideal.
There are multiple possibilities of combinations to give a modern touch to the kitchen with white and grey since both colors have different shades and adapt to any decor and home.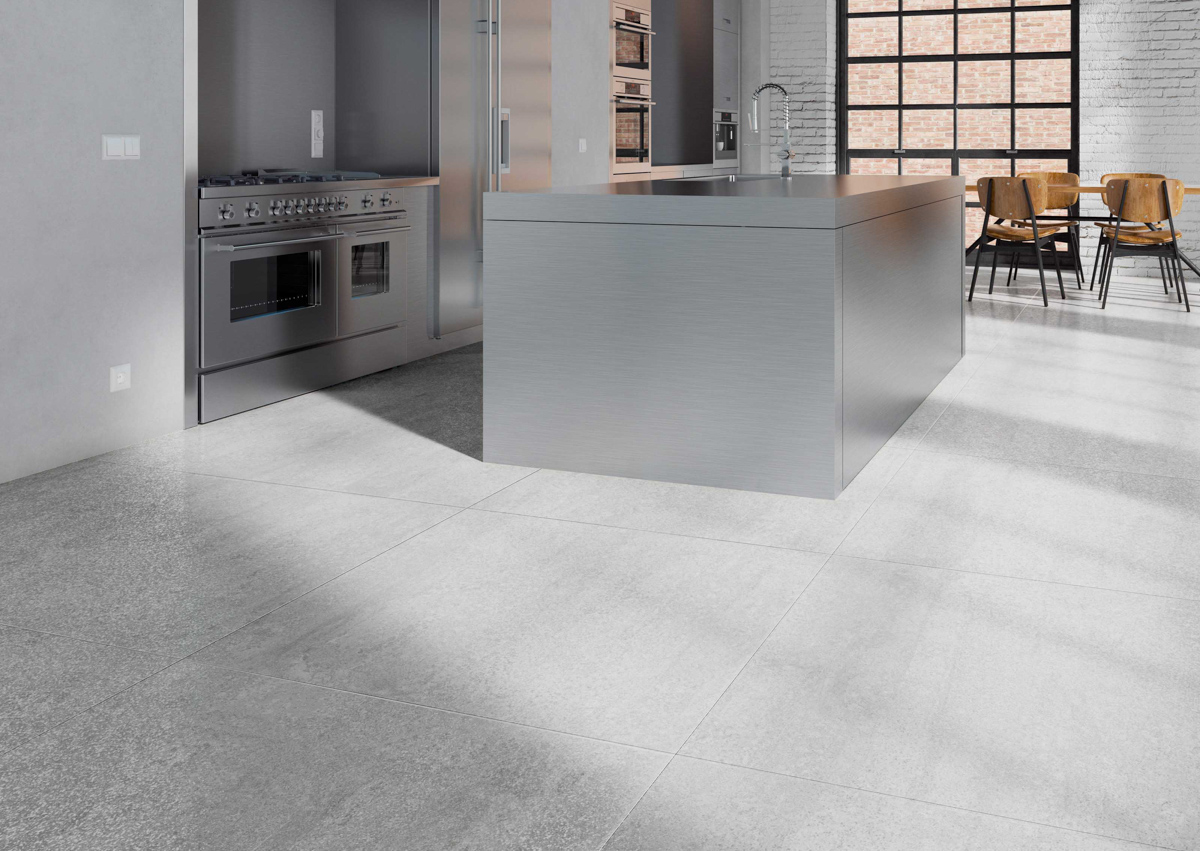 Rust White Lappato 100X100
Modern rustic white kitchens
The vintage style is one of the strongest trends in recent years. The combination of white with a brown-tone decor is perfect to achieve that rustic-kitchen feel.
Wood-look tiles are a good option to decorate part of your home and get a more traditional look. You can also play with the different textures and shades of the tiles to achieve a different feel in your kitchen.
Pre-scored tiles are another good option to choose. The combination of colors and their saturation will make your kitchen different and will bring innovation and, in turn, a traditional and rustic atmosphere. It may seem impossible, but a kitchen can be rustic and modern at the same time.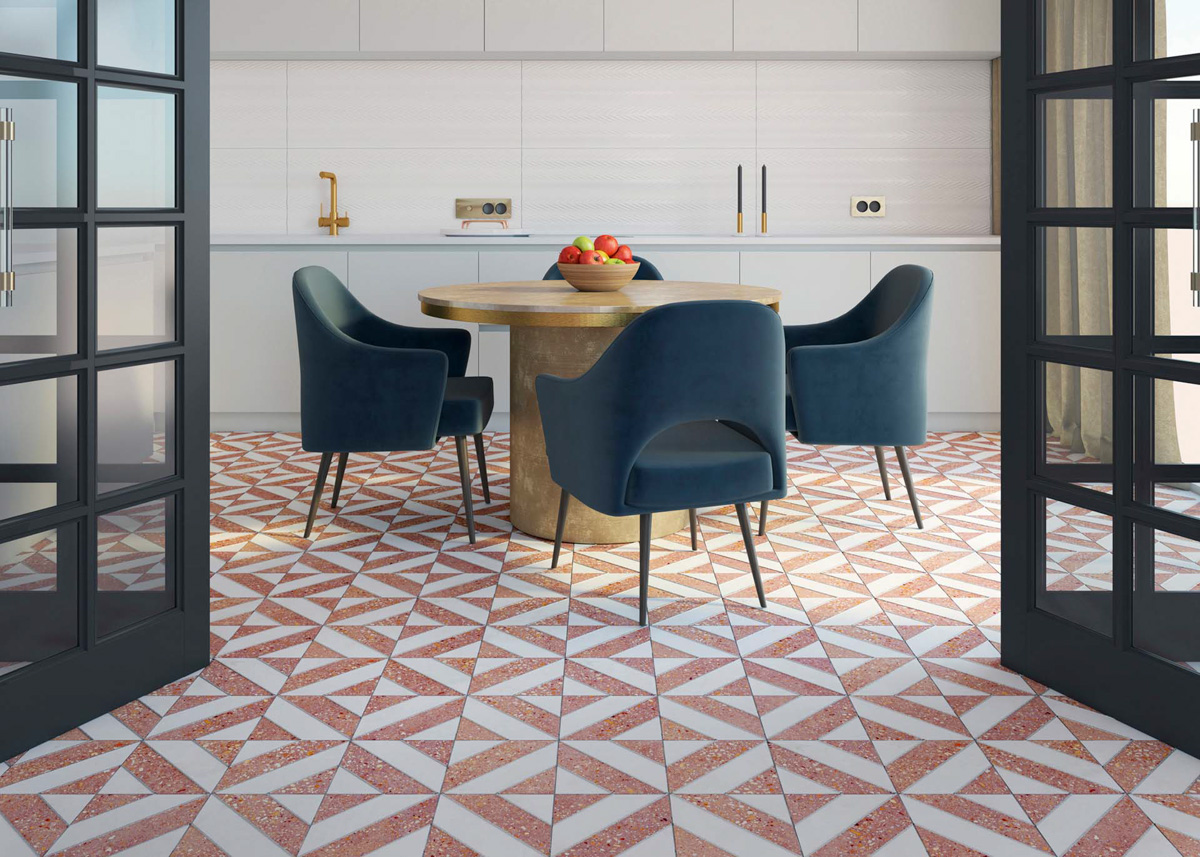 Wind Red Pre-Scored-20 60X60_Elements Snow Spike Matt 45x120
Modern white kitchens with white, grey, or black island
The best meeting point to get together and discuss how your day has gone. A multifunctional space where you can enjoy every meal and, in turn, work. A piece of furniture that will give your kitchen the possibility of having more than one function and enjoying it much more.
To harmonize your kitchen island with the rest of the house, we recommend that its colors be neutral or light, so an excellent option is white, grey, or black.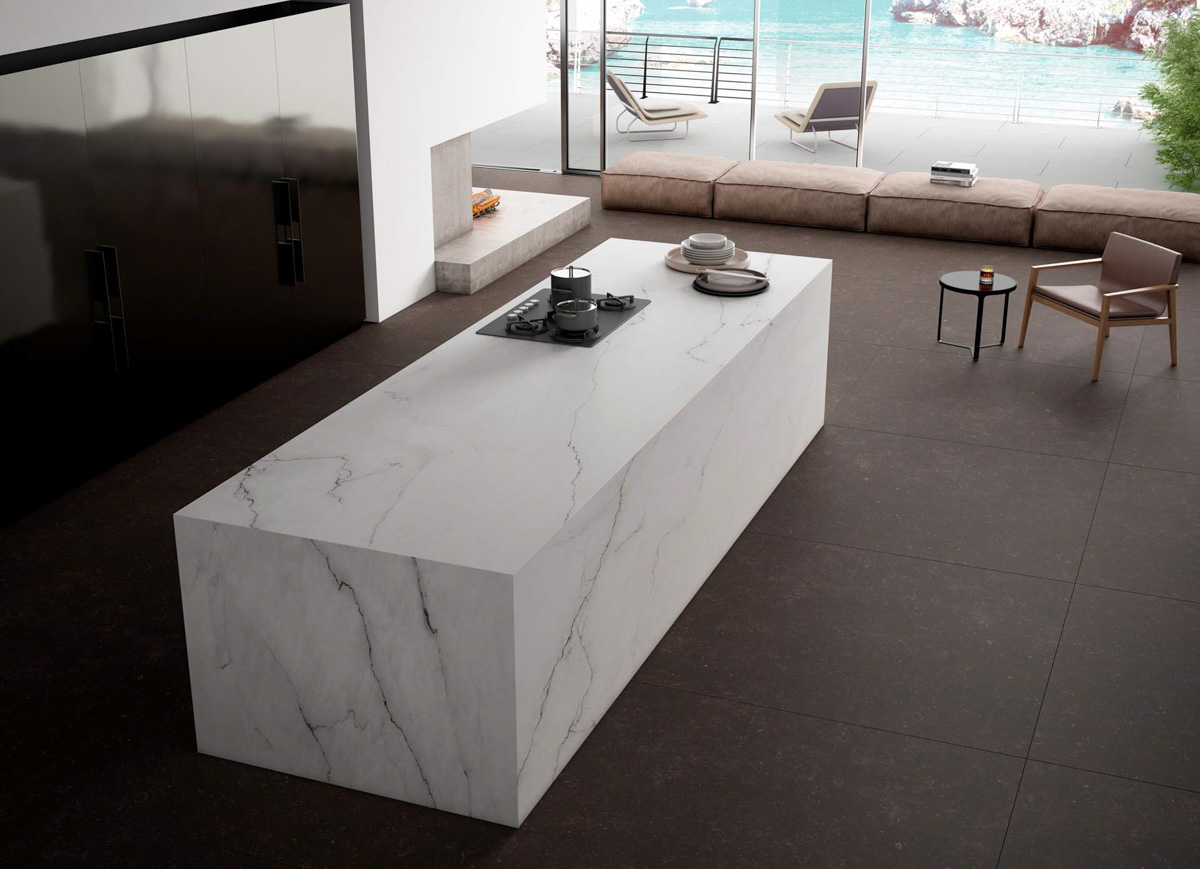 Calacatta White Lincoln Nat 162X324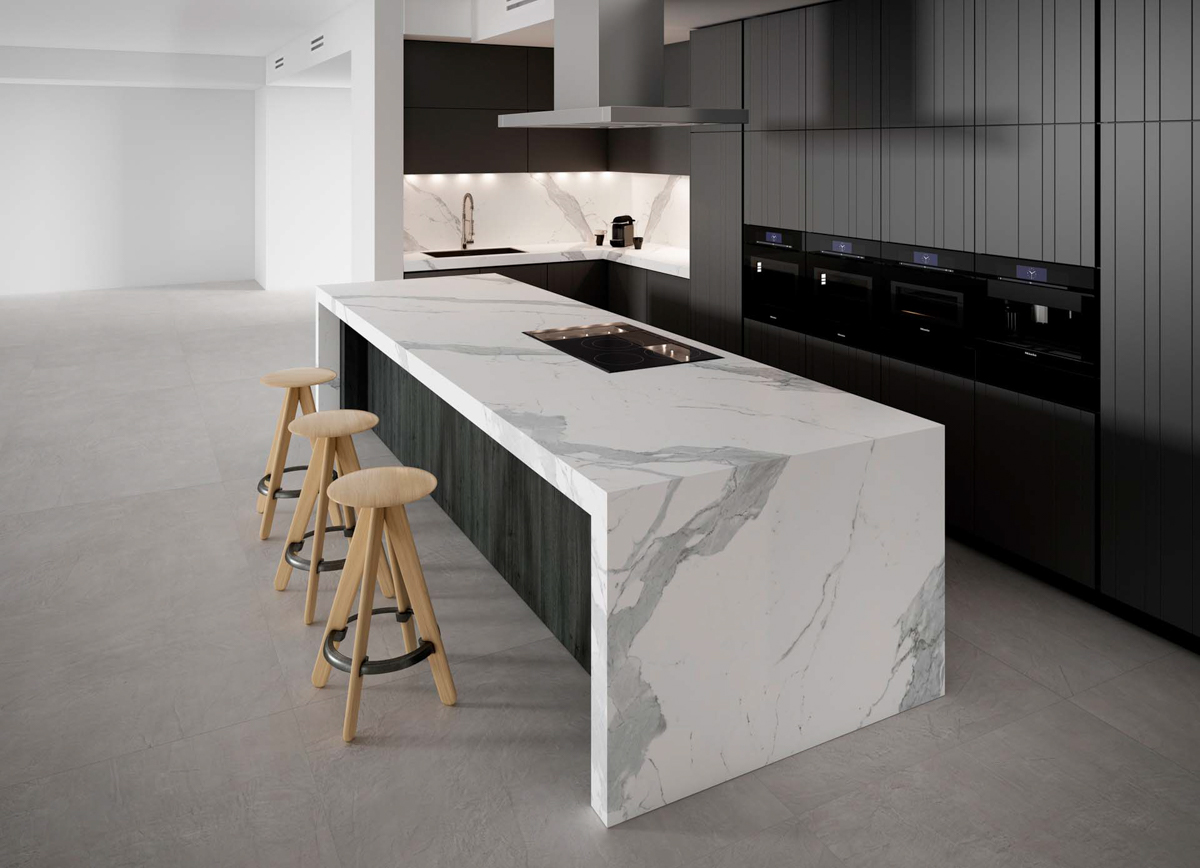 Statuario Extra White Nat Bl-A 162X324
Black and white kitchen tiles
Opposite colors now attract. White and black porcelain kitchen tiles are capable of achieving perfect harmony, full of modernity.
Modern black and white kitchens give a very contemporary look and usually incorporate white cabinets and walls and small black details, such as on the island, countertop, or backsplash. But the variations and options that these two colors give you are endless.
Here are several ways to include both tones differently in your kitchen.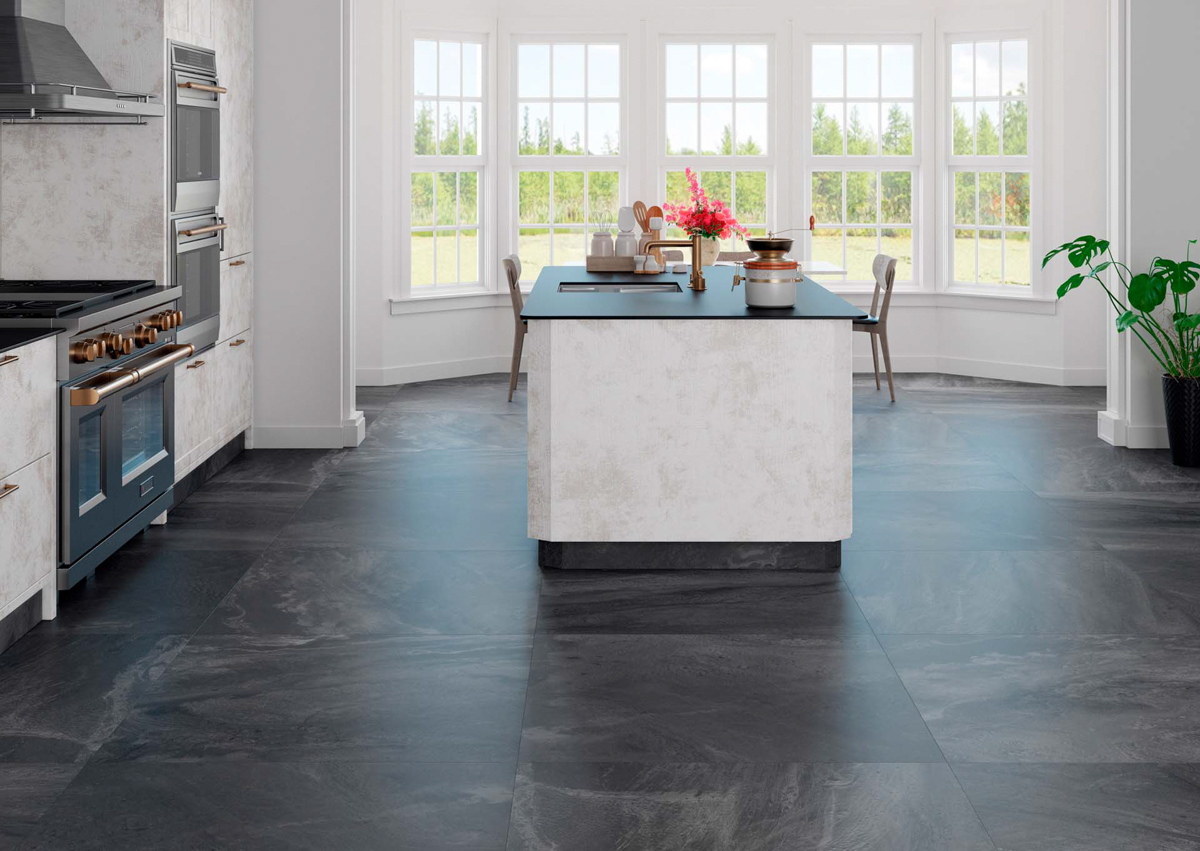 Aquarela Black Natural 50X100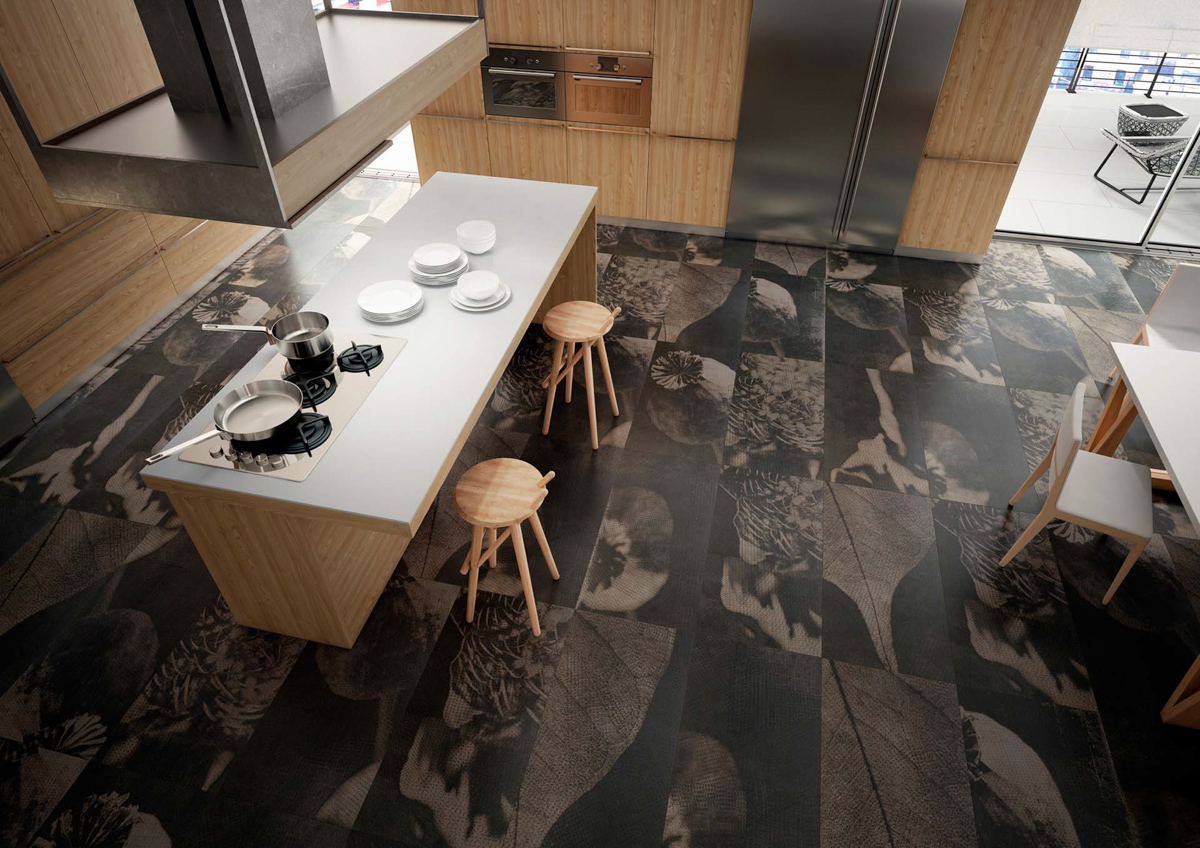 Artec 7.0 Black Decor 60X120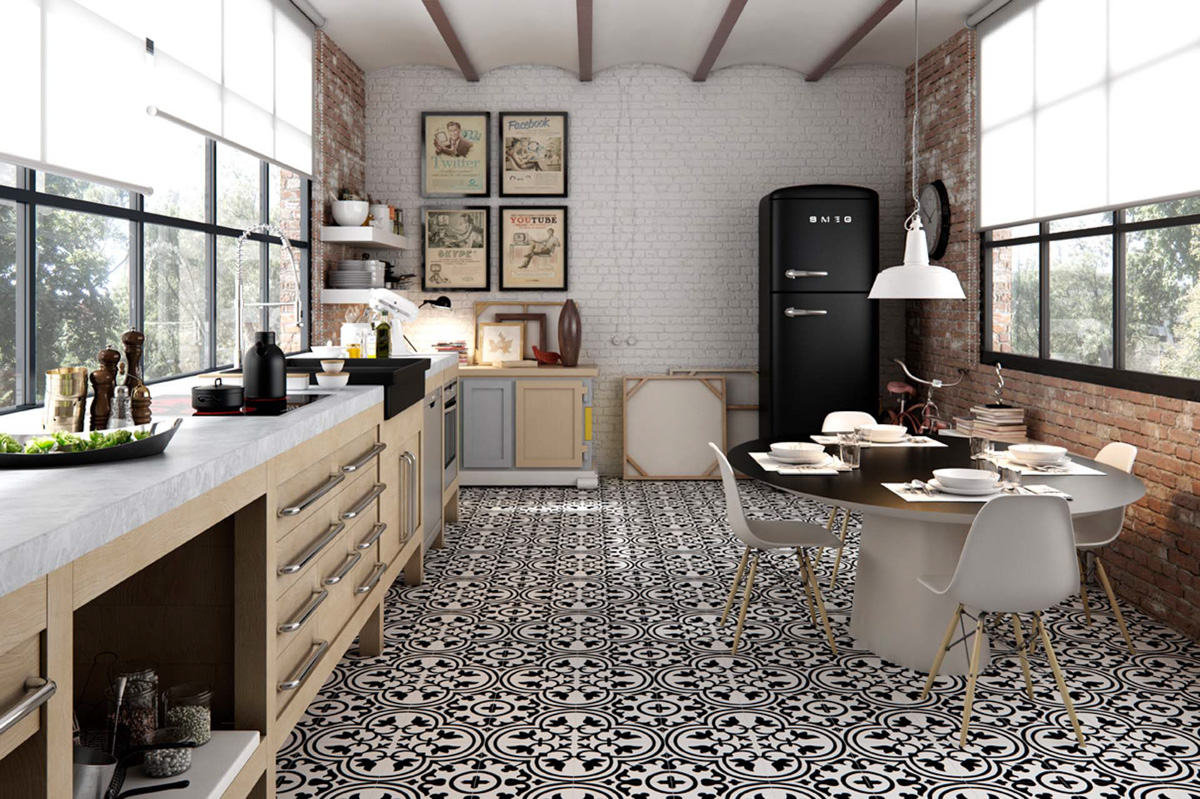 Hydraulic Black Natural 30X30
Importance of white kitchen tiles in small modern white kitchens
Small and versatile spaces are a trend in kitchens. Spaces are getting smaller to achieve greater savings in maintenance and space. Often you may feel trapped, especially if very dark and incorrectly distributed colors are used.
The best colors to make your kitchen look modern and spacious are white or very light and slightly saturated colors. These achieve a visual effect of amplitude. You can also use large white kitchen tiles and have an even greater effect.
Glossy white tiles also help your kitchen look much brighter and more spacious.
The brightness creates sparkles, multiplying the light that reaches every corner of the kitchen.
An infinite variety of white kitchen tiles and all with their special feel. White will always be a trend, so wait no longer and get to work.
Sheet metal and paint! A new life for your kitchen with a simple change.