This is a space which, due to its particularities, makes it necessary to think about the material to be used, without neglecting the final aesthetics. Tiles in bathrooms are one of the most popular options, as they meet all the needs of use of the space while expanding the design possibilities.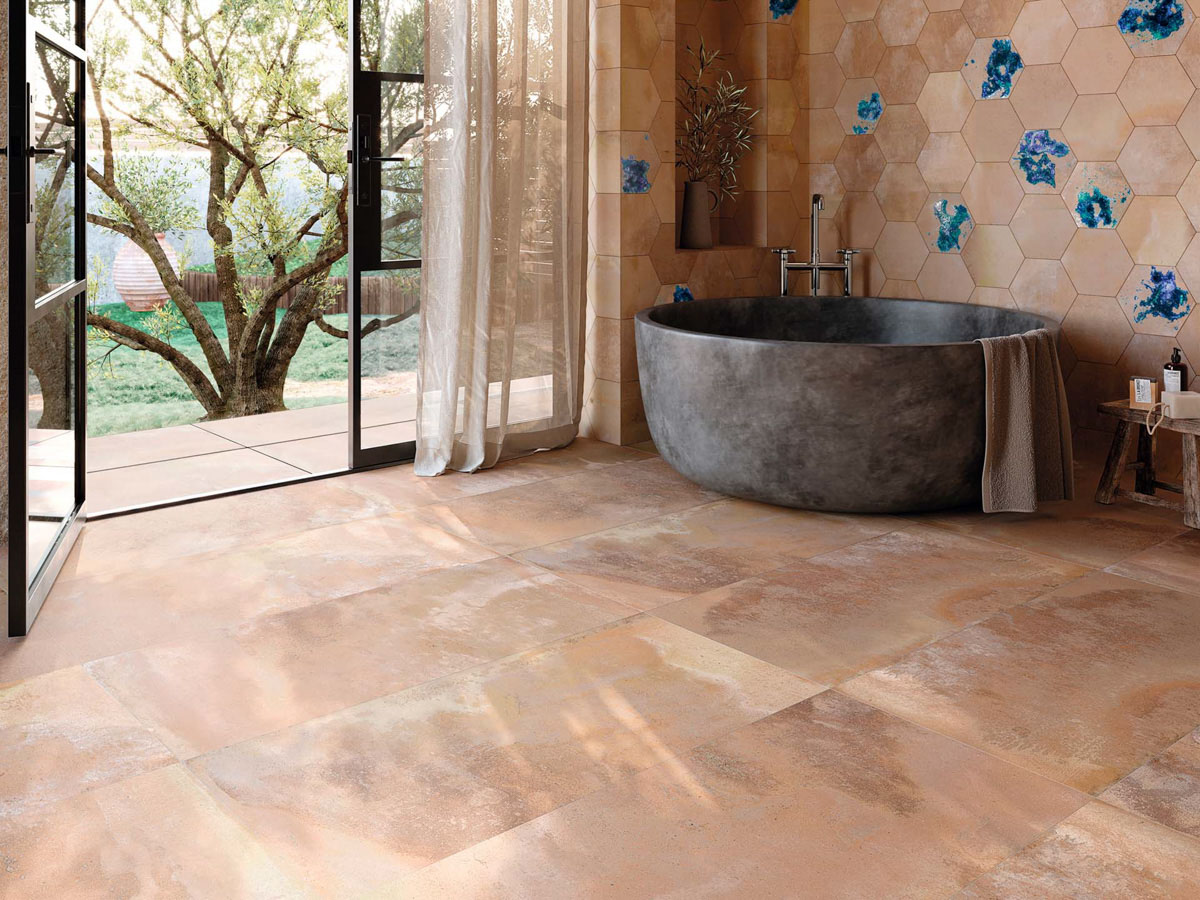 Hutton
Why choose porcelain tile flooring
Porcelain has a resistance that is difficult to achieve with other materials, it does not absorb moisture and is easy to clean, making it very hygienic. It is also one of the safest floor coverings. In this sense, it is advisable to opt for the anti-slip finish, which considerably reduces the risk of slips and falls. In our blog, we have already talked in depth about the keys to choosing anti-slip flooring in the bathroom.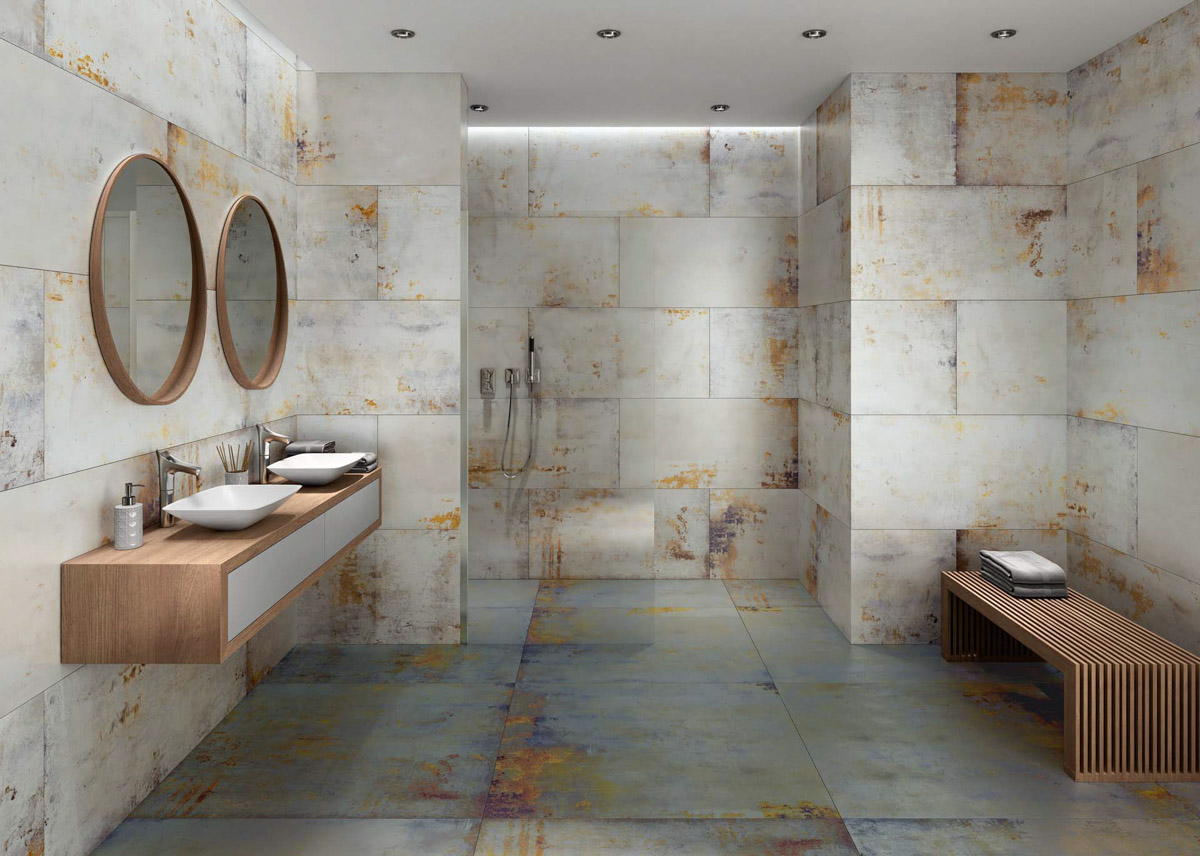 Lamiere
Modern floors for modern bathrooms
If there is one thing that makes porcelain floors stand out, it is their infinite variety of designs. There are so many formats, colours and aspects available that we can create all kinds of atmospheres, from the most avant-garde to those that opt for classic charm. Let's take a look at some of the latest trends in bathroom flooring.
Encaustic flooring for the bathroom
We have already discussed the possibilities of encaustic flooring in the kitchen and in the bathroom it is also a resource to always take into account. Porcelain tile brings back the aesthetic potential of classic hydraulic tiles, whose design is based on colourful mosaics or more neutral tones. Dynamism and originality are what define them.

The multiple patterns available in this type of tiles allow for more modern aesthetics by playing with geometric shapes and optical effects. At the same time, we can opt for vintage with hydraulic floors with floral motifs.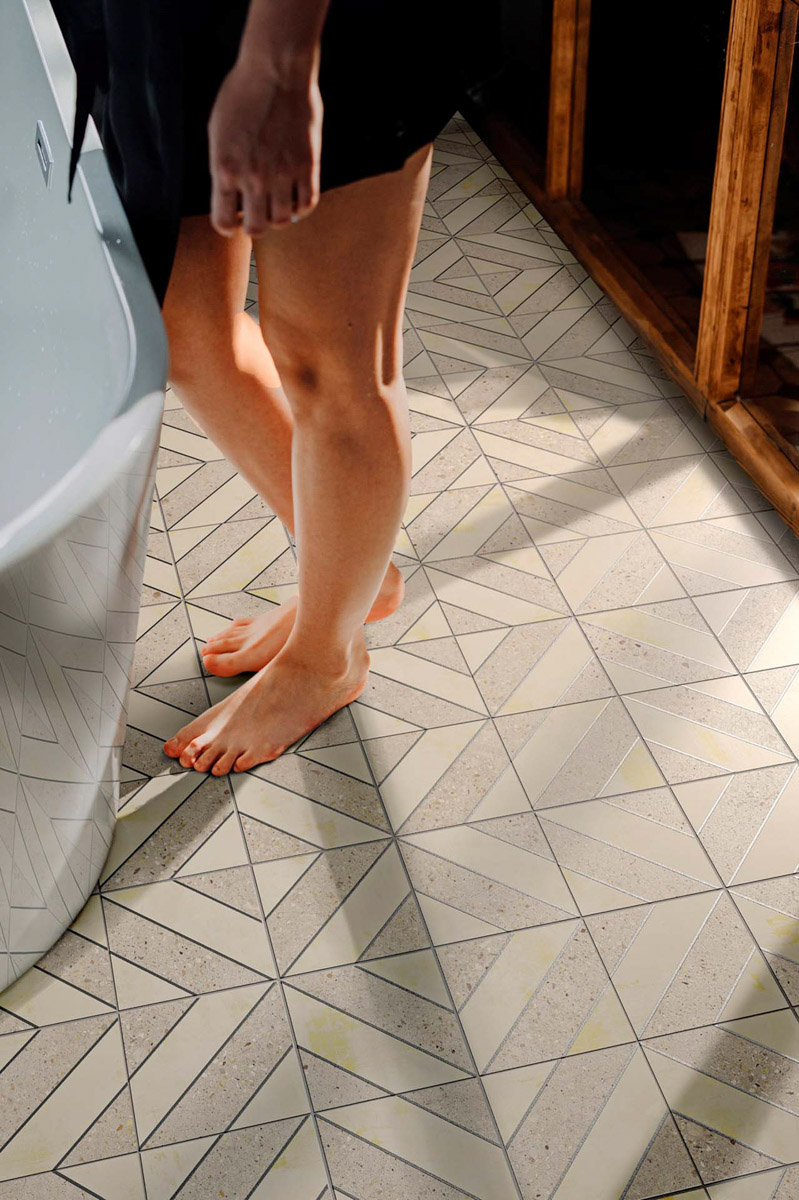 Wind
Bathroom with imitation wood flooring
Porcelain tiles can also bring nature into the bathroom. Imitation wood floors are the perfect alternative to real wood and are much better suited to hot and humid conditions. There are many different shades, from darker to brighter shades such as beige, as our Arco collection demonstrates.

Depending on the shades of our bathroom, we can make different combinations. White or grey wall tiles blend beautifully with imitation wood floors. In addition, the same porcelain tile can also be used on floors and walls for a completely natural look.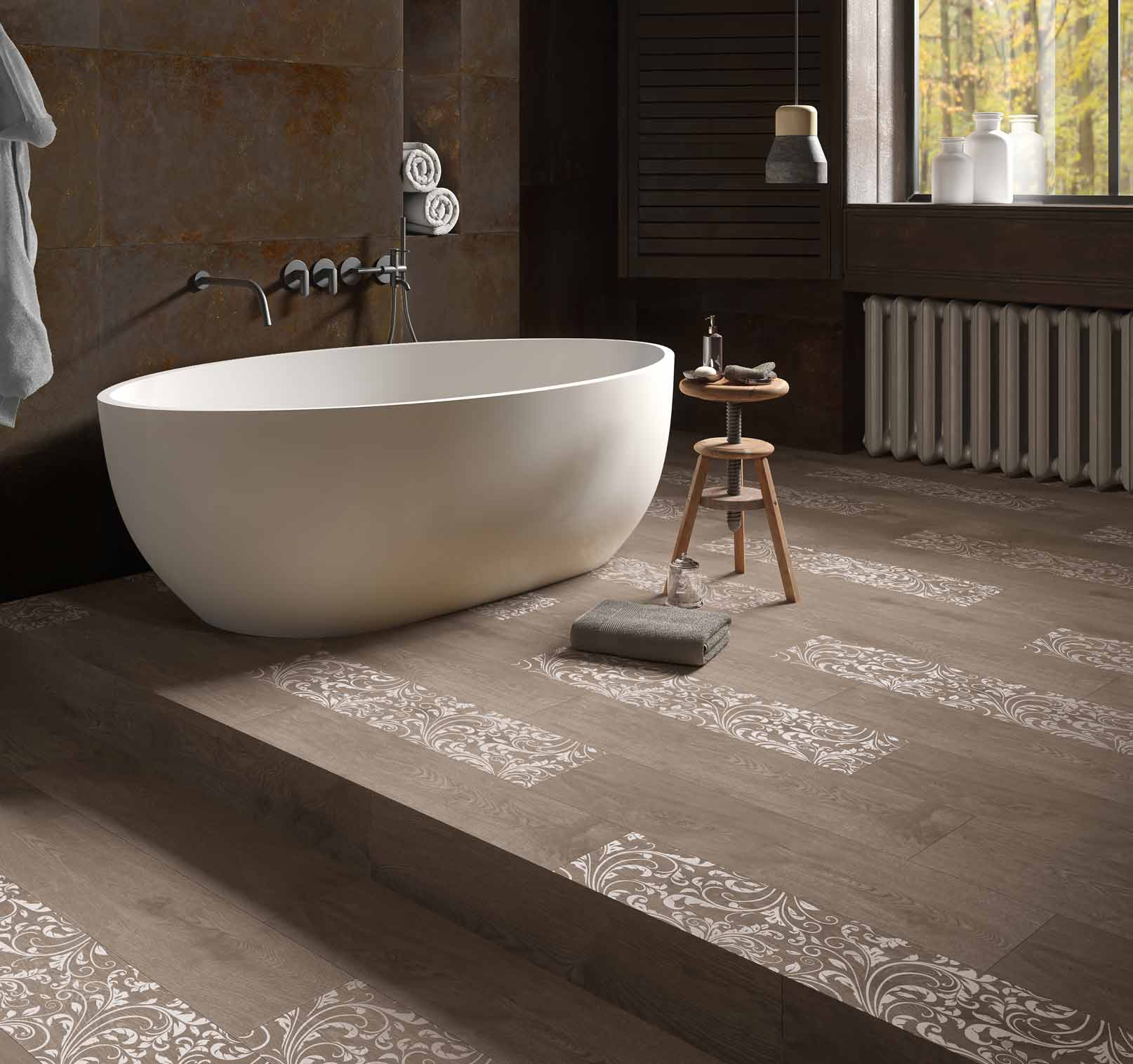 Arco
Bathrooms with grey flooring
Grey bathroom flooring is one of the most versatile solutions thanks to its neutral and clean look. In addition, this shade covers a number of contemporary and innovative designs, such as the Cassero cement-look porcelain tiles. These floor tiles can contrast with white walls thanks to their grey or anthracite shade. On the other hand, the lighter shades of the cement effect collections are ideal for giving a greater sense of light to the space.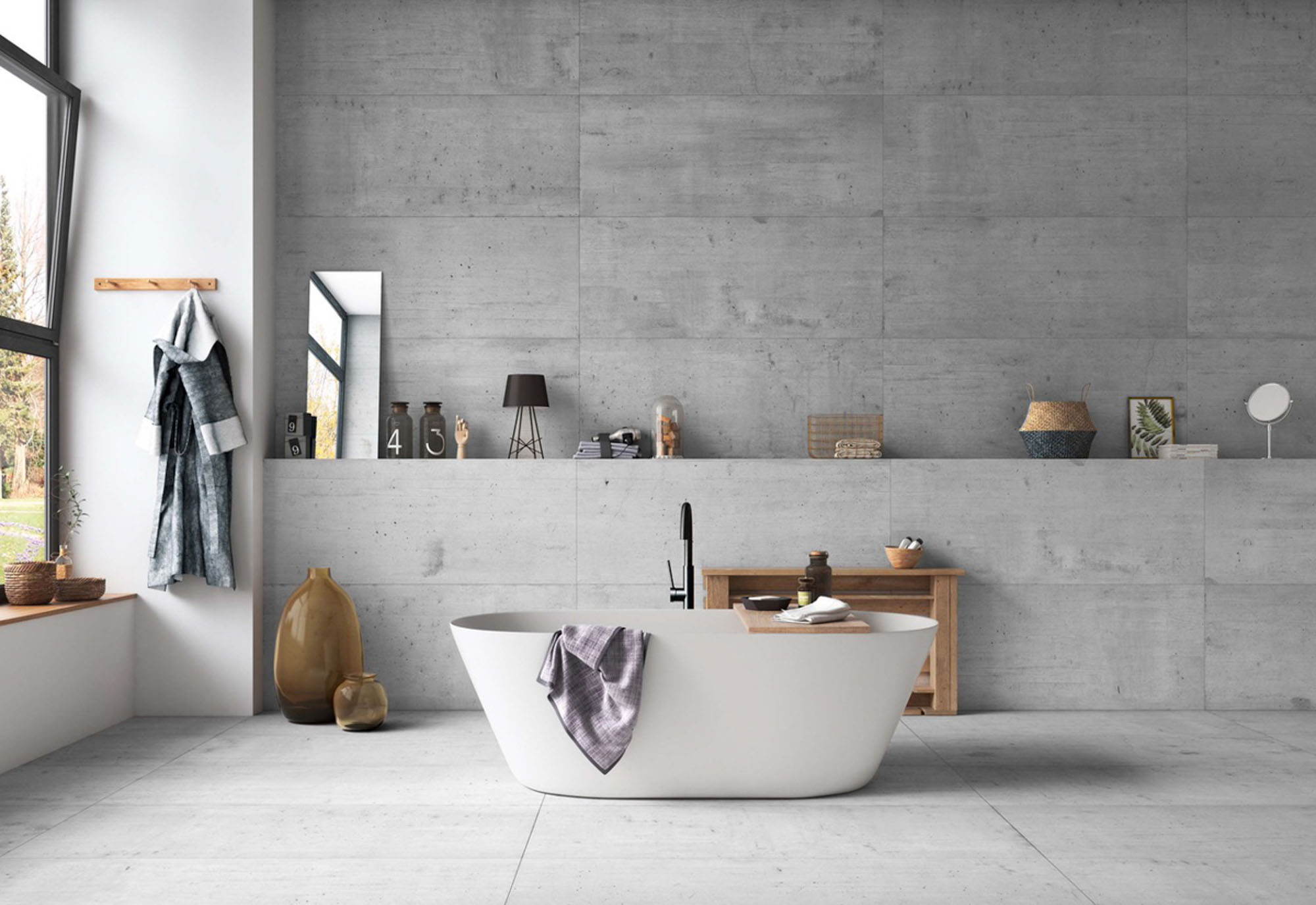 Cassero
Ideas for bathroom flooring
Design is not the only thing to consider when choosing which bathroom flooring to install. It is important to consider factors such as size, as well as whether the same material will be used in different areas.
Flooring for small bathrooms
Getting the tone and design right is even more of a challenge if space is limited. In this respect, the overall lighting of the space will largely determine which look to choose.

When the bathroom is small and light is scarce, it is advisable to use light-coloured tiles on the floor, such as white, beige or a soft grey. Likewise, it is better to avoid medium formats and opt for large or small tiles, as long as the joint is of the same tone. We can also opt for the same collection in both the flooring and the wall tiles to create the effect of a more open space.
Another important factor when deciding on bathroom flooring is the finishes available.
One of the best feelers are polished because of their silky surface and soft sheen. They will give more light and a feeling of spaciousness in small, dimly lit rooms.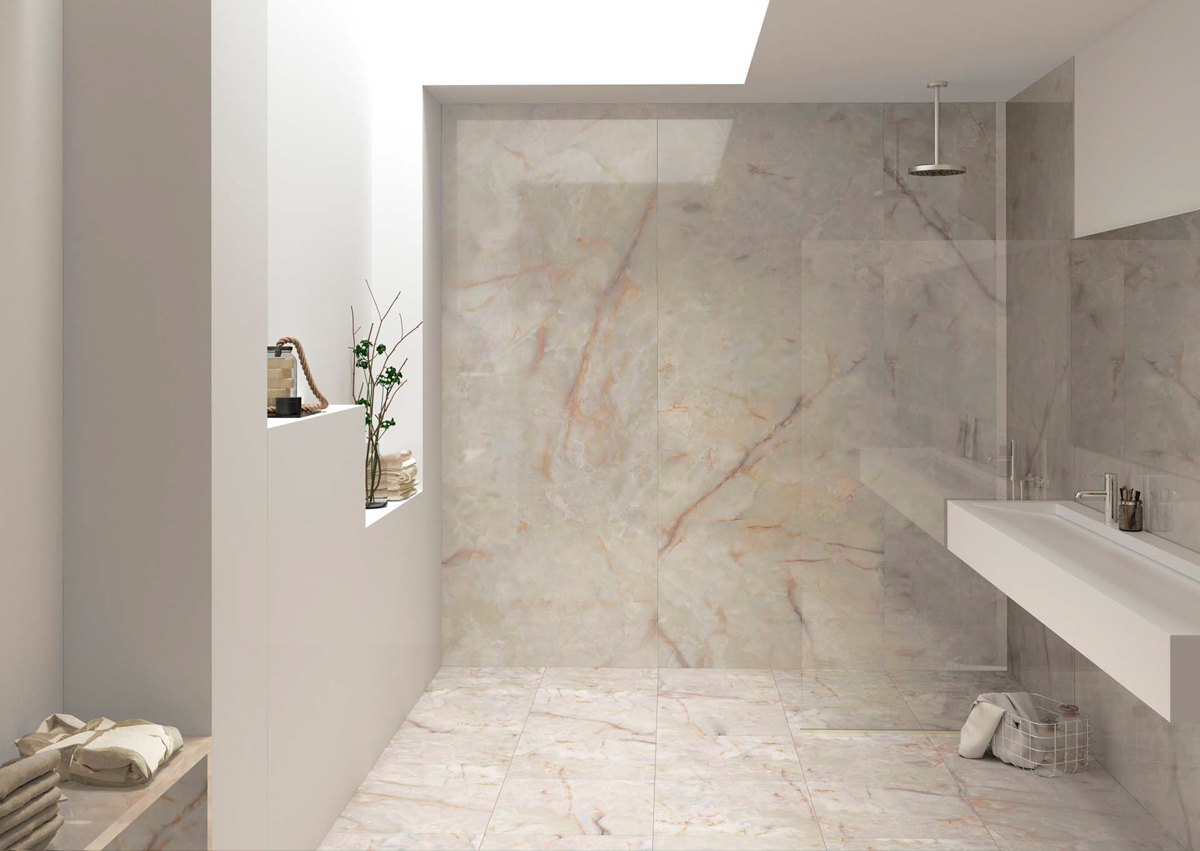 Onice
Continuity between shower and bathroom floor
The technical properties of porcelain stoneware allow it to be laid on almost unthinkable surfaces. This is the case of the shower floor. Here the options are endless, as we can opt for contrast between surfaces or for total continuity with the same design in the shower, floor and wall covering. Collections such as Hutton demonstrate all the decorative power of porcelain tiles in the bathroom. We should also remember that water will not be a problem, as porcelain tile does not absorb moisture and has a non-slip finish.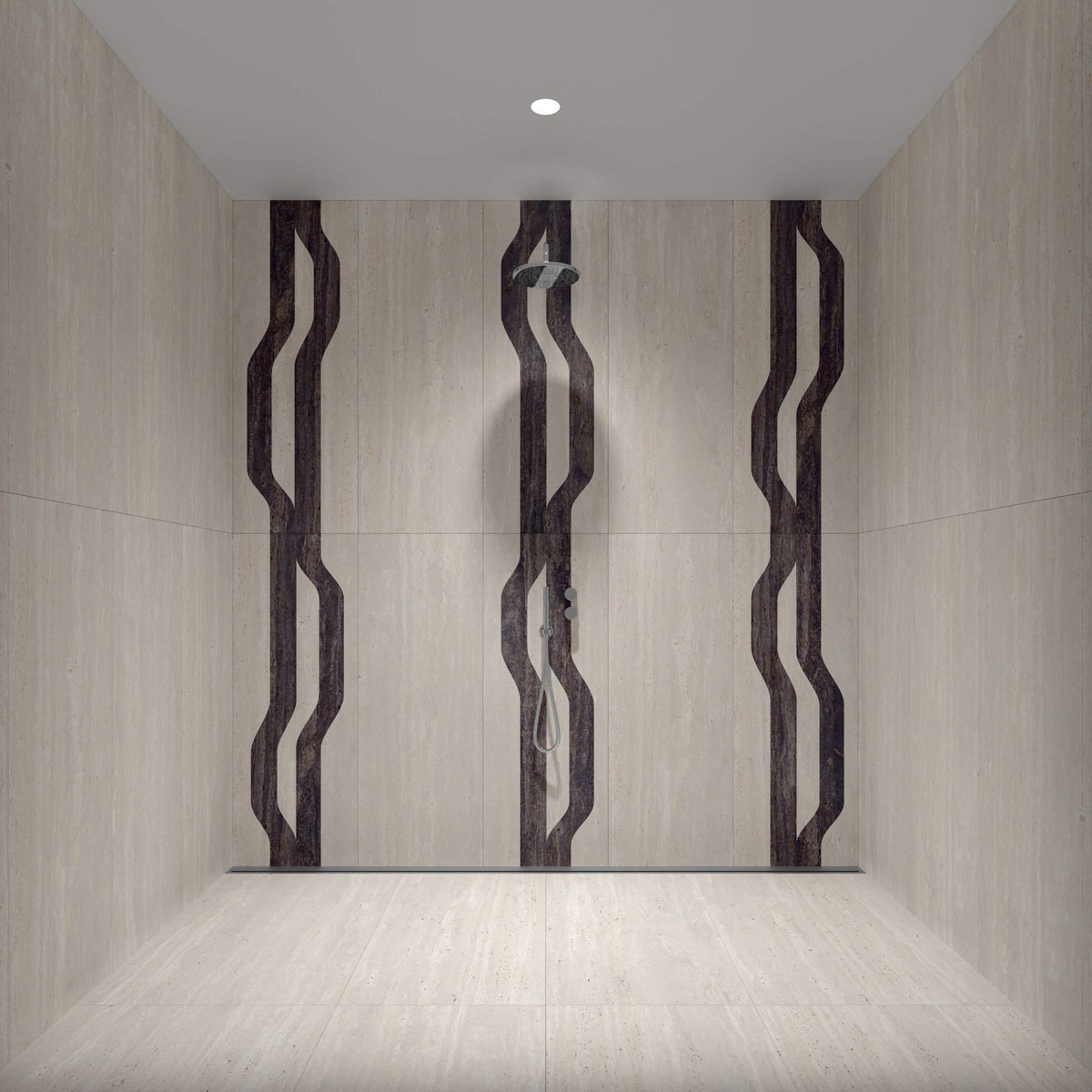 Travertino
The perfect material for bathroom floors
In short, porcelain bathroom floors are one of the first options to be taken into account. Their wide range of design possibilities meet the expectations of architects and interior designers by adapting to so many different styles. The wide variety of materials they can imitate enriches the final appearance of bathrooms and makes them a space capable of transmitting multiple sensations, regardless of their size.
In addition, their non-slip finishes stand out. This extra safety to avoid incidents reinforces its use as bathroom flooring by positioning itself as a functional, reliable and durable material.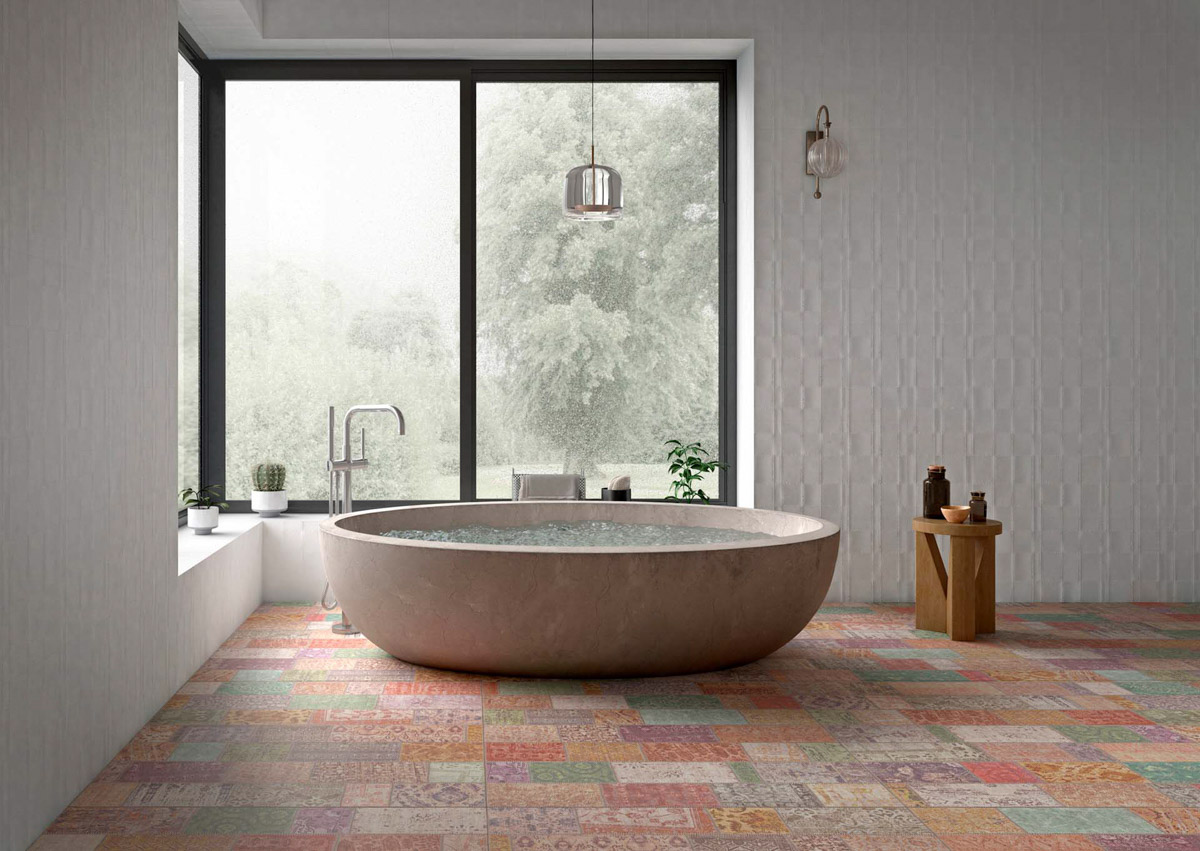 Tappeto