Non-slip ceramics for showers, bathrooms and exteriors have been a breakthrough in the safety of flooring, as they prevent slips and falls. However, not all types of non-slip porcelain tiles are suitable for every environment.
Ceramic tiles have different degrees of non-slip and this determines if they are appropriate for the bathroom, shower or patio.
In this article, we tell you how to distinguish non-slip outdoor ceramic tiles from non-slip bathroom ceramic tiles. You will also learn some tricks to clean this very special flooring.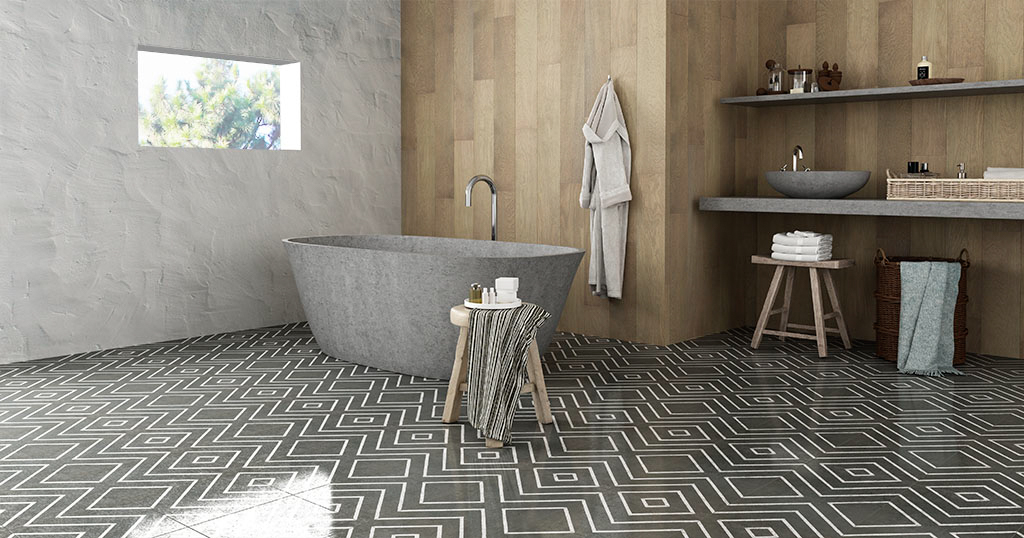 Encaustic Collection
What is a non-slip floor?
Non-slip porcelain floors for interiors and exteriors are the ones with the roughest surfaces and, therefore, the lowest slipperiness. When you walk on a non-slip porcelain tile that is wet and you start to slip, the roughness acts as a slip brake.
They are the best option for flooring for the exterior of the home, especially around a swimming pool. But they also provide safety in the kitchen, the bathroom and the shower itself.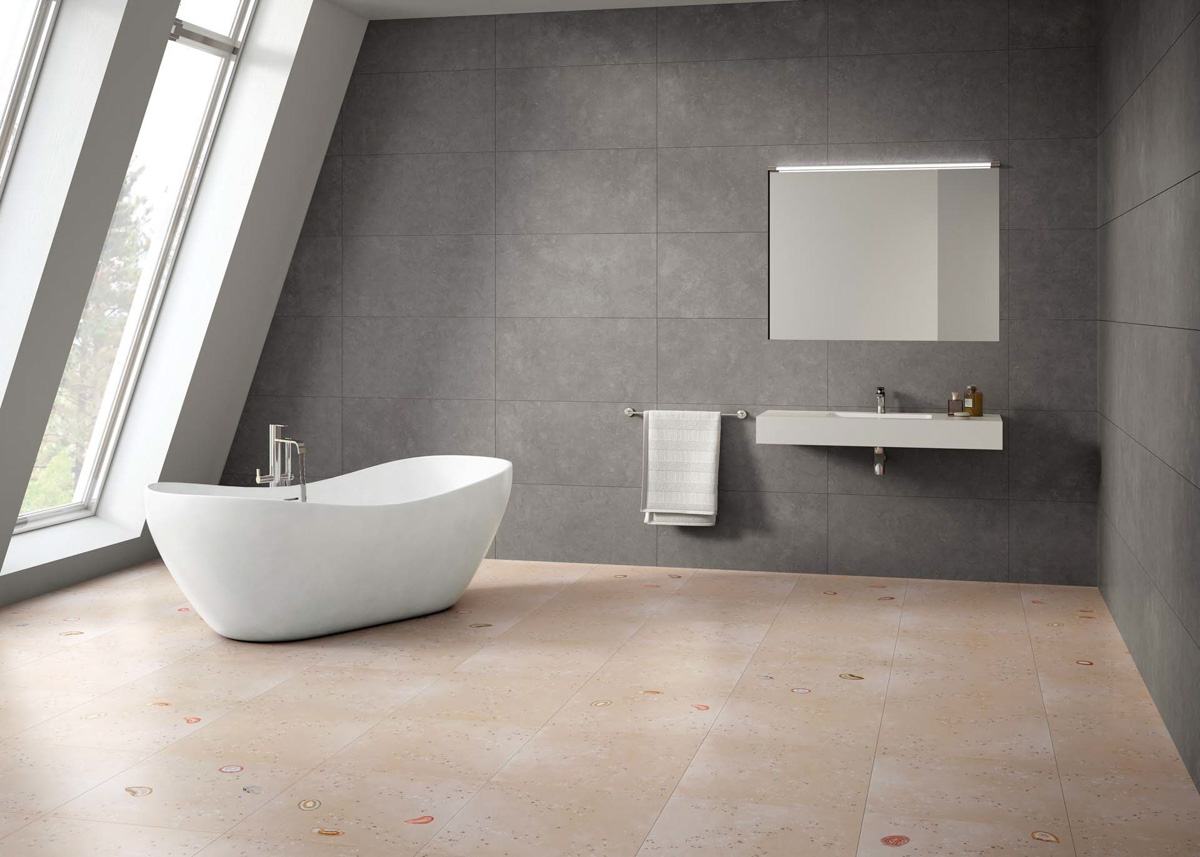 Geodas Collection
How non-slip flooring is classified
Non-slip ceramic floors are regulated according to three standards: the German standards DIN 51130 and DIN 51097, and the Spanish standard UNE-ENU 12600:2003. Let's see what each one consists of and how you can choose your non-slip ceramic floors taking into account their graduation.
German standard DIN 51130
This standard is based on the following test. On a pavement, motor oil is applied and a person wearing standard footwear walks on the surface. This rotates to offer different degrees of inclination.
Depending on the ability of the floor to prevent the person from slipping, it is classified into one of the following categories:
R9, for an inclination of 6º to 9º.

R10, from 10º to 19º.

R11, from 19º to 27º.

R12, from 27º to 35º.

R13, for an inclination of more than 35º.
German standard DIN 51097
This standard does the same test as the previous one, but with some changes. Instead of oil, the flooring is wetted with water and the person is barefoot.
Again, depending on the non-slip capacity of the floor, it is divided into:
Class A: inclinations of up to 12º.

Class B: inclinations of up to 18º.

Class C: inclinations of up to 24º.
This test is normally carried out to evaluate the non-slip capacity for swimming pools and leisure areas.
The Spanish standard UNE-ENU 12600:2003
In the Technical Building Code, the UNE-ENU 12600:2003 standard defines the slipperiness standard in C0, C1, C2 and C3. It measures the slip resistance and divides it into:
Class 0: a DR of less than 15.

Class 1: a DR of between 15 and 35.

Class 2: a DR of between 35 and 45.

Class 3: a DR greater than 45.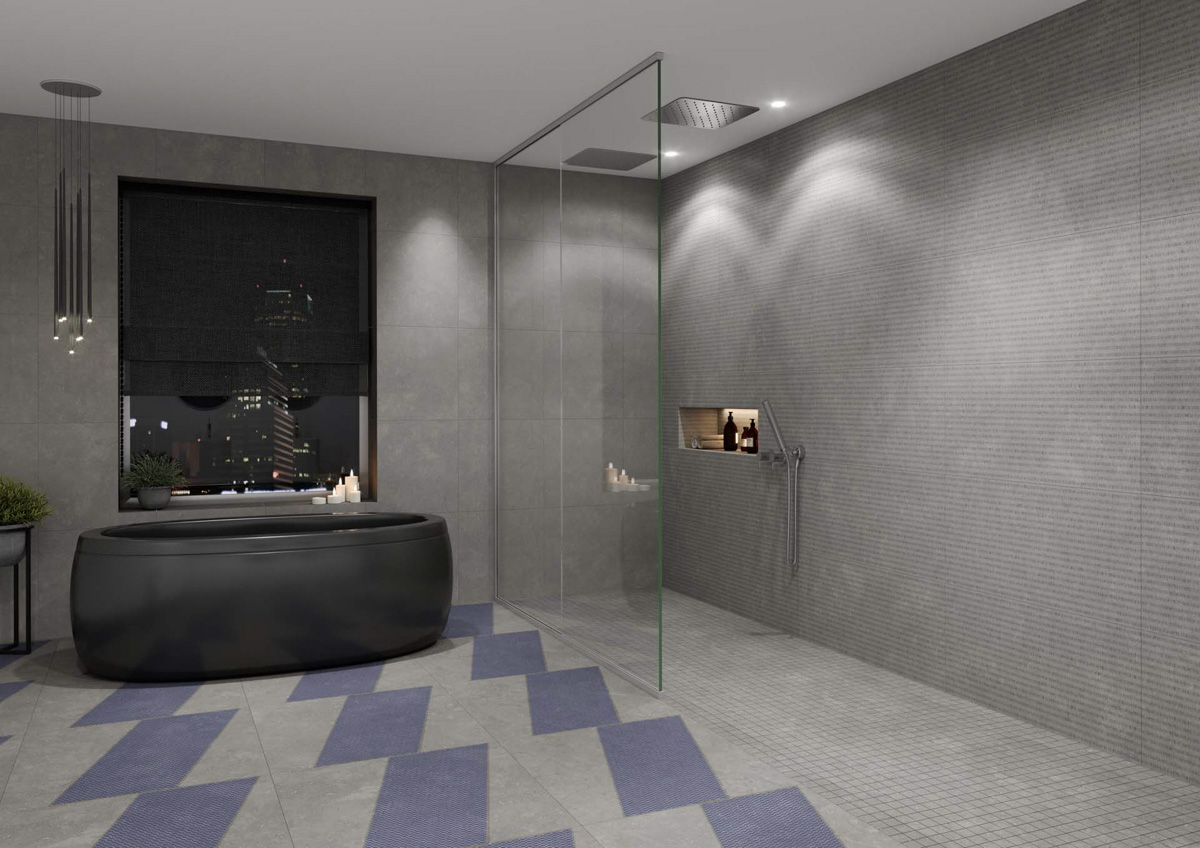 Metodo Collection
What to take into account when choosing a non-slip floor
When choosing between the different non-slip ceramic floors that exist, it is important to take into account the place where you are going to install them and the non-slip capacity of the model. These two factors interact with each other and will tell you which is the best option in each case.
For example, a bathroom needs porcelain tiles with a certain non-slip capacity, but not as much as the surroundings of a swimming pool. Do you want to know which is the right floor for each area?
Based on the rules we have seen, we can say that:
Ceramic tiles for exteriors and non-slip pool deck tiles

must be among the highest: Class 3, R12-13 or Class C.

In the shower,

a very high non-slip capacity is also important

to prevent falls. We are also talking about a Class 2 or 3, R12-13 or a Class B-C.

For the flooring in the rest of the kitchen or bathroom,

a Class 1, R9-10 or Class B non-slip porcelain tile will suffice.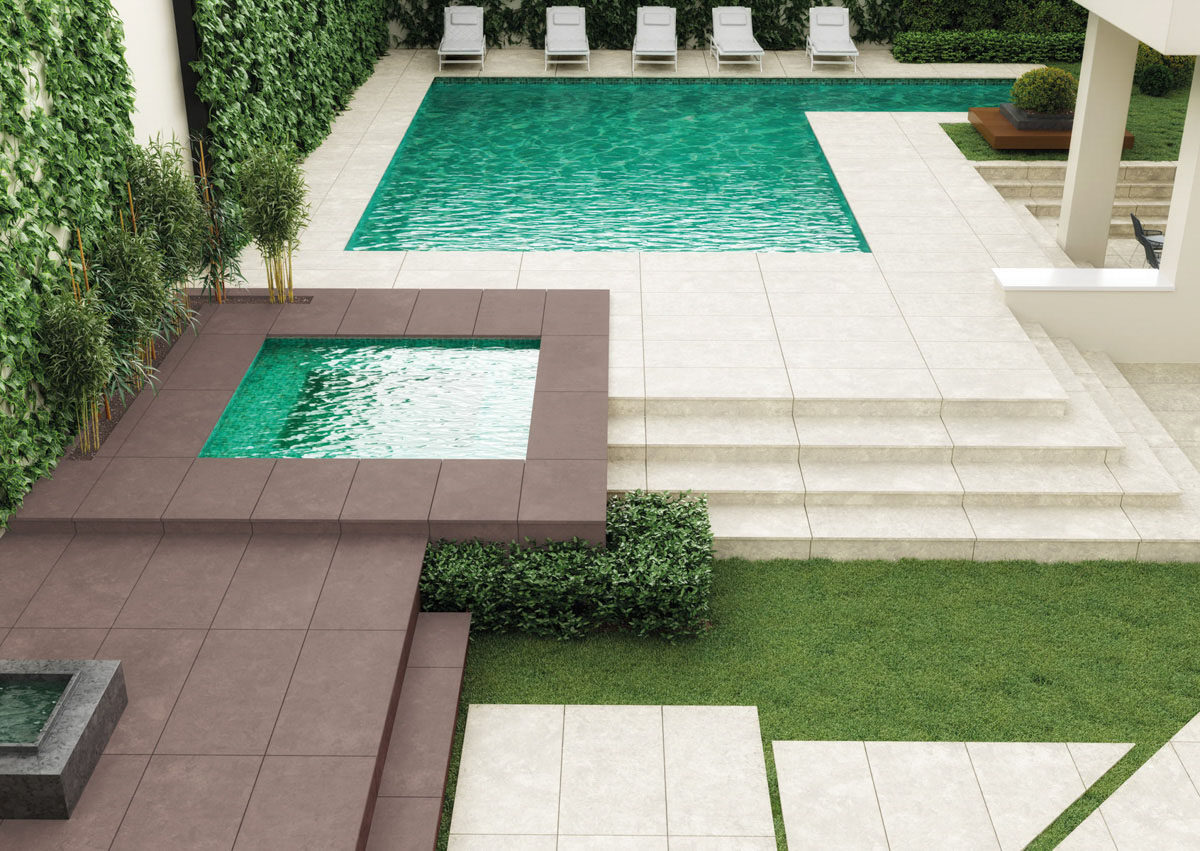 Metodo Collection
Non-slip outdoor flooring
For the exterior, as we have said, you should choose non-slip flooring with a rougher surface. Something that never fails in outdoor areas is opting for stone-look or cement-look porcelain tiles.
How to clean non-slip ceramic
Cleaning non-slip ceramic may seem like a challenge. The rougher it is, the more difficult it will be to clean it with conventional methods, such as mopping.
Indoors it will be easier. You can clean the bathroom or kitchen flooring with a vacuum cleaner and a mop. In the case of the shower, we recommend using bleach and hot water, as well as rubbing with a medium-hard brush.
Non-slip outdoor flooring is the roughest. Therefore, what works best to clean it is high-pressure water. This will take care of removing the dirt that has accumulated in the pores of the porcelain tiles.
If there are stains, in some cases you can use bleach. However, we recommend that you always review the instructions from the porcelain tiles' manufacturer so as not to use excessively abrasive products that could damage them.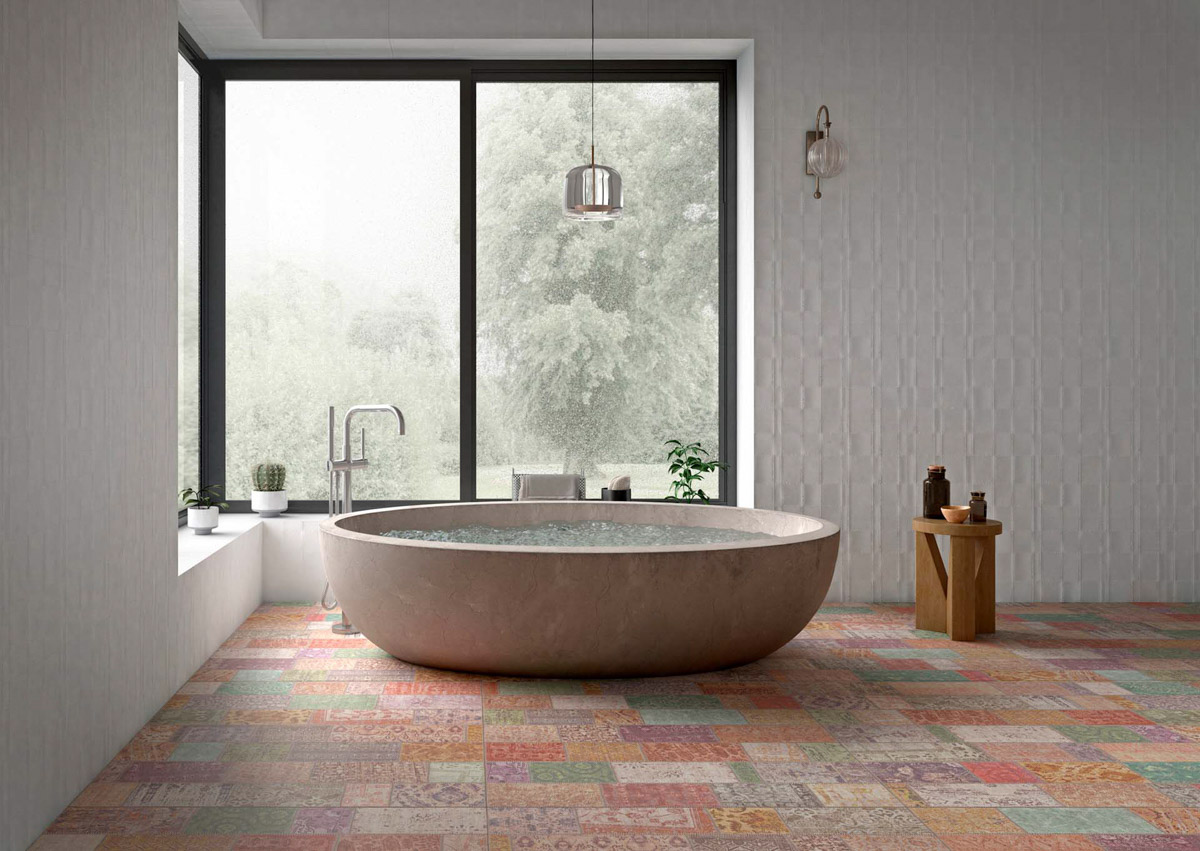 Elements Collection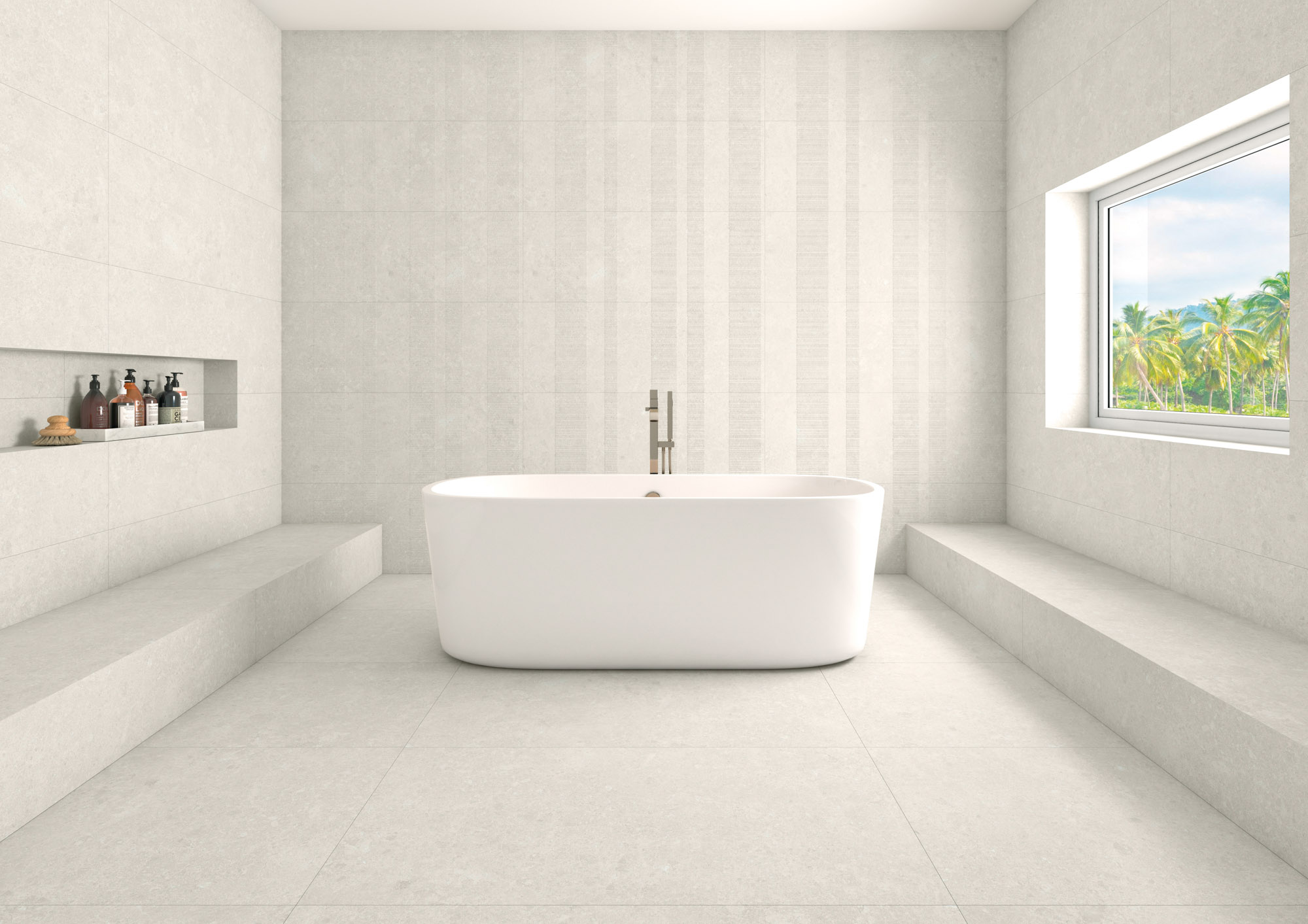 Suav Collection