Choosing the most suitable materials for new-build or refurbishment projects always raises lots of question marks. Ceramic tiles are an increasingly versatile option and they come in a multitude of different formats, designs and finishes. Among them, special mention must be made of rectified porcelain tiles.
Today, we will try to clear up many of the questions that we are often asked about them. To do this, we will explain what rectified porcelain tiles are and what benefits they offer.
And, needless to say, we will also dip into our range of tiles as possible sources of inspiration. Let's take things step by step.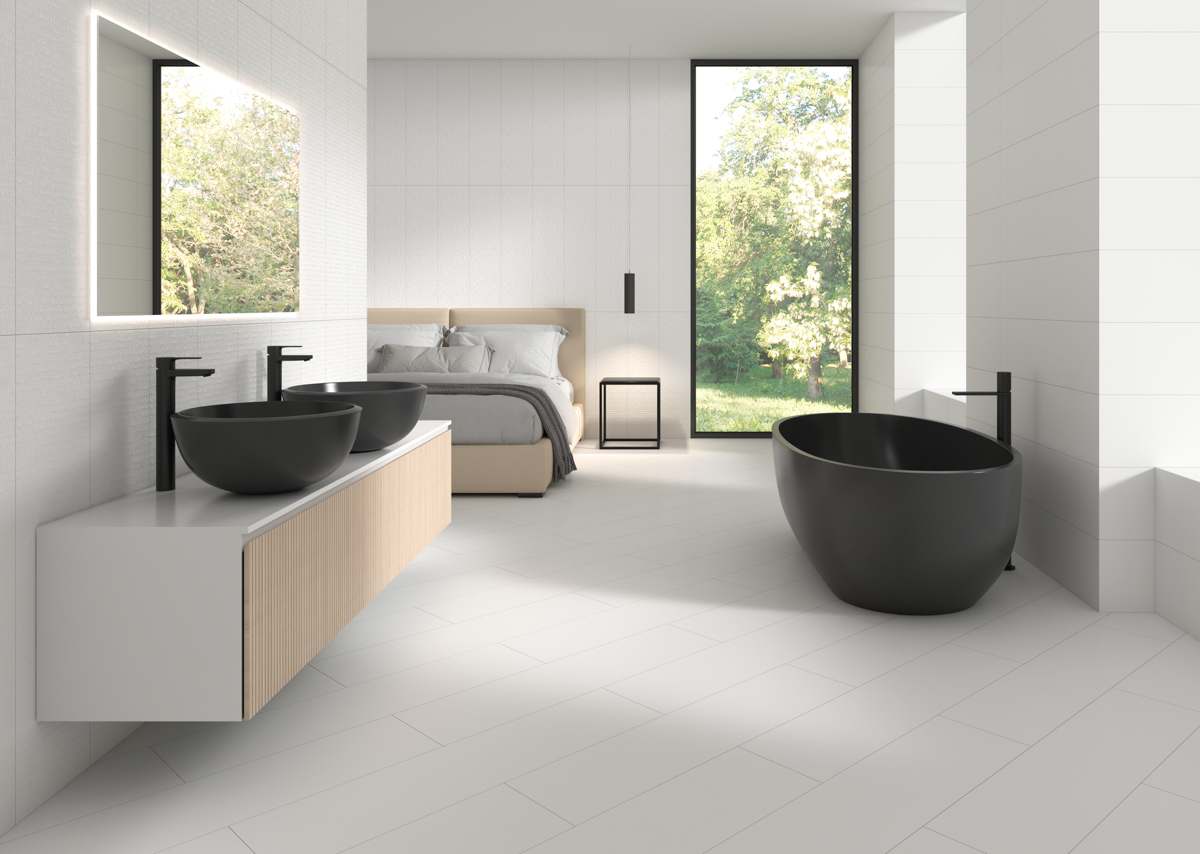 Dialogo Collection
What is a rectified porcelain tile?
A rectified porcelain tile has edges that are precision-cut at right angles. This means that it has totally straight edges with no bevel. The tile is therefore perfect in shape, and it can be laid with almost imperceptible tile joints.
It is important to remember that the white-body tiles are rectified after they have been fired. As a result, the rectifying process does not affect the thickness or quality of the tiles, since it is a separate stage.
Not all porcelain tile collections need rectified edges. Tiles are mainly rectified when an almost seamless appearance, with practically invisible tile joints, is required so that the tiles really look like the natural material they emulate. This is the case of wood or marble-effect porcelain tile collections.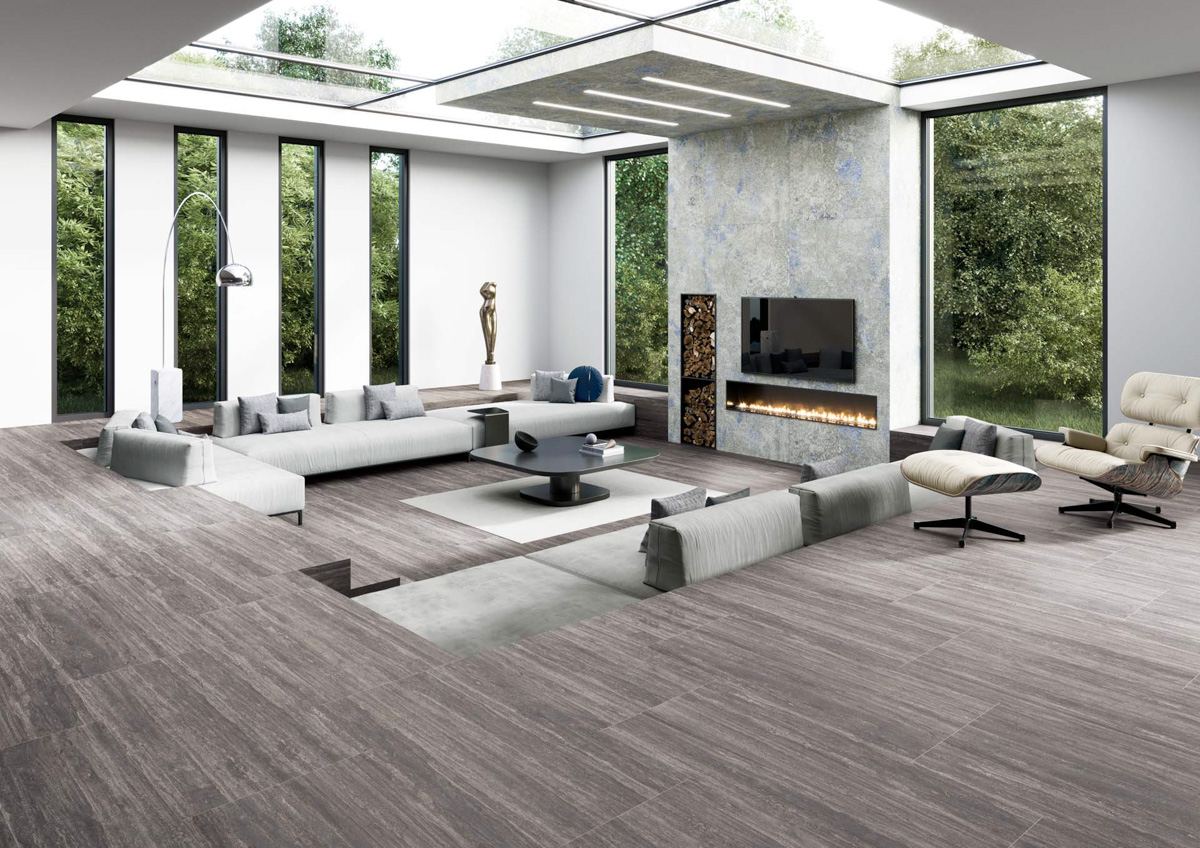 Travertino Collection
Our rectified tiles
At Apavisa, we have been specializing in the manufacture of rectified tiles for years, thanks to our solid commitment to design and to staying at the forefront of technological innovations. These tiles require a more complex manufacturing and tile-laying process than stoneware tiles, but they also allow for far more spectacular finishes in interior design projects.
Our tile designs are increasingly more realistic. It does not suffice to count on state-of-the-art printing technology, since realism is also dependent on the shape of the tiles. If we are reproducing a material without bevel edges, then our collections must not have bevel edges either.
Rectified porcelain floor tiles are perfect for textures that require continuity, such as designs that emulate natural stone, cement or metal.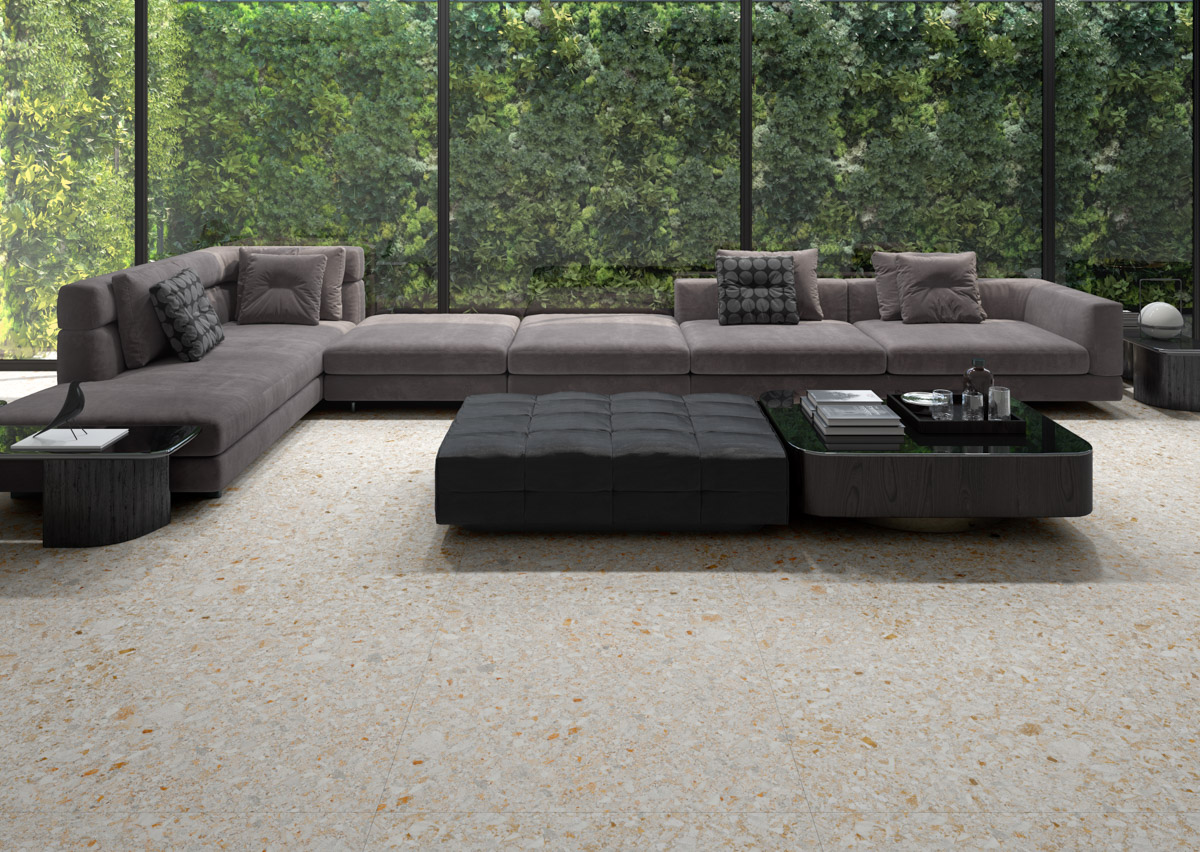 Momentum Collection
Terrazzo-effect rectified porcelain tiles
New revamped versions of terrazzo tiles are one of the most trendsetting looks in today's ceramic tiles. In the South collection by Apavisa, a terrazzo effect has been combined with trendsetting pastel colours: green, grey, pink and white. Thanks to the collection's rectified finish, it is even more realistic in appearance, ensuring seamless surfaces with almost invisible tile joints.
The South collection is a clear example of fully realistic end results, combined with all the technical performance of ceramic tiles.
Porcelain tiles with an oxidized metal effect
Our Zinc collection faithfully emulates the appearance of oxidized copper plates. This modern-looking design reflects the textures and colours of oxidized metal, with its black, copper, green and white hues. This rectified porcelain wall and floor tile collection is perfect for creating innovative modern living spaces with a slight underground feel.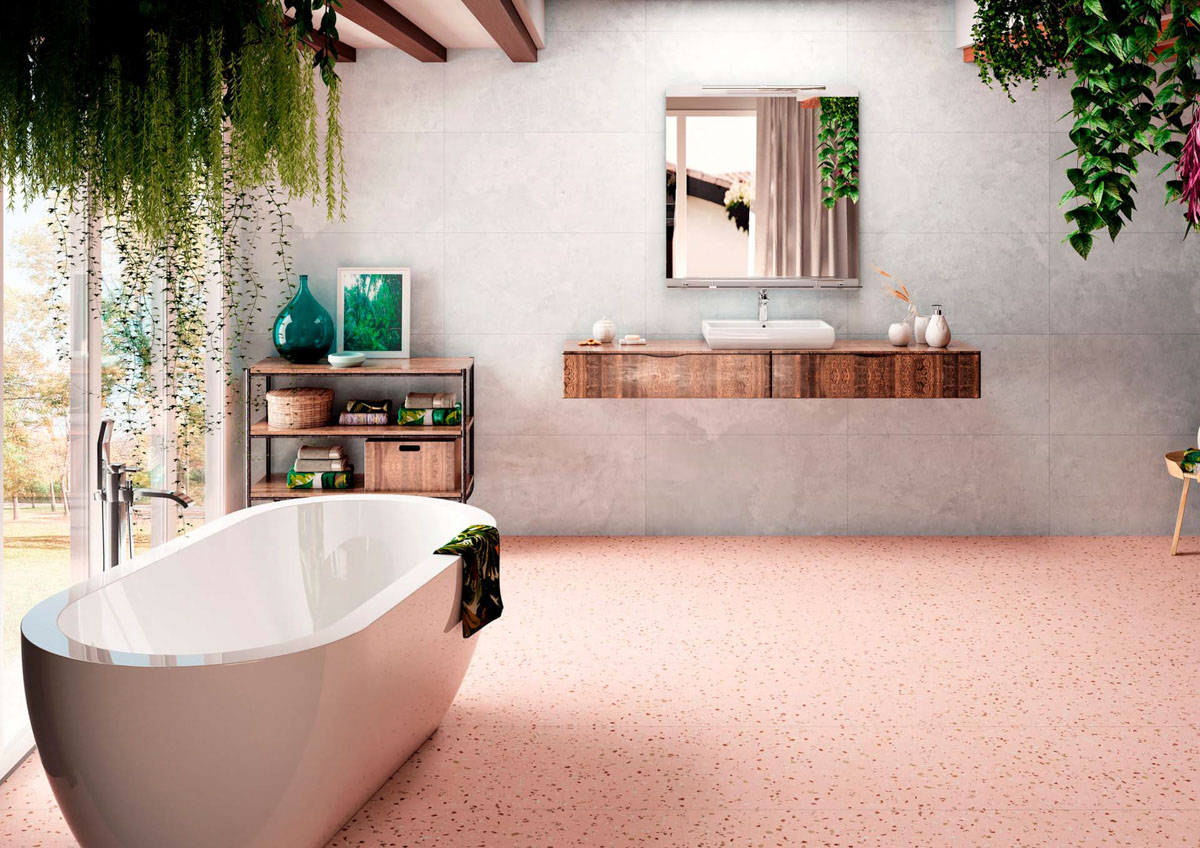 South Collection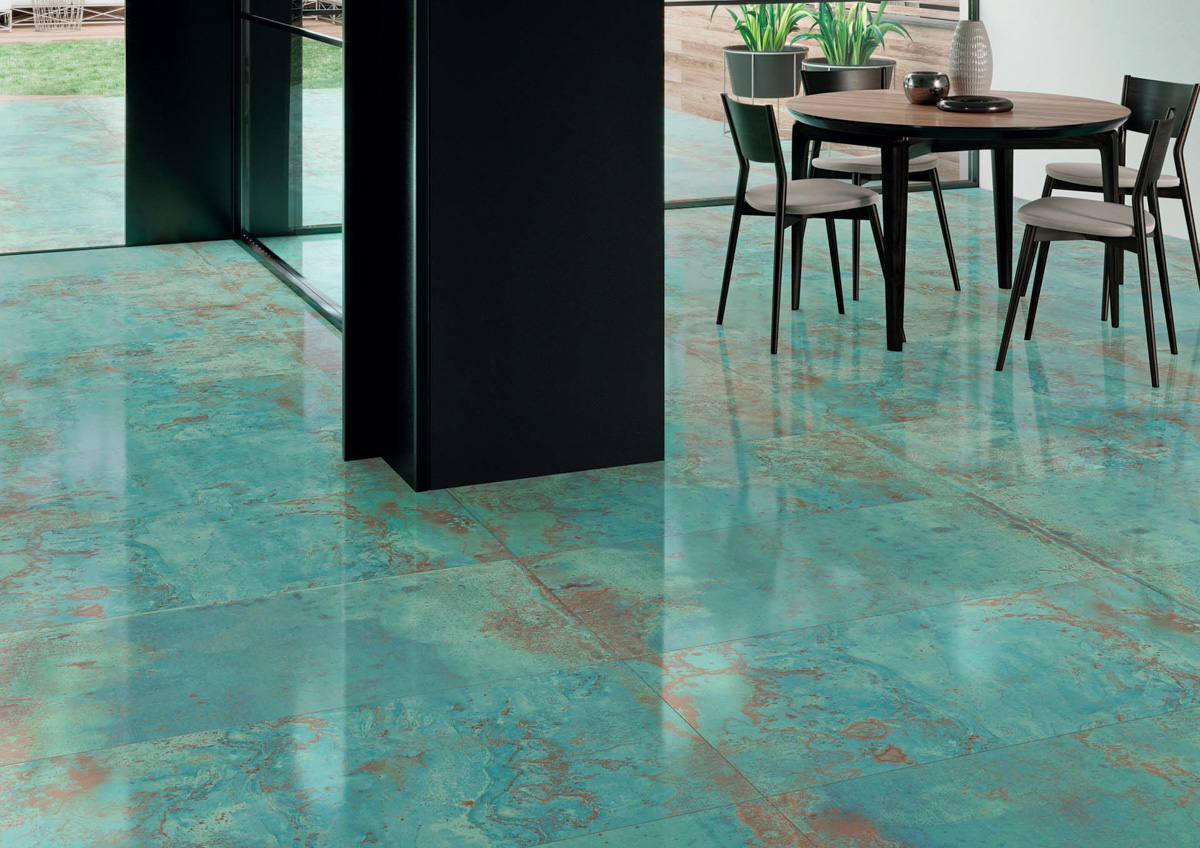 Zinc Collection
Cement-effect rectified tiles
In recent years, cement looks have become one of the most popular effects in ceramic tiles, thanks to the versatility and modern appeal of this kind of design. The Equinox Anthracite collection is a good example of how to create seamless, continuous-looking surfaces, infusing living spaces with a greater sense of spaciousness.
Equinox is a large-format rectified porcelain tile collection, available in a 120x260cm, 60x120cm, 120x120cm or 60x60cm format. Full advantage can be taken of these straight-sided tiles in the creation of surfaces with almost imperceptible tile joints. This guarantees cement-effect tiles with an amazing realism.
Marble-effect porcelain tiles
Marble is one of the star products used in interior design and a material that has been reproduced on ceramic tiles with huge success, as demonstrated by our marble-effect tile collections. The Patagonia series by Apavisa clearly illustrates how technology can be used in design to create unique tiles of such realism that it is almost impossible to distinguish them from the genuine article.
This large-format rectified porcelain tile collection comes in a 120x300 format and a polished finish, reproducing large slabs of beige and earth-coloured marble to amazing effect.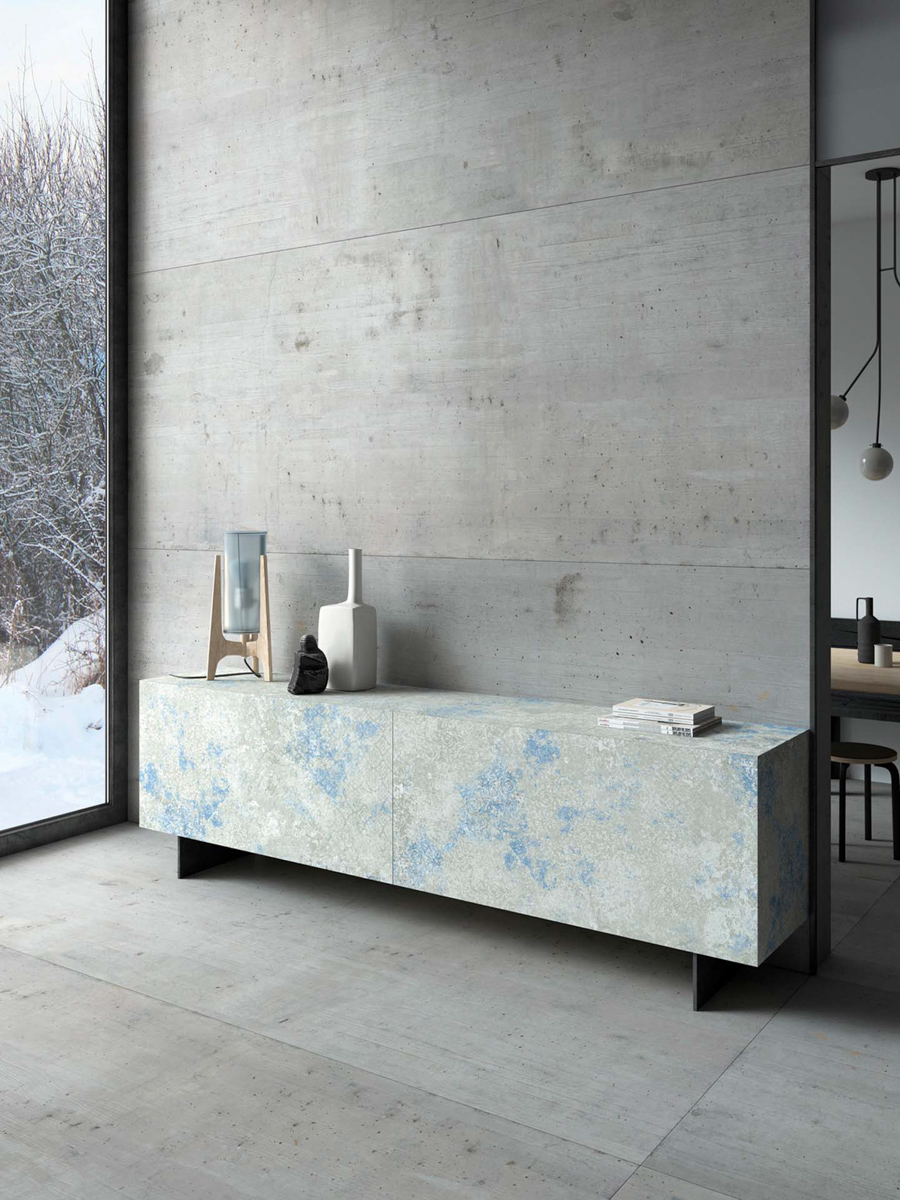 Cassero & Emotion Collections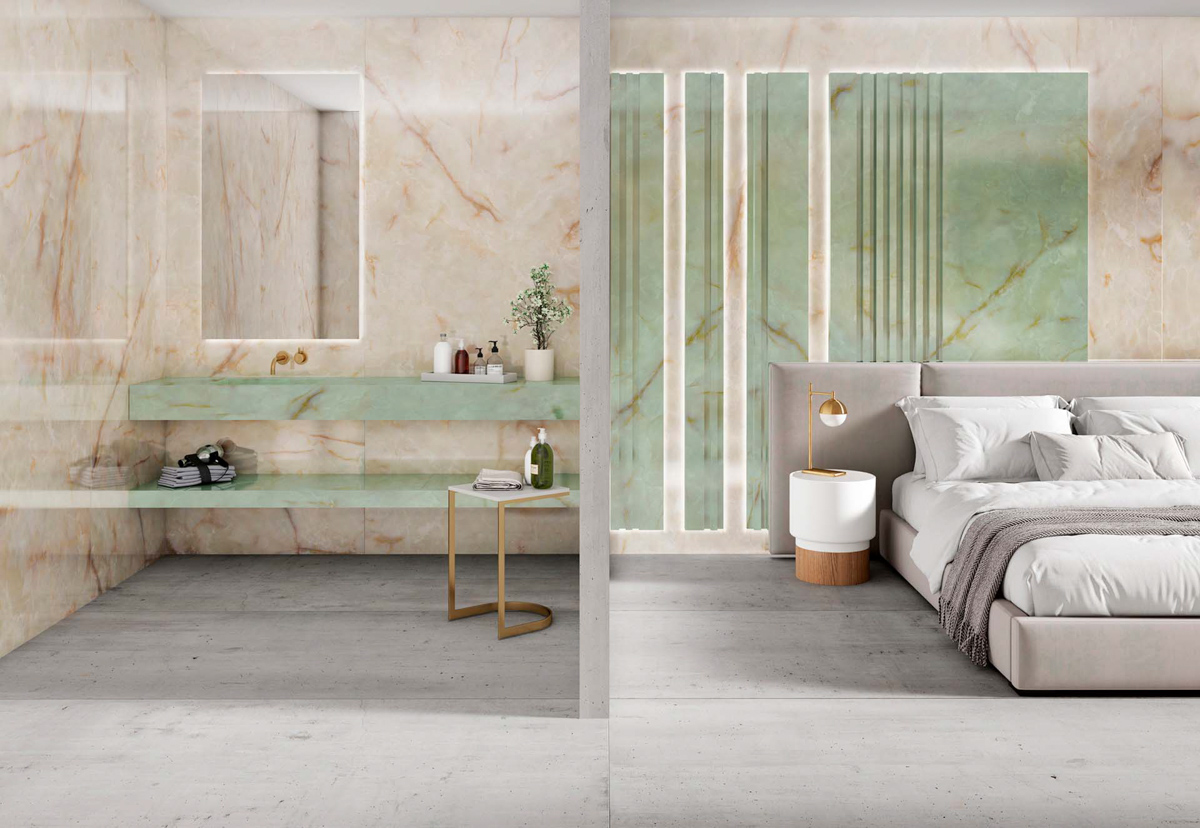 Onice Collection
The advantages of rectified porcelain tiles
These tiles offer huge advantages over bevel-edged tiles: they can be used to create surfaces with stunning visual continuity because their tile joints are practically imperceptible. The narrower the tile joint, the greater the realism and sense of spaciousness, particularly if large-format rectified porcelain tiles are used, since most of the materials that we emulate either have a continuous appearance (cement) or totally straight edges, such as marble or wood.
Rectified tiles also offer greater potential when they are laid because the tile joints can be dealt with in different ways. The narrower the tile joint, the greater continuity the tiled surface will have. The opposite effect can also be achieved by exaggerating the tile joints to dramatic effect with grouting material in a contrasting colour. The narrower the tile joint, the greater the hygiene and the easier the surface will be to clean.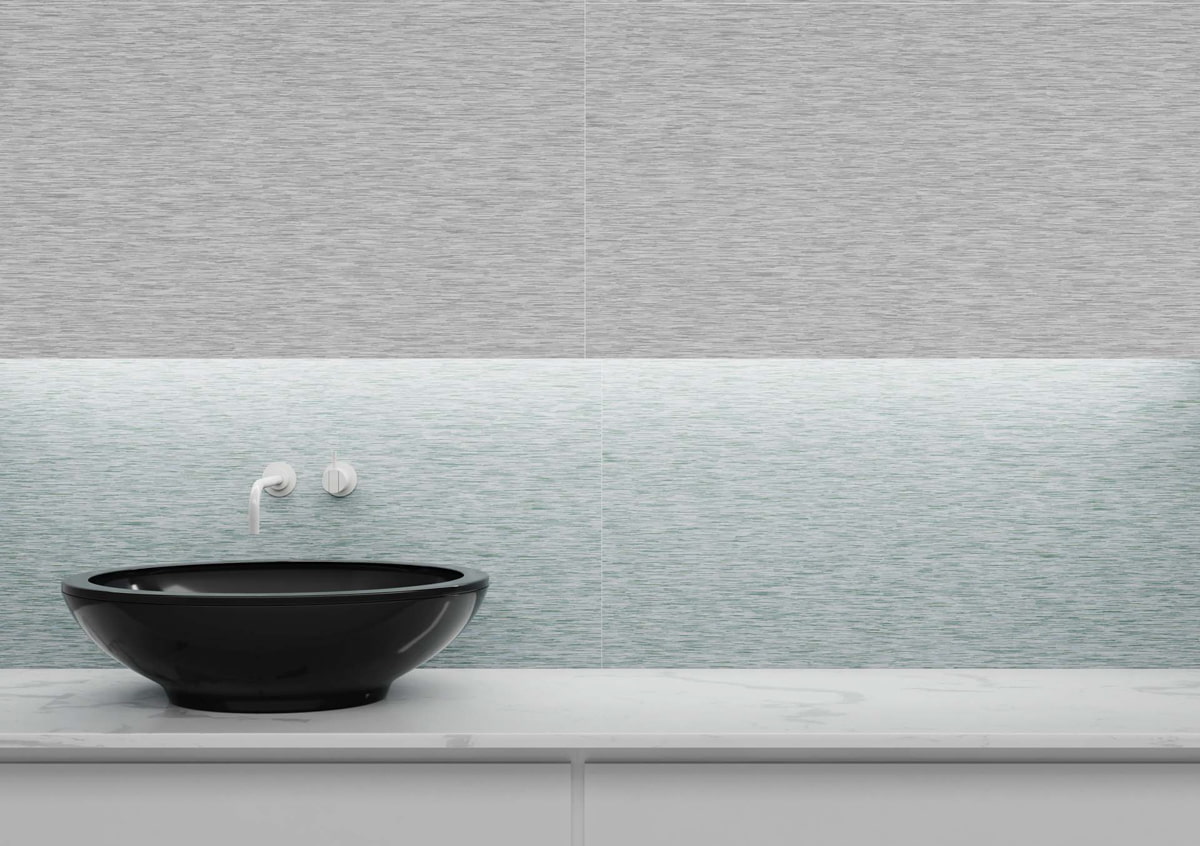 Filo Collection
How to lay rectified porcelain floor tiles
In principle, there is little difference between laying rectified porcelain floor tiles and non-rectified floor tiles. As is always the case when floors are tiled, check that the floor surface is level in order to ensure optimum results.
The key to all this is to use the right tile spacers to separate the tiles, because standard ones are no good if the tiles are to be laid with very narrow tile joints. In such cases, it is vital for the tiles to be laid by an experienced tile layer using suitable materials.
Once the tiles have been bonded to the substrate and separated with tile spacers, the tile joints must be filled. This is essential for successful end results and perfectly laid porcelain tiles.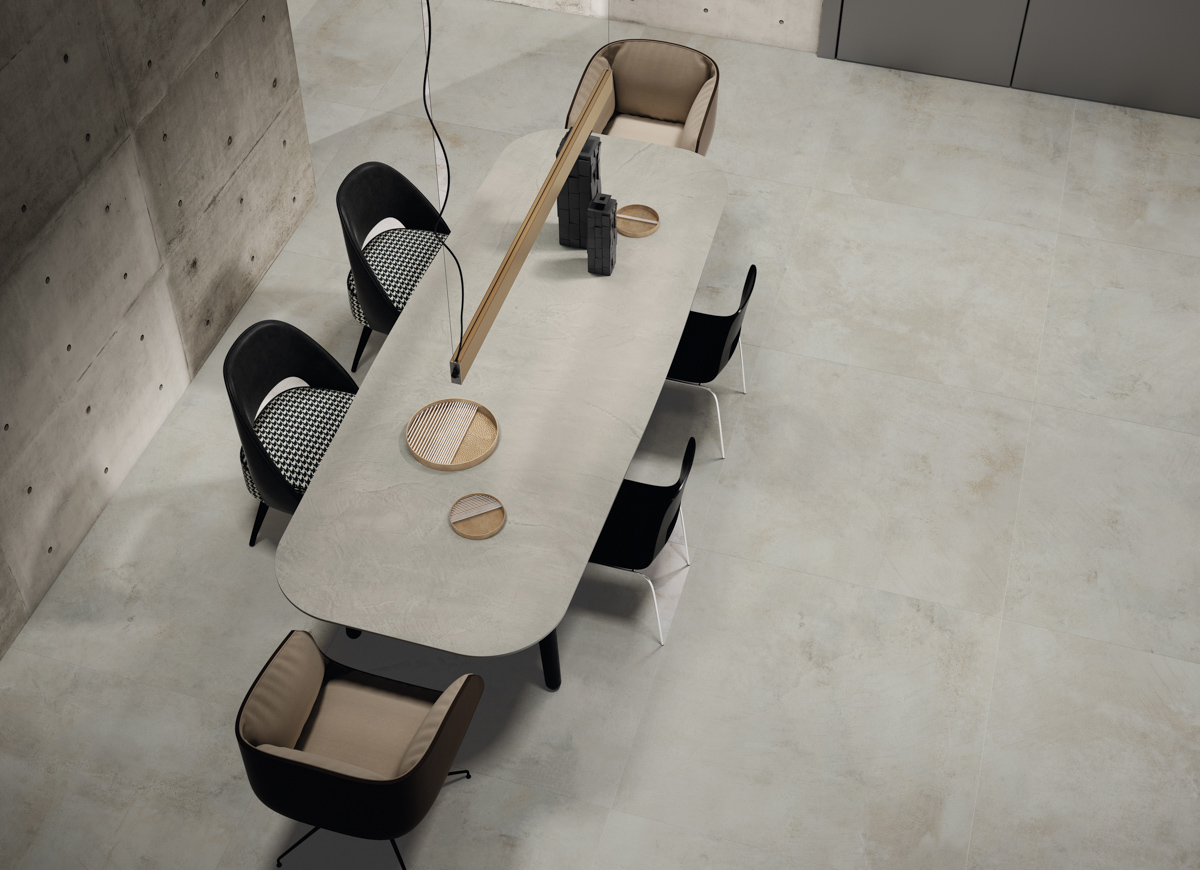 Equinox Collection