Minimalist-style kitchens are modern and elegant. The simplicity conveyed by this style can be reflected in the kitchen in many ways: with the choice of decoration, equipment, colors, materials, etc.
"The motto 'less is more' brought to the kitchen. Minimalist kitchens invite you to embrace calm and enjoy the beauty of simplicity".
If you plan to start designing a minimalist kitchen, read on. We will give you some ideas to inspire you when applying this style to your kitchen.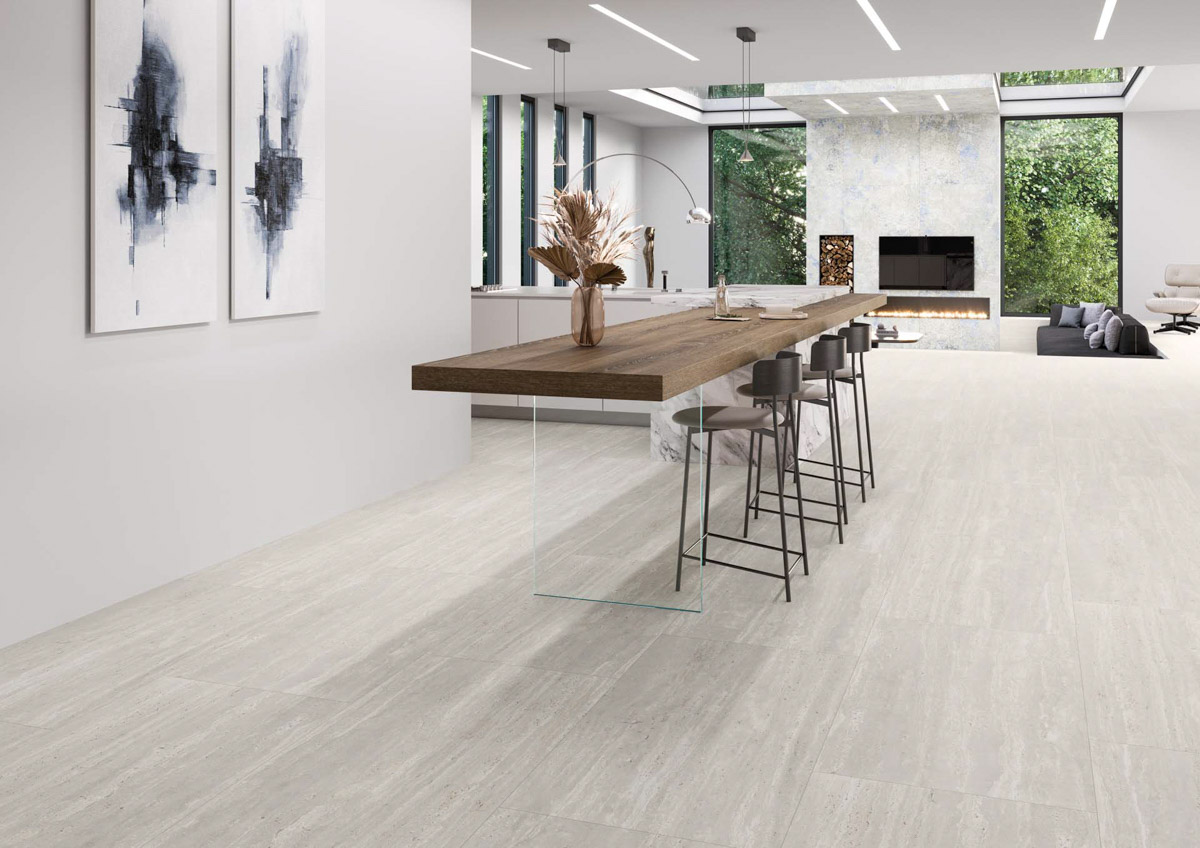 Travertino Collection
Key points for a minimalist kitchen
These are the key points for you to enjoy a kitchen with a minimalist design:
Organization is one of the main aspects to achieve a minimal kitchen. With a good storage space where each utensil has its place, there will be no items in view to visually clutter the whole.
Minimalism can also be considered in the choice of furniture and accessories. In a kitchen where we want to encourage simplicity, we dispense with handles and any other esthetic element that hinders visual continuity.
Sophistication, continuity and neutrality are three aspects to take into account when choosing any element of the minimalist kitchen, from the furniture to the materials. We look for that continuity even in the choice of porcelain flooring.
As long as you take into account these aspects and the ideas that we will give you below, you will ensure that your kitchen reflects the minimalist spirit: you will have a space where purity, simplicity and calm reign.
Of course, we would like to remind you that in the search for minimalism you should not neglect utility.
Design should not hinder the functionality of your kitchen.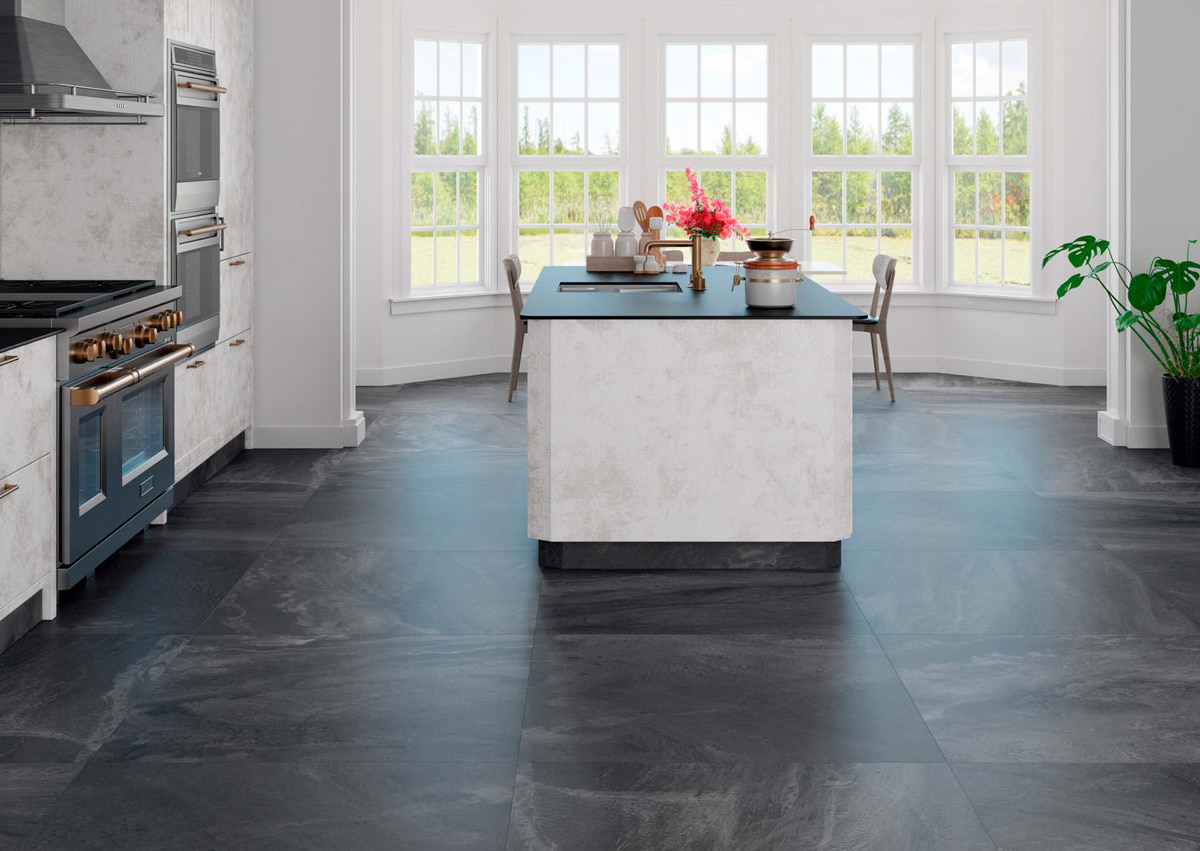 Aquarela Collection
Minimalist colors in the kitchen
In the choice of colors for a kitchen of this style, neutrality never fails. Neutral tones such as white, black, grey, anthracite or earth or sand tones are always a wise choice.
Let's talk more about the two extremes and, also, the two most used tones in this type of kitchen: white and black.
White minimalist kitchens
White can transform any place into a pure and clean environment. The white minimalist kitchen is a clear example of this. It not only accentuates simplicity but also creates a pleasant, bright and timeless space. From the floor to the tiles, white never fails.
Black minimalist kitchens
Black kitchens are very modern and fashionable. Whether in combination with white or on its own, black can bring elegance wherever it goes. Something that always works is to combine the doors of the furniture in a light tone with the porcelain of the floor and the tiles in black. The contrast will be quite spectacular.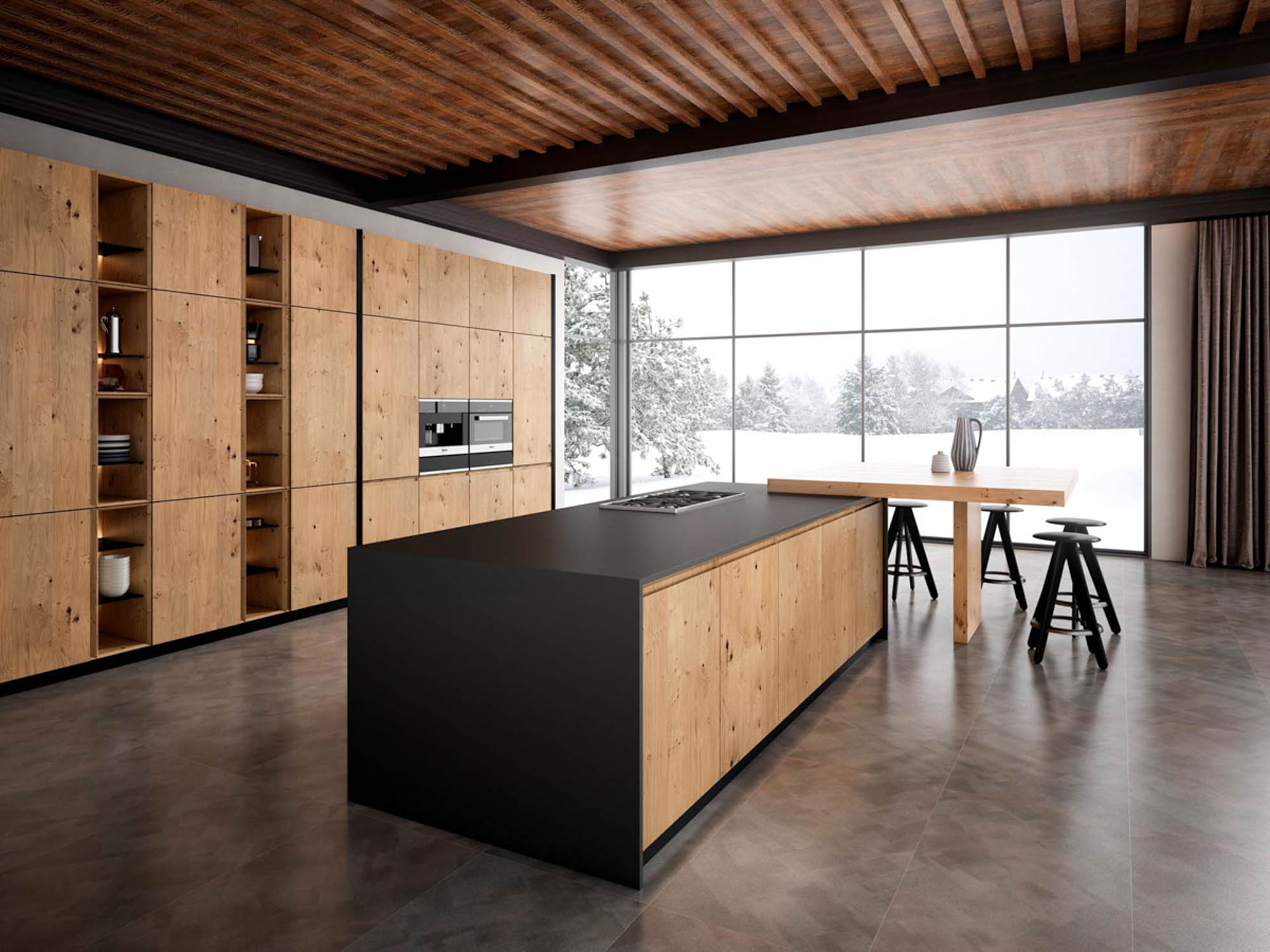 Super Black Collection
Modern minimalist kitchens
The most modern minimalist kitchens opt for an image of complete continuity, where almost nothing interrupts our gaze. In this sense, even electrical appliances are included in the furniture.
Cement-look porcelain tiles or flooring that imitates wood in grayish tones are the perfect options for the flooring of a modern minimalist kitchen, enhancing its continuity.
Small minimalist kitchens
Designing a minimalist kitchen in a small space can seem like a challenge. You may be wondering, where am I going to put everything I need to make the kitchen functional?
In kitchens that have small dimensions, the secret lies in eliminating any element that could make the space seem smaller.
Handles—which break visual continuity—have to go. And you can go even deeper into that feeling of cleanliness and organization that you are looking for if you build in the appliances.
If you also opt for a glossy porcelain floor, the effect is multiplied and that feeling of spaciousness that a small kitchen always needs is increased.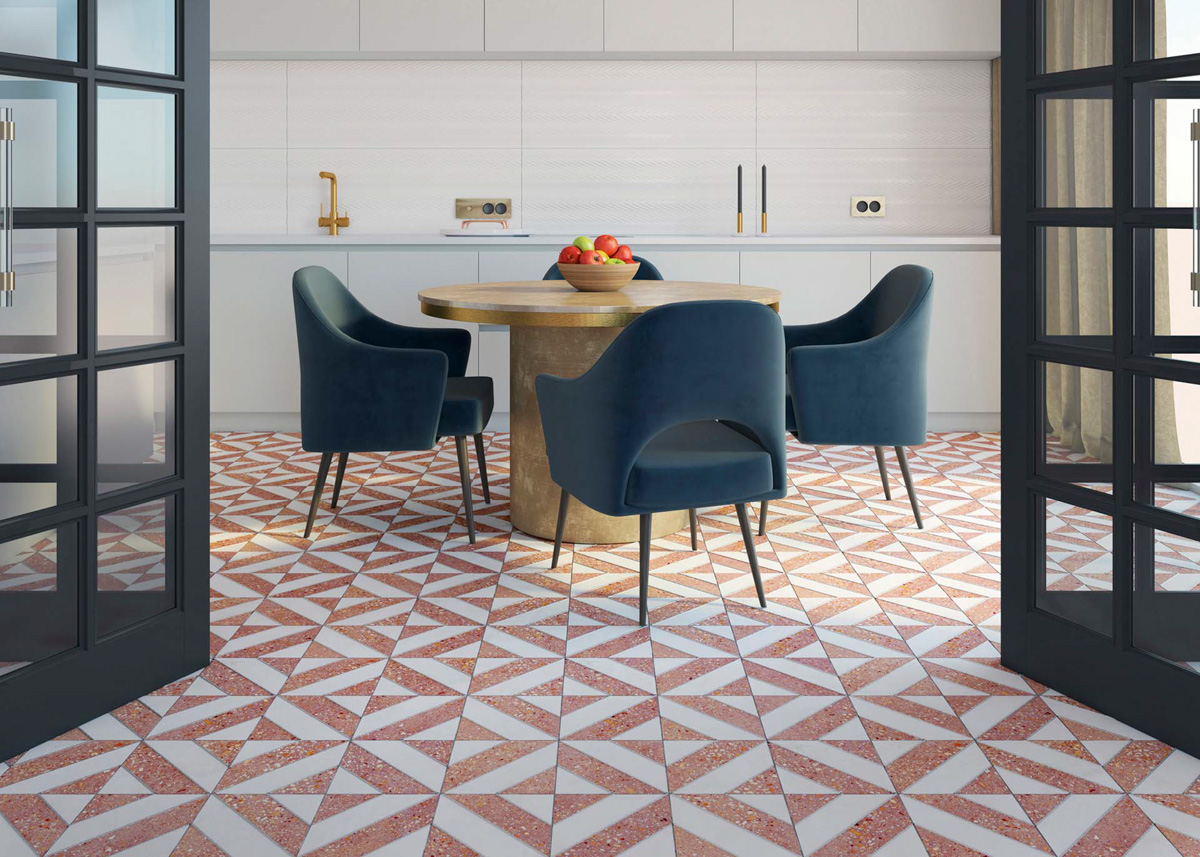 Wind Collection
Minimalist kitchens with island
The minimalist kitchen that has a central island is elegant, but at the same time versatile and very comfortable. The choice of the materials of the island can range from stainless steel to concrete, including wood. In a minimalist kitchen with an island, you can convey elegance—without giving up on the idea of less is more—with a marble-inspired porcelain tile.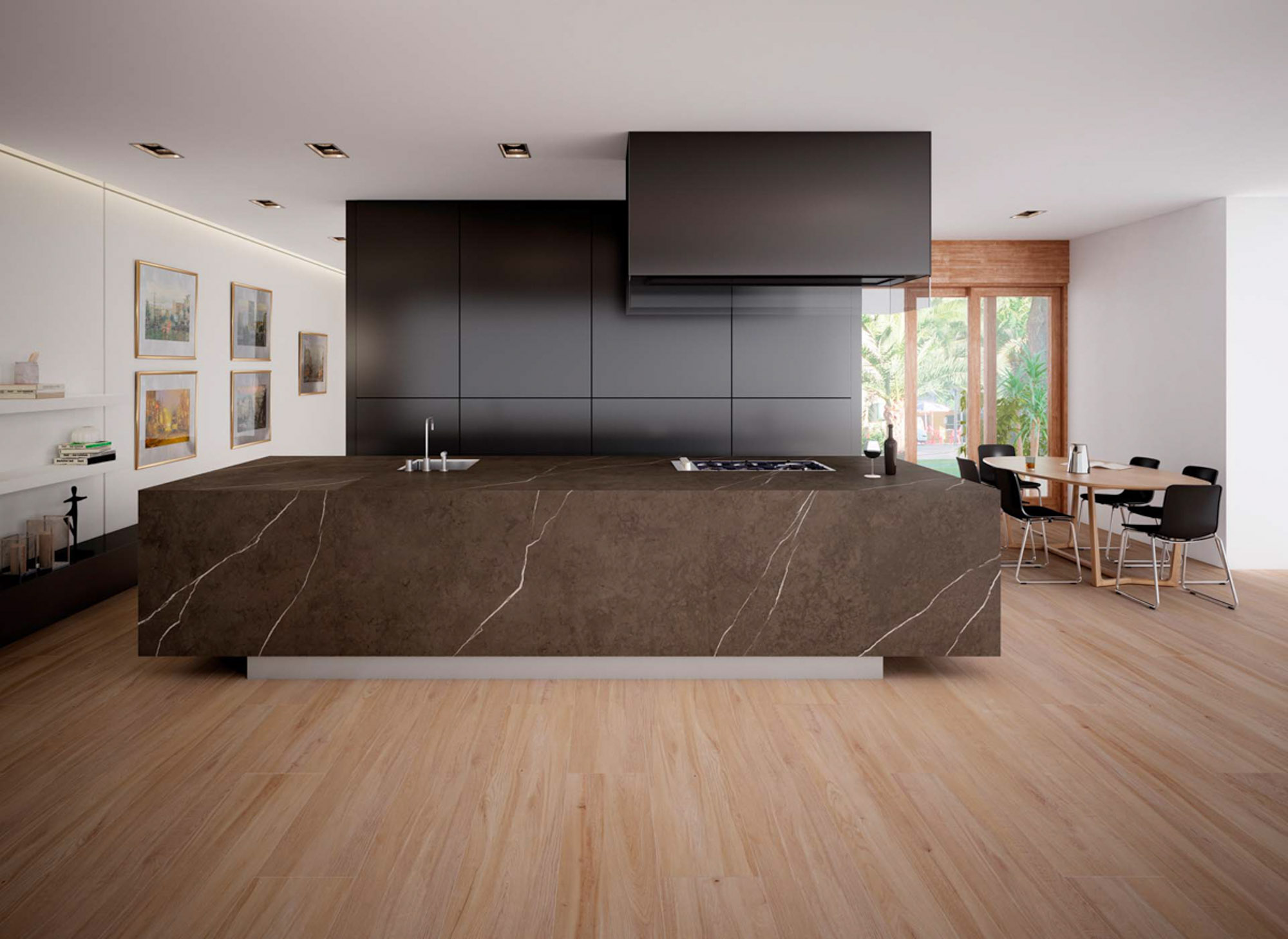 Pietra Collection
Minimalist kitchen design
In a minimalist kitchen, the décor must be minimal and essential. But this does not mean that there is no décor of any kind.
For example, you can make your kitchen very stylish with the lighting fixtures or the correct choice of the bar or island stools. You can also give it a natural touch by bringing in a houseplant.
And if a monochromatic and totally smooth kitchen seems a little dull, why not choose a hydraulic porcelain flooring, either for the flooring or for the tiles. It will give it a touch of color and geometry that will bring joy without breaking the minimalist lines.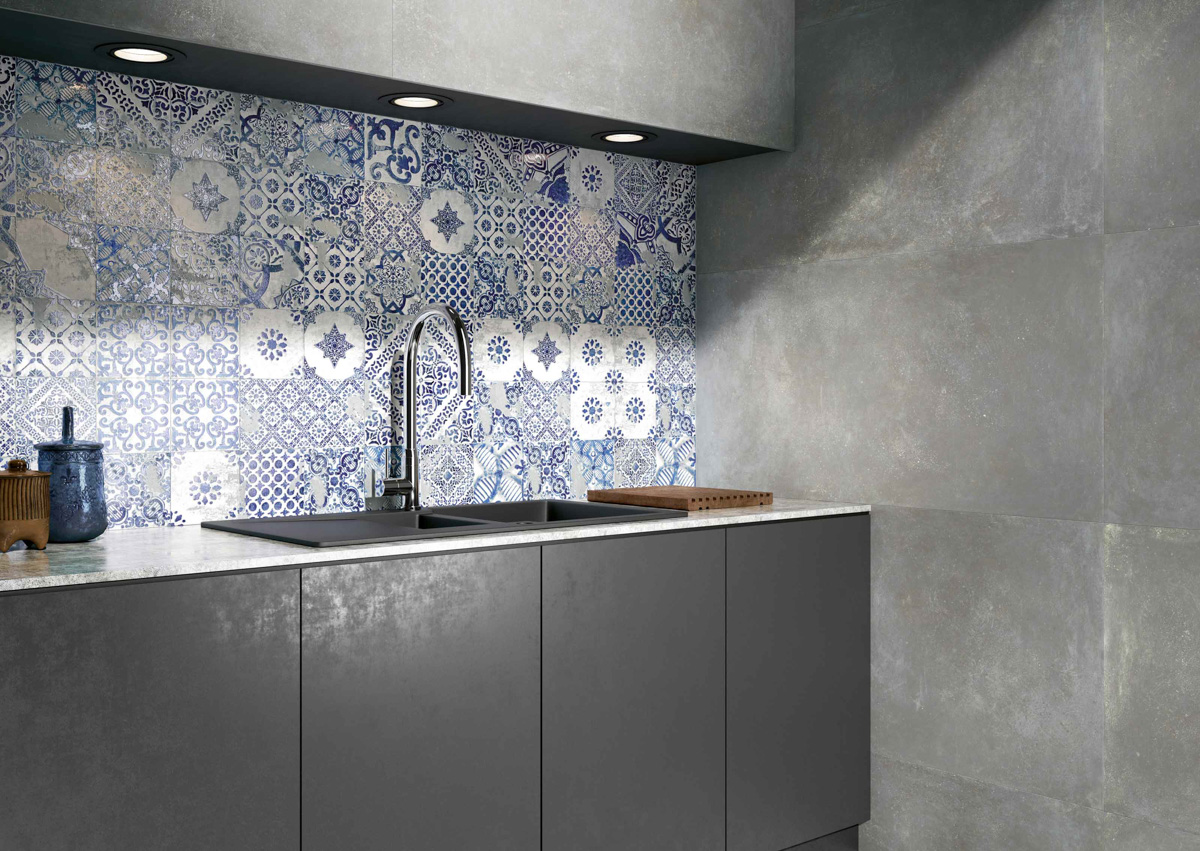 Ozone Collection