Mediterranean-style homes are synonymous with tranquility and freshness. If you like this style and think it might be right for your home, do not miss what we have prepared for you.
Porcelain tiles play a fundamental role in Mediterranean home décor.
We will see what Mediterranean homes are like, how you can give their décor a personal touch and various porcelain tile ideas, allowing your home to reflect this style from top to bottom.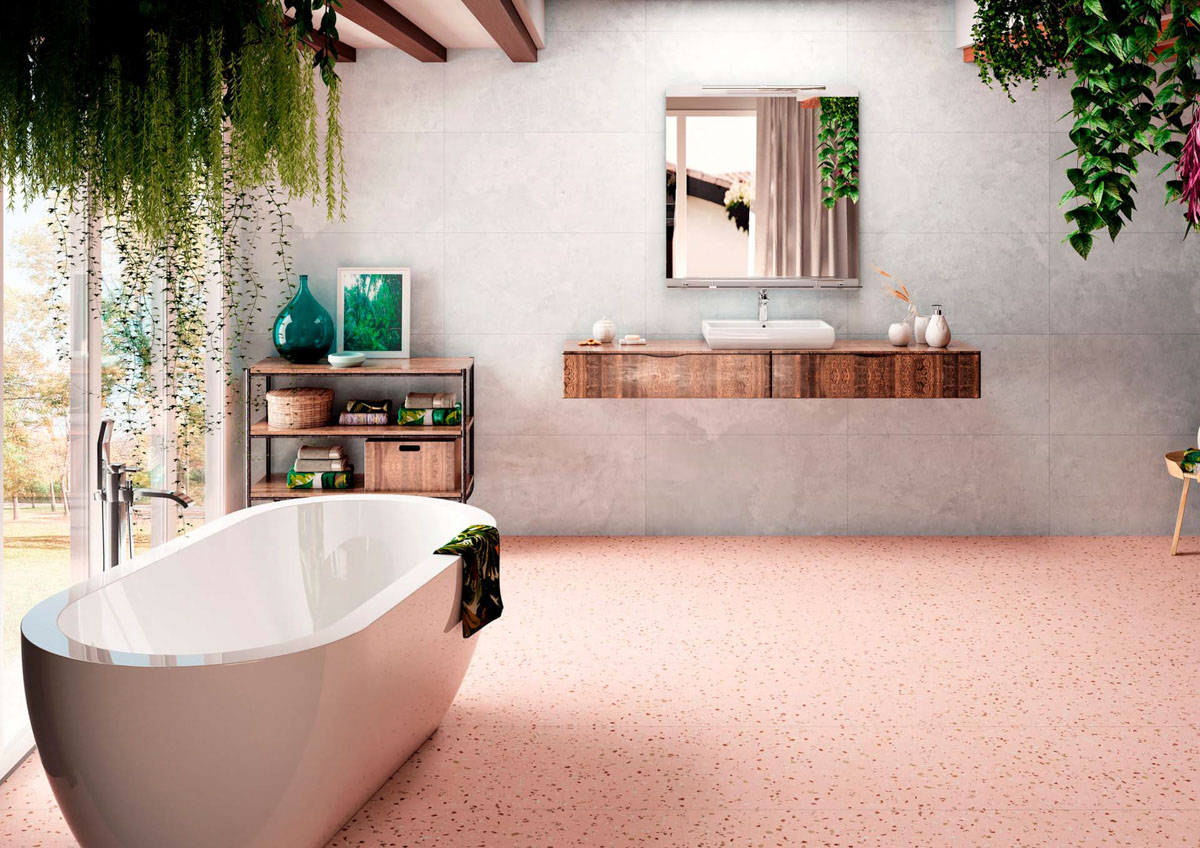 South Pink Natural 60X60
Characteristics of Mediterranean-style homes
As its name suggests, this style reminds us of the Mediterranean sea. Therefore, the nature, freshness of the breeze and colors of the beach will take center stage. But let's delve a little deeper.
Whites, beiges and blues are the main colors in this style. White fills every room, while the other two tones are usually used for decorative details and elements such as doors or flooring.
The exposed beams are another fundamental detail of this style. In light, blue or white wood, they give a rustic tint to the home. In this sense, we can also highlight the whitewashed walls, which favor an artisanal aesthetic.
In nature and, more specifically, on the beach, edges and straight lines do not predominate. For this reason, curved lines and sinuous shapes are another key to this style. We can notice this in the inclusion of arches and the absence of corners, which soften the composition.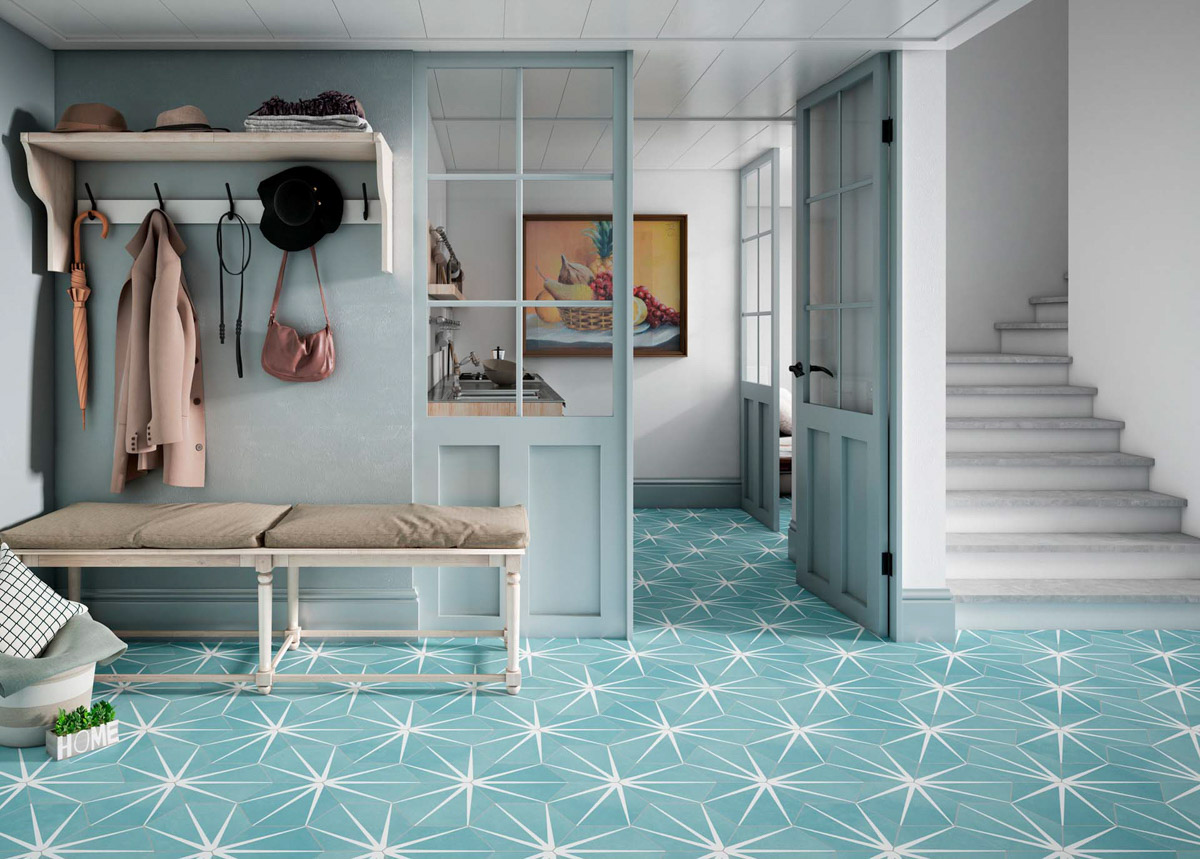 Starline Blue Natural Hexagon
Décor of Mediterranean-style houses
In Mediterranean décor, there are a series of crucial elements. Let's examine a few ideas, so you can choose the ones you like the most.
When it comes to textiles, naturalness is the key. For this reason, in cushions, curtains and rugs, the freshness and softness of fabrics such as cotton or linen never fail. Textile-look porcelain tiles can also be used.
We already mentioned the choice of colors for décor in the previous point. The predominant colors in this style will be blue, beige and white. Use and combine them as you like to get the most from them.
When talking about decorative elements, craftsmanship is fundamental. Clay jugs, hand-painted ceramic crockery, rattan lamps, wooden shelves... Choose accessories made from natural materials that increase the feeling of serenity and you will not go wrong.
As we mentioned at the beginning, Mediterranean homes can have both a rustic and modern aesthetic. But, how does the style differ in each case?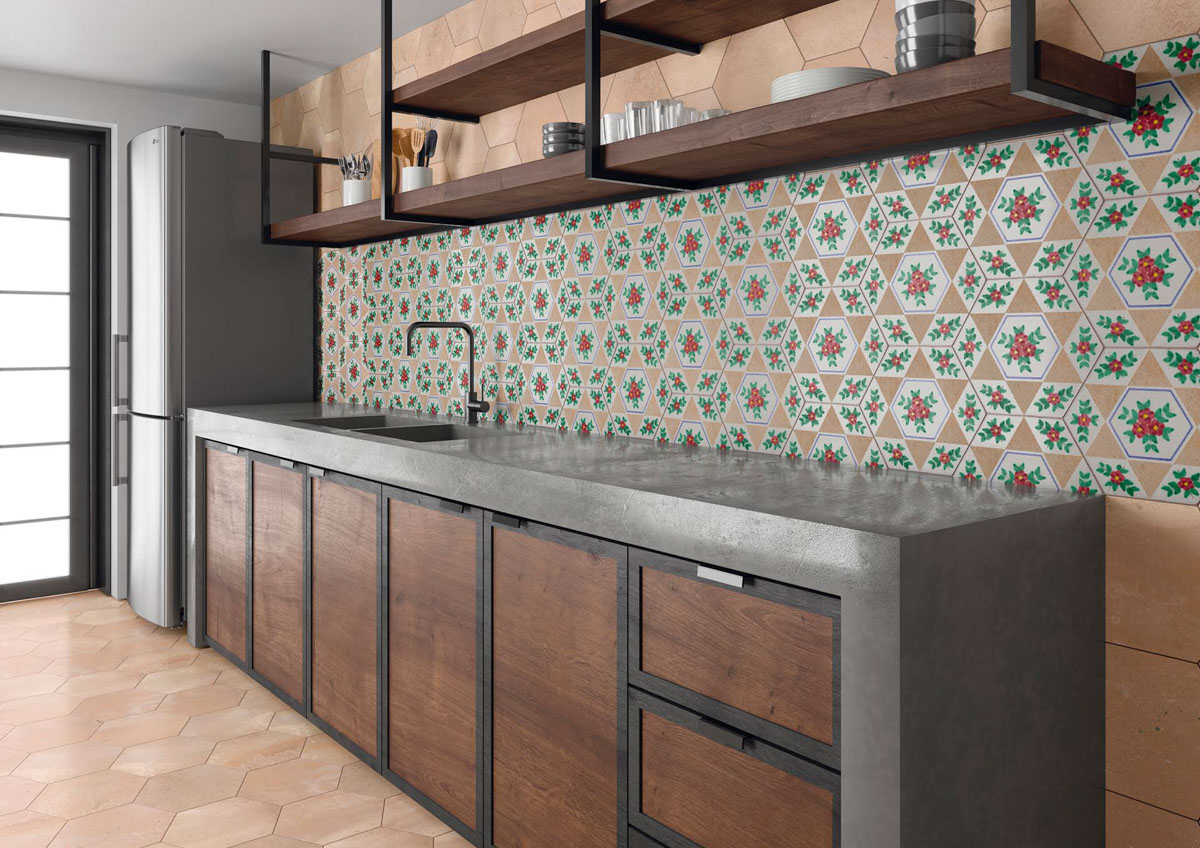 Hutton Classic Decor Hexagon
Porcelain tile ideas to decorate homes in a Mediterranean style
Porcelain floors and different-colored tiles can have an important role in the décor of a Mediterranean home. Depending on the room you are going to decorate, you can obtain different results if you choose different types of flooring. Get inspired by these ideas.
Mediterranean-style bathrooms
White bathrooms seem to be the common element in most Mediterranean homes. A Mediterranean-style bathroom reduces the number of angles and replaces them with sinuous shapes.
When it comes to Mediterranean bathroom flooring, you cannot go wrong with stone porcelain in light colors such as white, a choice that favors luminosity.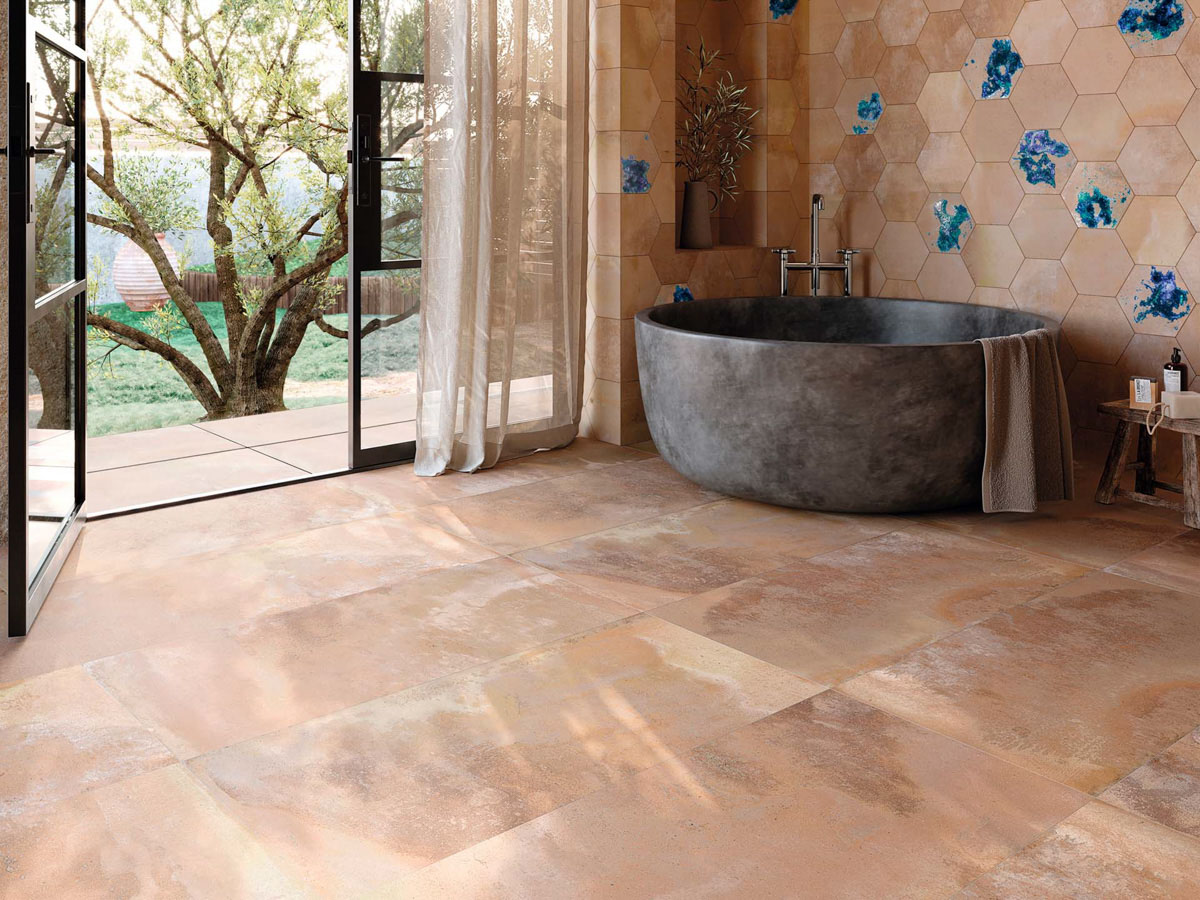 Hutton Rosso
Mediterranean-style living rooms
Mediterranean-style living rooms are welcoming and serene. The flooring in the living room should reflect these qualities and therefore floors in very light beige tones are very characteristic. If the home is Mediterranean and rustic, clay-look porcelain tiles will also be a very successful choice.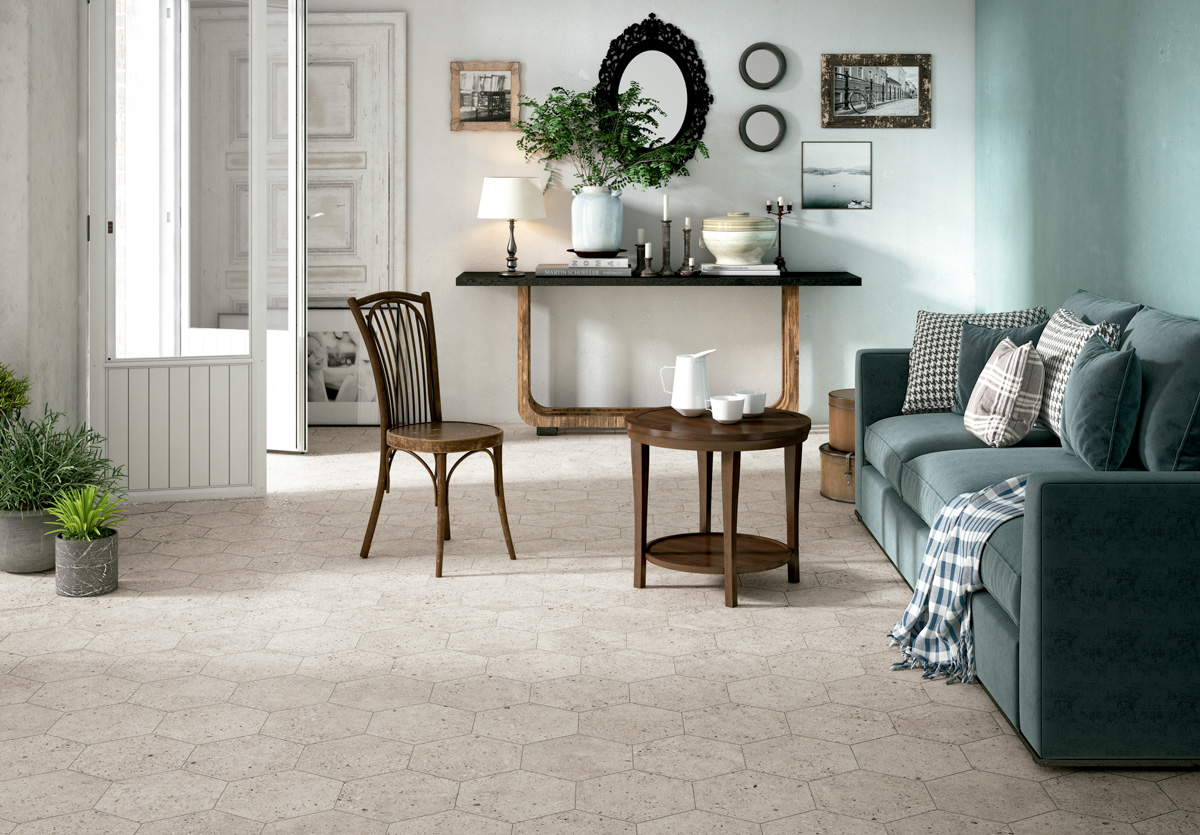 Wind Ivory Natural Hexagon
Mediterranean-style terraces
Mediterranean-style terraces are fresh, natural, with many plants, and tiling that evokes the sea. For this reason, in contrast to the whitewash of the wall, blue for the terrace flooring can be a very interesting option.
But those who want less flamboyant paving should consider stone-look anti-slip porcelain tiles.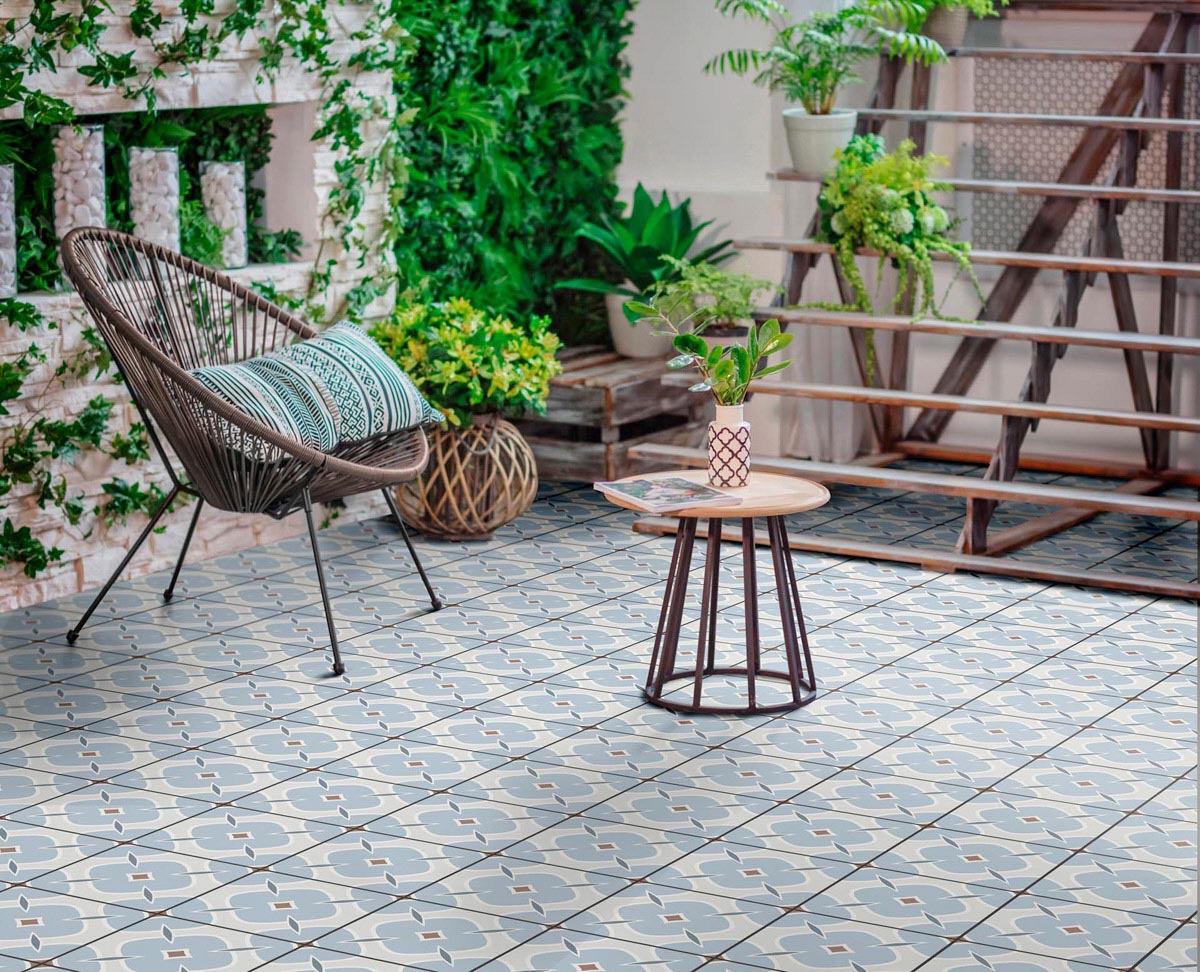 Ponti Blue Pre-Scored-20 60X60
Mediterranean-style rooms
The ideal flooring for Mediterranean-style bedrooms depends a lot on the style of the rest of the home. A white floor will be perfect for minimalist and modern Mediterranean homes, since it increases the reflection of light and this allows you to enjoy a brighter and visually larger bedroom.
But this does not mean that blue porcelain tiles should not be used, since they can be the perfect complement for the décor of rooms designed for relaxation and calm.
Whichever option you choose, the natural-finish collections will always be an ideal choice.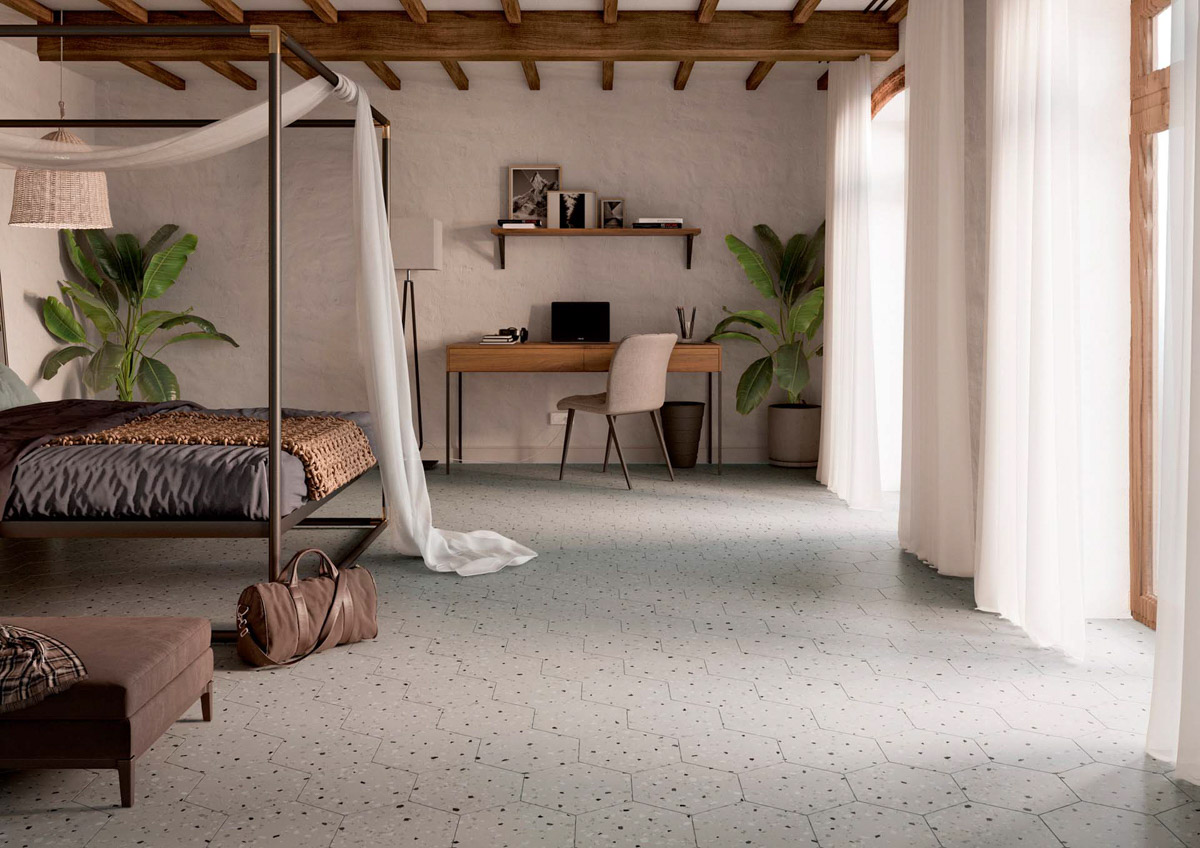 South Grey Natural Hexagon Hex 25X30
Mediterranean-style kitchens
Kitchens are so versatile that it is almost impossible to say what the perfect cladding for Mediterranean kitchens is. Depending on the specific style you are looking for in Mediterranean design, you will be presented with different options.
For example, white and blue tiles are a must for kitchens where you want to evoke a more traditional design.
For paving, hexagonal tiles can be interesting. Concerning designs, hydraulic tiles may be a wise choice, but so too are clay or stone-look porcelain tiles.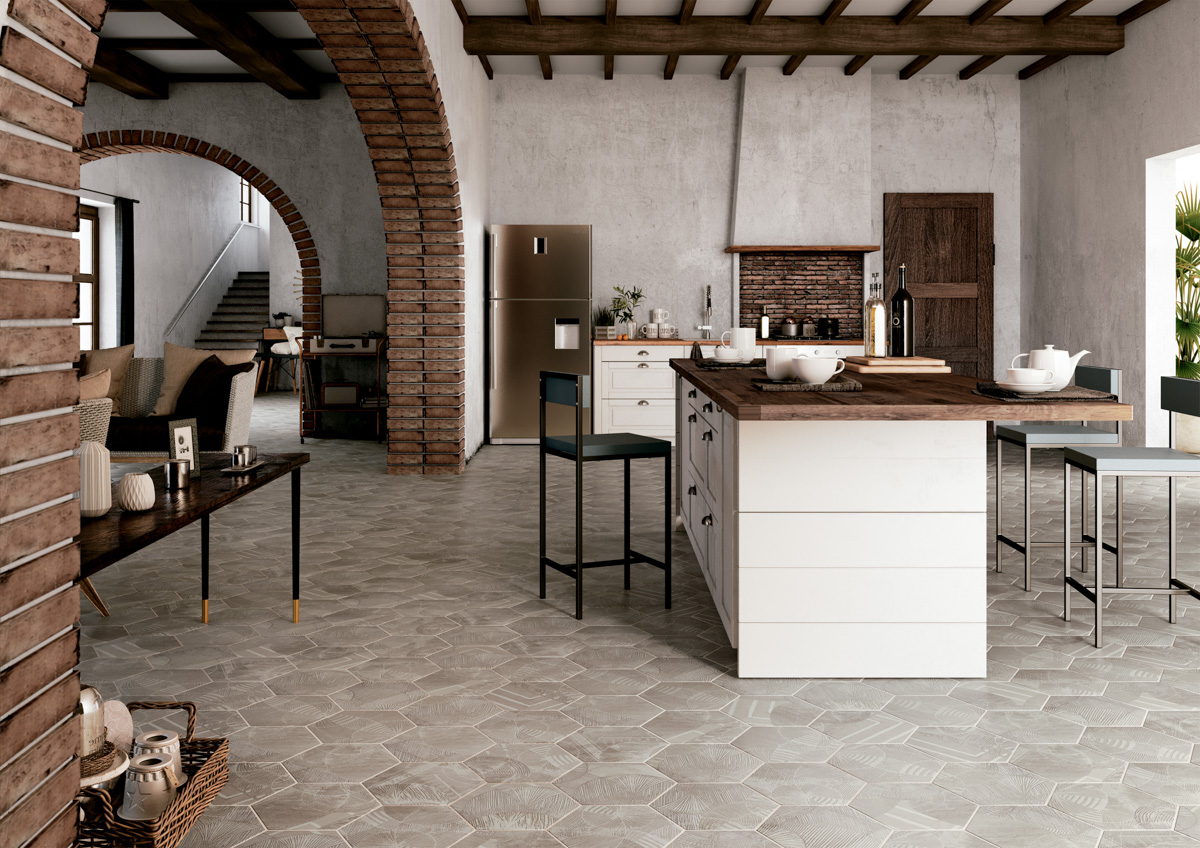 North Sand Decor Hexagon Hex 25X30