The latest trends in decorating "double" bedrooms indicate that spaces full of peace, relaxation and optimism are increasingly sought after. However, the 2022 trends in interior décor also show us how to create a modern and distinctive look with elements that bring a special life to the room.
But how can we decorate the bedroom to achieve the desired effect? Below are some ideas.
Colors for couples rooms
The bedroom is another of the home's priority spaces, and this has become even more true after the pandemic. It is the first space we see when we wake up and the last one before going to sleep. A healthy way to start the day is in a space that stimulates the senses and also creates harmony.
White is a timeless classic. It fills the space with light and energy and is also ideal for decorating a small couples room because it will make it appear more spacious and bright.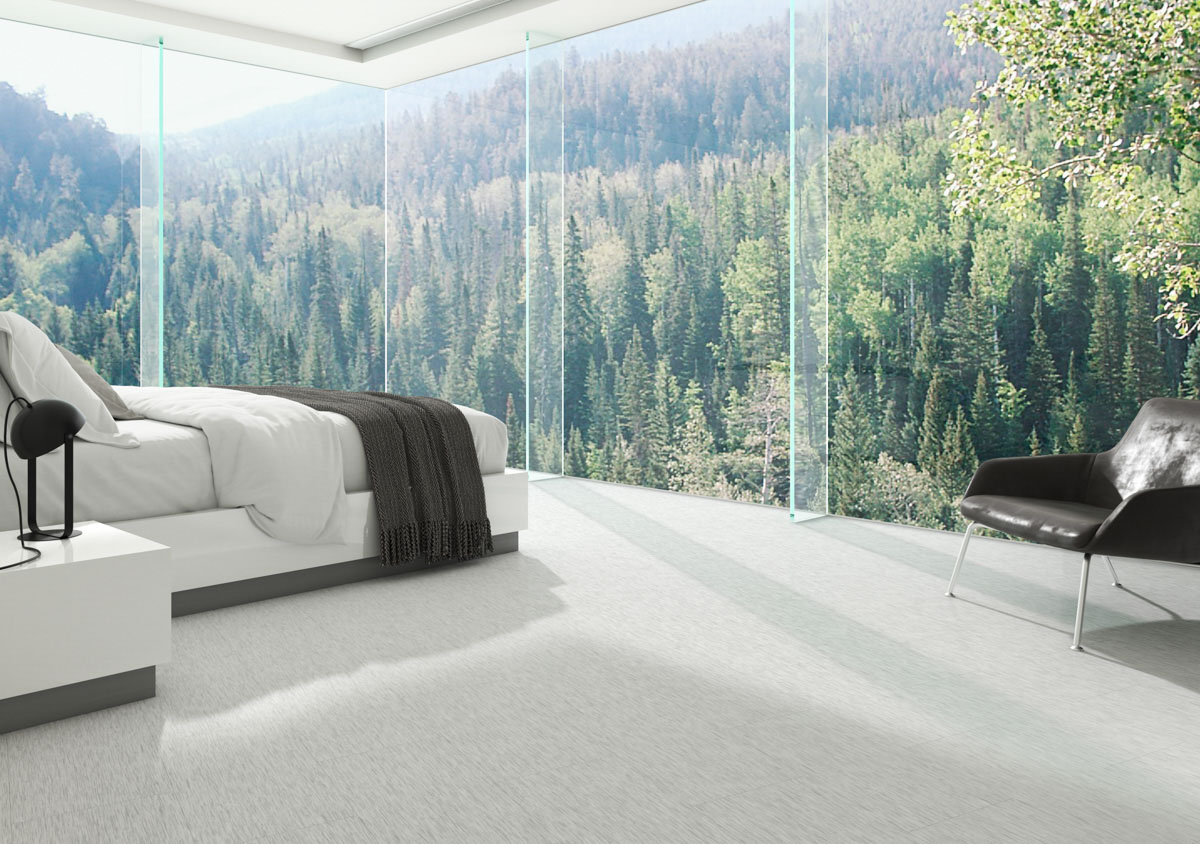 Filo White Natural 30X60
Without a doubt, gray is another color that never fails. Gray in couples rooms is the perfect color to generate a feeling of well-being in the home. Also, depending on how it is used, it can create a very elegant effect.
Elements Flower Silver 45X120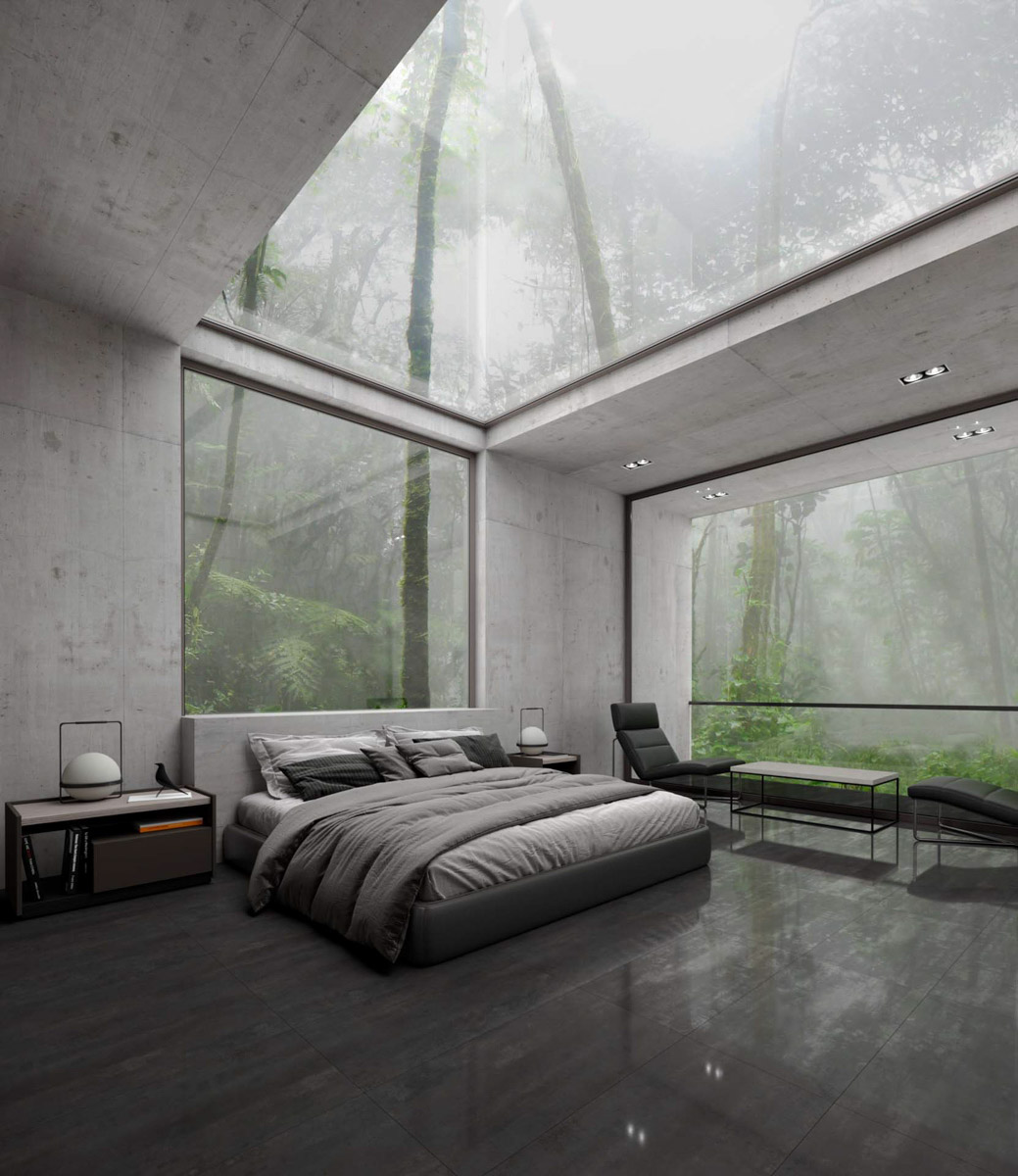 Cassero Grey Natural 120X300. Corten Titanium Lappato 50x100cm.
Another favorite option for decorators and interior designers is to use neutral and warm tones such as beige. Combined with ocher tones, for example, it can create a very modern environment.
In the following image, we see how the beige tones of the flooring in the Patagonia collection have been combined with an embossed Paladio tile head made with wrought iron in ocher and white tones to achieve a modern and urban effect in the room.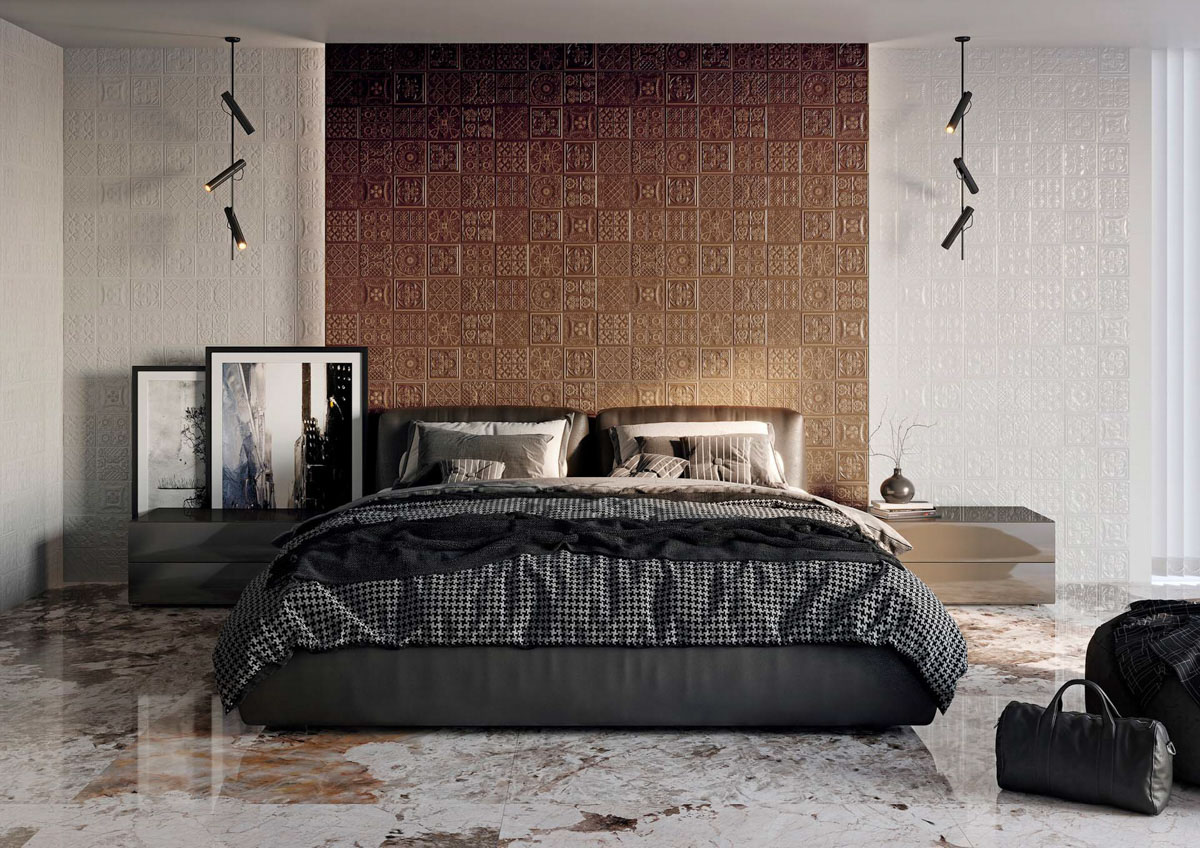 Keys to keep in mind when decorating rooms for couple
When decorating a couples room, it is crucial to arrange its elements since this will affect the style of the décor and, possibly, our tranquility.
It is essential to take into account the type of bedroom that we have available when building or renovating the room. Based on this, you can decide whether to add additional furniture to the bed and dresser.
The decorative objects and their arrangement will have to follow the decorative line of the furniture and the style of the room.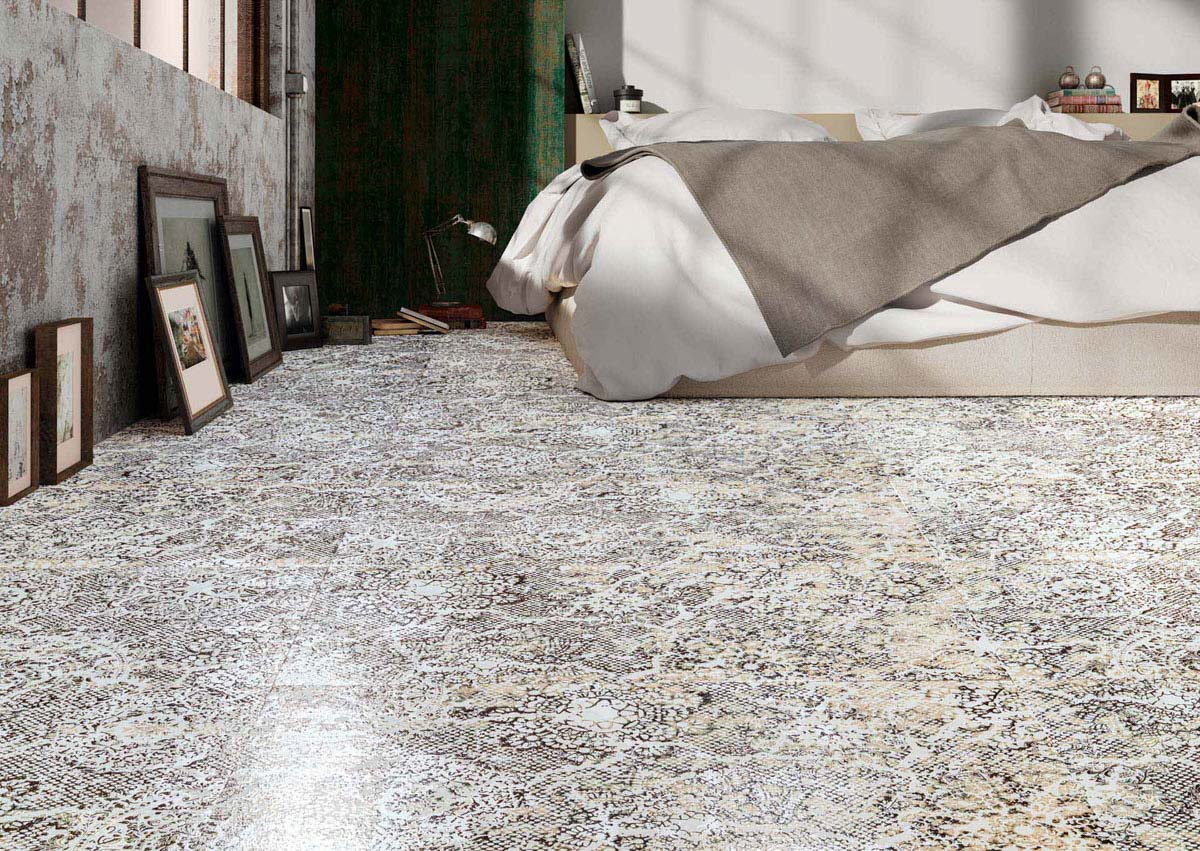 Inedita White Nat Hexagon Hex 25X30
Lighting is another important point. Both the natural lighting that we receive during the day and artificial lighting. Backlighting is an option to consider because it can create visually-clean effects in the space.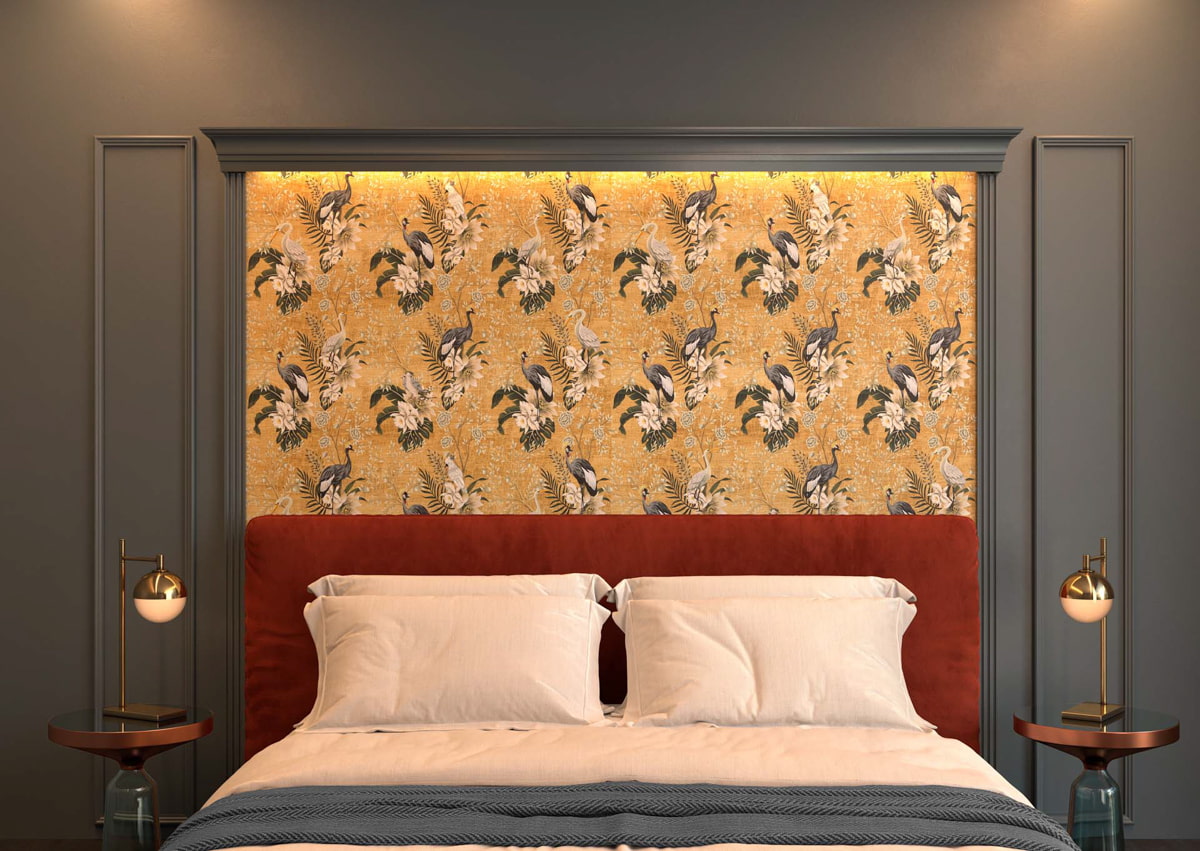 Elements Eden Colors 45X120
Lastly, we will try to manage the free space of the room according to its size and possibilities. Modern double bedrooms are characterized by open spaces and minimalist tendencies. For this reason, the ideal is not to overload the object space.
Porcelain tile ideas for decorating couples bedrooms
Porcelain stoneware and its many possibilities are one of the best options when it comes to giving a special and distinctive touch to your room, whether on the floor or the walls. Apavisa's ceramic styles are capable of complementing and defining the look you want to give your room.
Wall decoration for couples rooms
Using porcelain stoneware to decorate the headboard of the room is a resource that can give your room a completely distinctive look. We see this, for example, in this wall of a double bedroom where porcelain works as true décor.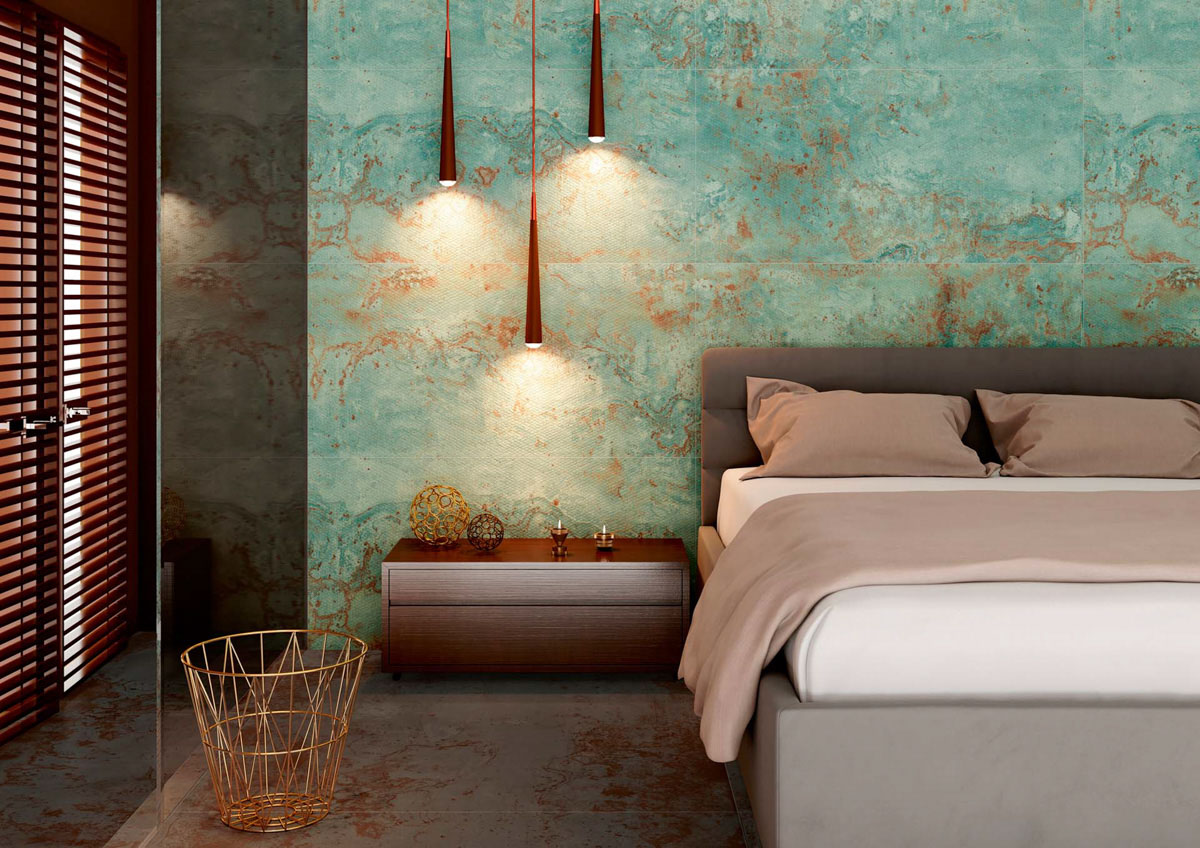 Zinc Green Skin 60X120
Floor ideas for couples rooms
You can also give this original and creative touch to the room by using the floor as a decorative element. The tiles with hydraulic décor for the floor of the room are, without a doubt, an option that can make your bedroom a unique space.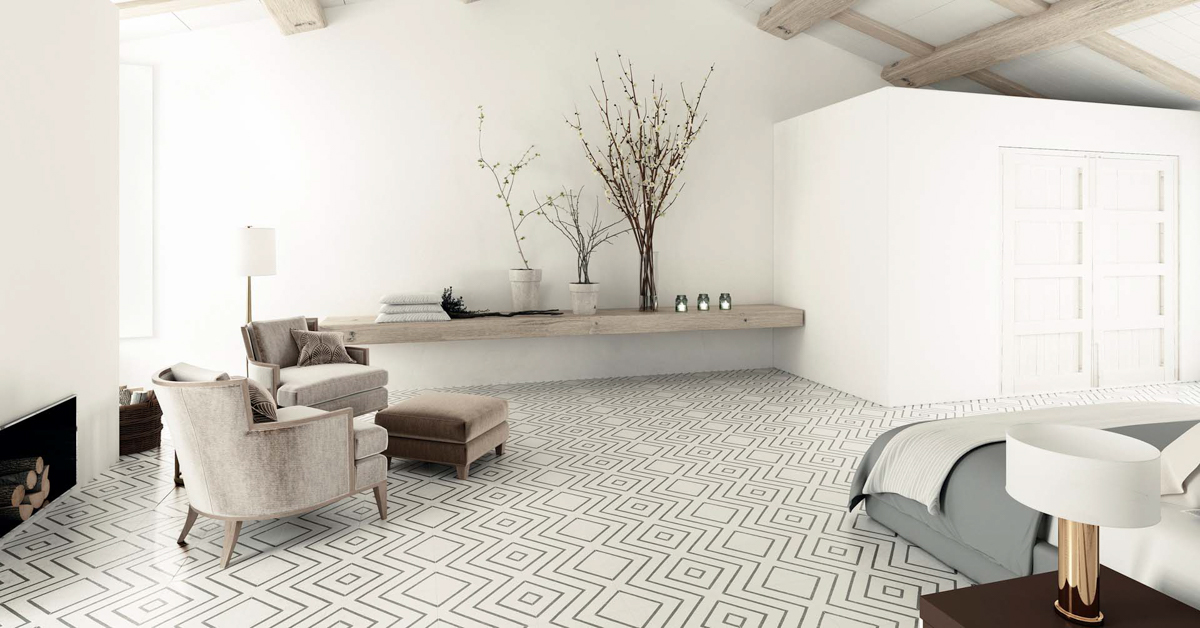 Encaustic White Decor Lappato 30X30
Small bedroom ideas for couples
How can we decorate a small room to make it look bigger? Get amazing results with these little tips:
Use light colors that give light to the room.
Choose light and not bulky furniture.
Decorate the bedroom with vertical elements like a tall mirror.
Cover the wall with tiles that provide great personality and draw attention.
Take advantage of the gaps.
Decorate a modern and elegant couples room
A simple and elegant couples room is one of the most common options. This result can be obtained through straight and polished lines. As for the choice of flooring, we recommend choosing porcelain tiles with more sober lines and neutral colors, such as the Metodo Ivory Natural.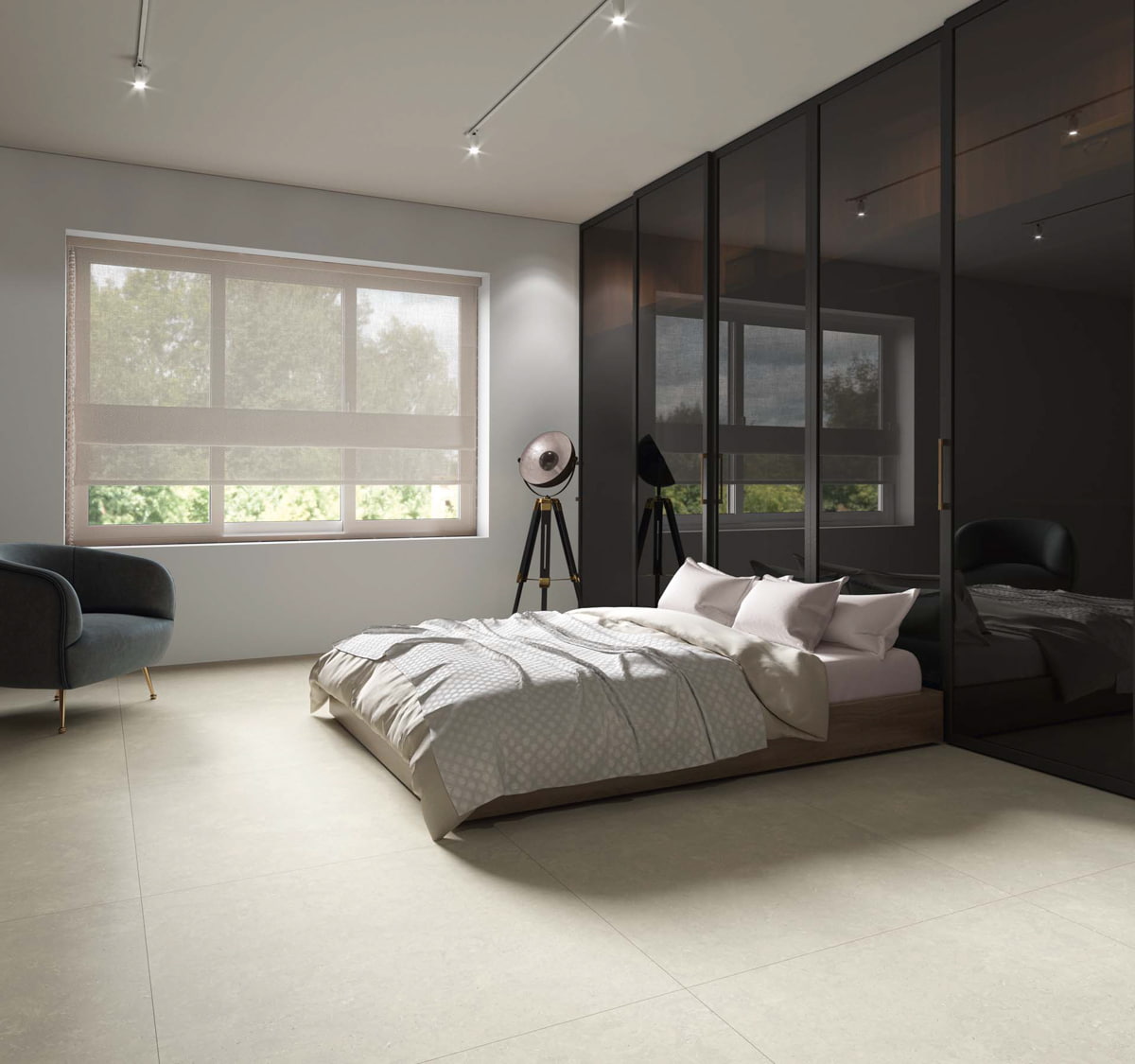 Metodo Ivory Natural 50X100