Discover kitchen tile ideas with our kitchen tile trends for 2022
Kitchen trends come loaded with light, efficiency and comfort.
A makeover: a simple combination of tiles that will make your kitchen an essential place, full of light and modernity.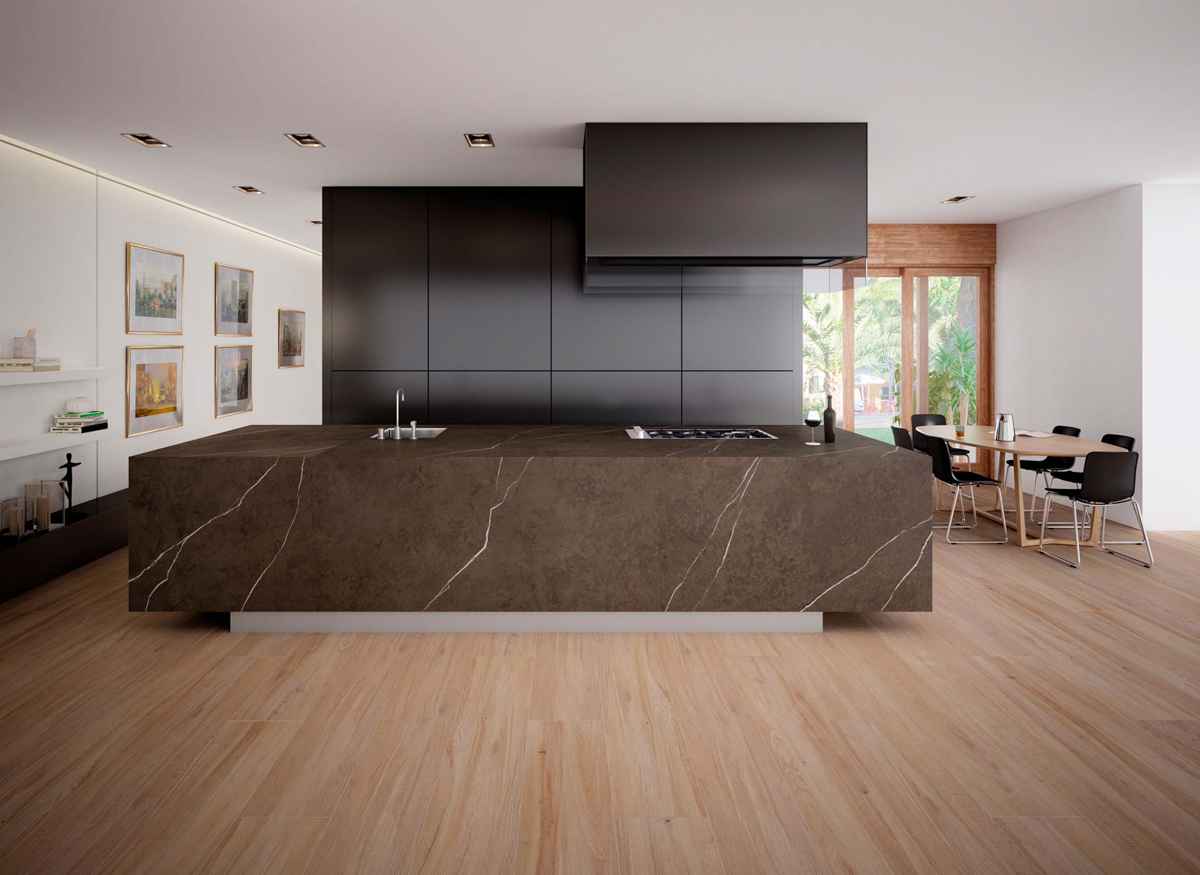 Pietra Grey Natural 162X324
Open spaces filled with light
Open spaces will continue to be a trend in 2022. As we saw last year, open kitchen-living rooms make better use of space and receive a greater amount of light than closed kitchens. To create this effect of perceived spaciousness, we can also add colours that add greater luminosity, such as white porcelain stoneware or large format porcelain stoneware tiles between the kitchen and the living room to conceal the division.
Efficiency and sustainability in kitchens
Energy sustainability is already present in many kitchens. The installation of efficient appliances, water-saving taps and more will help you achieve a more sustainable space. In addition, we can achieve an appropriate look using wood-effect tiles, adding a natural touch to your kitchen.
Kitchen-offices
Kitchens have become multifunctional spaces for cooking, eating, working or relaxing. In the past, large, imposing dining tables with plenty of seating were popular, but now people prefer a comfortable and functional little nook. The aim is to create a small informal space where you can eat daily, and at the same time, be able to work.
Natural materials
Marble is back. In 2022, kitchens feature luxurious, modern and designer finishes in their worktops, islands and countertops. They add luminosity to the whole space, creating an effect of spaciousness and majesty. The marble-effect tiles come in a variety of colours that can be adapted to make your kitchen look very sophisticated.
A totally different style
Looking for an innovative style, kitchen tile trends in 2022 feature daring, never-before-seen designs.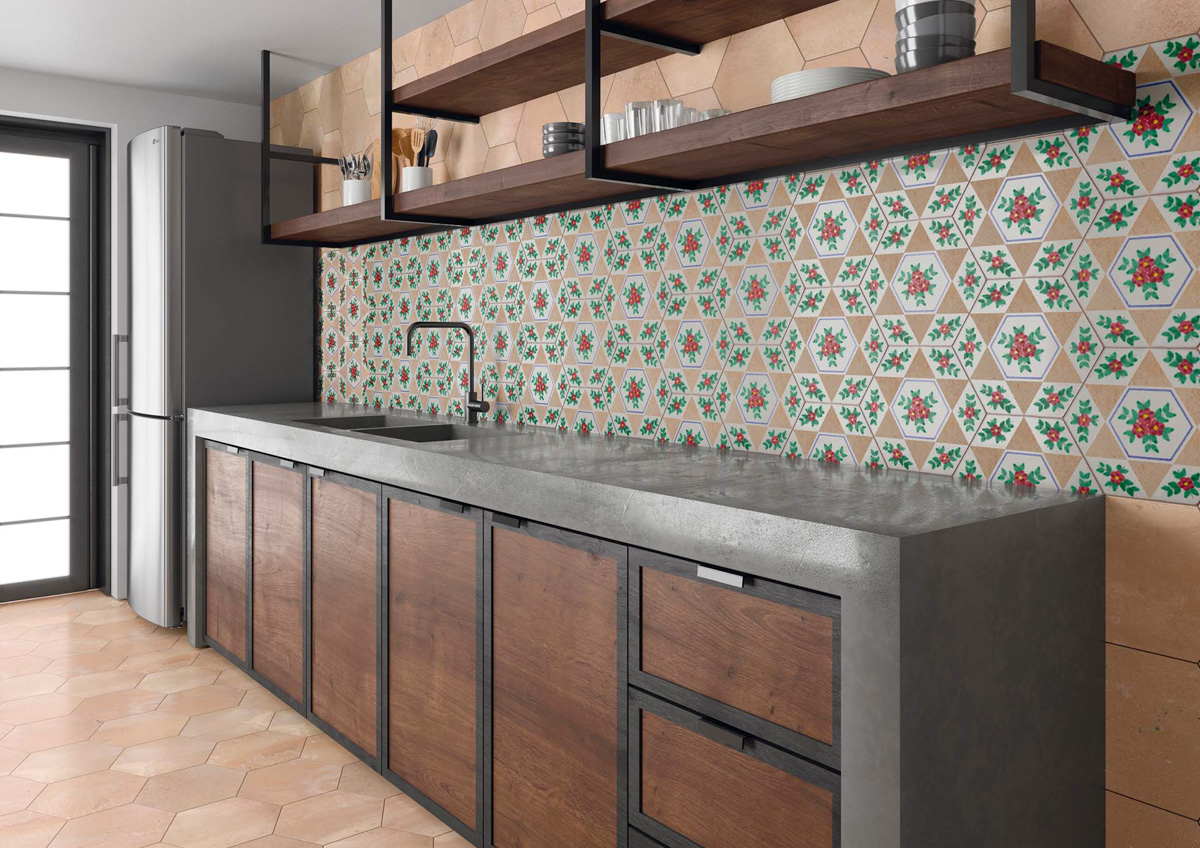 Hutton Classic Decor Hexagon Hex 25X30
Colourful tiles in the kitchen
The decor and finishes of your kitchen play a very important role, as they will be present every moment you spend there.
We would like to share several kitchen tile ideas. Choose the best option for your home and choose between a colourful tiled kitchen or a neutral tiled kitchen.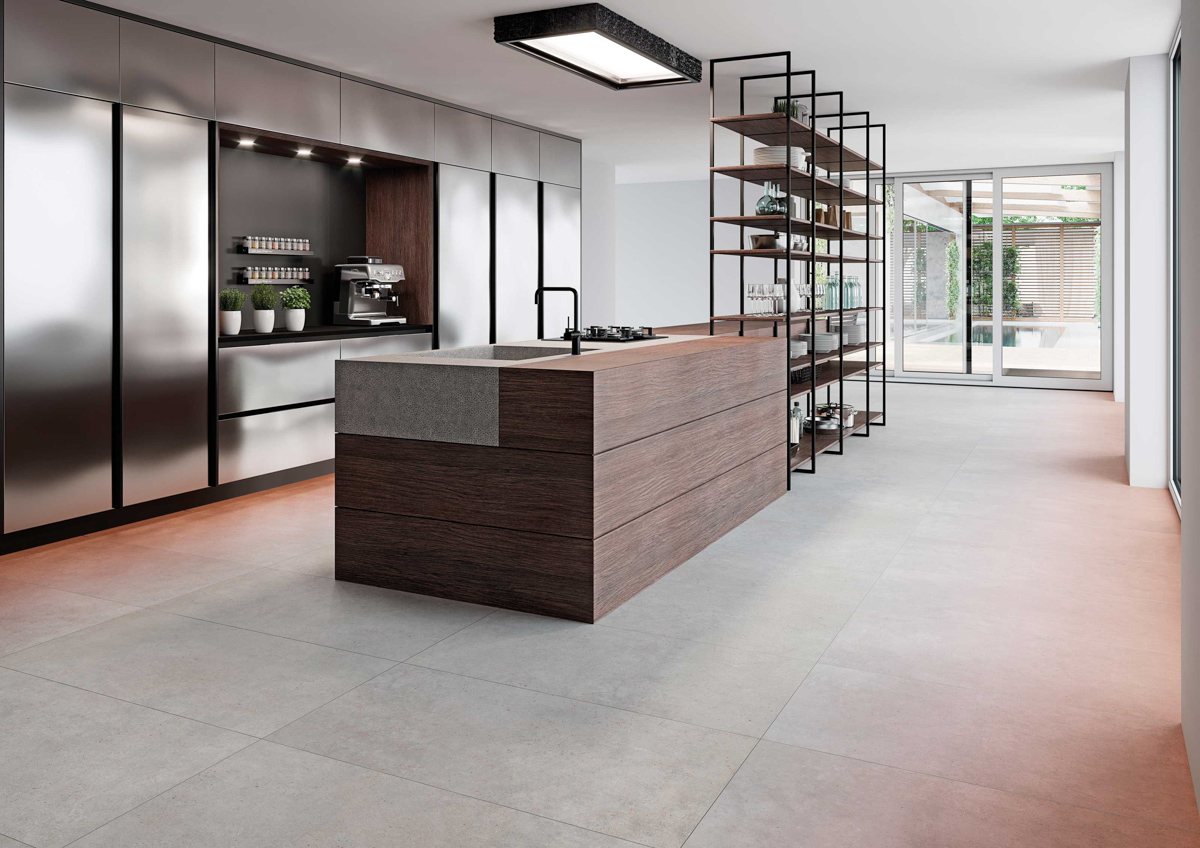 Degradee Red Decor Natural 60X120
Kitchen with green tiles
Green hope! One of the fashionable colours for kitchens in 2022 is green in all its shades. The green-tiled kitchens convey efficiency, nature and calm. They will make your kitchen look much more modern and sustainable.
White in the kitchen is always in style
The colour of perfection. White kitchen tiles are always the best option if space is tight. They bring brightness and luminosity to the place. The colour white conveys purity and peace, and also conjures up a very clean and organised environment in our kitchens.
Add a sober and modern touch with grey
A neutral yet innovative and elegant colour . The shades of grey in kitchen tiles are infinite, so we can install gray kitchen tiles as a primary or secondary colour, complementing the main one.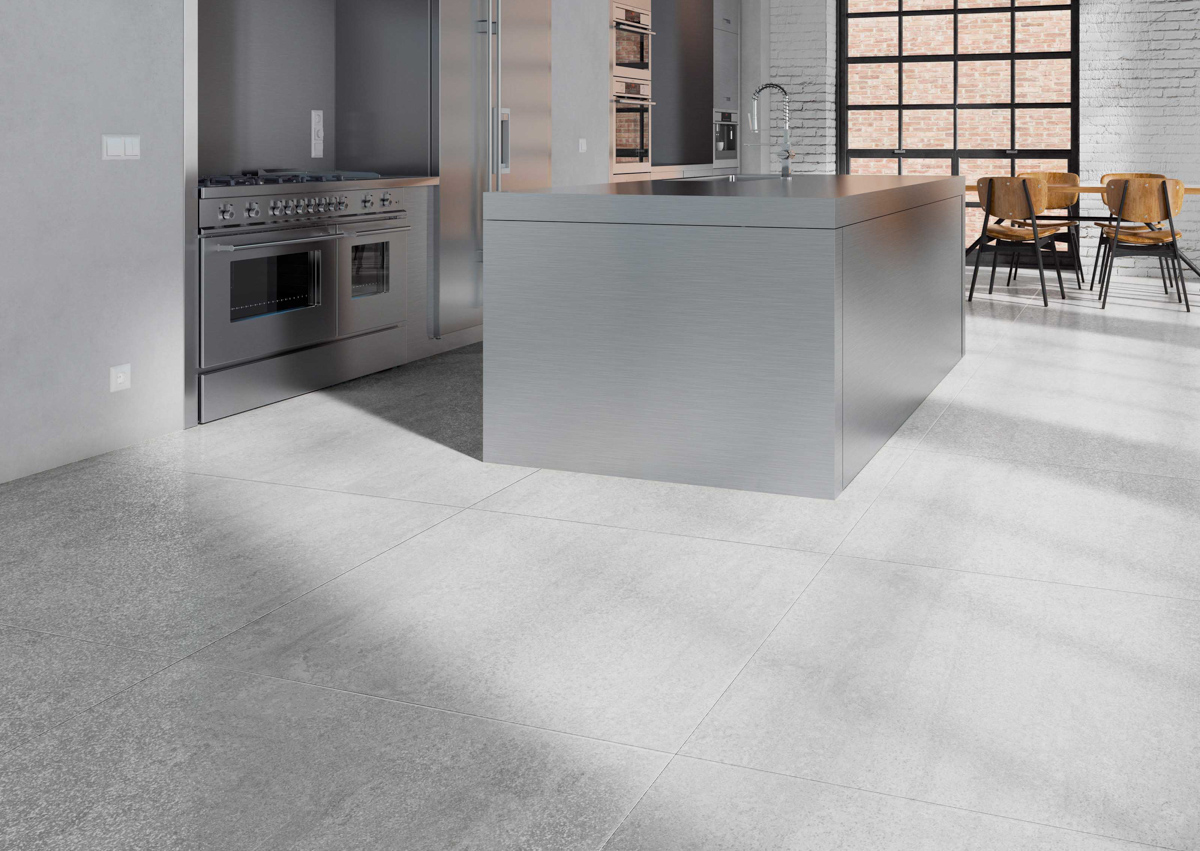 Rust White Lappato 100X100
Other colours and potential combinations
Kitchens have changed completely in 2022. We can find a variety of colours combined, and each combination evokes a style. A trend where nature and colour come together.
Industrial Style
The perfect combination of innovation and tradition. A mixture of colours with shades of grey, brown and white. Metal-effect tiles and wood-effect tiles are ideal for generating this style.
Mid-Century Style
The link between aesthetics and functionality. The trick is to create a space with natural finishes, using white tiles and brown tiles, as well as wood-effect tiles. Decorate the space with bright colours that complement each other: orange and red, blue and yellow, green and gold, blue and pink. To finish creating this environment, we can add large frames with black and white images.
Boho Style
It is the combination of various trends such as electric style and vintage tiles. It does not follow any rules and seeks to generate unconventional spaces. We get this atmosphere with pre-scored tiles and multicolour tiles, where the colour will fill every corner, creating kitchen mosaic tiles.
"The kitchen as a space of creativity for tiling and flooring"
Get inspired with these kitchen tile patterns and combinations
We suggest several very unique tiles. To achieve perfect harmony between your kitchen and your home, we must take into account every detail. We will show you a wide variety of porcelain tiles for kitchens, but only one type is right for you.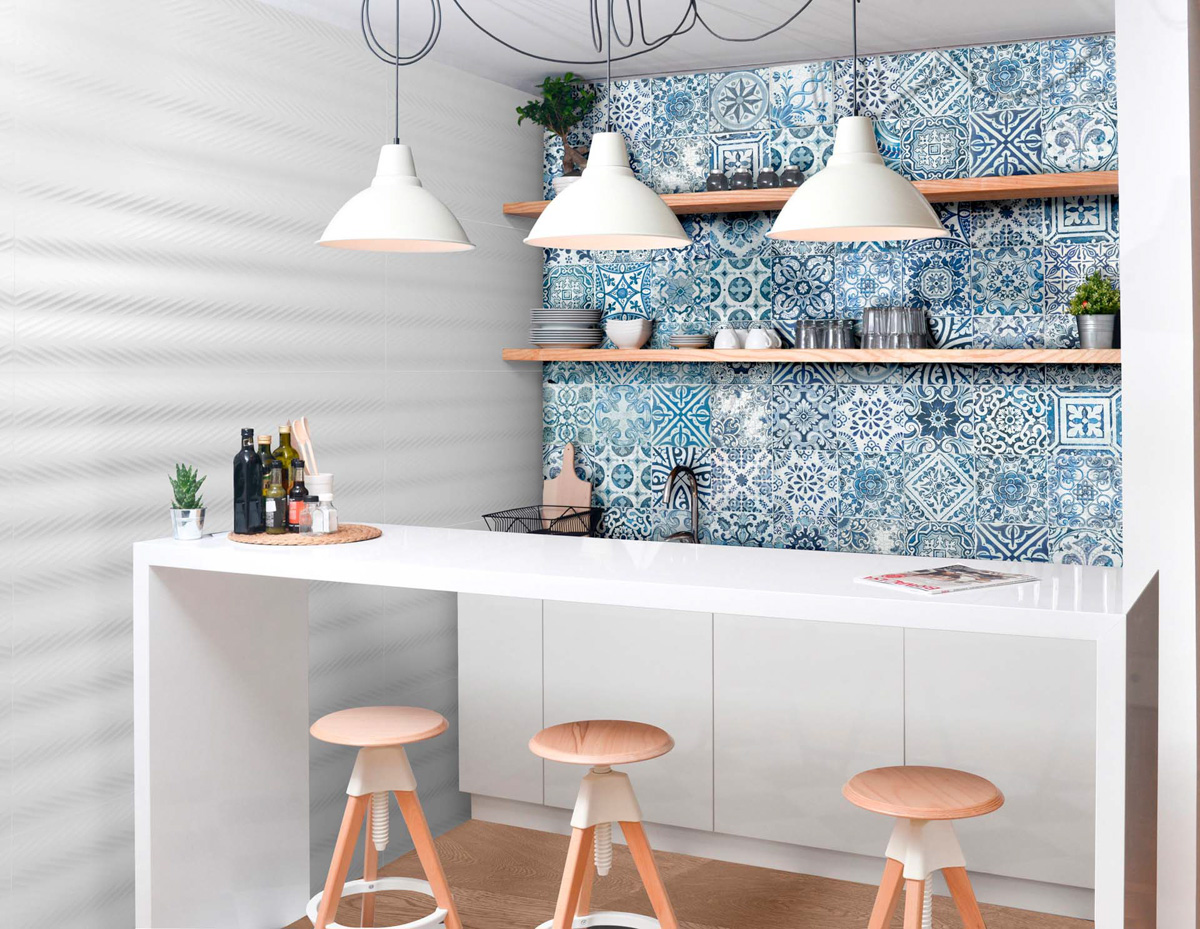 Majolica blue Pre-Scored-20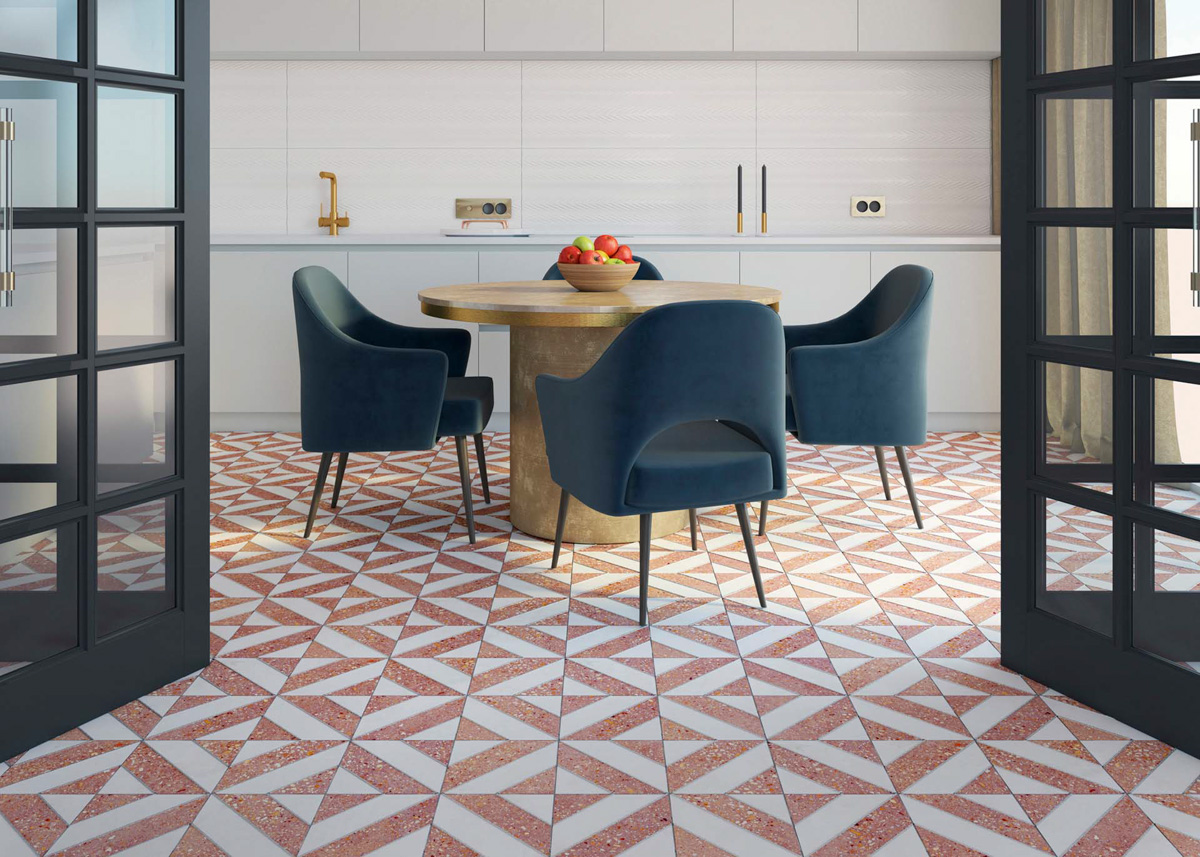 Wind Red Pre-Scored-20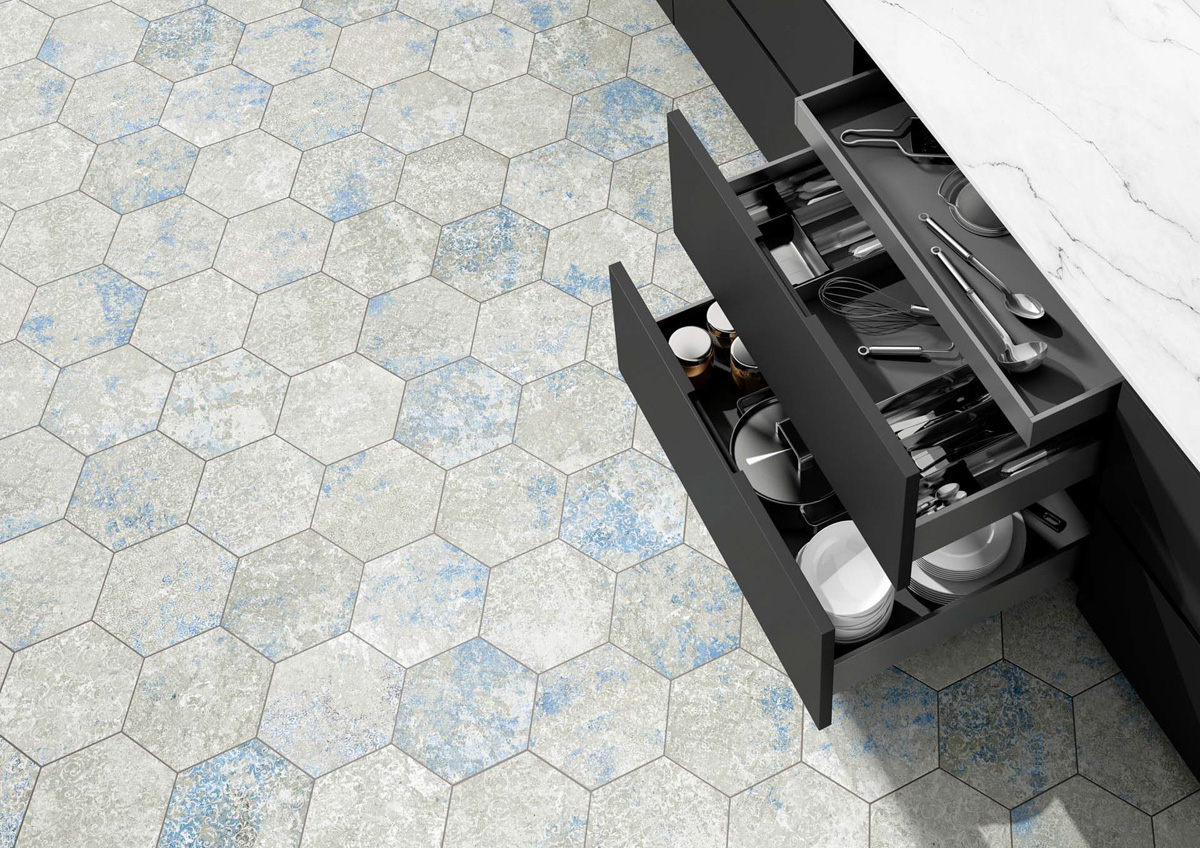 Emotion Grey Natural Hexagon Hex 25X30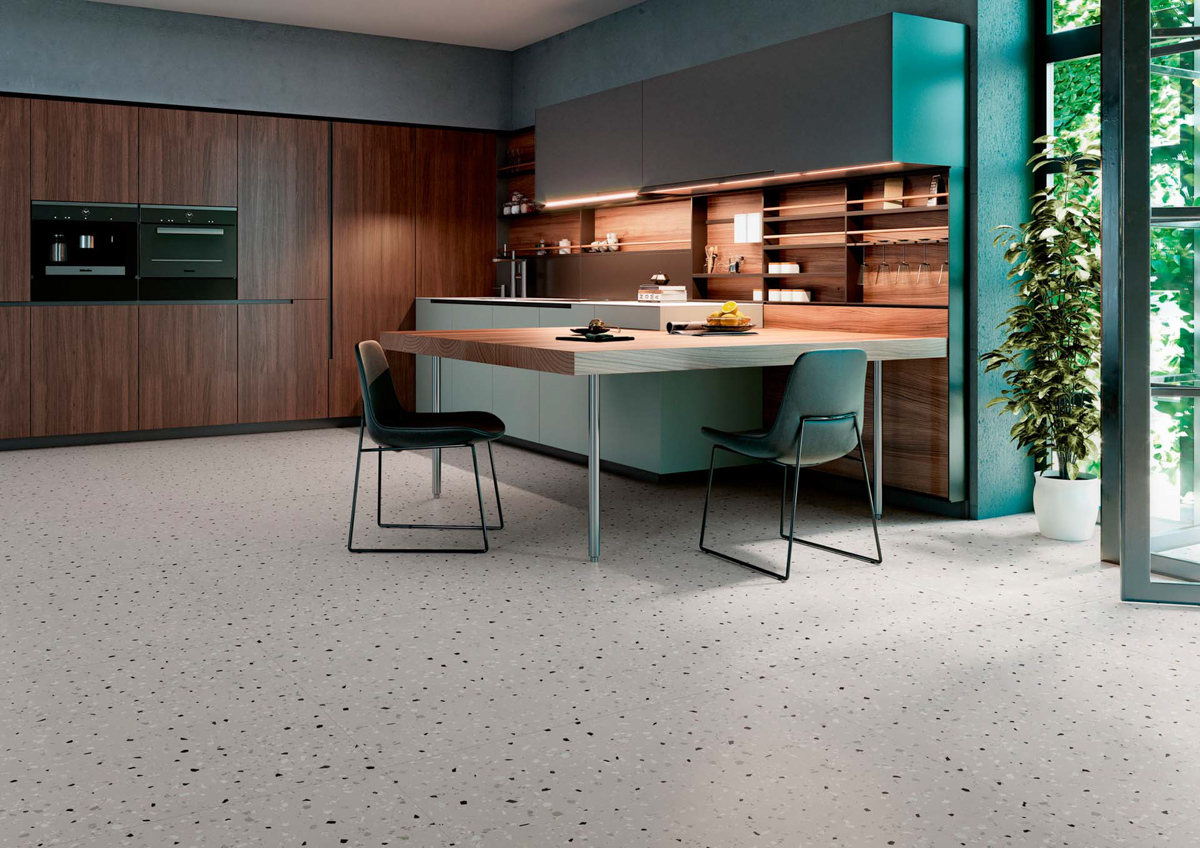 South Grey Natural 60x60
Kitchen tile trends for small kitchens
Small and multi-purpose spaces are the latest in kitchen tiles. We are looking for functional places where we can a variety of different activities efficiently. We will show you several ideas for designing your kitchen and getting more light.
A touch of colour
Nowadays, colours and variety are in fashion. But do they work in a small kitchen? They do, if we apply little touches of colour that highlight some of our kitchen areas. For example, we can place modern kitchen tiles with colorful kitchen tile trends on the worktop: green tiles, blue tiles, red tiles or even pre-scored tiles.
Glossy finishes
Glossy porcelain floors allow natural light to be reflected on them, giving a visual effect of openness and greater space. If we are looking for more light, we should use light or neutral-coloured kitchen tiles with little saturation.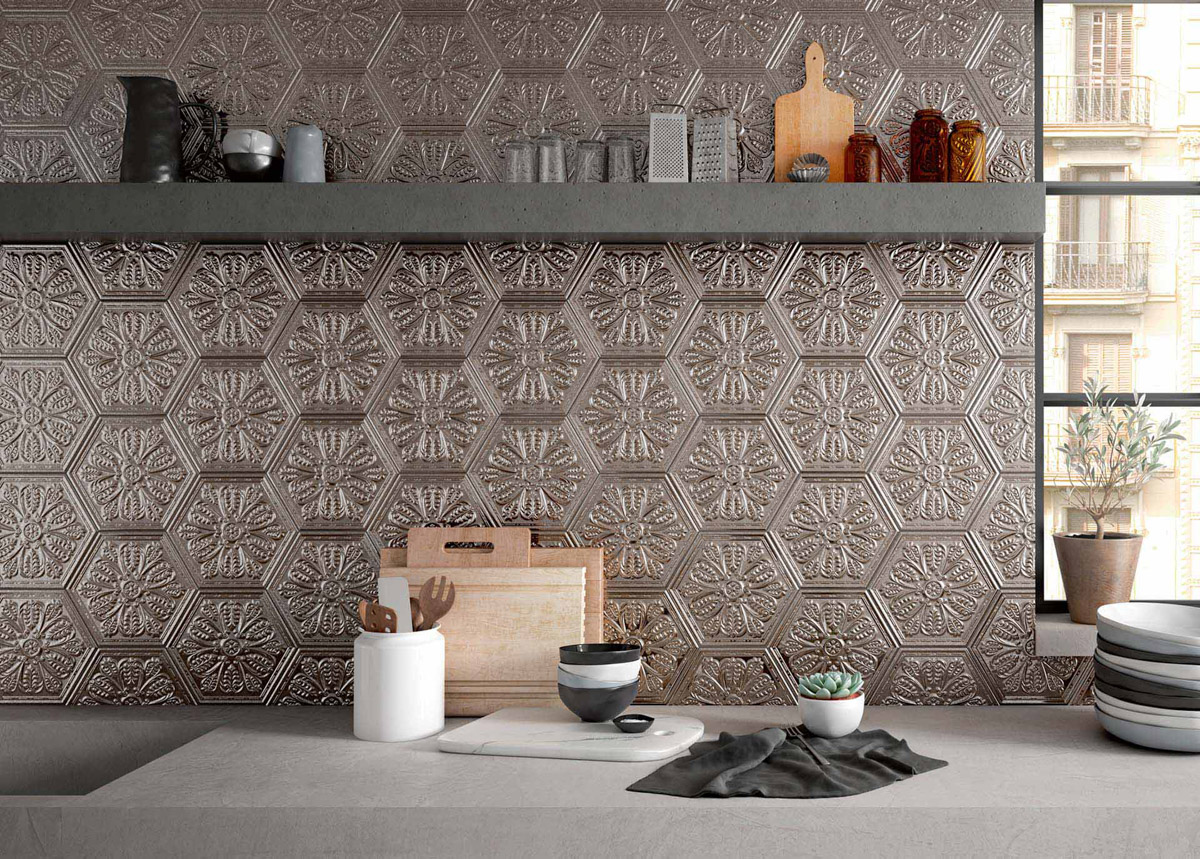 Zinc Silver Mix Decor Hexagon Hex 25X30
Large-format tiles
The large format is the ultimate in kitchen tiles. Large-format tiles allow the edges of the tile to be better concealed in relation to smaller ones, especially if we install large white kitchen tiles. They unify spaces and create a visual continuity that only these large format porcelain tiles can offer.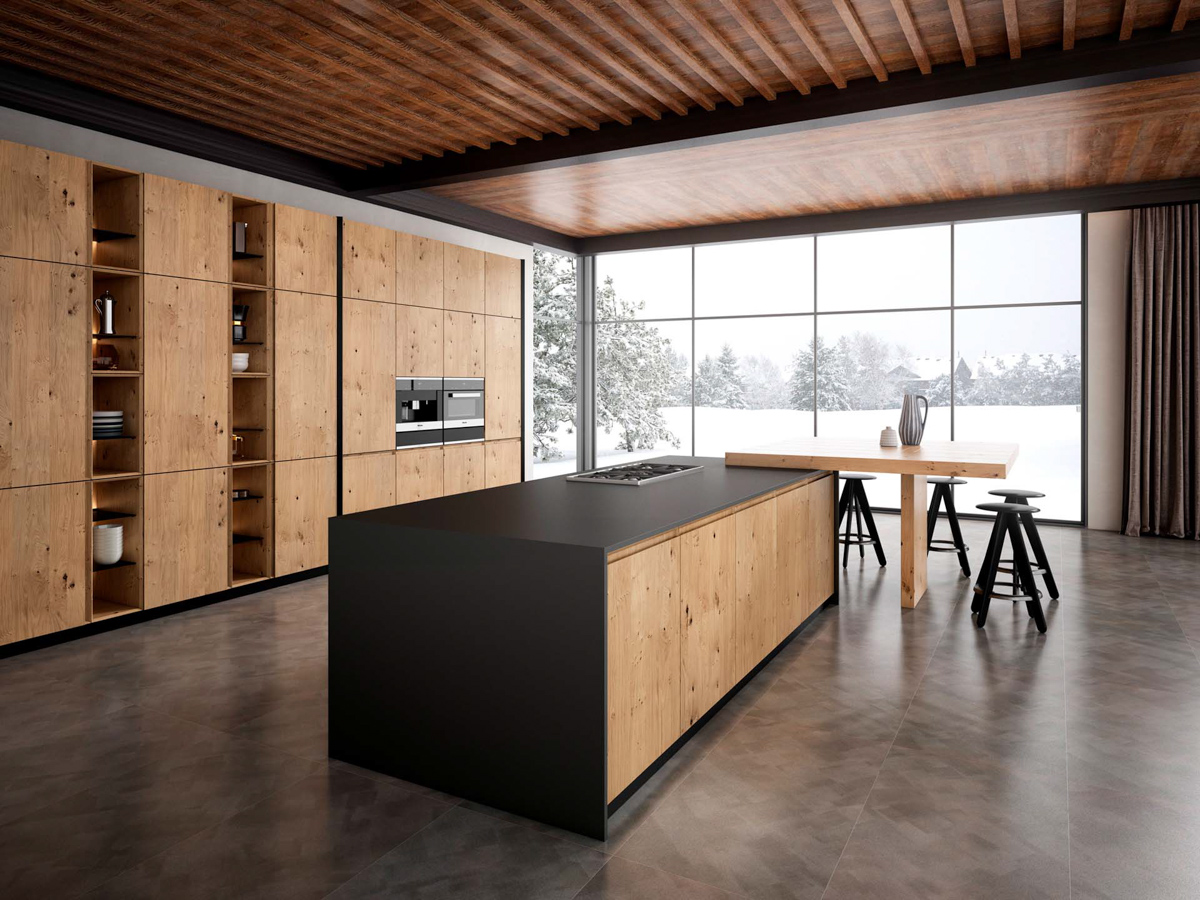 Super Black Natural 162X324
Don't just follow the crowd. Discover the colours and their different combinations, creating fashionable, fun and unusual spaces. At Apavisa, we recommend investing in quality and comfort to experience and remember unique moments in any area of your kitchen.