Rustic kitchens never go out of style. The warmth that this style conveys means that, decade after decade, it continues to be a favorite for interior designers and decorators.
The secret to making a kitchen rustic and comfortable is in the small details.
However, the décor of rustic kitchens changes slightly as the years go by. This is why we are giving you the tips below to help you get the best out of modern rustic kitchens with charm.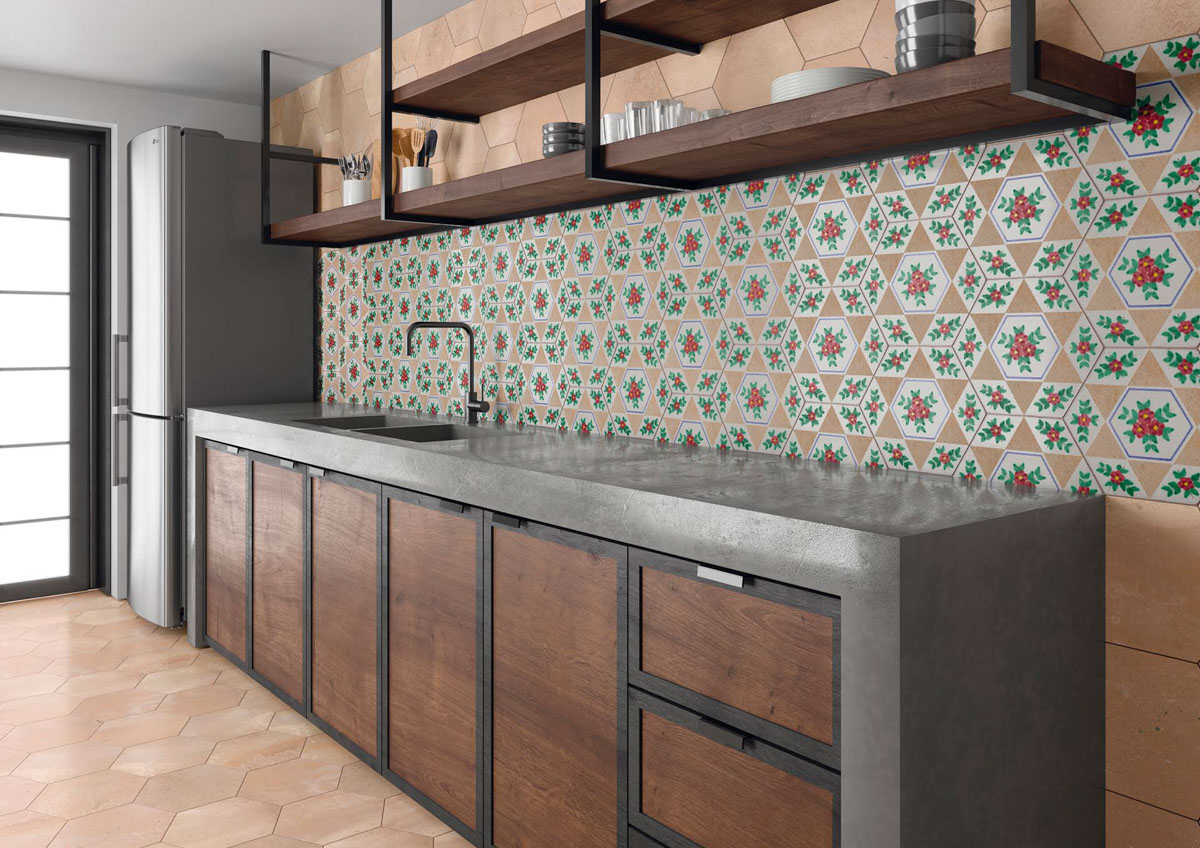 Hutton Collection
Characteristics of the décor of a rustic-style kitchen
The secret to decorating kitchens or dining rooms in this style is to take into account the following aspects.
Natural materials
The naturalness of the materials used is one of the main characteristics of the décor of rustic kitchens. And, of course, the main material is wood. But stone, ceramic or clay finishes can also create a very interesting atmosphere in your kitchen.
Warm colors
Warmth goes hand in hand with rustic kitchens, so warm tones are a must. The different shades of wood and the wide range of shades that can be found in the beige palette are key to this style.
Full of details and charm
Exposed wooden beams, lamps made of natural materials, rattan chairs or something as simple as an open shelf can be the perfect detail to complete your kitchen's décor.
Craquelle Collection
The natural, simple and charming elements so characteristic of country houses are welcome in rustic kitchens.
Porcelain tiles that will help you give your kitchen a rustic touch
The way you decorate the floor and walls of the kitchen says a lot about the style you have chosen. From floor to ceiling, the best rustic kitchens are those in which all their elements generate warmth.
To achieve this, there are three types of porcelain tiles with which you will hit the nail on the head.
Wood-look tiles are number one when it comes to kitchens in a rustic style. In a humid environment such as the kitchen, where it would be unfeasible to install a natural wood floor, you can obtain the esthetic effect of this noble material without suffering its disadvantages.
The stone look is also very appropriate for tiles in kitchens that are rustic but also modern, especially when the furniture or the ceiling already contains wood and you do not want to overload the environment with more wood.
And, finally, there is no doubt that one way to give the kitchen an original feel without going out of fashion is with clay-look porcelain. This material is perfect for kitchens that have a certain Mediterranean touch.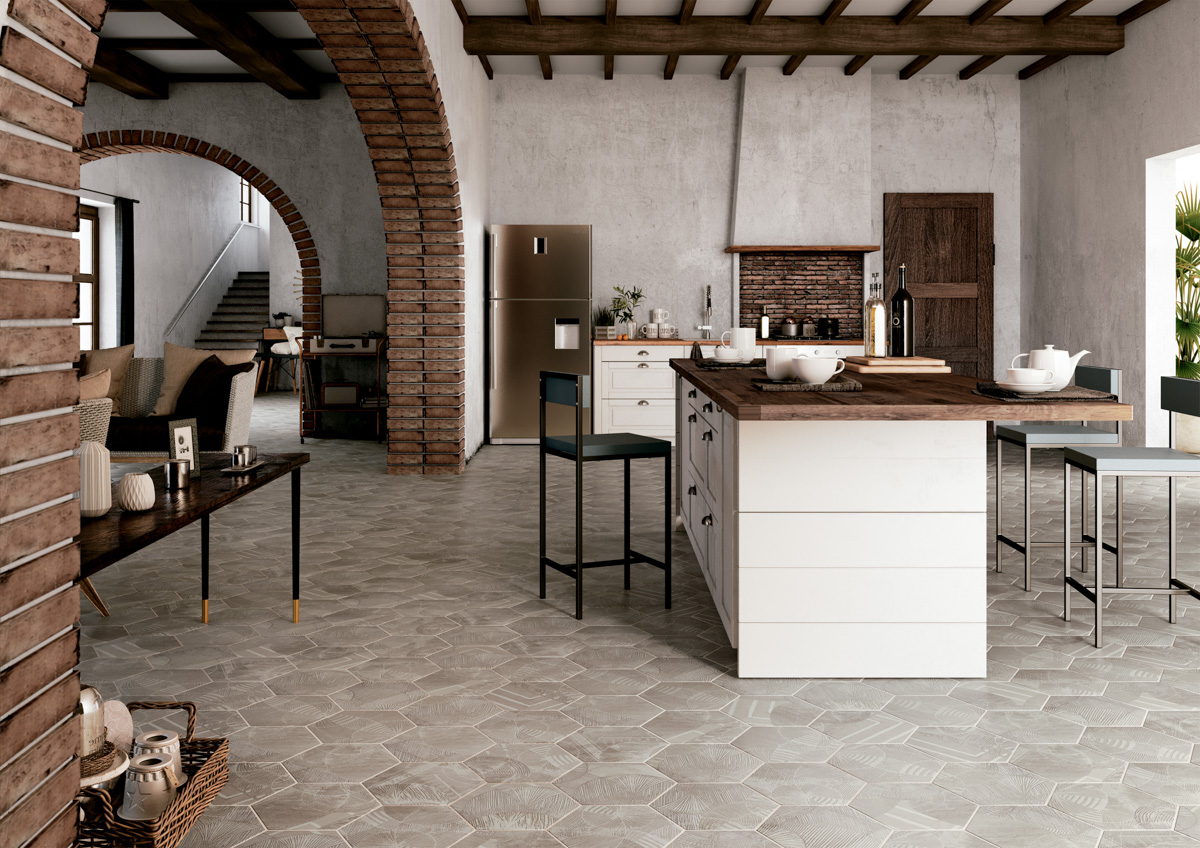 North Collection
Color in a rustic kitchen
We have said that warm tones are the most appropriate in the rustic kitchen, but this does not mean that you cannot include other tones. White and blue are two examples of colors that may be different from what you imagined, but they can give the perfect touch to your kitchen.
White rustic kitchens
Rustic kitchens are not at odds with light colors, not even white. In fact, certain elements, such as white flooring can give the whole kitchen a lot of character.
Using this color in key places, such as a ceramic sink, a stone countertop, or directly for the rustic kitchen tiles and flooring, will add contrast and allow the other darker elements and materials in the kitchen to stand out.
Blue rustic kitchens
Did you think that blue was too cold a tone to be included in a kitchen of this style? Well, it turns out that if you choose blue furniture with an aged effect or if you combine light blue flooring with wooden furniture in dark tones, you can get a surprising result.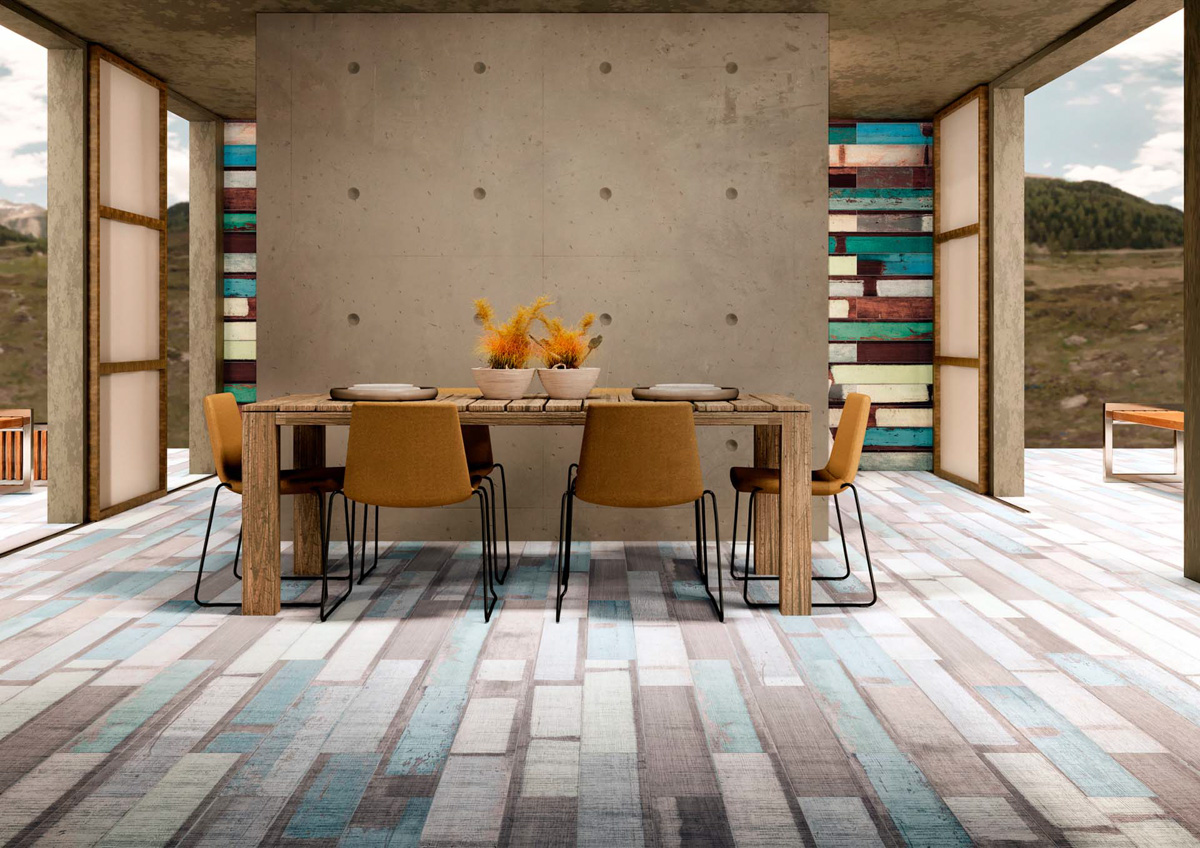 Karacter Collection
How to decorate small rustic kitchen
If you have a small kitchen but still want it to have a rustic touch, take note of these tips:
Try to use lighter tones for the furniture so that they are the colors that stand out the most, since they visually expand the space.
If you have a wood-beam ceiling, leave the beams in a wood tone but paint the rest of the ceiling white to add height.
And, if you are going to choose a wood-look porcelain tile, opt for light tones, such as wood that is close to beige.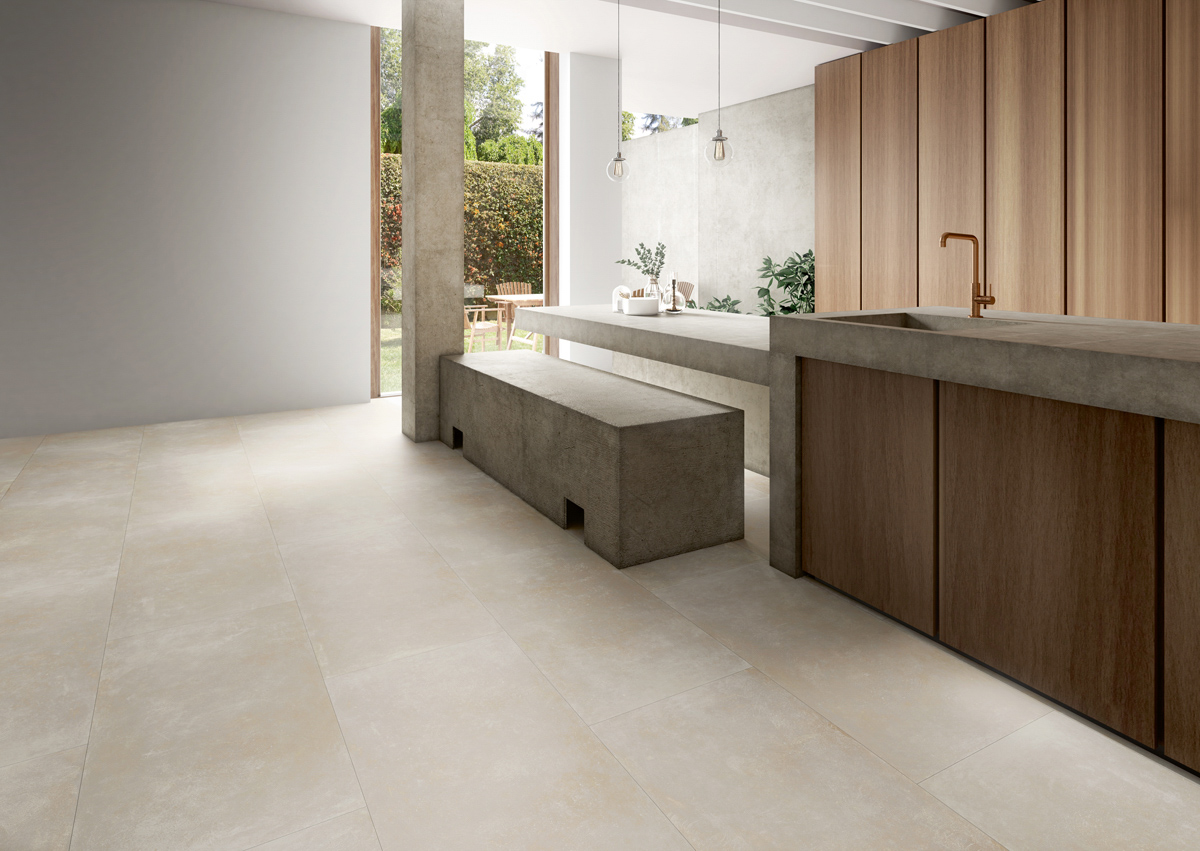 Ozone Collection
Ideas for modern rustic kitchens. Is it possible?
There is no doubt that this decorative style reminds us of days gone by and of typical country houses. However, this does not make it incompatible with modernity. It is possible to decorate modern rustic kitchens with tiles if we also correctly merge elements of this style with other more contemporary ones.
The choice of light colors in contrast to the wood so typical of this environment is a way to modernize rustic kitchens. We can also achieve a more modern look if we choose to close the typically open cabinets of the country kitchen, giving the kitchen a more minimalist and continuous air.
Rustic kitchens are a delight for the senses: warm, comfortable and homey. The correct choice of each element will give your kitchen a unique personality.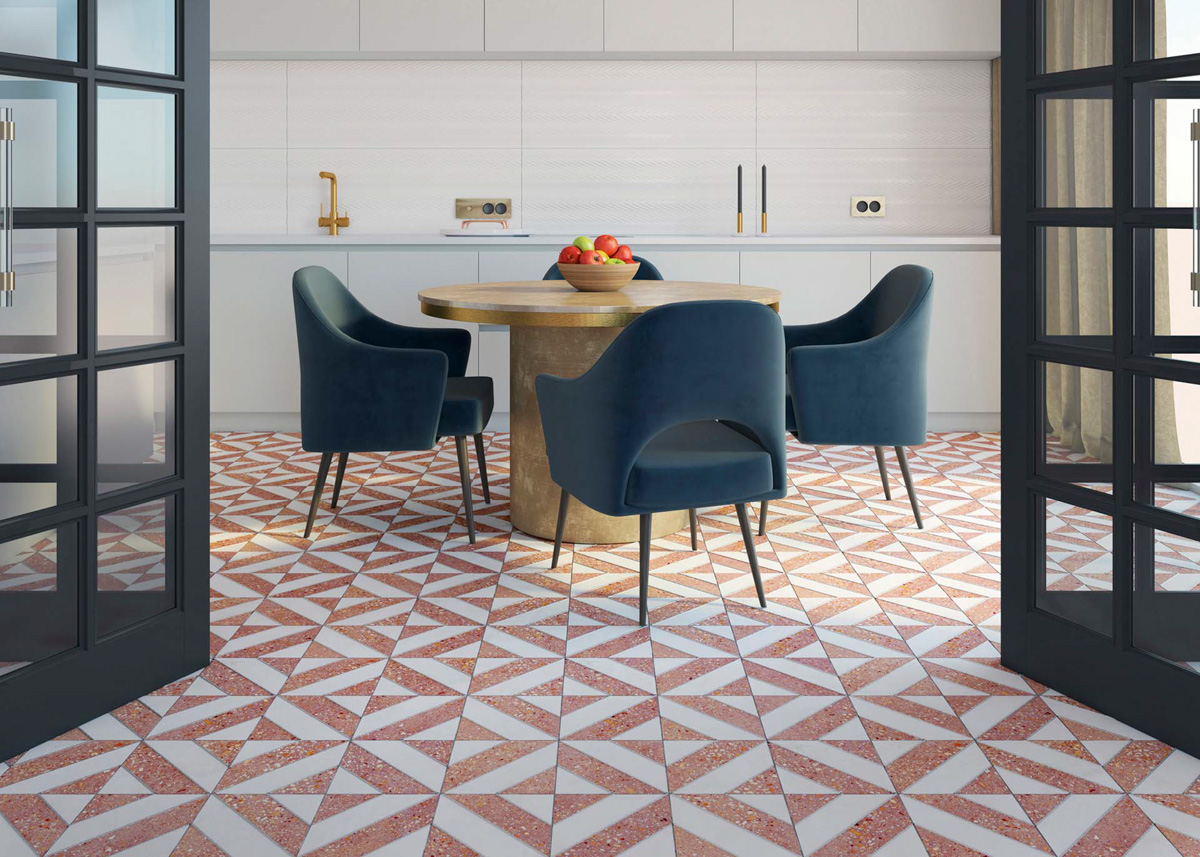 Wind Collection